I had the opportunity last week to preview the Magical Dining menus of Eleven and Forte Grill, two incredible restaurants residing within Reunion Resort that offers both classic and modern dishes. The first thing I noticed when I approached the lobby of the resort was how genuinely friendly the staffs are, I was greeted and welcomed as if I was a long term guest of the resort.
For those that have not of Magical Dining yet- it is Orlando's way to celebrate Orlando's culinary scene running from Aug. 23 through Sept. 30, 2019. It allows you to enjoy a three-course, prix-fixe dinners at more than 120 of Orlando's best restaurants for just $35 per person.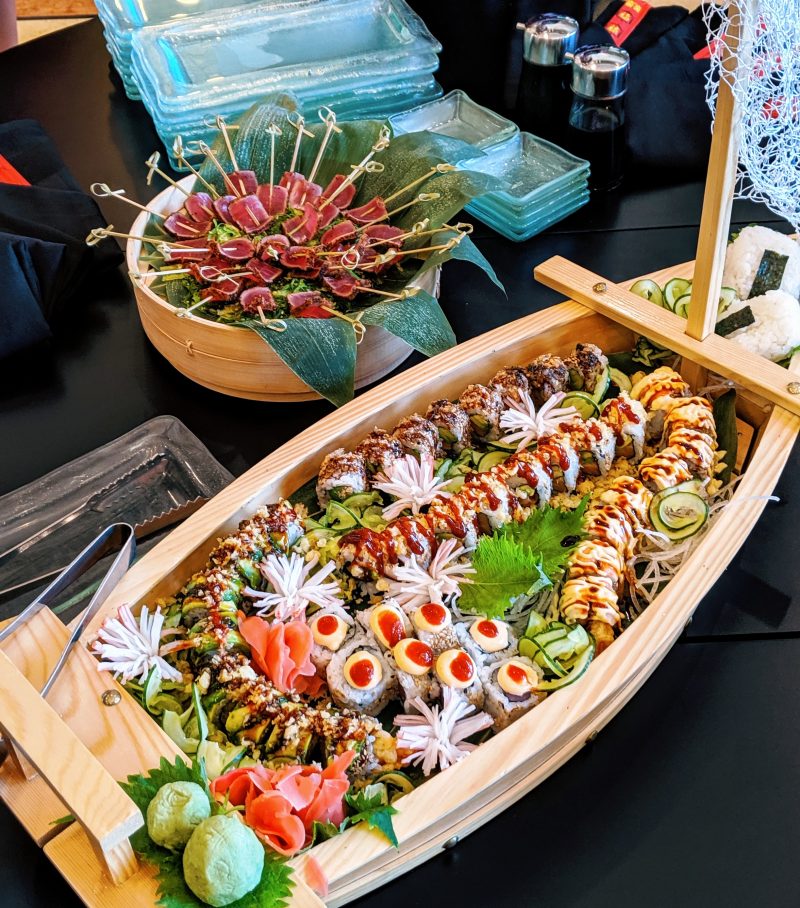 The dinner began with a tasting of some new and inventive sushi rolls created by Chef Ha by the Grande Bar in the lobby, including seared spice rubbed tuna tataki and smoke salmon with BBQ sauce.
Then we commenced with the main dinner with an Endive salad and Poached Lobster Bisque. The Endive salad had layers of texture including candied walnuts and incredibly smooth blue cheese. As for the bisque the lobster was beautifully poached in butter with a light green onion crème fraîche.
The first set of entrees below are from Forte Grille, an authentic Italian Bistro with a warm and rustic atmosphere.
First we have the Red Snapper Pappardelle Pasta and Shrimp Scampi in a White Wine Butter Sauce…
Then the second dish is an Airline Chicken Saltimbocca, a seared and stuffed with prosciutto breast with woodsy aromatics from the mushrooms and marsala sauce.
Finally we are featured with a set of entrees from Eleven, a modern steakhouse sitting on the 11th floor with an amazing view of Disney area.
The below dish is every steak lover's choice with a Prime New York Strip paired with mashed potatoes, asparagus, with a peppercorn cream sauce.
Then finally, we have a Pan Seared grouper with roasted tomato grits, broccoli slaw, and a beautiful citrus cream sauce.
Dessert
And of course – we reached an exciting ending with the light Tiramisu from Forte Grille and decadent Chocolate Cake from Eleven.
Reunion Resort always has events that has everyone in mind. Click below for upcoming events in October!
Eleven at The Reunion Resort 
Hours of operation: Sunday-Thursday | Bar: 5:30pm-12am | Dining: 5:30pm-10pm| View Patio: 6:00pm-11pm
Friday-Saturday: | Bar: 5:30pm-1am | Dining: 5:30pm-10pm | View Patio: 5:30 pm-1:00 am *Hours of operation are subject to change
For reservations or more information, please call 844.204.6382