For nearly 30 years, food across Universal Orlando Resort has evolved from traditional theme park meals to next-level cuisine.  Dining across the parks has become an attraction in and of itself.
We were invited to Universal's Volcano Bay to check out the water park and taste their island-inspired cuisine.  We enjoyed a wide-range of bold flavors from the South Pacific including creations like the Poke Poke Bowl and Coconut Curry Chicken prepared by Universal Orlando's culinary team.  Father and son duo Chef Robert Martinez and Chef Robert Martinez Jr. explained every dish to us.
From kid-friendly dishes to delicious grownup fare, their restaurants offer more than 60 unique menu items inspired by the flavors of the South Pacific.


Here are the the most popular dishes at Volcano Bay:
Sushi Sampler – California and vegetable rolls with wasabi, ginger and soy sauce
Poke Poke Bowl – ahi tuna tossed in a soy honey vinaigrette, with plantain chips
Pupu Platter – conch fritters, coconut shrimp and spring rolls
Jerked Mac & Cheese
Tropical Baby Greens Salad – shaved carrots, hearts of palm, diced mango, grape tomatoes, cucumbers, tofu, black beans and toasted almonds with soy garlic vinaigrette
Coconut Curry Chicken – with green coconut curry sauce, coconut rice, tomato and cilantro with sweet plantains
Coconut Crusted Fried Chicken – with mango slaw, sweet plantains and fries
Island Coconut Chicken Sliders – topped with fresh cabbage and mango slaw on a Hawaiian style bun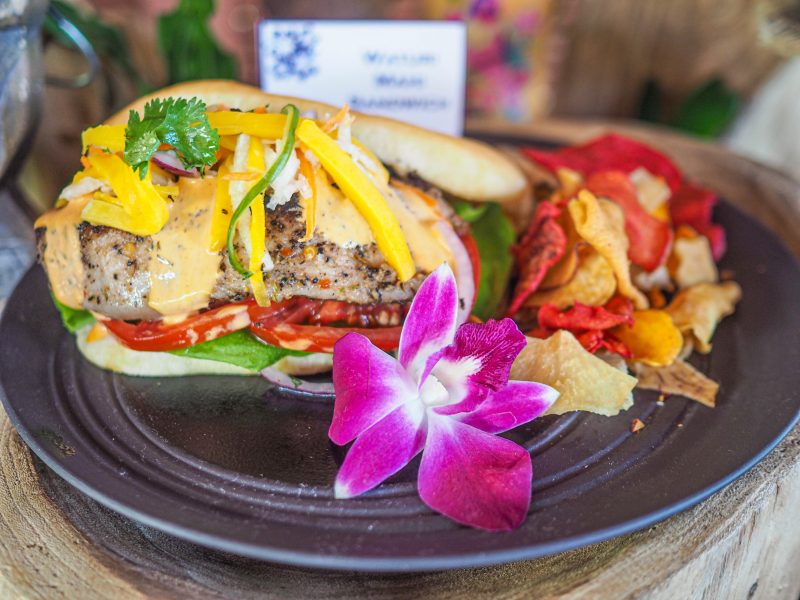 Waturi Mahi Sandwich – grilled mahi mahi, pineapple salsa, signature remoulade, lettuce and tomato on a toasted coconut bread with fries
Quinoa Edamame Burger – topped with roasted shiitake mushrooms, lettuce, tomato and sriracha mayo with fries
Mango BBQ Pulled Pork Sandwich – Topped with caramelized pineapple, fresh cabbage and mango slaw on a toasted Hawaiian style bun with fries
Nui Reka Burger – 1/2 lb. Creekstone Farms premium black angus beef, pepper jack cheese, bacon, caramelized onions and pickles with mango bbq sauce on a Hawaiian style bun
Guava Tapioca Pudding, Chocolate Pineapple Upside Down Cake, Chocolate Lava Cake
Specialty drinks served in a souvenir glass
After lunch, we hung out at the two-story private cabana and unpacked all our belongings in their private lockers.
Welcome snacks at the private cabana

Waturi Fusion Ice Cream Cone – banana, blue raspberry, orange & strawberry flavors
Volcano Bay
6000 Universal Blvd, Orlando, FL 32819
universalorlando.com/web/en/us/theme-parks/volcano-bay