Visit Orlando's Magical Dining is still in full bloom and if you're still debating on where you should go, I've got a solution for you: The Ravenous Pig, led by Chefs James and Julie Petrakis.
Visit Orlando's Magical Dining Month is back from Aug. 23 to Sept. 30 and it is a great way to try out new and old restaurants here in Orlando for $35 for three-course (or more), prix fixe dinner menus. One dollar from every meal served for Visit Orlando's Magical Dining also goes to local Orlando charities, and this year the funds raised will go to Benefit Suicide Prevention in Teens, and Help Visually Impaired Children through the National Alliance on Mental Illness (NAMI) Greater Orlando and Lighthouse Central Florida. Last year, over $250,000 was raised for charity.
Before coming to the restaurant for the tasting, I mistakenly never before took the chance to go visit the restaurant before this event. Flash forward to me – pigging out on the 3-course meal magical mini tour of the restaurant through the Magical Dining menu.
The chefs at The Ravenous Pig prep their own meats in house for their charcuterie boards. Watch the process unfurl in front of your eyes.
There's a full bar with offerings from their brewery that's located right inside the restaurant.
And if you consider yourself a beer connoisseur, I highly recommend taking full advantage of the 10$ beer pairing add-on for Magical Dining.
I started dinner off with a super refreshing cocktail, GIN & JAM (12) which is made with ford's gin, smiling goat fig-cardamom jam, and lemon.
We began with a Chicken Liver Crostini as one of the appetizer choices from the Magical Dining Menu. The airy batter really lifted the heaviness of the liver as it sat on a bed of Ciabatta bread, fig jam, pickled red onion, arugula.
Our other appetizer choice was the Steak Tartare with pickled mustard seed, jerk seasoning, smoked pineapple. The jerk seasoning was pretty much spot on, just like an authentic jerk seasoning should be – packing some heat and nice acidity.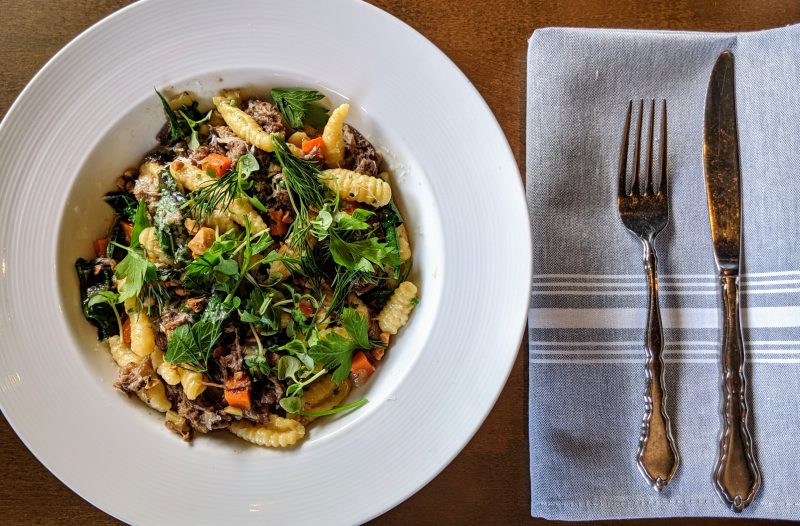 Our main course included Short Rib Cavatelli in a shallow bath of red wine jus, kale, charred onion, hazelnuts. The ingredients led me to believe that it would be a dense dish, but it felt very homey and light.
The next Magical Dining menu main course show stopper was the incredibly tender and juicy Roasted Chicken atop barley risotto, with a sweet corn purée and bell pepper jam.
And of course, we ended our dining experience with a bang with Artisanal Cheese Chefs rotating selection with seasonal accoutrements. In the above picture, I had Manchego and orange marmalade. However, the star of the dessert is definitely the Panna Cotta with Valrhona dulce and seasonal fruit. It was truly one of the best panna cotta I've had, with its delicate silky texture with a touch of sweetness.
Overall, I loved my experience with The Ravenous Pig. Thank you to the staff for being so wonderful and completely elevating my time there. I can't wait to return with more friends!
The Ravenous Pig
565 West Fairbanks Avenue
Winter Park, FL 32789
Phone: 407-628-2333