Chef Michael Collantes, former Culinary Director of Bento Group, announced today that Taglish, a new Filipino-American eatery, will open its doors in Fall 2019 at the Lotte Plaza Market, 3191 West Colonial Drive, Orlando.
Taglish will be the first collaboration between Michael Collantes and local restaurateurs Jimmy and Johnny Tung. The Tung Brothers are the owners of the successful Bento Group that owns and operates multiple concepts across Florida such as Bento, Sticky Rice, Soupa Saiyan, Chela, Avenue, and partners of Domu, Tori Tori, and Chibi with Chef Sonny Nguyen.
More from the Taglish Press Release:
"After working closely with Chef Mike for the last two years as the culinary director of the Bento Group, I am excited to see all of his creativity and passion for his Filipino heritage be put on display with Taglish. Orlando doesn't currently have any Filipino food concepts run by Filipino Americans and I feel that Taglish will really bridge that gap" – Johnny Tung of the Bento Group
Philippine cuisine is vastly underrepresented compared to its neighboring Asian countries not just in Orlando but in the United States, yet Filipinos are the second largest Asian subgroup represented in the entire USA. The cuisine can be seen through its 7,641 individual islands that represent The Philippines as it varies from place to place with its multicultural representation from China, Spain, Malaysia, India and America.
The word "taglish" is a slang term that refers to the main spoken language of Filipinos — an intertwining of Tagalog and English. As a cuisine, Taglish will represent the perspective of second generation Filipino-Americans. This will be Chef Michael's homage to his Filipino heritage and American upbringing, the first "FIL-AM" concept in Orlando.
"We didn't want to create the greatest hits of the Philippines but rather a place that can be seen as having a strong foundation in our past with an eye on the future of the Filipino food movement ." – Chef Michael Collantes
The menu hopes to bring familiar staples in Filipino cuisine such as:
Chicken Adobo (the national dish of the Philippines) marinated and braised chicken with garlic, soy, and vinegar
Kare Kare — a slow-cooked-falling-off-the-bone oxtail and peanut stew
Lumpia — crispy pork spring rolls
Beyond those offerings, Taglish will explore the American side of Fil-Am food with longanisa burgers, fried chicken, as well as modern takes on classics and some original dishes.
"Throughout my travels and career as a chef, I have always come back to Orlando to reset and be with family and friends. My wife and I thought that if we were going to make Orlando home, we should open a spot where we would like to eat at 2 or 3 times a week. This is a two fold homecoming, back to Orlando and my Filipino roots." – Chef Michael Collantes
The fast casual concept will reside in the new Lotte Market that opened in February 2019, an Asian supermarket with a food hall lineup of various cuisines. Lotte Market is a great platform for Taglish as it showcases such a wide variety of Asian ingredients not common in most stores.
"On a particularly uneventful Sunday evening of grocery shopping, my wife casually said this could be a great spot for Filipino food. When we saw whole monkfish, trays of uni, and products that just were not being stocked in any other markets, it just clicked and I knew we had found something special here."- Chef Michael Collantes
About The Chef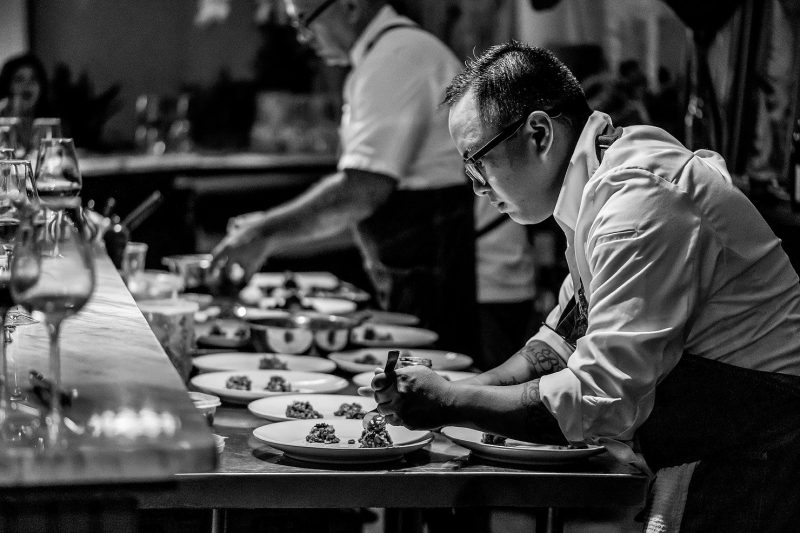 Chef Michael Collantes, an Orlando native, started his culinary career at Valencia Community College and working at Wolfgang Puck Cafe in Disney Springs as the head chef of the sushi department. He then worked at the 3-Michelin starred Joel Robuchon at the MGM Grand in Las Vegas. The late Joel Robuchon, a chef that holds the most Michelin stars in the world and named "Chef of the Century" by the guide Gault Millau. At MGM Grand, Chef Michael worked under MOF (Meilleur Ouvrier de France) Chef Claude Le Tohic of the recently opened ONE65 in San Francisco. He then found his mentor Chef Jennifer Carroll while working for Chef Eric Ripert of Le Bernardin at his sister restaurant 10 Arts in the Ritz Carlton in Philadelphia. Chef Jen, who spent multiple seasons on Top Chef, mentored him as they traveled across the country doing pop up dinners for Top Chef and the James Beard Foundation. Chef Michael would then find himself as the Executive Chef for Bar Masa in the Aria Casino in Las Vegas by Chef Masa Takayama, the only sushi chef to garner 3 Michelin stars at his New York City namesake MASA. The last stop for Chef Collantes before coming back to Orlando was his time in Hawaii as the opening Executive Chef of Park Restaurant in the Lotus Hotel. Taglish marks both Chef Michael's homecoming and the return to his Filipino-American roots.
"The hope of our team is to cook really good food, to showcase our culture, and to add to where the #filipinofoodmovement is going." – Chef Michael
Tasty Chomps Q and A with Chef Michael Collantes of Taglish!
Tasty Chomps: With the proximity of Lotte's fresh seafood and produce offerings, what are some dishes you have in mind using these ingredients?
Chef Mike Collantes: Halo Halo is a "mixed-mixed" shaved ice dessert which we will use fresh seasonal fruits like mangos, dragonfruit and lychee. But we plan to do a lot of limited time specials with whatever we get inspired by in the market. I mean I don't know many markets in town with trays of uni, whole cobia, yellow tails and monk fish.
 What made you decide to return to Orlando after your time in Hawaii?
Paradise ain't cheap! I would have loved to stay in Hawaii, but Orlando has always been home. Between travels I would always spend a month to reset back home and when my wife and I decided to start a family, it was an easy choice.
 What inspired you to become a chef?
It came pretty naturally as I cooked through my years in High school and what first was something to do in the meantime to figure out my career, grew into a passion to create in the kitchen. I enjoyed the crazy frantic fast paced chef life.
What were some obstacles you overcame during your career and what did you learn from these challenges?
I think the transition from being a good cook to a chef. You try to imitate your past chefs before really finding your own way and style of mentoring others. Learning how to continue inspire people to give their best in this very difficult career path. I think I am still learning how to overcome and working on bettering myself in the kitchen.
What are some must try's for people who will visit Taglish for the first time?
Adobo chicken is a very common dish for Filipino comfort food. You don't see it on menus much even though it's the national dish of the Philippines, because everyone makes it at home. But we wanted to still include it on the menu to share that dish with our guests. And a fun one I have been working on is our pork sausage "Longanisa Burger".
What are your favorite memories so far through the years in the culinary world?
I got to cook with some amazing chefs and amazing cooks who have since moved on to do great food and find their culinary voice. The fondest memories are tied to the people along the way. If I had to pick one – it would be doing "stages" or "trials" – trying out for a position in a restaurant when you got the nerves, when you are there to cook your best, to see if you can hang in their kitchens like I did at Alinea, Laurent Gras' L2o and Le Bernardin
Taglish, the new Filipino-American eatery will open in Fall 2019. Follow it on Facebook and Instagram to keep up with the latest. More details can be found at www.TaglishFL.com