It's that wonderful time of the year again for one of Orlando's top food and wine event! The Epcot International Food and Wine Festival is back in full swing for the 24th year, running now until November 23, 2019. The world showcase envelops the guests with boundless and diverse menu options from iconic countries around the world.
Within the promenade, there are 30 festival exclusive global food and wine marketplaces including two brand new marketplaces: Appleseed Orchard and The Alps Marketplace.
Festival fun that the entire family can interact with includes the new Emile's Fromage Montage along with returning favorites such as Disney du Jour Dance Party, Candy Sushi presented by Adventures by Disney and Remy's Ratatouille Hide & Squeak scavenger hunt.
We took a left turn when entering the entrance of the showcase to our first destination, Mexico. Starting with the top left is Taco de Puerco ($6.50), a tweak on a classic taco with shredded Pork Belly on a corn Tortilla with salsa verde. The bottom left is Tostada de Carne ($6.95) which has braised beef on a corn tostada with Mole Oaxaqueño and chicharrón Dust. We were lucky to get a hefty portion of protein on our plate. Overall, I prefer the tastier Tostada over the taco.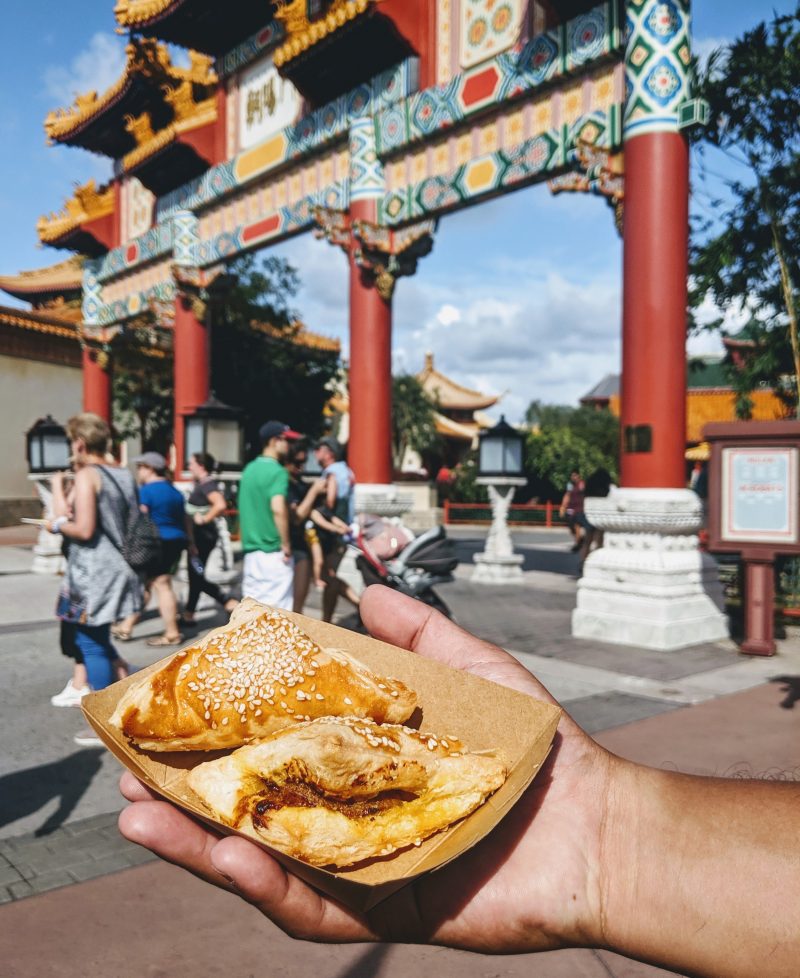 The next marketplace we approached was China. The Mango Bubble Tea was a hit since it was so hot outside. The stand next to the marketplace stand also caught our attention with these Chicken Curry Puffs ($4.80 for 2). The puff pasty is flaky as expected with a mild curry flavor chicken stuffed in the middle. This really helped us satiate our starvation while also staying on budget.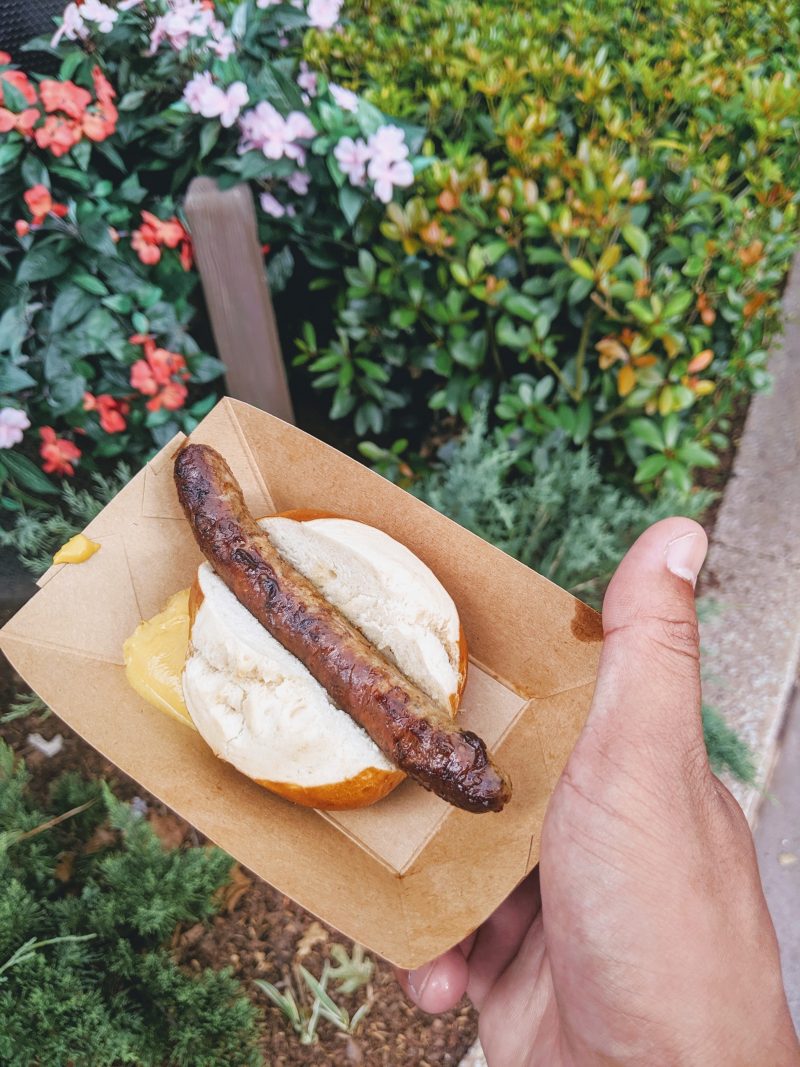 Moving onto Germany, we went with the Roast Bratwurst in a Pretzel Roll ($5.75). The sausage was smokey and salty which was a good contrast to the very standard pretzel roll.
Germany also had a Riesling Sampler ($6.25) from the regions of Rheingau and Mosel.
Madras Red Curry ($5) – Madras Red Curry with Roasted Cauliflower, Baby Carrots, Chickpeas and Uncle Ben's Basmati Rice. This is a great vegan and gluten free that packs a mild to medium heat and aromatic spices.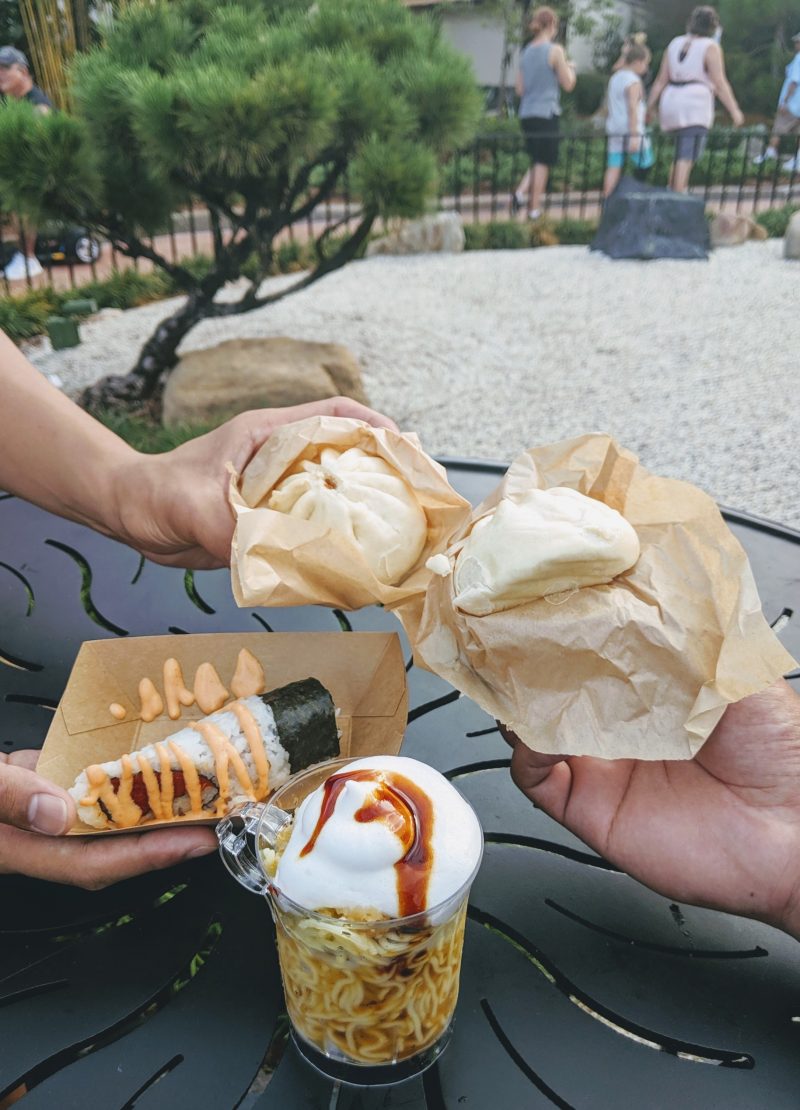 You can tell which marketplace we're most excited to try and that is Japan. We tried pretty much all of their food items starting with the Teriyaki Chicken Bun ($5.75) a savory steamed bun filled with chicken, vegetables, and a sweet teriyaki sauce. Then, we had the Spicy Roll ($5.75) which is filled with spicy tuna and salmon topped with Volcano sauce (aka spicy mayo). I would skip out on this roll, although it has some flavors (mainly spice) it was rather unexciting. Instead, go for the Frothy Ramen ($6) which offers an interesting take on classic ramen – chilled noodles and dashi broth with a light foam topping,  definitely a refreshing bite to combat the heat.
The Brazil marketplace offers a tasty gluten free option with the juicy Crispy Pork Belly ($6) with lots of flavors coming from the Black Beans, Tomato and Onions.
One of the best menu options is from The Wine & Dine Studio. They serve a Seared Scallops($6.25) dish with a generous amount of scallops on top of a Truffled Celery Root Purée, Brussels Sprouts and Wild Mushrooms. A delicate dish with the best bang for your buck type of deal.

The Epcot International Food and Wine Festival is a spectacular event that's great for the entire family. While it offers an incredible array of tasty choices from many different regions, it highlights and celebrates the uniqueness of each country and the diversity around the globe. The event will continue up until November 23, 2019, so until then definitely take a day and explore all the bites featured in the World Showcase!