If you ever asked yourself, "Why isn't there a place with premium-roast blends, artisan coffee and tea drinks that's also a shared creative space/studio with blazing-fast Wi-Fi where I can chill and be inspired to create and collaborate with other people?", then wait no more – Qreate Coffee + Studio is here to solve your coffee + studio problems.
Located in the Mills 50 District on Woodward Street (a few doors down from Ming Bistro), they are now open in soft opening mode and will have their grand opening coming on October 19 – 20th.
We recently spoke with Quay Hu (Instagram: @AroundQ) about his background and why he wanted to make Qreate a reality.
Tell us about yourself and your background
In 2015 after 20 years in corporate operations, I quit my traditional 9-5 position to move into a freelance and commercial role. While working on projects I discovered my passion for traveling and often found myself working at coffee shops and creative spaces.
My goal is to bring together creators and photographers with similar interests in a space that will allow us to network and inspire one another, all while enjoying delicious craft coffee and specialty drinks.
How did the idea for your new business come about?
I am fortunate to travel often for my work and always enjoy visiting local coffee shops wherever I go. No matter how far away I am from home, there is always a local coffee shop that I can find familiarity and comfort in. My travels have certainly shaped my view of coffee and coffee shops. Traveling continentally to cities such as New York, Chicago, San Francisco, Nashville, Seattle and Dallas and internationally to countries such as Italy, Spain, Hong Kong, and Australia, have all contributed to the menu items and design at Qreate.
Of all the memories you have around food growing up, what is the most memorable moment and why?
As a first-generation immigrant, we grew up very frugal. Going out for dim sum or an authentic Chinese dinner was always a treat commonly reserved for holidays and birthdays. My favorite memories of those events were the time spent with family and friends when everyone could relax and enjoy one another among great food and company.
Similarly, the creative community is very familial and we welcome anyone with an open mind to join us as we enjoy great drinks and company together.
What inspires you?
My family inspires me to pursue my dream and build something for the community that is bigger than myself. I am always inspired by meeting new people and other artists who share the mindset of building a culture and network together.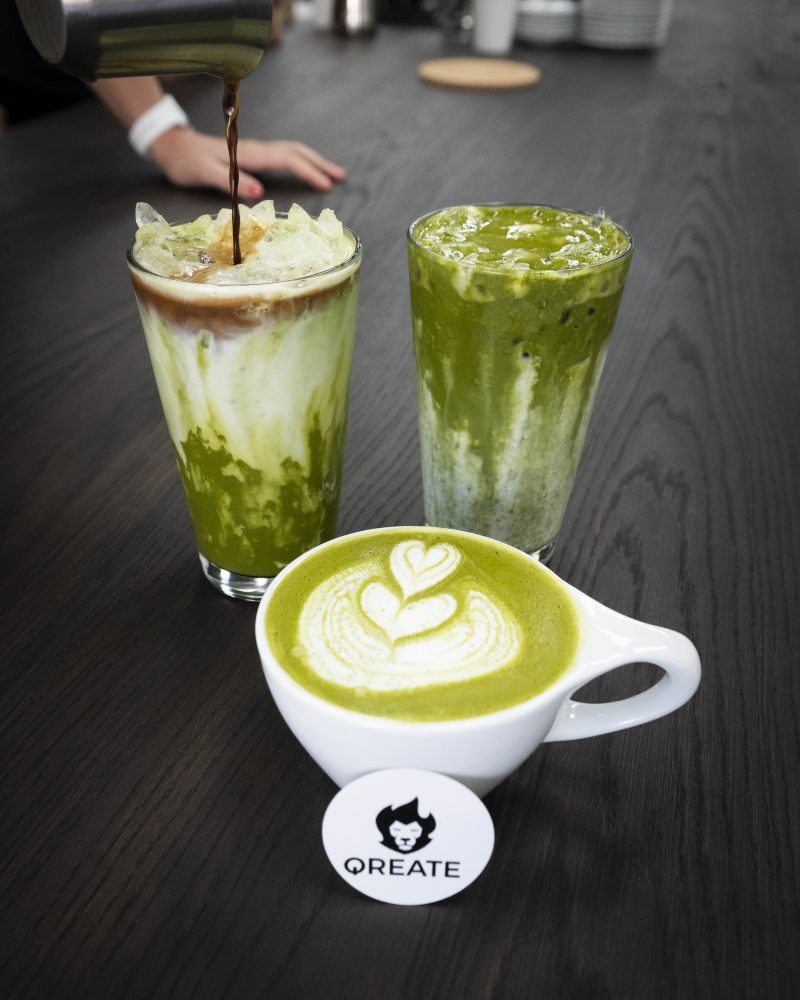 What do you want customers to know about your business?
Everyone is welcome here. We have a family-oriented space with friendly faces and great specialty coffee. We aspire to inspire one another. Our motto is "Connect, Create, Caffeinate" and we are looking forward to seeing you!
What are some must try's at your place?
The Purple Pearl is a popular favorite, as well as our version of Vietnamese coffee. The Dirty Matcha latte is a drink that I'm very proud of as well. I also have a soft spot for the affogato because who doesn't love an excuse for some ice cream?
What is the most challenging aspect of opening a new business and how did you overcome it?
It's extremely stressful opening a new business and there is a lot of pressure to open as soon as possible especially if you are as excited as I am. Working with contractors and building trust with them to further my vision was a new experience for me and I am thankful to have referrals for contractors that were vetted and professional.
Building a team of highly skilled baristas that understand and want to be a part of the vision and culture was a challenge for me. I am extremely proud of my team #GUJIgang and excited to be working with such a committed and passionate group of people. I'm confident in the abilities they each bring to the table and look forward to everyone getting to know them more.
What are your upcoming plans?
Our official grand opening is October 19-20th. We will be doing giveaways and hosting a photo walk so be sure to mark your calendars!
Photography workshops, networking events, SONY Alpha week, and more creative drinks are all coming soon as well.
We are currently in our soft opening but always adding to our menu so there may be something new that you haven't tried before!
Rules for the contest are displayed here:
https://www.instagram.com/p/B3auApkhhwq/?utm_source=ig_web_copy_link
LOCATION
1212 Woodward St
Suite 1
Orlando Fl 32803
407.601.1796