Booktoberfest takes over the Orlando County Library for one night every year.
This year attendees sampled a variety of beers from local brewers in the Bungalower Biergarten and enjoyed light bites from Roque Pub, The Greenery Creamery, Florida Technical College's Culinary Arts students and more.
L. Frank Baum's 'The Wonderful Wizard of Oz' was selected as this year's theme because it is the 80th anniversary of the film adaptation featuring Judy Garland.
There was a costume contest, so some guest dressed to this year's Wizard of Oz theme.  The best costume won tickets to Legoland.
The event first started in 2013 by friends of the Orange County Library System.  It was a fairly humble event where the whole thing fit in the Albertson Room on level 3.  Now the event takes up the entire first floor.

Friends gathered around to play to games, trivia, and learn about the brewing process.

Jon Busdeker was the host and DJ – all the music he played can be found at the library.

All proceeds benefited the Friends of the Orange County Library System, which helps fund important library programs and initiatives.
Food vendors were:

Greenery Creamery – handmade dairy and vegan ice creams.

Florida Technical College – samplings from the culinary school.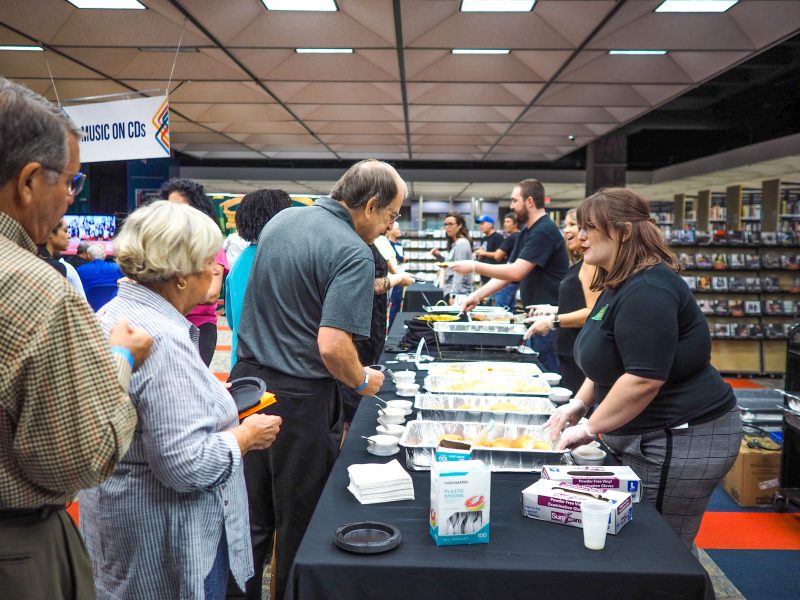 Texas Roadhouse – bread and sweet cream.

Roque Pub – traditional, German-style potato salad, beer pretzel, chocolate dessert.

Peach Valley Cafe – famous housemade peach cobbler.

Enchantra's Treats – homestyle cookies, brownies, candy apples, cake pops, and more.

Pom Pom's – sandwiches.
The breweries in the Bungalower Biergarten were:

Ivanhoe Park – an independent craft brewery and tasting room located in the historic Ivanhoe District of Orlando, FL.  Ivanhoe Park Brewing Company celebrates the spirit and pioneering ways of early 20th century Lake Ivanhoe founder George l. Russell.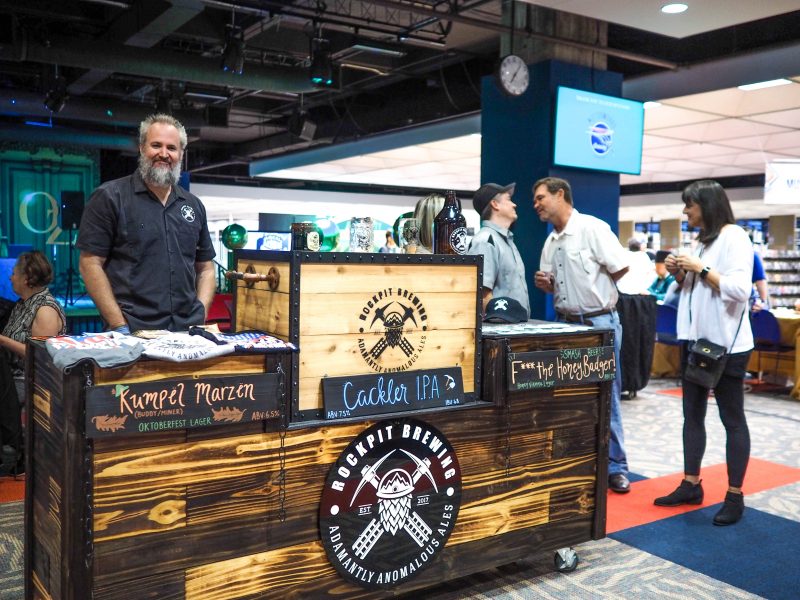 Rockpit Brewing – a coal-country inspired brewery that's quickly turned into the gathering place for locals who love to enjoy a good local craft beer with friends and family.
Sideward Brewing – a family-owned brewery, taproom and kitchen in the heart of Orlando.  Their three co-founders – Garrett, Mandy, and Austin – grew up in here.
Hop Life – a firefighter owned and run brewery offering 18 beers on tap, 8 in distraction, and has a warm atmosphere, inviting staff, and nightly events.
Motorworks Brewing – a craft-beer obsessed collective of spirited, inspired and talented individuals devoted to creating and sharing world-class libations with Brandenton, FL and beyond.
Ravenous Pig – an American Gastropub experience, set against the backdrop of the cozy and comfortable neighborhood ambiance of downtown Winter Park.
Cocktail station from The Hammered Lamb.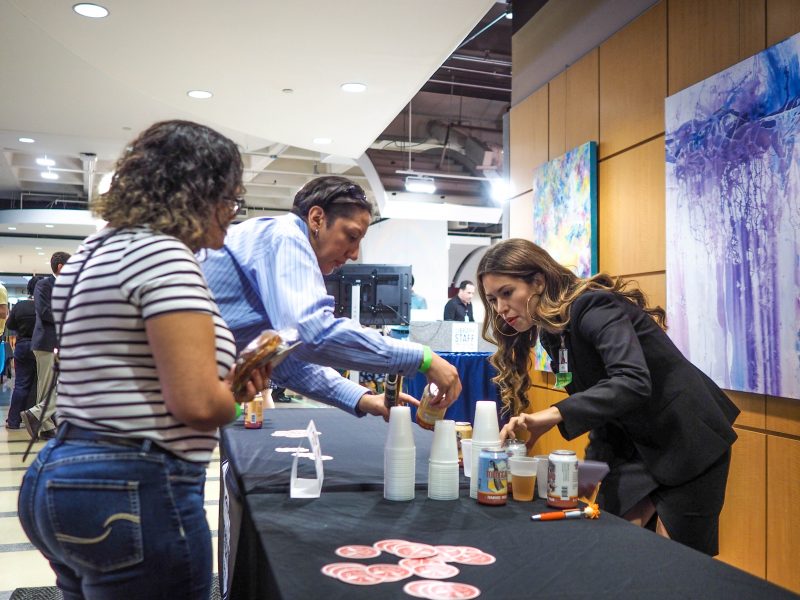 Ten10 Brewing – a local brewery with a relaxed, modern vibe offering housemade craft beers, bar snacks & sandwiches.  Ten10 is located on the border of Ivanhoe Village, along the Dinky Line bike trail.
There was also:
Literary themed trivia hosted by Erica Lee.
Button making station.
Silent auction that ran throughout the night.
Performance by the Central Florida Accordion Club.
Overall, it was a great night.  Be sure to check out Booktoberfest next year for a fun night out benefiting our local library!
Orlando Public Library
101 E. Central Blvd.
Orlando FL 32801