We were invited to check out Hook & Reel Cajun & Bar on West Colonial to experience what they have to offer and we thoroughly enjoyed our visit.
Hook & Reel opened in 2013, by the founder Miller.  He opened the first restaurant in Lanham, Maryland and it was an instant hit.  With all of the success from the first store, more stores started popping up across the country so that Miller could share his delicious seafood and "cajun experience" with everyone that were inspired by his trips in New Orleans, Louisiana where he admired their Southern flavor profile and spin on French Seafood.
Hook & Reel Orlando is a beautiful restaurant with a unique decor, awesome seafood and a hard-working staff that will guarantee you a great time. Their food quality, friendly service and cleanliness will exceed your expectations.
Their menu has a wide variety of different choices.
You can simply select your choices of meat, seafood, vegetables and what you'll get is a culinary creation that will make you feel like you're down in New Orleans.
I highly recommend their new fried scallops as an appetizer.  They have a nice crispy coating on the outside and a sweet flavor and tender texture on the inside.  They are really good, succulent and huge.
Click the video below to watch how their seafood boils are served:
Their unique presentation on their seafood boils sets them apart from their competitors and they pride themselves on serving only high quality seafood.
Their most popular menu item is their signature boil with Hook & Reel blend sauce.
The signature boils are served in a bag with your choice of proteins, seasoning, spice level and includes corn & potatoes.  I ordered mine with king crab leg, crawfish, sausage and oysters.  It was delicious!
Hook & Reel uses the finest and freshest seafood, coupled with fresh garlic, lemon pepper, herbs and spices, and chili powder.  All ingredients combine for a one of a kind aroma and finger licking experience that makes people want to come back over and over again.
Happy Hour is at the bar from Sunday through Thursday from 3-7pm and Friday & Saturday from 10pm-12am.
They also offer $5 daily drink specials at the restaurant and the bar all day.
My friend enjoyed their signature cocktails which were Mango Mai Thai & Hook Punch.
What's for dessert?  Beignets with vanilla ice cream that will surely satisfy your sweet tooth.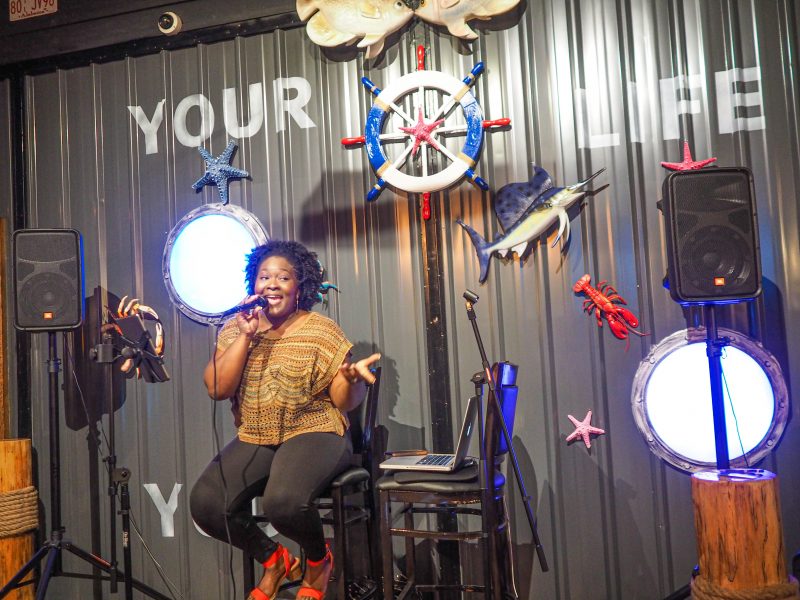 Live music is Wednesday & Thursday from 5-9pm and Friday & Saturday from 6-10pm.  Their performer roster rotates so check their social media to see current performers for the week.  The evening that I went they had a very talented and soulful singer named Qiana Miles.  She had the voice of an angel.
Hook & Reel is a great place to celebrate birthdays.
And also to have fun and dance.
Thank you to the manager Edwin and owner Eddie for having us!
Hook & Reel is a rapidly growing casual family dining restaurant chain, with new locations opening at a brisk pace.  Be sure to check out their Orlando location the next time you are in the West Colonial area!
Hook & Reel Cajun & Bar
7480 W Colonial Dr. Orlando, FL 32818
(407) 801-5223
hookreel.com