Ramen Rumble presented by Seito Sushi Baldwin Park & The Osprey Tavern was held on Monday, December 9th at The Osprey Tavern.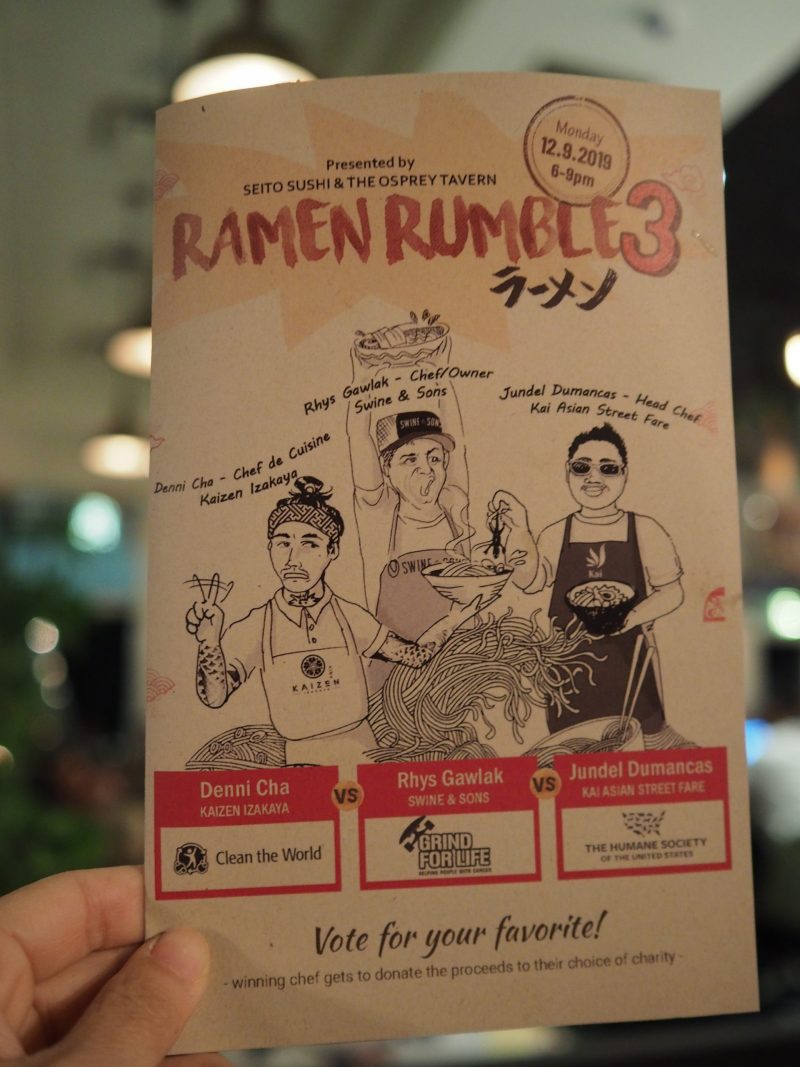 This year, over 150 people attended the event, raising $3000 for charity, chosen by the winning Ramen Rumble chef.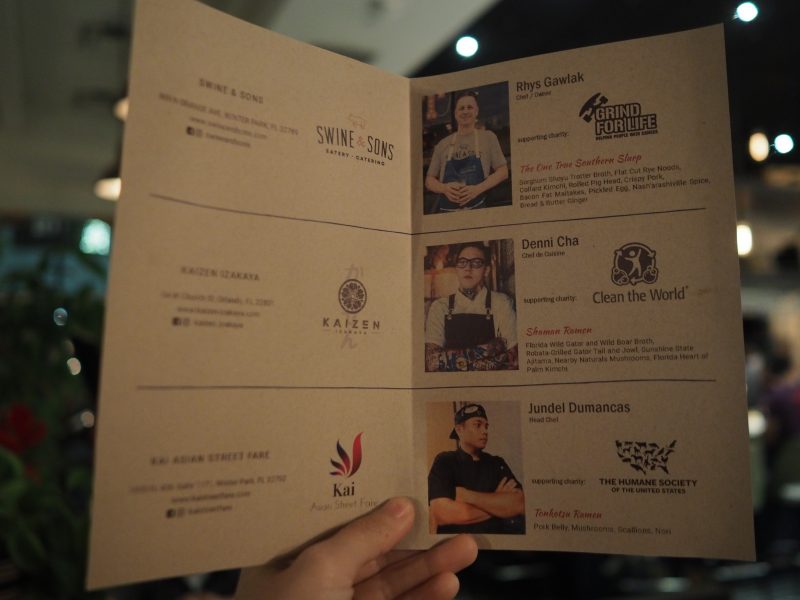 The aim of the Ramen Rumble competition is to unify and lift up our culinary community through philanthropic events and to further build the appreciation of the many ramen styles available to us in Orlando.
In the end – Chef Jundel Dumancas of Kai Asian Street Fare won with his tonkotsu ramen with pork belly, mushrooms, scallions and nori, taking home the $3,000 for the charity of his choice, The Humane Society.
Here are photos from Ramen Rumble 3:
Kaizen Izakaya – Denni Cha, Chef de Cuisine


Shaman Ramen: Florida wild gator and wild boar broth, robata-grilled gator tail and jowl, Sunshine State ajitama, Nearby Naturals mushrooms, Florida hearts of palm kimchi.
Charity: Clean the World https://cleantheworld.org
Swine & Sons Provisions – Rhys Gawlak, Chef/Owner


The One True Southern Slurp: Sorghum shoyu trotter broth, flat cut rye noods, collard kimchi, rolled pig head, crispy pork, bacon fat maitakes, pickled egg, Nash'arashiville Spice, bread & butter ginger.
Charity: Grind for Life http://www.grindforlife.org
Kai Asian Street Fare – Jundel Dumancas, Head Chef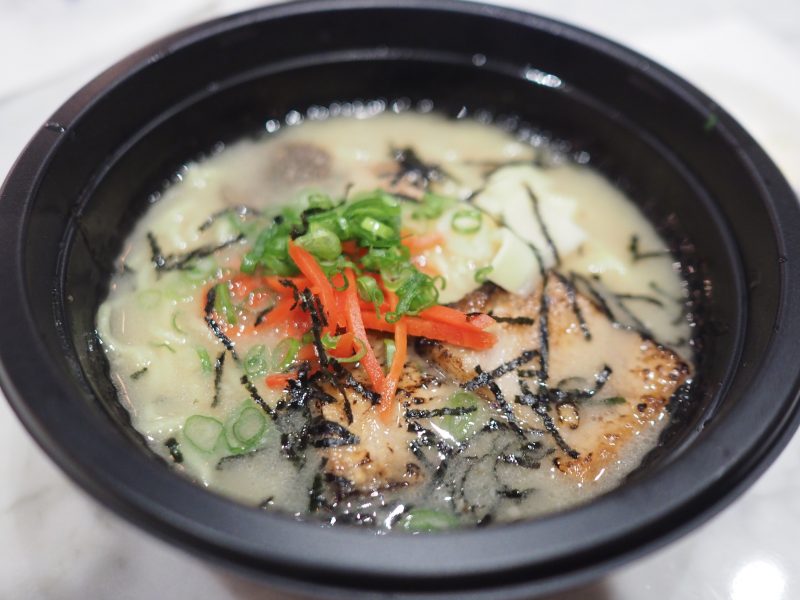 Tonkotsu ramen: Pork belly, mushrooms, scallions, nori.
Charity: The Humane Society https://secure.humanesociety.org
Desserts by Executive Pastry Chef Kristy of The Osprey Tavern

Seito Sushi Executive Chef Huy Tin, The Osprey Tavern Pastry Chef Kristy Carlucci, The Osprey Tavern Executive Chef Elek Kovacs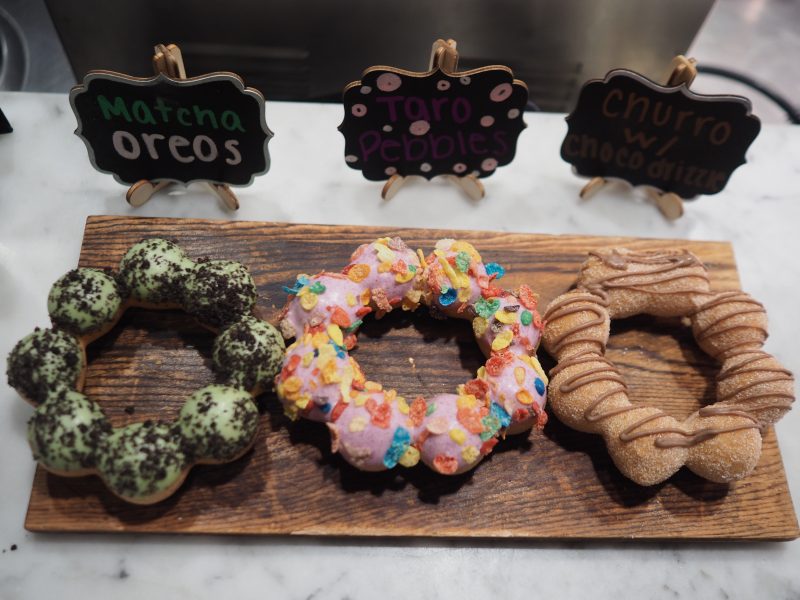 Donuts from Mochi Dochi
Sake tasting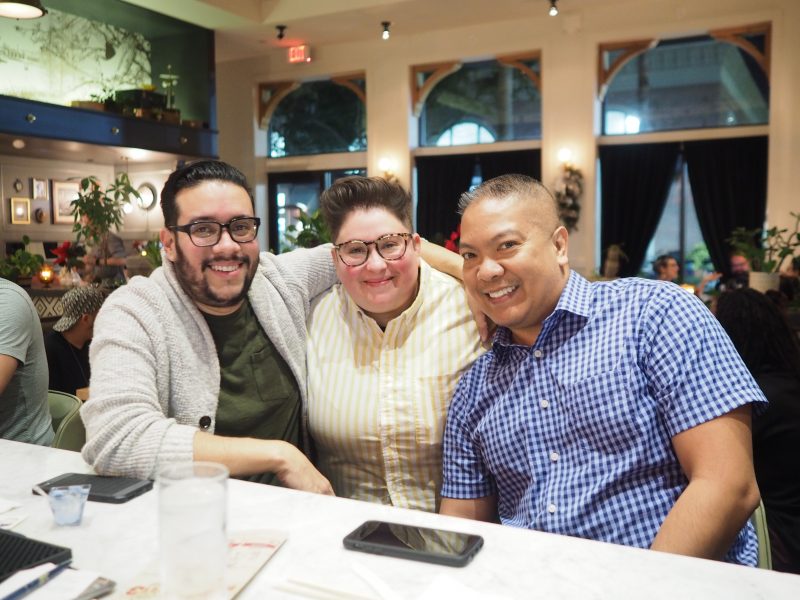 Shout out to Jason and Sue Chin of Seito Sushi, The Osprey Tavern, and Reyes Mezcaleria for hosting this incredible event for the community!
The Osprey Tavern
4899 New Broad Street Orlando, FL 32814
ospreytavern.com