Kona Poké welcomes its second location in Sanford, Florida (1813 WP Ball Boulevard, Sanford, FL 32771) this month.
Guests of Sanford's 1,300 square foot restaurant will enjoy Kona Poké's healthy and delicious Hawaiian-style poké bowls with fresh sushi-grade fish, house sauces and over 40 fresh toppings to choose from, plus vegan, gluten-free and cooked options available.
They can also choose from a variety of Signature Poké Bowls, Build Your Own Bowls, Soup, Salads and Mochi Ice Cream, which they'll savor inside Kona's contemporary, relaxing restaurant vibe with subtle elements of poké's Hawaiian heritage. Also, instead of the usual Coke products, they offer carbonated craft Stubborn soda.
"We are thrilled to open our second location in Sanford less than a year after opening in Lake Mary and kick off the tremendous growth for the Kona Poké brand, says Owners Matthew Ting and Ernie Falco III. "With the holiday season here, we wanted to give back to the community that's been so welcoming to us by providing different specials all week long. We are excited to celebrate with everyone, and we look forward to continuing to expand and more and more people experiencing just how insanely delicious Kona Poké is."
We spoke with partner Matthew Ting about his childhood growing up as well as their inspiration behind Kona Poke. The team plans to expand pretty quickly and are partnering with several market developers to expand the brand across the state.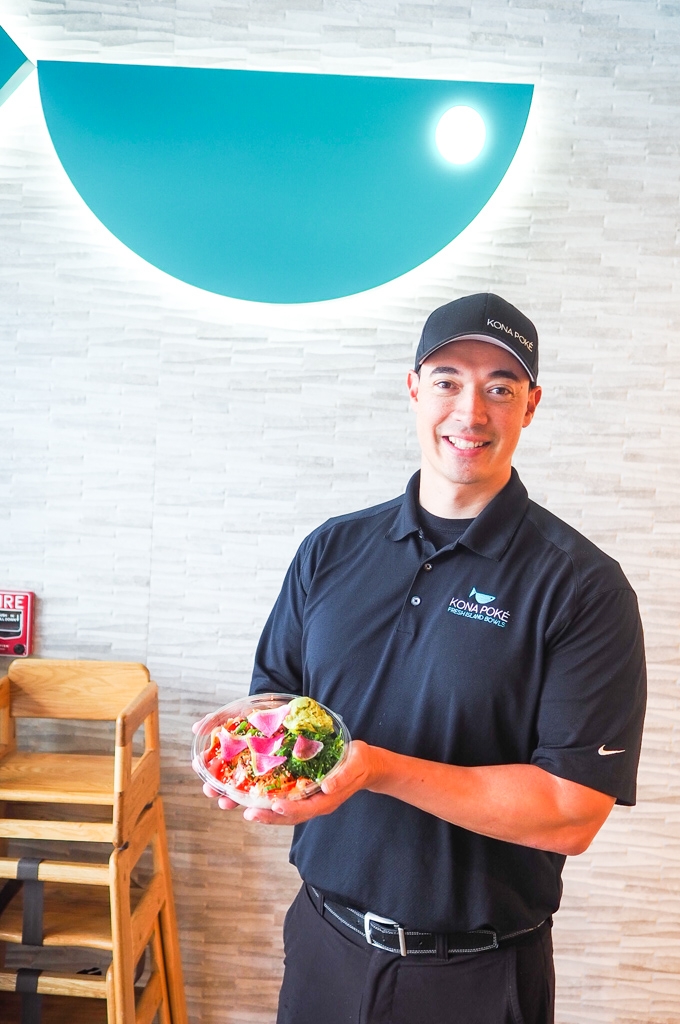 Tasty Chomps: How did the concept of Kona Poke come to be?
Partner Matthew Ting: When my brother started fishing years ago, he immediately got me hooked.
We would go offshore, bring home a ton of fish, and then have family dinners at my house. That's when we started making poke bowls. Everyone enjoyed them and we couldn't get enough.
We've had "tuna" parties at my house for years and years. I've always loved a fresh yellowfin tuna poke bowl.
As a restaurant operator for over 18 years, I saw an opportunity to share my passion for poke with other people. When my partner Ernie approached me about opening a poke restaurant after returning from the west coast, I couldn't resist.
What are some of your favorite earliest memories around food?
My favorite earliest memories around food has to be when I was a kid eating Dim Sum. My grandfather lived in NYC. We would visit him frequently. He would take us to the same dim sum restaurant in China Town every visit. I loved the action and vibe of this dirty, little hole-in-the-wall restaurant. My grandfather and father would order everything, such as chicken's feet, octopus and other insane dishes for us kids to try. It was my favorite part of visiting the city growing up. To this day, my family will still meet at a dim sum restaurant whenever we can.
What inspired you to get into the food industry?
I started in the food industry when I was in high school. I worked at a sports bar as a busboy and worked my way to become general manager within two years. After I realized I was pretty good at it, I stuck with it.
I have been involved with the group that owns the Tijuana Flats in Volusia County for the last 12 years. The stores are very healthy, and I am very proud of what we have accomplished for the community.
What are the most popular dishes at Kona Poke right now?
Our most popular dishes at Kona are: Kona Fire (Fresh ahi tuna marinated in our signature classic Hawaiian sauce, topped with seaweed salad, green onions, avocado, sesame seeds, sriracha aioli, sriracha and onion crisps), Tidal Wave (Fresh ahi tuna topped with seaweed salad, green onions, eel sauce, sriracha aioli, avocado and onion crisps) and Bourbon Chicken (Marinated bourbon chicken topped with green onions and sesame seeds).
To commemorate the opening, Kona Poké Sanford is celebrating all week long offering the following daily specials (11am-9pm):
Monday, December 16 – First Responders receive 50% off one bowl
Tuesday, December 17 – Tuna Tuesday $9.99 tuna bowl and fountain drink
Wednesday, December 18 – Teachers receive 50% off one bowl
Thursday, December 19 – Students receive 50% off one bowl
Friday, December 20 – Ribbon cutting at 11am, followed by BOGO buy one bowl, get one bowl 50% off and complimentary Kona beer all day.
Find Kona Poké Sanford located at 1813 WP Ball Boulevard, Sanford, FL 32771 and the first Kona Poké Lake Mary located at 242 Wheelhouse Lane, Unit 1230, Lake Mary, FL 32746. Hours of operation are Monday thru Saturday 11am-9pm, Sunday 11am-8pm. For additional information, future locations, menu and more, visit www.konapokebowls.com.