What began as a food truck and catering concept, locally-owned Bem Bom on Corrine has become one of the hottest restaurants in Orlando – and for great reason.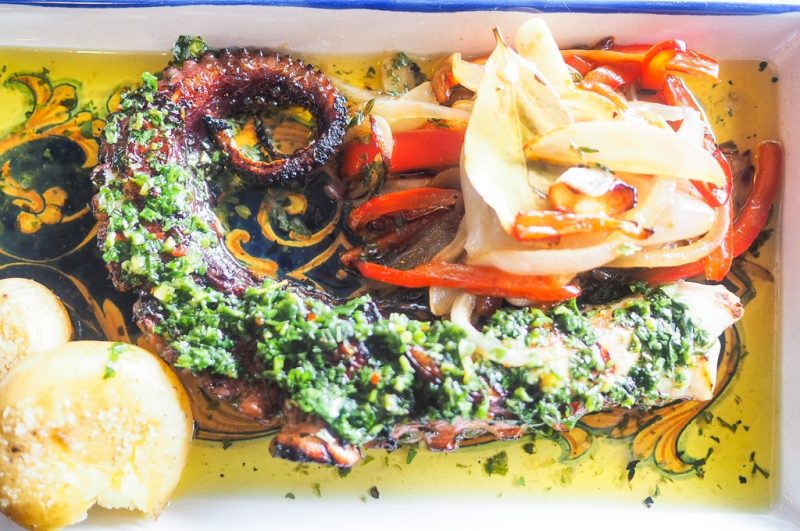 The eatery in Audubon Park Garden District, Orlando, FL, provides some of the best Mexican & Portuguese cuisine in town, led by world class chef Chico Mendonca from dishes like the Prego de Frango Piri-Piri, piri-piri marinated chicken sandwich served with freshly baked Portuguese bread and hot mustard, cilantro, and pepper relish to the whole oven roasted octopus in olive oil.
One of our favorite dishes here is a special known as the alheira, a poultry-based Portuguese chorizo style sausage invented by the Jews of Portugal, during the Inquisition period in the 1400s. As a way to avoid attracting the attention of the Portuguese Inquisition or in rural areas the Portuguese Christians, they began to make sausages from other meats such as poultry and game, mixed with bread for texture.
We got a chance to chat with Chef Chico about his journey from the Azores, the group of islands just west of Portugal on the edge of the old World, to America and Orlando, Florida in the "new" World.
Tell us about your childhood – what are some favorite memories you have about the Azores growing up?
I was born and raised in Povoacao, Sao Miguel island, Azores an autonomous region of Portugal. Povoacao, was the first populated area of the Azores, back in 1432. It's a gorgeous place with the main town at the edge of the ocean and 7 villages sitting on top of 7 hills with the highest mountain on the island as back drop.
Back in the sixties, we had no T.V. available, until I was 11 years old. Ny parents had the first T.V. in the village I come from, so on Sundays we set the T.V. in the window on the main square and it would be packed with people watching T.V. for the first time.
Because of that, most entertainment was soccer, street games, and most people would hang out on the streets. In my case, I would go the beach almost daily. I was fortunate, since most of my friends and cousins had to work at very early age and would only complete minimum school, which back then was 4th grade and later on 6th grade.
My family had a grocery, hardware and liquor store in the center of the village, till the day my dad passed away, we supplied the goods to the community. My dad loved planting vegetables and herbs first thing in the morning before opening the store – that was his way of relieving stress. And luckily for our family, we had the best veggies ever.
Food was a big ritual in our household, and my mom was a incredible cook, from fresh baked bread, soups, fresh fish everyday. We raised our own poultry, cattle and pigs.
What would you say to people if they have never been or heard of the Azores?
Azores is absolutely beautiful, exotic, quaint, old, modern and the people are their greatest asset. My favorite time of the year is summer, at least twice a day to the beach, long lunches and even longer dinners with family and friends, beautiful streets, cafes, bakeries, restaurants, bars, whale watching, etc.
Looking back over the years, what were some important moments in your life which made you decide you wanted to become a chef?
Bermuda, I've lived in Bermuda for 11 years, never cooked professionally before. I had several British chefs friends. One day the executive chef at the resort I was working needed some help in the kitchen, asked me to help out, I did and it was love at first sight.
I knew then that was my path going forward.
What is your "food philosophy"?
Being classically French and continental cuisine trained in Bermuda, when moving to Dallas Texas, I've always pursued incredible restaurants to work for, going to dine on those establishments several times, before applying for a job. For a long time I was really into fine dining. After awhile, it can get very stressful.
Nowadays, I still apply French techniques to my cooking, but along the way, I've learned so much from different cultures and incorporate it. For sometime now, my philosophy, is, keep it simple, use the best, freshest, local ingredients possible and having been a saucier chef, sauces are a huge part of everything I serve.
How did you come to have your love for Mexican and Portuguese cuisines?
Mexican food was definitely Dallas, most cooks I've worked along with were Mexican. Staff meals were always legendary and authentic, just like they ate back home. I made a few visits to Mexico to visits friends and it's a life changing event.
Portuguese was very natural. After cooking so many cuisines, I wanted to showcase my country. In a way, it reconnects me to childhood and of course I wanted so much for this community to get to know Portuguese cuisine.
By the way, a lot of people are not familiar with the cuisine, but Portuguese cuisine is very complex, with some influences from South American (Brazil), African, Indian and Asian cultures. These cuisines are all a integral part of our cuisine because of the discoveries…I could write books about this subject.
Tell us about the piri piri sauce – what is special about it?
Piri-Piri sauce originated in Mozambique a former Portuguese colony, brought to Portugal and made famous by restaurants in the Algarve region and then nation/worldwide. Most Portuguese make their own, with various degrees of success and style. The special thing about piri-piri, is the heat and flavor of the chile( malagueta), unfortunately I haven't been able to get fresh malgueta peppers in USA. 5 basic elements to a good piri-piri, malagueta pepper, garlic, lemon, whisky and olive oil.
We loved the bread and the pastel de nata – tell us about the bakery and process?
I have a Portuguese baker for our Azores roll and natas. I love to eat bread, actually don't know how to eat without, but do not like to bake.
The lamb burger was a huge hit – can you tell us about how you make this beautiful dish?
Thank you. Please watch the video on Food Network with step by step.
https://www.youtube.com/watch?v=MY_hjvWM-5Q

What are some of the most popular dishes right now at Bem Bom?
The most popular dishes right now include the Cod fritters, Frango Churrasco, Enchilladas, Carnitas, Lamb burger, Octopus, Carne assada, 12oz Cod and Natas
What are your plans for the restaurant and food truck in the near future?
We have a new menu coming, with small plates(petiscos), more Portuguese dishes, and we will make fresh cheese in house and chouriço (Portuguese sausage) as well. We also will expand patio seating, hopefully cover the patio and be able to serve alcohol which would be amazing. As far the food truck, right now we are doing mostly private events and catering rentals.