First Watch has released their newest seasonal menu, featuring three brand new dishes and a fresh option from the juice bar – healthy and perfect for those of us working to improve our eating habits in 2020. Chef Shane Schaibly, First Watch's Corporate Chef, speaks with us at Tasty Chomps! about their new menu as well as his childhood memories of beets growing up. Read more below!
Interview with Chef Shane Schaibly, First Watch
Tell us more about your culinary background and favorite "food" moments.
Before I joined First Watch, I actually worked in fine dining for brands like the Ritz-Carlton in Miami Beach and Tampa's Café Ponte. I joined The Melting Pot in 2007, and one of my favorite food moments there was setting the Guinness World Record for Largest Cheese Fondue Set while working as manager of culinary development. I also served as The Melting Pot's director of food and beverage and ultimately corporate chef, where I helped develop menu items and had the chance to travel around the world opening restaurants.
What were some of your favorite breakfasts from your childhood?
My mom was a single parent, so my brother and I didn't grow up having a lot of elaborate breakfasts. We were always heading out to some sort of game, practice or tournament as Mom is a champion coach and had us involved in sports, like all year round! So, we had a lot of Pop-Tarts, Eggo waffles and cereal! That said, for a special treat she ALWAYS made us Pillsbury Cinnamon Rolls from the can: round pan, 8 rolls, icing from the little can on top – pure magic!
Ricky Ly, Tasty Chomps: What are you most excited about for the new seasonal menu here at First Watch?
Chef Shane Schaibly, First Watch: The dish I'm most excited about on this season's menu is definitely our Brilliant Beet Toast. When I was growing up, I dreaded having to eat beets – they were so oily, mushy and gross – ew. So, I've made it my mission to make them appealing and downright tasty, and not only that, they've got health benefits for days. For one, they've got so many nutrients in just a few calories, and they can help regulate blood pressure, fight inflammation and improve digestive health, just to name a few. I can't wait for you to check out this recipe!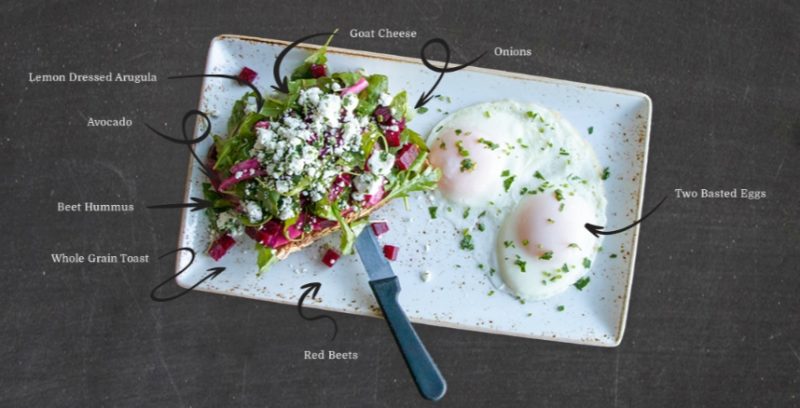 Brilliant Beet Toast is made using our whole grain artisan toast topped with house-made beet hummus, fresh avocado, house-pickled onions, diced red beets, lemon dressed arugula and herbed Goat cheese, and we serve it with two cage-free basted eggs (or, however you like your eggs cooked is good with us!). It's a vegetarian dish, and if you're one of our gluten-free diners, you're always welcome to sub the whole grain artisan toast for our Udi's gluten-free toast – for free!
You can try this great new dish at a First Watch near you through March 15, alongside our seasonal Vanilla Chai Latte Pancakes, Baja Chicken Burrito Bowl and our Blue Booster juice. Check out the rest of those new menu items here!
Beets were not a popular dish when we were growing up, how did this change over the years for you? What has First Watch done for this new beet dish?
Funny story about beets and me… Again, Mom wasn't doing a lot of cooking back in the day but my Mema (grandmother) always had amazing family meals, cooked from scratch, for all of my aunts and uncles and cousins. Unfortunately, one of the items frequently on the menu was beets… canned, pickled beets… so gross but for some reason they were ALWAYS around. But, I DID love cranberry sauce; canned, jellied cranberry sauce like for Thanksgiving. So, one day my Mom was tired of me not eating the beets and told me it was cranberry sauce. Of course I dove right in, huge bite and almost got sick right then and there. I vowed to never eat beets again!
Fast forward about 15 years, I was working in Tampa at a fine dining restaurant called Café Ponte. Chef would bring in these absolutely beautiful little candy-striped beets from a local farm. We house pickled them in sugar, spices, sherry vinegar and used them on a Beet Salad with panko fried goat cheese. AMAZING. My life had been changed! From there, we incorporated beets into so many great dishes over the years: Beet Carpaccio, Beet Tartare, Beet Cous Cous, Beet Pasta, salads, crudité, all the things. And so began my love affair with beets!
Now, I have the unique opportunity to possibly change some lives with beets here at First Watch. We already have our Morning Meditation Juice which is orange, lemon, agave, turmeric and ginger in the base and then a Beet juice topper – a beautiful finished product showcasing the color and earthy flavor of the humble beet! We've also just rolled out our Brilliant Beet Toast on our Seasonal menu, which starts with our Whole Grain Artisan Toast topped with Beet Hummus, fresh sliced avocado and a salad of lemon dressed arugula, diced Greek beets, house-pickled red onions and herbed goat cheese.
What are some of the inspirations behind the new seasonal dishes?
As with all of our Seasonal menus, the seasonality of great ingredients is always a huge part of the inspiration. Now some people might argue that beets have no season because they are available year round! I'd say they are great in every season, the only change is how you prepare them for the best flavor. In Summer and Fall, we roast a lot of beets and then winter comes and pickled or fresh boiled and diced come into play. Then Spring calls for juicing!
For our Jump Start seasonal menu, we know it is still winter and most Chefs go the route of hearty, heavier dishes to combat the cold weather. In contrast, we choose to develop dishes that play to a brighter, fresh chord that highlights the ingredients themselves.
Vanilla Chai Latte Pancakes with fresh raspberries, bananas and Maple Chai Almond Butter and our new Baja Chicken Burrito Bowl showcasing ancient grains quinoa, farro and brown rice, salsa verde chicken, black beans, kale slaw, fresh avocado, cilantro and cotija cheese.
VANILLA CHAI LATTE PANCAKES
We added vanilla chai and fresh banana to our multigrain pancake batter. Served as three mid-sized pancakes topped with fresh sliced bananas, raspberries, maple-chai almond butter and super-seed crunch.
BAJA CHICKEN BURRITO BOWL
Ancient grain blend of farro, quinoa and brown rice, with seasoned black beans, salsa verde chicken, pico de gallo, lime crema, kale slaw, fresh sliced avocado, Cotija cheese, fresh cilantro and a cage-free sunny-side-up egg.
For more information, visit all the  new menu items at First Watch here!