Meet Chef and Owner Eddie Nickell, the mastermind behind all of our menus at the iconic Bites & Bubbles restaurant in Orlando's Mills 50.
While many may not be aware, Chef Eddie has an impressive background, having worked alongside some of the world's most renowned chefs and restaurants throughout his career.
His culinary expertise extends beyond the regular offerings, as he also curates specialized Wine Dinners on a monthly basis in addition to flawlessly executing private dinner functions, leaving guests with unforgettable dining experiences.
What sets Chef Eddie apart is his unwavering commitment to freshness and quality. The menu changes frequently, and sometimes even daily, to ensure that only the freshest ingredients are used. Chef Eddie personally handpicks the ingredients each day, foregoing the convenience of buying in bulk for the sake of offering exceptional flavors.
We recently had the honor of interviewing Chef Eddie Nickell – read on below!
Tasty Chomps Interview with Chef Eddie Nickell of Bites & Bubbles
Ricky Ly: What dish are you most proud of creating?
Chef Eddie Nickell: It's quite difficult for me to pick just one dish as my proudest signature creation in the kitchen since my menu constantly changes. Every day, I draw inspiration from the freshest ingredients available, which leads me to create new dishes that reflect my current passions. As a result, tomorrow's menu will always be an exciting new adventure for me. If you happen to spot something you like on the menu, I encourage you to order it because it may not be available the next day.
I often receive requests from diners who have enjoyed my past creations, and some have even asked for my recipes. In response to these requests, I am currently working on a cookbook that will feature many of my signature dishes, as well as stories from my childhood and culinary career. Stay tuned for more updates on the progress of the book!
Can you share a story about a memorable meal you prepared?
One meal that really stands out in my memory is a "Family Gathering" that we had lakeside with our chosen family from the restaurant industry. We started the evening with fun games and shared stories while sipping on Peach Daiquiris. Throughout the evening, we enjoyed an assortment of cheeses as a perfect complement to the meal. For the main course, I grilled some mouth-watering filet mignon, succulent lobster tails, and these gorgeous giant shrimp that I tequila grilled. I also served my grandmother's delicious homemade potato salad recipe. We wrapped up the night with a campfire and made S'mores while sipping on a nightcap of bourbon.
How do you come up with new menu ideas?
Thomas Keller's famous quote, "A recipe has no soul. You, as the cook, must bring soul to the recipe," resonates deeply with me. Cooking is not just a mechanical process of following instructions; it's an art that requires passion and creativity. For me, cooking is a labor of love, and I always strive to infuse my dishes with soul.
When I cook, I want my food not only to look appetizing but to taste amazing. Flavor is paramount, and I'm not afraid to err on the side of boldness and complexity to achieve it. My ultimate goal is to create dishes that not only satisfy hunger but also stir emotions and evoke memories.
What's your favorite ingredient to work with and why?
It's difficult to pick just one favorite ingredient as there are so many that are essential in any kitchen and can elevate almost any dish. Here are five ingredients that immediately come to mind as must-haves:
• Butter, which adds richness and flavor to dishes and is a common ingredient in sauces and other recipes.
• Garlic, a staple in many cuisines known for its pungent flavor and aroma. It can be used in a variety of dishes, from soups and stews to sauces and marinades.
• Olive oil, a healthy fat that is a staple in Mediterranean cuisine and can be used for cooking, drizzling over salads or pasta, or as a dip for bread.
• Citrus, including lemons, limes, and oranges, are popular in cooking and can add brightness and acidity to dishes while balancing out rich or heavy flavors.
• Fresh herbs like basil, rosemary, thyme, and parsley, which add flavor and aroma to dishes and can be used in a variety of recipes, from marinades to dressings to sauces.
What's the most important lesson you've learned as a chef?
Cooking is a never-ending journey of learning, experimentation, and refinement. There is always something new to discover, a new technique to master, or a new ingredient to work with. Chefs must continually challenge themselves and remain open to new ideas and approaches in order to grow and improve their skills.
Additionally, attention to detail, patience, and dedication are crucial qualities that any successful chef must possess.
How do you balance creativity with the demands of running a kitchen?
Balancing creativity with the demands of running a kitchen can be a challenge for chefs. On one hand, creativity is essential for developing new and innovative dishes that can set Bites & Bubbles apart from the competition. On the other hand, the demands of running a kitchen can be overwhelming, with the need to manage staff, maintain food quality and safety, and meet the expectations of customers.
To balance creativity with the demands of running the kitchen I have established a structured routine and process for menu development and kitchen management. This involves setting aside dedicated time for experimenting with new dishes, while also maintaining a focus on optimizing kitchen operations and ensuring consistency in food quality and service.
Another important aspect is effective communication and collaboration with kitchen staff. By involving the team in the creative process, I encourage my team to bring new ideas and perspectives to the table, which can lead to more innovative and exciting dishes. By working together as a cohesive unit, we can strike a balance between creativity and efficiency, resulting in a successful and thriving kitchen.
Can you share some tips for home cooks on how to improve their cooking skills?
Start with the basics. Begin by mastering the foundational cooking techniques such as sautéing, roasting, boiling, and grilling. These techniques will give you a solid foundation to build on and help you tackle more complex recipes in the future.
Follow recipes, start by following recipes from reputable sources. Pay attention to the ingredients, measurements, and instructions, and follow them closely. As you become more comfortable in the kitchen, you can start experimenting with variations and substitutions.
Invest in quality tools, good tools make cooking easier and more enjoyable. Invest in quality knives, pots, and pans that will last for years and make cooking more efficient.
Taste as you go! Taste your food as you cook and adjust the seasoning as needed. This will help you develop your palate and learn how different ingredients work together.
Don't be afraid to fail, cooking is a process of trial and error, and even the best chefs make mistakes. Don't be discouraged if a dish doesn't turn out perfectly – learn from your mistakes and keep trying.
Learn from others, take a cooking class, watch cooking shows, or cook with friends and family who have more experience. You can learn a lot from others and gain new ideas and perspectives.
Finally, practice, practice, practice! The more you cook, the better you'll get. Don't be afraid to cook the same dish multiple times until you get it right and keep challenging yourself with new recipes and techniques.
What's your favorite food memory from childhood?
My passion for cooking was ignited by my Grandma Della, who was always in the kitchen surrounded by recipe cards and well-worn cookbooks. When I was just a young child, I would watch her intently as she cooked, and one day she called me over and said, "If you're going to watch, then you're going to learn something! Come here and help me!" Some of my fondest childhood memories were spent in the kitchen with Grandma Della.
She taught me about the nuances of flavors and to never be afraid of experimenting with them. She would show me a recipe, and then encourage me to put my own spin on it. Though not all of my attempts were successful, she always urged me to try new things. She cooked with an abundance of love, and the meals she prepared were a tangible way for her to express her affection for family and friends.
I have carried her lessons with me throughout my life, and I take great pleasure in cooking for others. To me, it is a labor of love.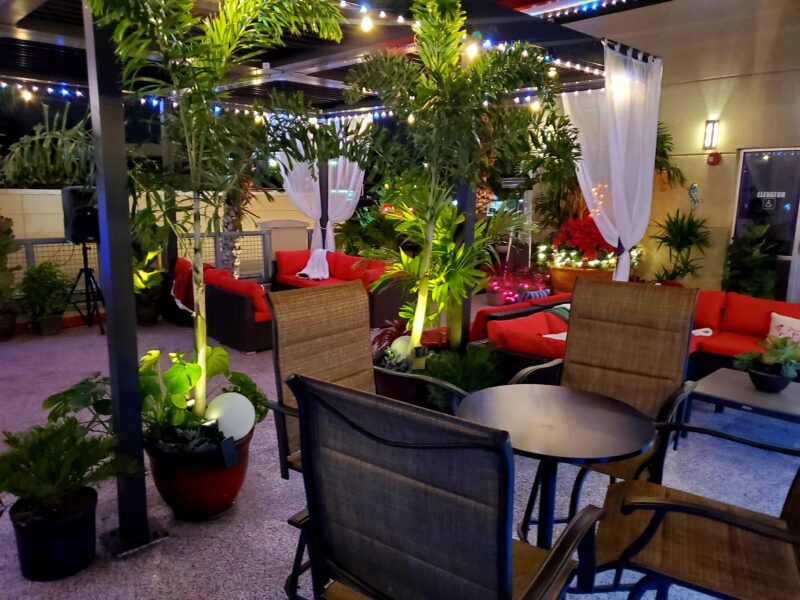 How do you incorporate sustainability and ethical practices into your cooking?
I have been a member of the Monterey Bay Aquarium Seafood Watch program for several years now. The program is backed by over two decades of experience in the seafood industry, and it is dedicated to providing valuable information on how to locate and sell sustainable seafood.
Through the Monterey Bay Aquarium Seafood Watch program, both consumers and restaurants are empowered to make informed choices when it comes to selecting seafood that is sourced through environmentally friendly and ethical fishing or farming practices.
It is alarming to see that many fish species that we frequently consume are facing challenges due to the harmful effects of destructive fishing and farming practices. However, by making responsible seafood choices, we can play an active role in protecting the health of our oceans, both for present and future generations.
What's your favorite dish to make for family and friends outside of work?
When I am not working, I love to prepare pot roast with root vegetables for my loved ones, accompanied by a refreshing green salad dressed with a homemade mustard and apple vinaigrette. It's definitely one of my go-to dishes because it reminds me of my Grandma Della!
Thank you Chef Eddie for chatting with us!
Upcoming Event – Bites & Bubbles will be hosting their next wine dinner on July 13th in honor of Bastille day.
Indulge in an exquisite evening at Bites & Bubbles as we celebrate Bastille Day on Thursday, July 13th. Prepare to be transported to the enchanting world of French cuisine as Chef Eddie and his skilled culinary team curate a mesmerizing four-course dinner, expertly paired with exceptional wines. Immerse yourself in the flavors and elegance of France, as each dish is thoughtfully crafted to captivate your palate. This unforgettable experience, priced at $125 per person, all inclusive, promises to be an extraordinary celebration. Don't miss your chance to be part of this remarkable event—book your spot now for Thursday, July 13th – https://www.bitesbubbles.com/bastille-day

*Menu Subject to Change
Reception
French 75
First Course
Pâté with Goose – Pâté with Goose foie, goose liver added to our pâté recipe, French baguette, cornichons, grain mustard
Wine Pairing: Domaine de Vaufuget, Vouvray Reserve, Chenin Blanc, Loire Valley, France
Second Course
Bibb Salad – Butter lettuce, lemon vinaigrette, egg, goat cheese, roasted tomatoes
Wine Pairing: Château La Gravière, Bordeaux, France
Third Course
Bistro Steak – Grilled bistro steak, French herb sauce, house-made onion rings
Wine Pairing: Domaine du Colombier, Chablis, Burgundy, France
Dessert Course:
Plum Tarte – Puff pastry sweet plum tarte with honey
Wine Pairing: Louis Perdrier, Brut Excellence, Sparkling, France
Advance purchase
125 per person all inclusive