Embarking on a culinary adventure through Thailand means immersing yourself in a vibrant tapestry of flavors, colors, and aromas.
Nestled inside Orlando's own I-Fresh Market right off of Colonial Drive and Bumby Avenue, Orlandoans can discover a hidden gem that that takes you straight to the streets of Thailand: Meng's Kitchen.
This small, hole in the wall restaurant is led by Chef AJ Asawin Jockkeaw who has re-created the flavors of Thailand in their kitchen including the Thai-style Hainan Chicken and Rice.
This delectable creation starts with fragrant Hainanese rice, infused with ginger and garlic with a side of tender poached chicken and accompanied by a tantalizing Thai-style dipping sauce. We chat with Chef AJ about the restaurant and also check out the most popular dishes at Meng's Kitchen – read on!
Top Seven Dishes to Try at Meng's Kitchen, Orlando
1. Hainan Chicken & Rice
Poached chicken served over Hainan style rice pilaf with ginger, garlic & soy dipping sauce, ginger scallion oil and a side of broth.
2. Chicken Kutsu Curry
Fried Panko Breaded Chicken Breast over Jasmine rice with Thai Yellow Curry sauce, Onions, Carrots and Potatoes.
3. Drunken Hainan Chicken & Rice
Poached chicken topped with Chinese wine sauce served over Hainan style rice pilaf with Ginger Scallion oil, House made hot sauce and a side of broth.
4. Biryani Chicken & Rice
Chicken thigh marinated with yogurt, Garam Masala, cooked to perfection, served with spiced yellow rice, house mint & cilantro sauce, and a side of sour broth.
Biryani Rice
5. Laab Fried Chicken
Tempura style Fried Chicken thigh, Topped with Laab Sauce (Lime Juice, Fish Sauce, Sugar, Chili Powder, Mint, Cilantro and Red onions) Served with Steamed Jasmine Rice and side of broth.
6. Combo Chinese BBQ Pork & Crispy Pork Noodle Bowl
Egg noodle topped with fried garlic oil, Steamed Yu choy, Crispy Fried Pork belly, Chinese BBQ Pork and Savory-Sweet Gravy and a side of broth.
7. Chicken Broth w/ Winter Squash topped with Cilantro and Scallions.
Tasty Chomps Interview with Chef AJ of Meng's Kitchen
Ricky Ly: If you had to choose one ingredient to cook with for the rest of your life, what would it be and why?
Chef AJ: I have to say "Garlic" because Garlic makes food smell and taste better.
What's the most important lesson you've learned as a chef that you wish someone had told you when you first started?
It's one of a Hardest job, long hours, intense labor and sometimes is underappreciated.
If you could only eat one cuisine for the rest of your life, which one would it be and why
Thai Cuisine for sure, because I was born and raised in Thailand.
What's the most popular dish at your restaurant and why do you think it's so popular?
Hainan Chicken & Rice. Because of Fragrant Hainan Rice with Aroma of Fresh Ginger, Garlic and Pandan leaves, Topped with soft poached chicken combine with Thai style dipping sauce (a mixture of Fresh ginger, garlic, Thai chili peppers, soybean paste, sweet soy sauce and vinegar).
It's my favorite dish – because I grew up eating it since I was 4 years old. My dad used to walk me to a kindergarten school but we always stopped to have Hainan chicken & rice for breakfast before we get to school.
What inspired you to become a chef and how did you get started in the culinary industry?
What inspired me is a love of food and love of cooking, I started as a dish washer and work my way up to prep cook position, then grill cook, lead cook and later as The Executive Chef for a total of 8 years.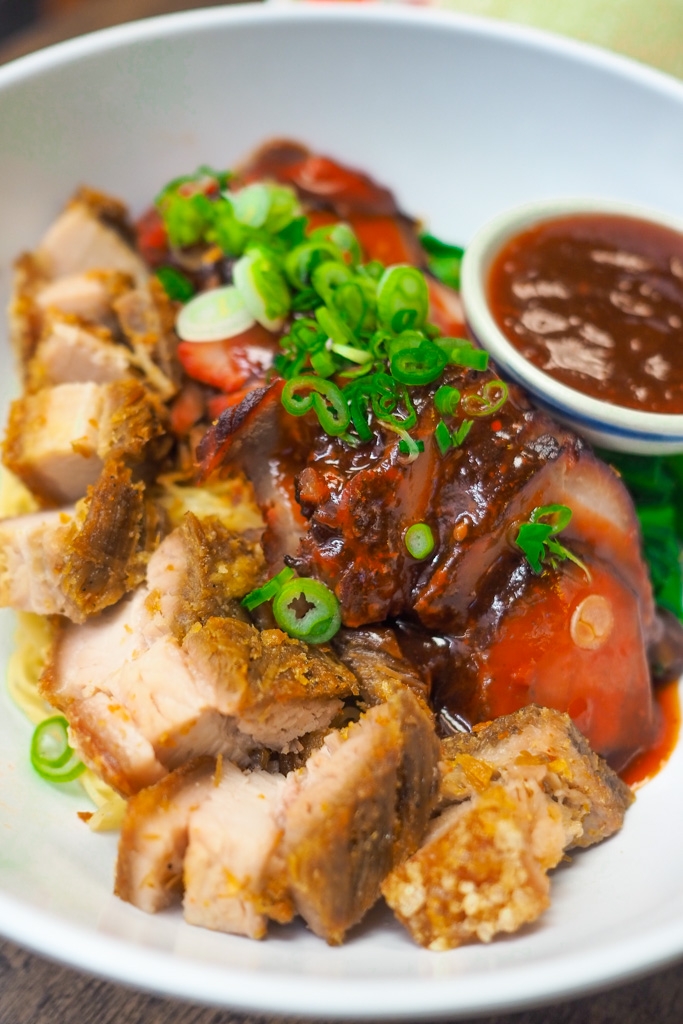 How do you approach creating a menu for Meng's Kitchen? What are the key factors you consider?
My menu approach is going toward Southeast asian home cook meals, and key factors are my customers.
Can you share any tips for home cooks who want to improve their culinary skills?
Keep Enjoying cooking and always keep an open mind, we're learning something new everyday.
Meng's Kitchen Orlando
2415 E. Colonial Dr.
Orlando, FL 32803
Inside iFresh Supermarket
Tuesday-Sunday
11:00 am-8:00 pm
407-420-7628
mengskitchenorlando@gmail.com