We were invited to The Boheme at The Grand Bohemian Hotel to get a sneak peek (and taste!) of their special Valentine's Dinner menu.  This year, Executive Chef Laurent Hollaender and his team are preparing a four-course menu for $99 from 5pm – 10pm on February 14th & 15th.
Here are some special dishes and drinks that you can find on their Valentine's Dinner menu this year:
Beef Carpaccio – Marinated dry aged wagyu, shaved parmesan, arugula, crispy capers, mustard aioli, baguette crostini.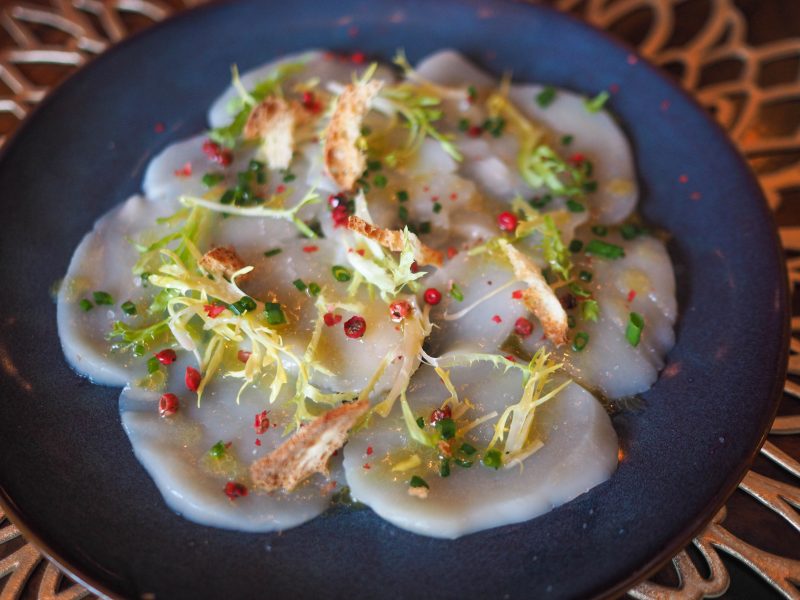 Sea Scallop Crudo – Thinly sliced jumbo sea scallops, Meyer lemon, pink peppercorns, EVOO, yuzu, curly endive, Fleur de Sel.
Black Bass – Sweet pea purée, artichoke bottoms, confit tomatoes, Meyer Lemon Beurre Blac, blood orange reduction.
Love Potion – 14 Day Lychee infused zodiac vodka, St. Germain Elderflower Liqueur, Mint, Lime, and St. George Raspberry Liquor.
Filet Mignon – Bohemian dry rub, aligot potatoes, asparagus tips, roasted heirloom carrots, morel mushroom Sauce.
Bees Knees – Plymouth gin, Black Bee Orange Blossom Honey, and lemon.
Menage a Trois – Black Bee Honey cheesecake, raspberry pistachio macaron, chocolate and passionfruit lava cake
Student entrepreneur, Khristian, from Parramore Kidz Zone and the team at The Grand Bohemian Hotel told us more about the business Black Bee Honey which began selling raw honey at the Parramore Farmers Market to benefit the Parramore neighborhood's children.
Black Bee Honey, a non-profit business founded and run by youth in Parramore Kidz Zone, recently celebrated two years in business.  Executive Chef Laurent Hollaender has begun using the honey in several of the recipes including this delicious cheesecake, which is now the number one selling dessert at The Boheme.
For more information about the Valentine's Dinner, please visit: kesslercollection.com/boheme-restaurant/
The Boheme at Grand Bohemian Hotel Orlando
325 S Orange Ave, Orlando, FL 32801
(407) 581-4700