Located inside The Grand Bohemian in downtown Orlando, The Boheme is an upscale restaurant featuring amazing dishes from Chef Laurent Hollaender. We had the opportunity to experience a selection of The Boheme's newly reimagined menu featuring brand-new vegan items.
Starting with appetizers, there are options such as Beef Carpaccio, Tomato & Burrata, Calamari, and Grilled Peach Salad.
The Beef Carpaccio is marinated dry aged Wagyu with shaved parmesan, arugula, crispy capers, and mustard aioli. The dry aged Wagyu was just as tasty as you could imagine!
The Tomato.& Burrata is great for cheese lovers as the Burrata is served with heirloom tomatoes, olive oil, aged balsamic, fresh oregano, fleur de sel, and cracked pepper.
My favorite appetizer was definitely the Calamari. The calamari is fried perfectly with jalapeños, olives, pequillo peppers, Capote capers, Meyer lemon, oregano, and Moroccan harissa sauce. The calamari and Moroccan harissa sauce pair so well together!
For those who love their salads, the Grilled Peach Salad (filed greens, pecans, goat cheese, raspberries, cornbread croutons, fig and sherry vinaigrette) is a pretty and delicious option.
Next, we were able to sample items from their brand new Vegan menu!
The Spiced Chickpea and Lentil Soup has a lovely flavor and a perfect starter to a meal.
However, it was the Beet Poke Bowl blew me away. If I hadn't had known beforehand, I would have never guessed these were beets. They're marinated so well, that they have such a similar flavor to the fish you typically would get in poke bowls. And it's served with kimchi cucumbers, radish, carrots, grilled scallions, avocado, and jasmine rice.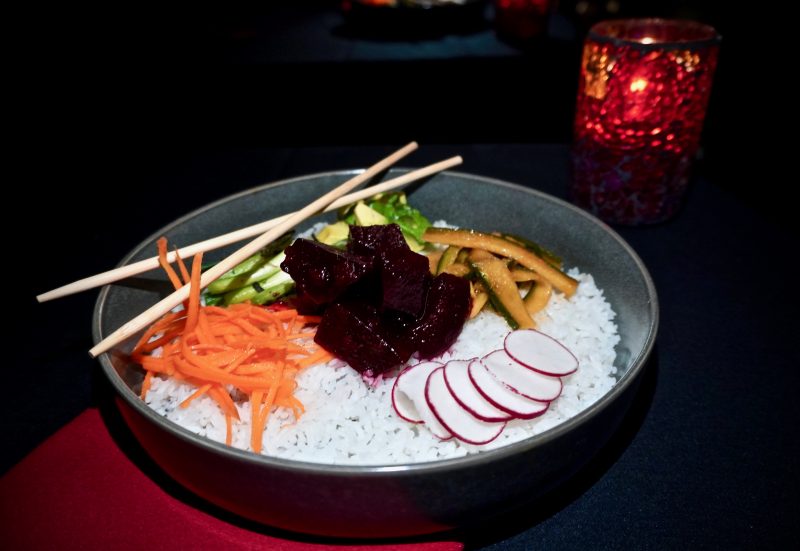 The Vegan Linguini Bolognese is made with ground cauliflower, mushrooms, carrots, onions, pumpkin seeds, and sun-dried tomatoes topped with cashew parmesan. And to make it even better, the linguini was cooked perfectly al dente.
Now for my favorite part of the evening, The Tomahawk Experience. A 42 oz. 1855 beef tomahawk is flambéed and carved table side for a fun little show. It's served with Porcini mushroom sauce and sides of grilled asparagus, grape tomatoes, Yukon golden potatoes, and a yellow beet mash.
We finished the evening with two different dessert offerings. The Black Bee Honey Cheesecake is an orange blossom honey cheesecake, Grand Marnier caramel sauce, and a honeycomb waffle crisp. And you can't forget about the cute, little chocolate bees!
The Blueberry Lavender Gelato is served with a lemon almond crisp. The lemon almond crisp was like a light cookie (somewhat comparable to the texture of a macaron).
Visit The Boheme at The Grand Bohemian Hotel at 325 S Orange Ave., Orlando, FL 32801. https://www.kesslercollection.com/boheme-restaurant/