Dragonfly Robata invites you to make memories and meaningful connections whether it is with loved ones or professional colleagues while enjoying fresh and creative items from their menu. While indulging on dishes, President Hiro Leung may walk around to greet you and see how you're doing or if you need anything while visiting Dragonfly Robata. If you get to meet him, you'll find that he is one of the most humble human beings you will ever meet in this life time.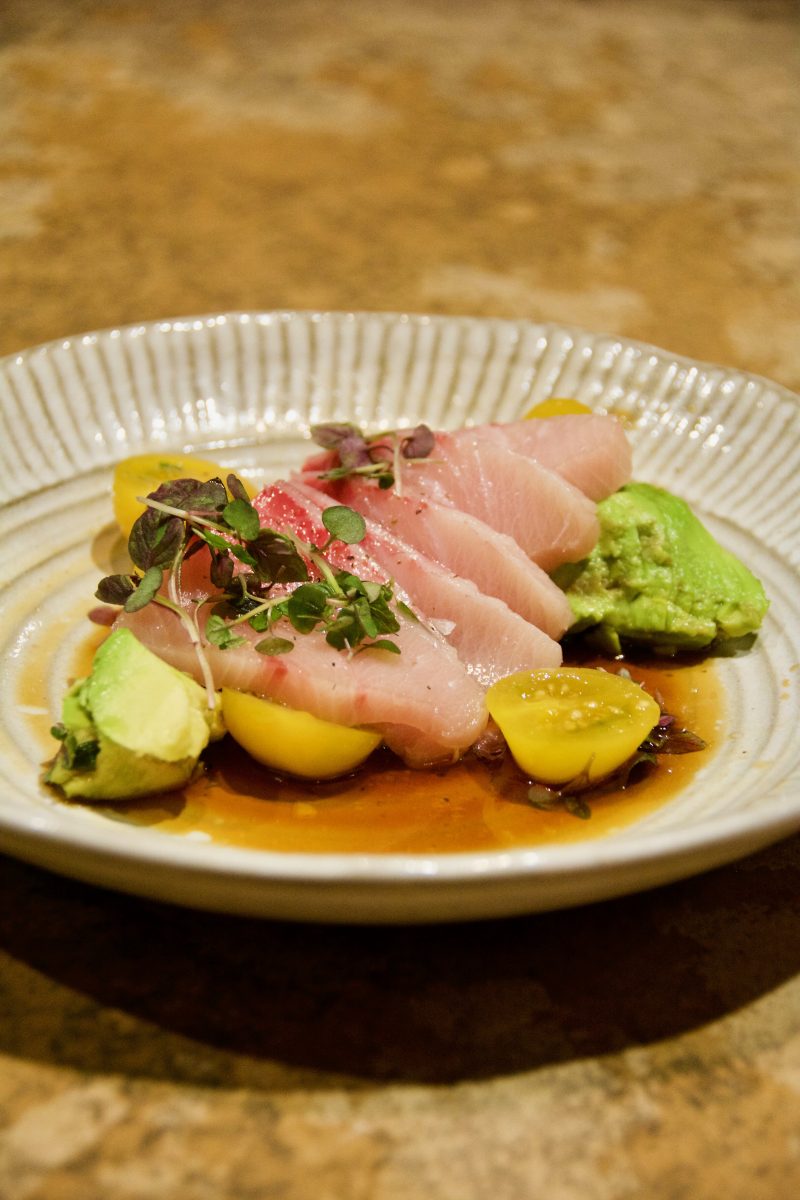 Yellowtail is one of my favorite fish to eat and this definitely does it justice in the Yellowtail Crudo dish with all the flavors and freshness. It is served with heirloom cherry tomatoes, avocado, ponzu, citrus oil, and shiso to accompany the yellowtail on your palate.
For vegetarians, there's the Heirloom Cauliflower Salad as a starter. It includes carrots, mustard seeds, walnuts, yuzu vinaigrette, and micro wasabi greens. Make sure you eat it hot for the cauliflower to be crispy.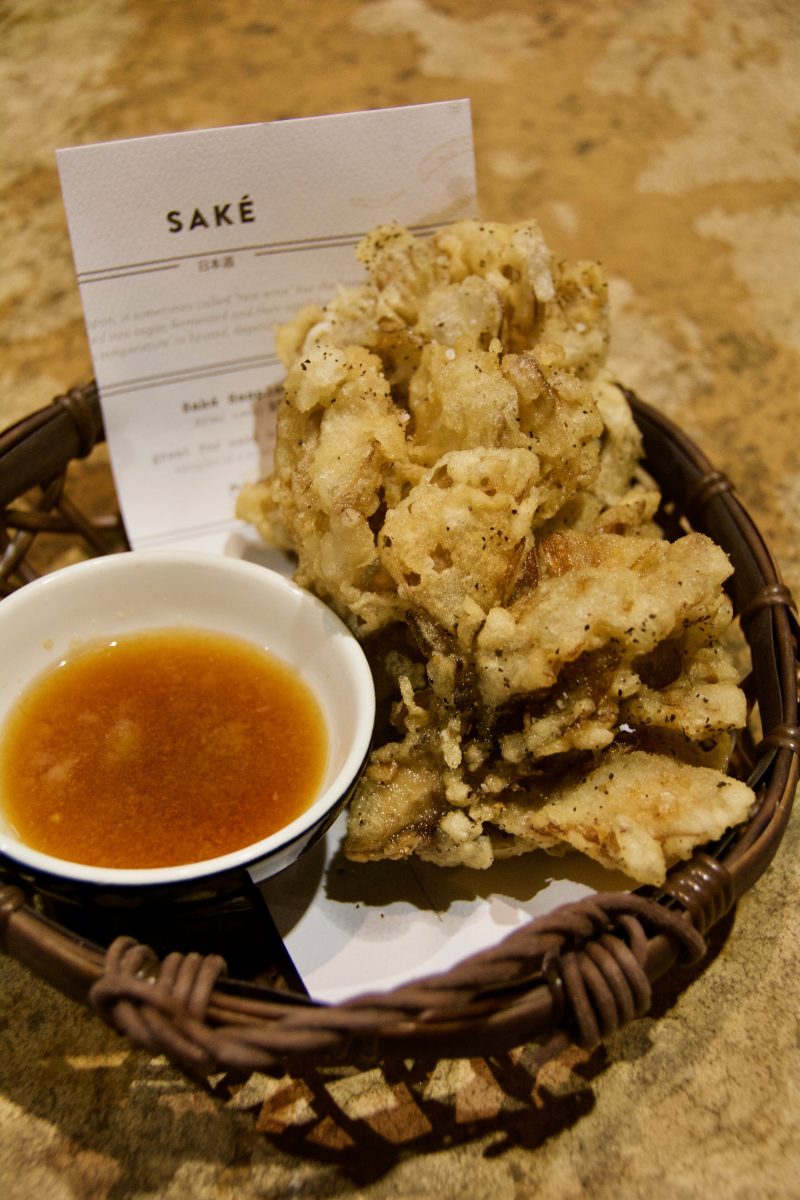 Another very popular vegetarian dish is the Maitake Mushroom Fritters. This has to be my absolute favorite dish of the night; I'd order this over the Yellowtail Crudo any day so that's saying a lot. This plays with truffle salt and a tentsuyu sauce to create unique flavors for you to enjoy. The texture is also moist and tender on the inside, yet crispy on the outside. This isn't only my favorite dish, but the favorite of many of the Dragonfly employees.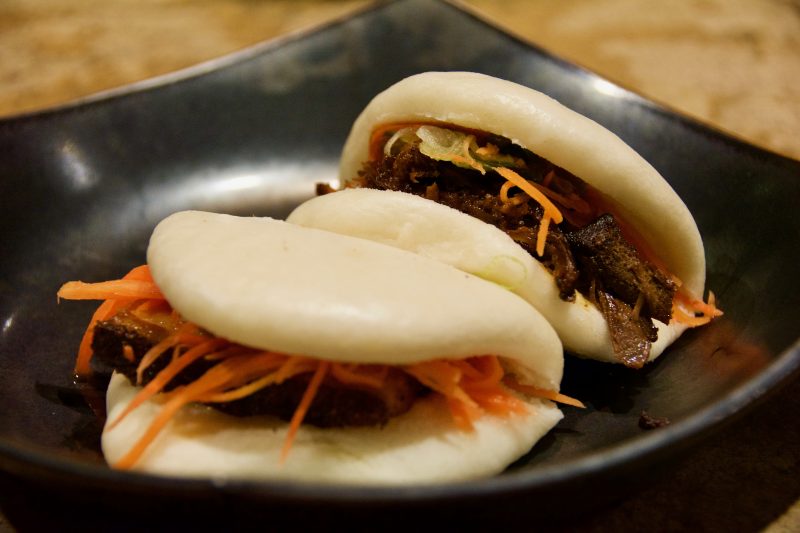 If you'd like hand held item, consider the Steamed Buns where you can choose the protein base. For protein, you can either get the braised ribs or braised pork belly and both are served with pickled vegetables and red chili paste to add a kick. We couldn't decide on the protein so we ended up getting both to try and I'm not mad about it.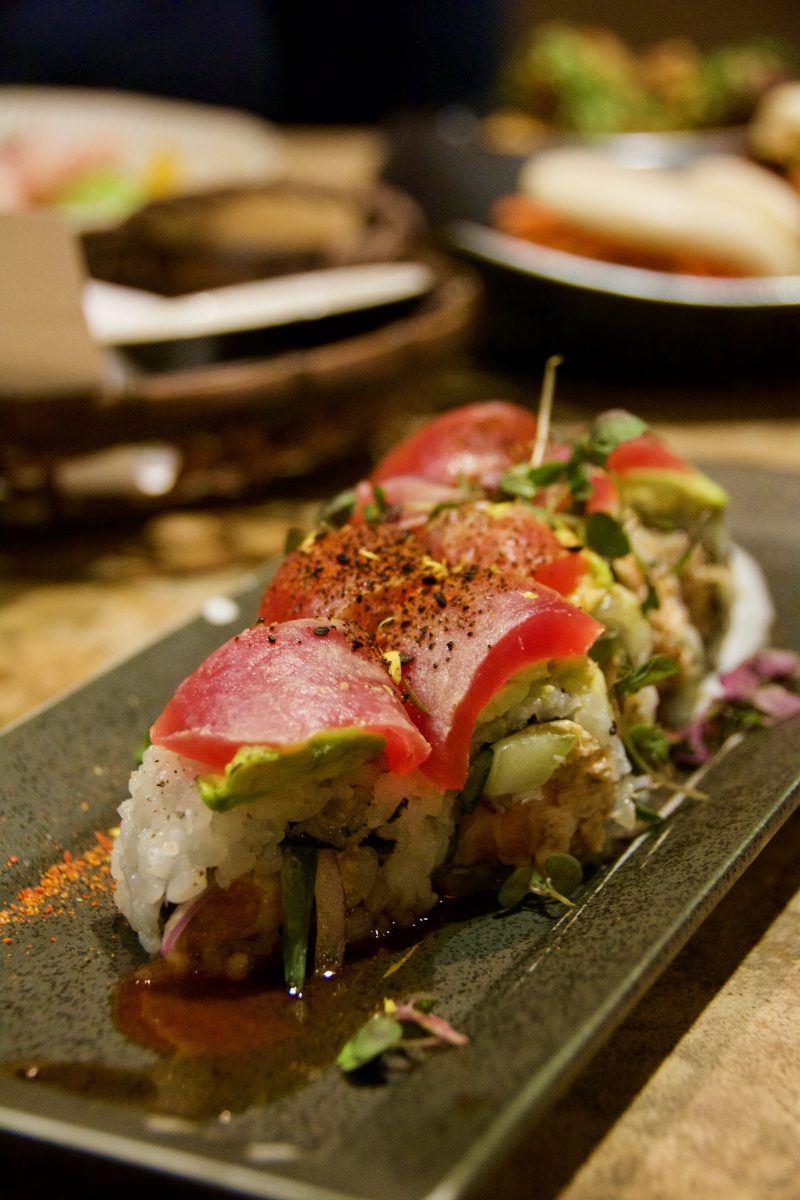 This is the Smoky Dragon roll. It is made with salmon, crab delight, red onion, temp flakes, cucumber topped with avocado, torched tuna, lemon zest, kobachi, and eel sauce. So many different textures, flavors and amazingness for you to explore with your tastebuds. This was quite a delight and I have no complaints.
This visit was the first time I've had Foie Gras Nigiri, which is seared foil gras, plum tamarind and candied garlic. This is definitely a chef's recommendation and an interesting treat. However, it will break into pieces while picking it up with chopsticks due to how delicate it is. I would suggest using a fork or spoon.
Once done with all your little bites, don't forget about dessert. One of their unique desserts is the matcha creme brûlée. It is so earthy, yet creamy and refreshing. I highly recommend getting this dish to share.
Not to mention, they had an event for the Dogs of Orlando where your dog can enjoy a dish right by your side on the patio. These dishes were created by the chef with ingredients that even you could eat…if you'd like it in the shape of a bone. However, your furry friend might not want to share.
The Bangers & Mash is quite a popular one amongst the four legged friends that evening.
Another is the Chicken & Rice dish being the second choice. This event was a one time thing as of now, but they're working on adding it to their schedule to have again. Whether or not there's a dog event, you can still bring your dogs out while you dine on the patio.
For more information about Dragonfly Robata, please visit their local location in Orlando or their website for their other locations in Florida.