Edible Orlando and Walt Disney World team up to host an outdoor feast featuring locally sourced dishes at Long & Scott Farms benefitting Second Harvest Food Bank.
It couldn't have been a more beautiful day to enjoy the Florida outdoors with alfresco dining on a farm in Zellwood, Florida. The 7th annual Field to Feast dinner was situated beautifully in Long & Scott Farms under an open pavilion with outdoor string lights hanging from the ceiling. This year, the dinner raised funds for the Kids Cafe Program and all proceeds benefitted Second Harvest Food Bank of Central Florida.
Food stations surrounded the main dining area showcasing a variety of talent and creativity from Walt Disney World's top chefs. Each food station was paired with a wine, beer or cocktail selection served by a master sommelier. One of my favorite stations was from Epcot Festival's catering team with the prime steak tartare served in a hollow bone marrow and sprinkled with edible flowers.
We ended our dinner with a hayride tour of the farm on the Sweet Corn Express, which was a large covered wagon pulled by a tractor. It was a fun and tasty experience and I can't wait to see what Edible Orlando has planned for next year's event!
Orange Grove Compressed Watermelon, Orange Blossom Gastrique, Pistachios and Micro Cress – Disney's Grand Florida Weddings by Chef Norm Curka
paired with Grand Lemonade by Kaitlyn Hammack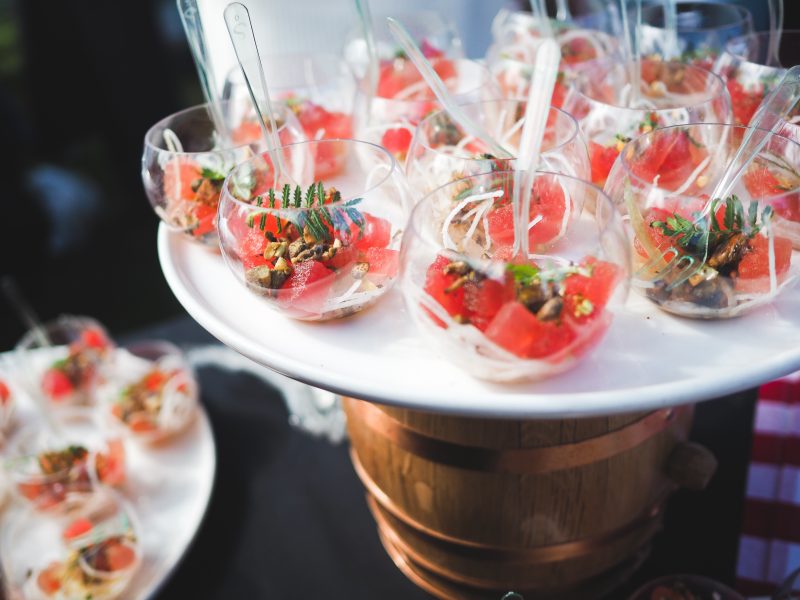 Grilled Octopus, Heirloom Tomato, Corn and Jalapeno – Disney's Grand Florida Weddings by Chef Norm Curka
paired with Grand Lemonade by Kaitlyn Hammack

Barbeque-rubbed Plant-based Protein, Back 40 Sweet Potatoes and Apples – Disney's Grand Florida Weddings by Chef Norm Curka
paired with Grand Lemonade by Kaitlyn Hammack

Fresh Honey

Coconut, Lemongrass and Guava Binaki – Disney's Animal Kingdom Lodge Bakery by Pastry Chef Michael Craig
paired with Bell's Oberon Ale and Bell's Two Hearted Ale by Sommelier Magaly Robles

Wood-grilled Duck Breast L'Orange with Tokyo Turnips, Kumquats and Miso – The Hollywood Brown Derby at Disney's Hollywood Studios by Chef Axel Martinez
paired with Valley of the Moon Zinfandel by Sommelier Rob Trenner

Prime Steak Tartare, Pickled Vegetable Garden, Bearnaise Dip-n-Dots, and Bone Marrow Snow – Epcot Festivals by Chef Kevin Downing
paired with Umani Ronchi, Montepulciano d'Abruzzo by Sommelier Felipe Robles and Chelsea Florig
Beet Cake with Sweet Corn Panna Cotta, Caramel Ganache and Vegetable Meringue – Amorette's Patisserie at Disney Springs by Pastry Chef Yoly Lazo Colon
paired with Broadbent Rainwater, Madeira, Portugal Croft Tawny Porto by Sommelier Pill Oriol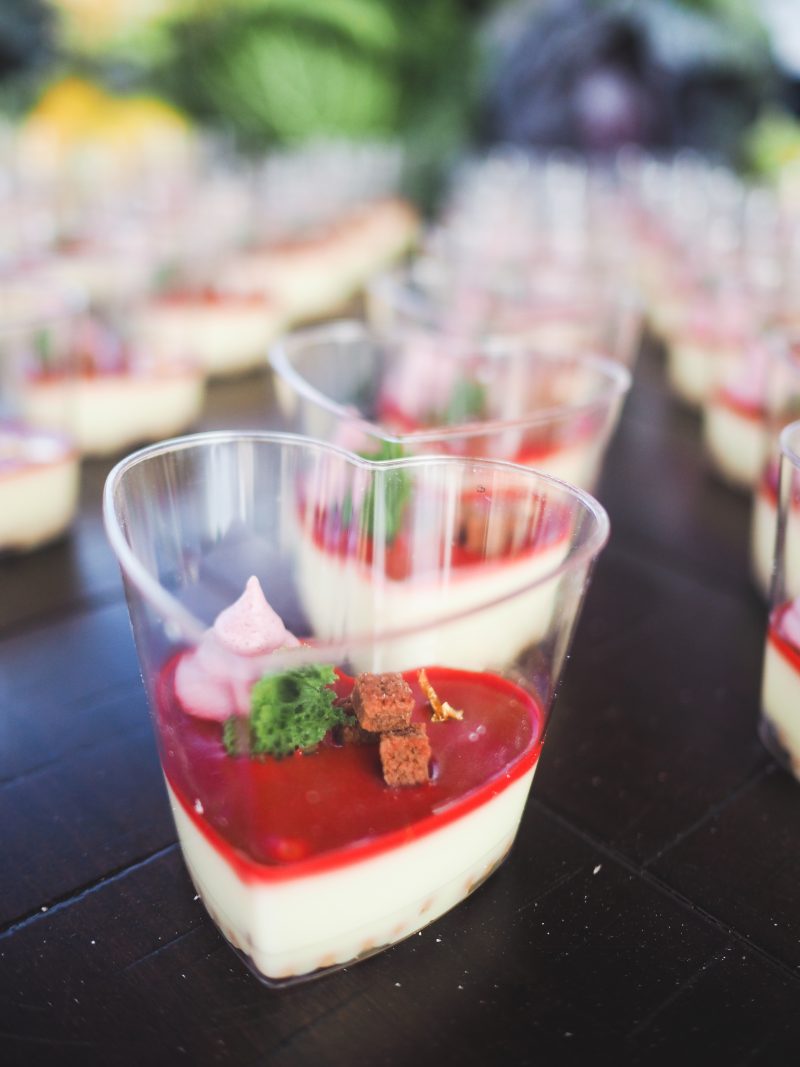 Amorette's Patisserie by Disney Springs by Pastry Chef Yoly Lazo Colon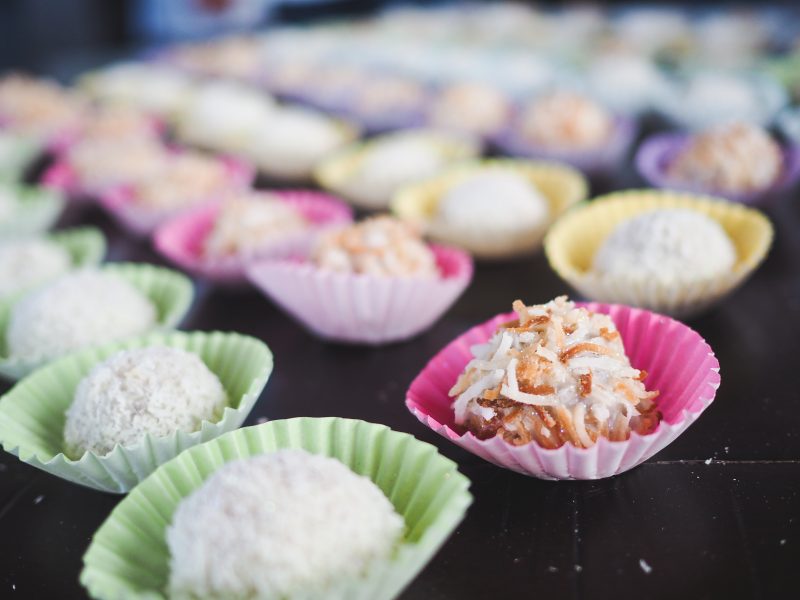 Slow-cooked Lamb Belly, Chick Pea Panissa, Saffron Tomato Compote, and Lamb Jus – Topolino's Terrace – Flavors of Riviera
paired with Tenuta Fessina, Etna Rosso by Sommelier Rafael Frederick
Corn-infused Country Fried Chicken with Grains of Paradise Gravy, Winter Slaw with Beef Sugar Vinaigrette, Ancient Grain Biscuit and Fresh popped Sorghum – Disney Park Event Operations & Premium Events by Chef Edgardo Ruiz
paired with Avancia Godello by Sommelier Marianne Hunnel

Smoked Pork Sausage on Garlic Toast with Sweet Caramelized Onions and Housemade Pickles – Food & Beverage Concept Development Team by Chef Gregg Hannon
paired with Tenet, The Pundit Syrah by Master Sommelier Brian Koziol

Samaki wa Kupaka, East African-spiced Local Sustainable Fish, Tandoori Vegetables, Lime Achar, and Basmati with Zanzibari Coconut-Tamarind Sauce – Tiffins Disney's Animal Kingdom Park by Chef David Njoroge
paired with DeMorgenzon Maestro White Blend by Sommelier Borislav Perev

Shellfish Paella – Golden Oak at Walt Disney World Resort by Chef Phil Ponticelli
paired with Chateau Recougne Blanc Sauvignon Blanc by Sommelier Danielle Otero

Char-grilled Flank Steak Montadito, Chow-Chow, and Roasted Garlic Aioli – Toledo-Tapas, Steak & Seafood at Disney's Coronado Springs Resort by Chef Robby Sayles
paired with Vatan Tinta de Toro by Sommelier Michael Scheifler

Plant-based Impossible Albondiags, Beef Hash, Avocado, and Cabbage – Toledo-Tapas, Steak & Seafood at Disney's Coronado Springs Resort by Chef Robby Sayles
paired with Vatan Tinta de Toro, Sommelier Michael Scheifler

For More Information:
Edible Orlando
Website | Facebook | Instagram
3201 Corrine Dr. Orlando, FL 32803