As Florida has moved to Phase 2,  a brand-new menu has debuted at The Osprey, focusing on seafood cuisine and an expanding oyster bar!
The menu is a combination of familiar favorites (such as Lobster Rolls, Cioppino, Calamari, and our Whole Grilled Branzino) and new dishes like the Harissa PEI Mussels, "CrushPuppies" (crab hush puppies) and Smoked Cauliflower.
Chef Anthony Watler (previously The Osprey's sous chef) is assuming the Chef de Cuisine role with Chef Wendy Lopez (from Reyes Mezcaleria) overseeing as Culinary Director. Together they are working on more menu developments.
Chef Anthony Watler began his culinary career at Johnson & Wales University in North Miami, graduating with a Culinary Arts and Food Service Management degree in 2015. After working at both Tongue in Cheek and Izzy's Fish & Oyster in South Beach (as both the sous chef, and in pastry respectively) he came to Orlando in April 2017 to join the team at The Osprey. Anthony worked his way up from line cook to Sous Chef and was promoted to Chef de Cuisine in April 2020.
The restaurant closely following Florida's reopening guidelines, with socially-distanced seating, increased sanitation procedures, and capacity restrictions. All of the team continues to wear masks, and are screened for any flu-like symptoms before coming to work. Prompting a safe and sanitary workplace has always been a priority across all of their restaurants.
The Osprey is currently open only for Happy Hour (4-7pm daily) and Dinner (5-10pm, 11pm on Fri/Sat), but hope to move to our regular hours (including Brunch) shortly.
Follow on instagram (@theospreyorlando) or check website for updates: https://www.theospreyorlando.com/
Photos Courtesy of The Osprey
Tasty Chomps Interview with The Osprey's Jason and Sue Chin
Tasty Chomps: What inspired the team to pivot towards a seafood oriented menu?
Jason and Sue Chin: A great seafood and oyster menu is not a new idea for us; it was actually what we originally envisioned for The Osprey, as noted in its name, much of the design and overall feel of the restaurant. The quarantine gave us the opportunity to evaluate our current program at The Osprey and bring our focus back to the original vision.
How are things going so far since the re-opening? How have you all adjusted?
We emerged from quarantine relatively unscathed thankfully, due to the success of our online ordering and to-go program which was strongly supported by the loyalty of our regular guests. We have been adjusting as best as anyone can with the new restaurant guidelines and our staff has come back excited to take care of our guests and showcase the new menu.
What are some of the differences in regional varieties of oysters? For those who are afraid of trying oysters during months that don't end in R, how do you dispel those myths? 
Regional differences in oysters can vary greatly! Oysters are very much shaped by their terroir, the nutrients they're exposed to, tide patterns, strength of the current, and harvesting methods – all contribute to nuances of flavor, meatiness, size, and salinity! We work directly with our purveyors to buy what is in season and fresh daily, which gives us the opportunity to feature a rotating selection at our Oyster Bar.
The 'fear' of eating oysters during months that don't end in 'R' (primarily summer) developed as a rule of thumb in response to red tide, since shellfish can absorb the toxins in the water. However, commercial oyster farms that practice safe and sustainable harvest methods are well aware and vigilant of the risks of red tide (IF present in a harvest area) and partner with their vendors to deliver fresh, healthy shellfish year-round.
What new trends are you seeing among diners?
Not sure if we would call it a trend, but guests seem very interested in what we are doing to protect our staff as well as our patrons during this time of transition. We also see guests value our effort to source locally and responsibly for the menu.
What are some must-try favorites on the new menu and why?
The Steak Tartare is a must-try when visiting; the deconstructed presentation of the dish allows guests to mix the tartare to their own preference! The Harissa PEI Mussels, 'Crush Puppies' (crab hush puppies) and Smoked Cauliflower are all thoughtfully prepared and super flavorful. The entire 'vegetable' section is worth visiting for too!
What are some of the most popular dishes right now at The Osprey Tavern?
I think our $1 Happy Hour Oyster has been a stand-by favorite that we hope to expand on. The Lobster Roll, Rainbow Carrots, and Southern Pickled Shrimp have also received popular review.
What are some of your upcoming plans?
We plan to continue in the seafood direction, exploring different regional styles of coastal cuisine as we build our menu. Keep an eye on our oyster/raw bar, as we have plans to expand the program! Once we are out of the woods with COVID, we would like to continue our support and partnership with Oyster South and the local Florida aquacultures by organizing awareness building events like our "Florida Oyster Revival" from last August.
Interview with Chef de Cuisine Anthony Watler 
Tasty Chomps: What inspired you to become a chef?
Chef Anthony Watler: What continues to inspire you as a chef? I asked myself what would I love to do for the rest of my life. The answer: cooking. I have always been inspired by the way food brings people together. No matter what their differences are, people find a way to come together around food. The inclusive feel that the culinary community provides, especially here in Orlando drives me to continuously grow and become better at this craft.
What are some of your earliest memories around food growing up?
My family culture has always centered around food. Growing up in Grand Cayman gave me great exposure to seafood, and some of my earliest memories are of spending the day fishing with my grandmother – and then cooking whatever we caught that evening.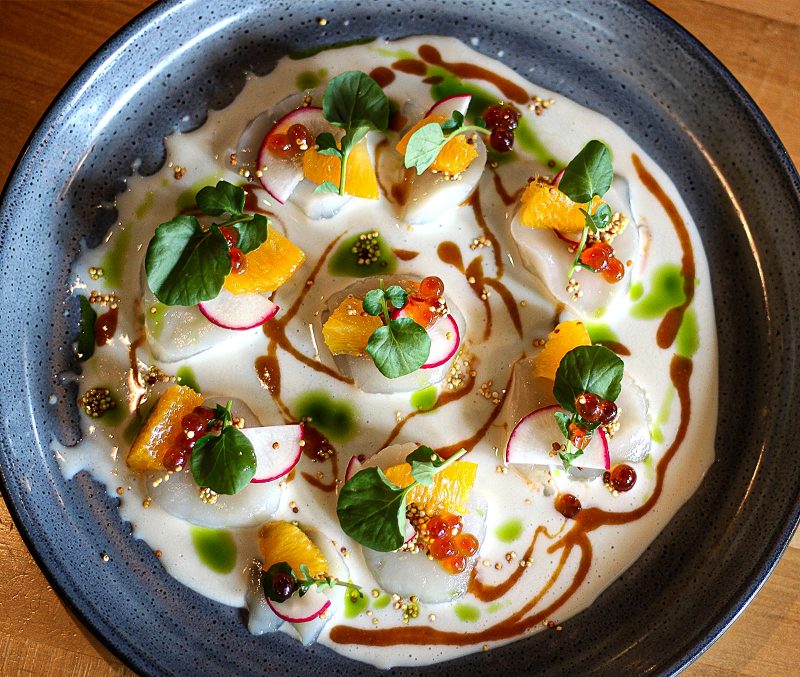 What is your most memorable experience so far on your culinary journey?
My first year at Beard in Baldwin was an incredibly memorable experience. Being a part of the receiving team at The Osprey was such a unique opportunity to meet so many gifted Chefs, from around the state and within the Orlando culinary community.
What are your plans for The Osprey Tavern's menu ?
Definitely expanding our oyster and raw bar! We already have a great relationship with our vendors from Panacea, FL to showcase local varietals, but I hope to grow our West Coast offerings as well.
The Osprey
4899 New Broad St, Orlando, FL 32814
https://www.theospreyorlando.com/