Amidst the pandemic madness, I never stopped searching for delicious local food and I'm very happy I found this place.
V.L.C. Vegan Eatery is East Orlando's new vegan spot, located in Waterford Towers.
The owner and head chef, Jim Wu, has been cooking for over 40 years. Later in life, he found his passion for nature and the love of animals and started his plant-based journey almost 15 years ago. With his culinary knowledge combined with his passions, Jim has created a space filled with nature, plant-based food, and comfort all in V.L.C.
V.L.C. stands for vegan, love and care, which is all you need in life. This small family owned restaurant is excited to start its journey in Orlando and continue the growth of vegan food in our City Beautiful, which I was able to visit and enjoy their clean bites.
While waiting for my order, I tried Mama Wu's vegan Thai Tea that was great and tasted just like how it is usually made. Here, they use oat milk as the dairy replacement, which works wonders in their favor.
At V.L.C., Papa Wu's gluten-free Potato Curry is a favorite for many of their employees and it is even his favorite dish to make. I like having it with white rice to allow the ultimate level of soaking the curry sauce up for each bite.
The gluten-free V Crunch Roll consists of chick'n, avocado and sesame seeds being flash fried to add a crunch for each bite. This is the best vegan roll I've had so far. I can't wait to try their other rolls.
Now, for my favorite dish from V.L.C. – the gluten-free Ginger Be-ef Stir Fry. It has the right amount of ginger in it to not overpower the dish. The flavors make me nostalgic of my mom's cooking back home. I would order this dish every time I'm in the Waterford Towers area because I will never get sick of it.
If you're interested in knowing the favorite dishes of everyone in the V.L.C. family, here is the list. Check the dishes out for yourself to see why they're so loved.
Brittney Phan: It's hard to choose a favorite since every dish on the menu is incredible but Papa Wu's Potato Curry takes the top spot for me. This dish is packed with tender potatoes, flavorful be-ef, and a mix of vegetables that are perfectly sautéed. The potato curry is paired with the choice of white rice, brown rice, or mixed rice. I always recommend this dish to others which is why my family and friends have become hooked on this dish as much as I am.
Matt Shaffter: Well since Brittney stole my all time fave…My second would be the Vegetable Stir-fry. When you just need a big healthy dose of seasonal veggies cooked to that perfect crunchy to soft ratio in that addictive homemade sauce. Top it with some rice and I'm stuffed….I'm always sad when the bowl is empty.
Laci Penton: Spicy Tu-Na Roll. Hands. Down. The unique rice blend helps the already savory flavor pop. The spice equally kicks but is not overwhelming, and the avocado inside helps round it off. Dare I say, it's the perfect roll.
Sandra Wu: My favorite dish is the Spicy Chick'n! It has an amazing smoky flavor from the wok, enhancing the spices used in this dish. The combination of mixed veggies with chick'n brings a beautiful balance of flavors.
Sarah Wu (social media marketing manager): My favorite dish at VLC has got to be the Tempura Taro Chick'n. I've never had a dish that tasted like this before. The creativity with pairing the sweet taro inside the chick'n and then deep frying the whole thing is just crunchy goodness. The dish takes time to make so I try to order it whenever I can.
Kalen Penton (manager):  My favorite dish at VLC is the Tomato Pasta. The Unique flavor profile of this item doesn't only make it authentic but also makes it one of a kind. with the sweet tomato complimenting every bit. This is a defiant must try and the eatery.

Mama Wu: Spicy Tu-na Roll with some of Mama Wu's homemade kimchi on top to add more spice to the roll.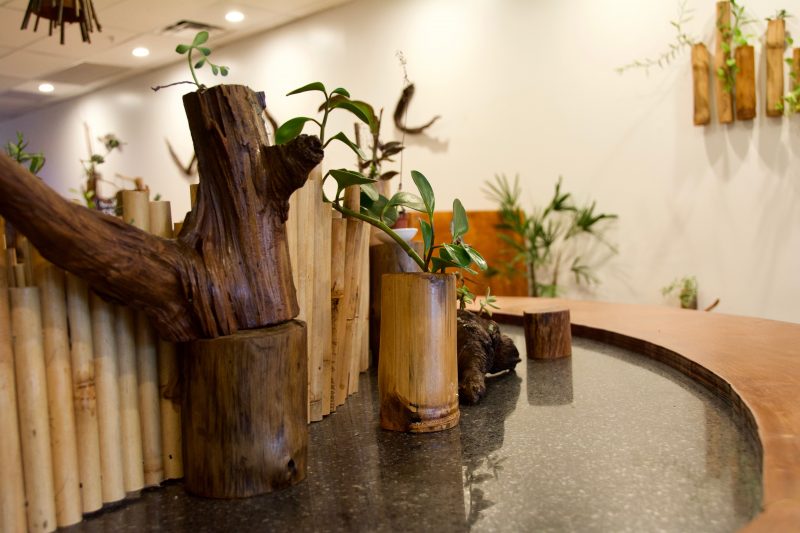 For more information, visit V.L.C. Vegan Eatery yourself. Don't forget to post about it and let us know what your favorite dishes are from this mom and pop hot spot.