AJ's Press is a local, family-owned business in Longwood, Florida serving warm pressed sandwiches, soups, pressed breakfast sandwiches, bowls, and great coffee. July marks 3 years of being open and serving delicious food to our community. From walking in, you'll be greeted with smiles and the smell of tasty food that'll make you drool – at a safe 6+ feet away.
Don't worry, you'll catch that drool in your mask because it's a must to keep yourself and others safe in a scary time like this.
AJ's Press offers breakfast dishes they'll serve all day.
If breakfast items aren't your cup of tea, there are many other dishes for you to order.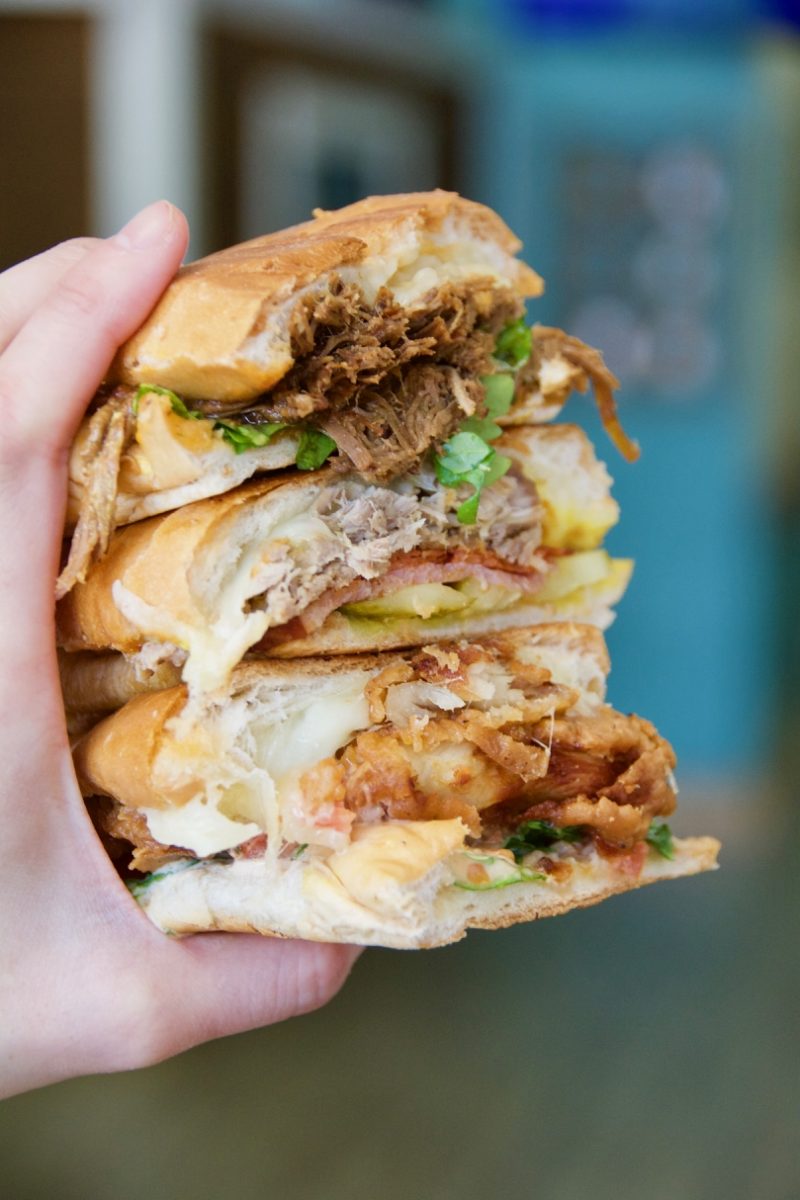 Their sandwiches are made with slow roasted meats, and fresh Bolillo and Telera breads to bind all the flavors together to form a unique take on sandwiches and food.
Any of the sandwiches ordered as a regular size is pressed on a locally baked, fresh "Bolillo" roll, but it can be pressed on a locally baked, fresh "Bolillo" roll if you're hungry because the second option is 50% larger than the regular sandwich size.
While you make up your mind, do yourself a favor and order 6 Jalapeño Bacon Hush Puppies as a starter. Trust me, you won't regret it. It comes with a sauce that you'll love forever. Order extra of that sauce the puppies come with.
Don't freight, you can get an entire jar of the sauces they offer! What are you going to do with an entire jar of sauce, you ask? Buy more hush puppies to enjoy it with of course. Or to get sandwiches to dip into the sauce.
One of my new favorite sandwiches has to be the Crunchy Chicken, which includes sweet and tangy chili sauce, Jack cheese, tomato, and arugula. Shout out to Sydney for recommending this to me.
Another favorite of the AJ's Press family is this Beer Braised Brisket. It includes full-flavored pulled brisket, Jack cheese, pickled jalapeño, cilantro sour cream, house made salsa, and arugula. This has to be my second favorite. Usually I am a massive fan of brisket, but I can't get that Crunchy Chicken sandwich off my mind.
AJ's Cuban is also a twist of the original Cuban sandwich. At AJ's Press, they use freshly sliced smokehouse pit style ham, Cantimpalo chorizo, slow roasted pork, Jack cheese, mustard, mayo, and pickle. That chorizo adds a nice touch to their twist of a Cuban sandwich. I say add 5 slices on there. I can't get enough of chorizo.
Be sure to leave room for some desserts like Sydney's fresh baked chocolate chip cookies and her rice krispie treats.
Sydney made cookies one day and now she can't stop because we all love her cookies so much. Gotta meet the demand of delicious cookies, Sydney.
For more information, check out AJ's Press yourself and grab some magnets for your fridge as well as to share with others.