We were invited to experience the world's largest Hard Rock Cafe right here in Orlando at Universal Studio Orlando's Citywalk and our experience was legendary!
I usually dine outside nowadays but I felt incredibly safe dining inside Hard Rock Cafe Orlando because of all their health & safety measures in place to ensure that everyone has a safe visit.  Masks were mandatory for everyone, signs were on all of the tables that had been sanitized, they offered digital menus and gave a plastic bag to every guest to place their mask after they were seated, foot pedals were installed on the bottom of restroom doors, and all the employees were wearing a mask and gloves.
While dining at Hard Rock Cafe Orlando, you will be surrounded by the largest collection of memorabilia from music's greatest talents.
The memorabilia and the history behind it is nothing short of amazing.
I could definitely spend a few hours here just getting lost in the memorabilia alone.
You will definitely have to visit Hard Rock Cafe Orlando to see the entire collection for yourself.  It is truly spectacular.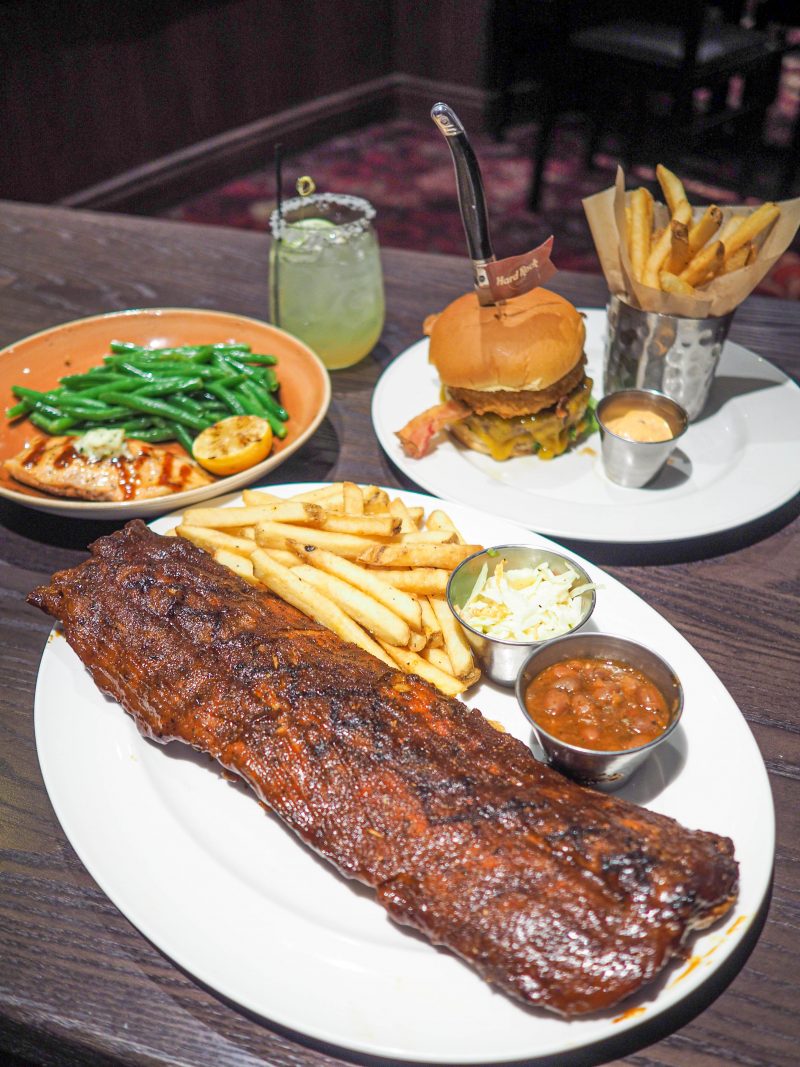 While walking around and looking at all the amazing memorabilia, you will develop an appetite.  Luckily at Hard Rock Cafe Orlando, the service is very friendly and the food offering is great.
Original Legendary® Burger
The burger that started it all!  The Original Legendary Steak Burger comes with applewood bacon, cheddar cheese, crispy onion ring, leaf lettuce and vine-ripened tomato.  It is served with fresh toasted buns and seasoned fries. 10/10!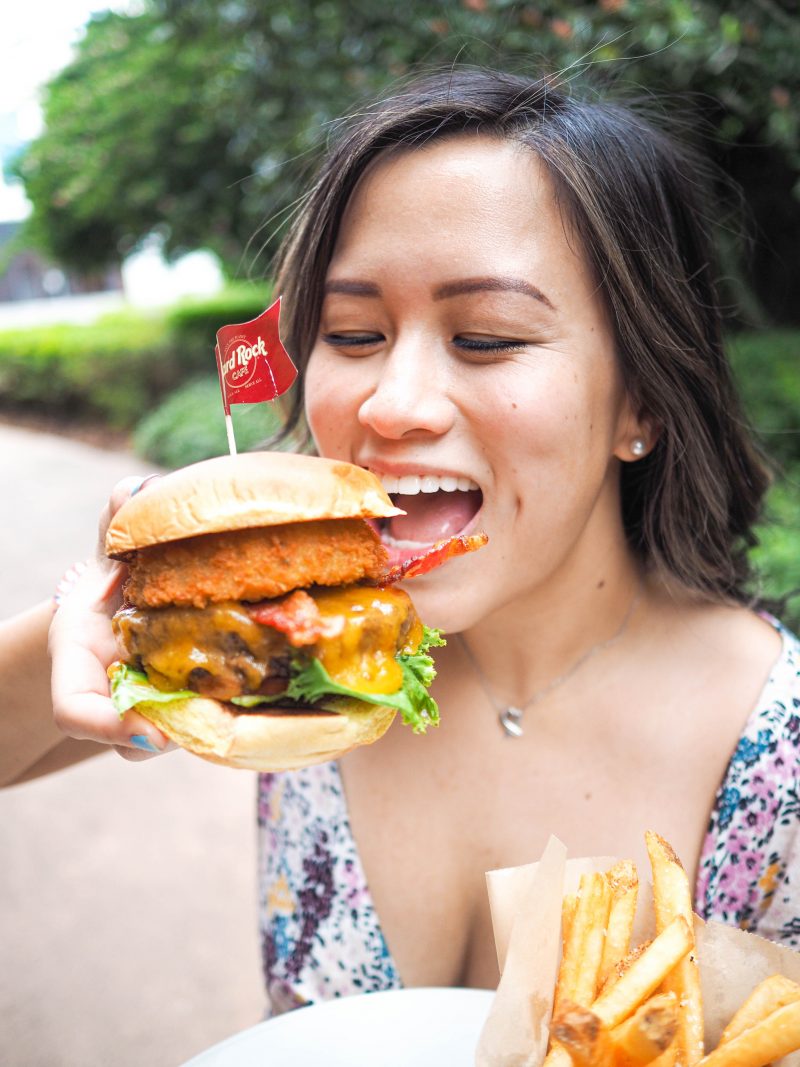 There is nothing better than the Legendary® Burger at Hard Rock Cafe Orlando, but if you're not in the mood for burgers, there are plenty of other dishes to satisfy your cravings.
Baby Back Ribs – Seasoned with their signature spice blend, then glazed with our house-made barbecue sauce and grilled to perfection, served with seasoned fries, coleslaw and ranch-style beans.  It was very flavorful and the ribs fell right off the bone.  The fries were addicting as well.
Grilled Norwegian Salmon – Grilled salmon with herb butter and house-made barbecue sauce, served with fresh vegetables.  A delicious, light and healthy dish!
Since the summer turned out to be such a bummer due to COVID-19, Hard Rock Cafe Orlando is bringing the first-ever Hard Rock Cafe Festival 2020, taking place from Saturday August 29 through Friday September 25 2020 at participating restaurant locations worldwide where guest can experience a special limited-time menu of music festival inspired food and cocktails perfect for sharing.
We ordered the Fresh Agave Margarita from the Festival cocktail menu and it was really good.  I'm sure the other limited-time cocktails specials are just as great!
For guests joining in from home, Hard Rock Cafe will feature a memorable 10 day social media line up on the Hard Rock Instagram and Hard Rock Facebook so make sure you are following their pages to get front row seats to all 10 days between August 29th – September 7th. This will feature live curated DJ sets, VIP online backstage passes to gain access to exclusive content with Hard Rock Cafe chefs, a fun take on a silent disco and a virtual Ferris wheel ride along with other rockin' sets. Share & follow the festival through our hashtag #HardRockCafeFestival2020
For more information about Hard Rock Cafe Festival 2020, visit: hardrockcafe.com/hard-rock-festival-2020.aspx
Hard Rock Cafe Orlando
6050 Universal Blvd, Orlando, FL 32819
(407) 351-7625
hardrockcafe.com