Mamak Asian Street Food, a local family-owned restaurant specializing in Southeast Asian street food, has officially opened its second location, though only for open delivery/take out for the near future. The 80-seat, 3,300 square-foot eatery is located at 3402 Technological Ave near UCF in the University Shoppes next to World of Beer and Lazy Moon, formerly occupied by Pei Wei on University Blvd. Dine – in expected to begin in early 2021.
The second Mamak will mark six years since the opening of the concept's original location in October of 2014 in the Mills 50 District. The concept's Southeast Asian street-style fare, coupled with its modern night-market aesthetic, make it a unique addition to the local food scene.
In response to the Covid-19 pandemic, Mamak's second location will take a fast-casual dining approach with a pared-down menu featuring the concept's cult favorites. The concept's takeout and delivery-friendly setup will feature a carryout entrance, and eventually outdoor patio seating.
The new location will also accommodate off-site dining and contactless order fulfillment by offering a mobile text-to-order takeout option along with delivery on all major platforms, including UberEats, Doordash, Postmates and GrubHub.
Its vast menu, punctuated with distinctly Malaysian specialties, includes dishes such as the Roti Canai, a traditional crispy flatbread, the charcoal-grilled Satay chicken or beef skewers, and Char Kway Teow, a signature street-dish made with wok-tossed rice noodles, egg, and bean sprouts. Along with a selection of house-brewed tea, Asian beers, sake and craft cocktails, the menu comes reasonably-priced with all dishes under $14.
Here are Our 7 Must-Try Favorite Dishes at Mamak Asian Street Food
1. Roti Canai – $3.00
Malaysian flat bread, toasted til golden brown, crispy on the outside, fluffy on the inside and served with a side of our signature spicy kari sauce. Spicy and vegetarian.
2. Wonton with Hot Sauce – $8.50 
6 Chicken and shrimp wontons, steamed, drizzled with a roasted peanut brown sauce and hot chili oil, topped with sesame seeds and scallions. Spicy.
3. Ginger and Scallion Fish – $9.50
Seasoned fillet, lightly battered, with onions and scallions and stir-fried in an ginger and scallion sauce.
4. Ageta Shokushu – $9.00
Three (3) lightly battered octopus skewers fried till golden brown, served with our signature spicy honey mustard sauce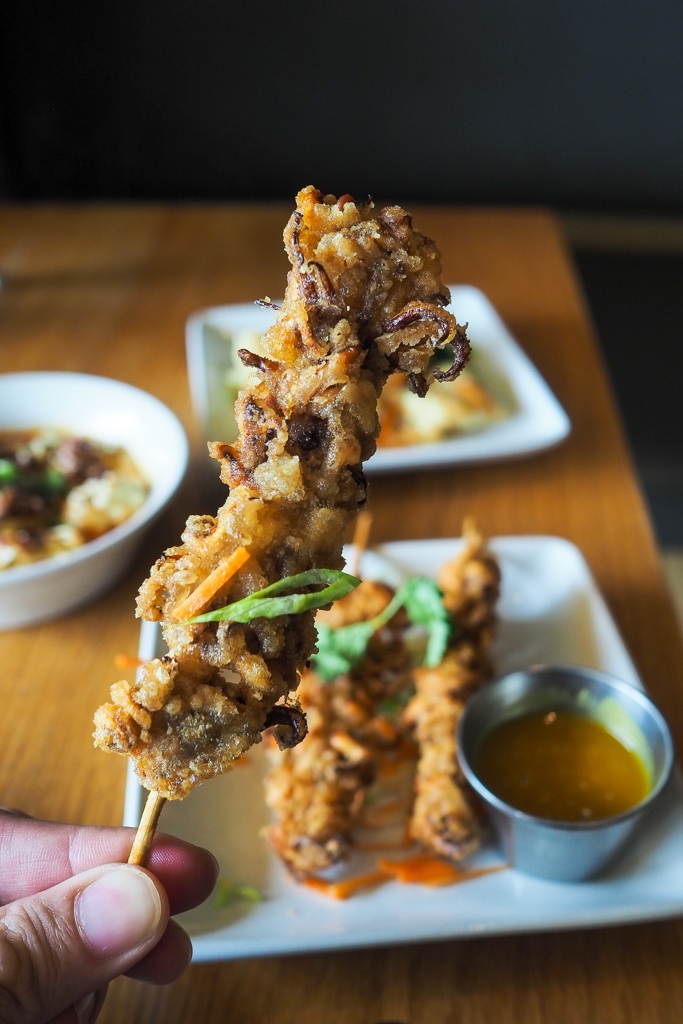 5. House-Made Potstickers – $8.50
Five (5) House-made Chicken potstickers and served with a side of spicy brown sauce. Spicy.
6. Maggi Goreng – $11.50
Maggi ramen noodles, with shrimp, chicken, eggs, napa, onion, carrot, bean sprouts and scallions, wok-fried in a brown sauce and topped with fried shallots.
7. Kari Mee – $11.00
Malaysia's signature soup, egg noodles, with shrimp, chicken, hard boiled egg, fried tofu bean curd puffs, bean sprouts and yow choy in a spicy kari broth and topped with fried shallots. Spicy.