Xurro, Churro Factory offers all things churro, from Churro Sundaes to Churro S'mores, and everything in between. We were invited out to Orlando Vineland Premium Outlets to try some of Xurro's most popular menu items. Churros are an Orlando foodie staple, so we were excited to try some of their sweet creations.
Xurro, Churro Factory at Orlando Vineland Premium Outlets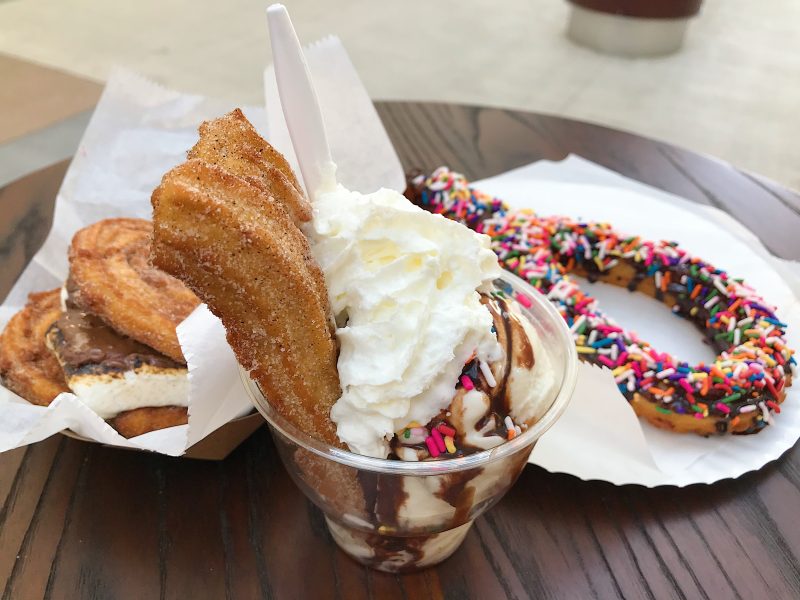 Churro Sundae
The Churro Sundae features three scoops of vanilla ice cream, warm chocolate fudge, two warm churros and is topped with whipped cream and rainbow sprinkles. If you've never dipped a warm churro into an ice cream sundae, here's your chance. The combination was just as tasty as expected, and we highly recommend this dish.
Churro S'more
The Churro S'more pairs two fresh churro buns, with gooey marshmallows and melted milk chocolate. Xurro roasts the marshmallows fresh, so the taste is reminiscent of childhood s'mores around a campfire. The warm marshmallow effectively melts the chocolate, making for a wonderfully sweet treat.
Churro Loop
The Churro Loop is completely covered with chocolate fudge, and topped with rainbow sprinkles. This is the perfect quick bite for all the chocolate lovers out there. It's surprisingly filling, and even more beautiful to look at. Just be careful – it's easy to make a mess with this treat!
Classic Churro
It's not a churro tasting experience without at least one classic churro. Xurro makes their churros fresh to order, so they are significantly better than your classic theme park churros. Our churro was nice and warm, and cooked to perfection. For a quick and more affordable snack option, definitely try the classic churro. Xurro also offers churros filled with strawberry and vanilla, or dipped in Nutella or Dulce de Leche.
Other menu items that also looked delicious include the Churro Milkshakes, Funnel Cakes, Mexican Chocolate and more.
Xurro, Churro Factory has two locations, one at the Orlando Vineland Premium Outlets as well as one in Clermont. You can follow them on Instagram at @ChurroFactory_Xurro.