This week, Southeast Steel Appliance Warehouse celebrates 80 years in Orlando with a special 80th anniversary sale.
"We are honored to have been part of the Central Florida community for 80 years" says Stu Kimball, President of Southeast Steel Appliance Warehouse.
Founder Irving Lippton, Stu's Father-In-Law, established Southeast Steel in 1940, providing Central Floridians with various types of hardware, home supplies, and whatever consumer appliances that were available at the beginning of WWII.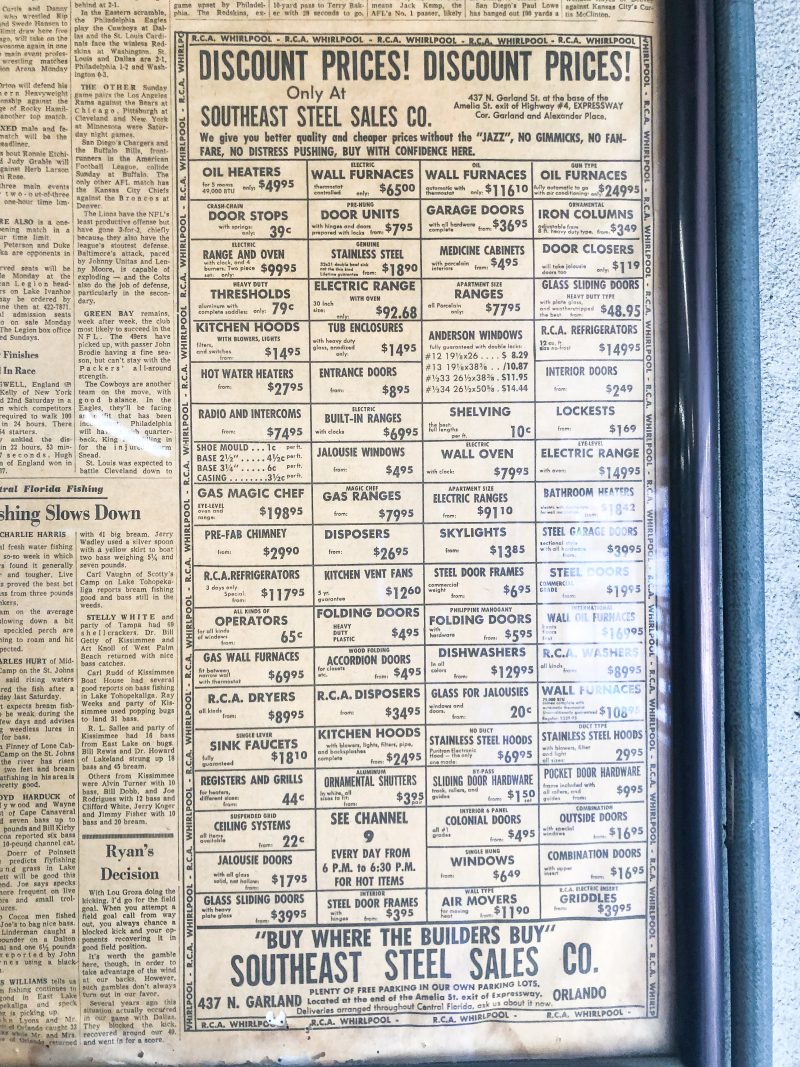 Driven by consumer needs ever since, they have continued to thrive in the appliance arena and today are known as locally as the "Appliance Experts."
Kimball continues… "We know that selecting what's right for you, your family and lifestyle can be a daunting task. Our staff's product knowledge distinguishes us from all our competitions.
In their past, most of them actually worked for manufacturers directly, so they know the products thoroughly and are able to educate and guide customers in finding products that best fit their particular needs, budget and lifestyle.
"We have very little staff turnover, with most of our staff having been here for over 18 years. Many have even served two generations of family members!"
"We never forget that it's our personalized customer service and highly experienced sales team that keeps these families generationally loyal to us. In today's retail environment, shoppers are armed with more knowledge and expectations than ever before. They want every different feature and benefit explained to them on each model so they can make the wisest purchasing decision. This personalized experience won't be found at the big box stores." says Kimball. He and his entire team take pride in saying "We sell appliances, and ONLY appliances!"
"We are truly excited to host our 80th Anniversary Sale November 11 – 14th and invite all former customers to stop in and see the exciting new models, even if they're not currently in the market for a new appliance. "Everyone who does will even receive a thank you gift!"
"This week for the anniversary, people have been asking for 4 piece kitchen suites, so we are delivering with a BOSCH and GE package.  The GE package is a 4-pc kitchen suite PLUS Laundry pair for $3,929.70 – 6 appliances for less than $4x is a steal!"
4-DAY ANNIVERSARY SALE NOVEMBER 11-14
Get your home holiday ready with specials savings as Southeast Steel celebrates 80 years of business!
Shop select inventory of BOSCH, ELECTROLUX, FRIGIDAIRE, GE, LG and SAMSUNG – 4 DAYS ONLY! Save with mail-in and instant rebates, PLUS zero percent financing for qualified customers. SAVE during our 80thAnniversary Sales Event!
GE 4PC. KITCHEN + LAUNDRY PAIR JUST $3,929.70*
*after $500 Mail-in and $500 Instant Rebate
27.7 Cu. Ft. Fingerprint Resistant French-Door Refrigerator
30″ Electric Convection Range with No Preheat Air Fry
1.9 Cu. Ft. Over-the-Range Sensor Microwave Oven
Top Control SS Interior Dishwasher w/ Sanitize & Dry Boost
PLUS GE LAUNDRY
4.6 cu. ft. Top Load Washer w/Oxi and FlexDispense™
7.4 cu. ft. Dryer w/aluminized alloy drum and Sensor Dry
BOSCH 4PC. KITCHEN SUITE JUST $4,899.80*
*after $700 Mail-in and $380 Instant Rebate
21.6 cu. ft. French Door Refrigerator w Ice & Water in Door
30" Electric Slide-in Range with Flush Built-in Look
1.6 cu. ft. Over-the-Range Microwave Oven, 1,000 watts
24" Worlds Quietest Dishwasher w/ Flexible 3rd Rack
Southeast Steel
63 West Amelia St.
Orlando, FL 32801
(407) 423-7654
info@southeaststeel.net