With Orlando continuing to reopen in the wake of COVID-19, safety remains top of mind for many locals and visitors alike. Even with increased measures such as social distancing, we understand that many still feel the safest in an outdoor atmosphere.
Luckily, Orlando is home to a multitude of restaurants and eating spots, many of which offer outdoor eating spaces. Here is our guide to the Top 11 Outdoor Eating Spots in Orlando.
Top 11 Outdoor Eating Spots in Orlando
1. The Wellborn
The Wellborn House Bar & Kitchen is an intimate, historic property tucked away within downtown Orlando. While the inside is quaint and cozy, guests are welcome to enjoy their food and drinks from the outdoor garden seating area as well as the wrap-around porch and balcony. This is a great spot both during the daytime and later in the evening, as the garden is beautifully lit with string lights.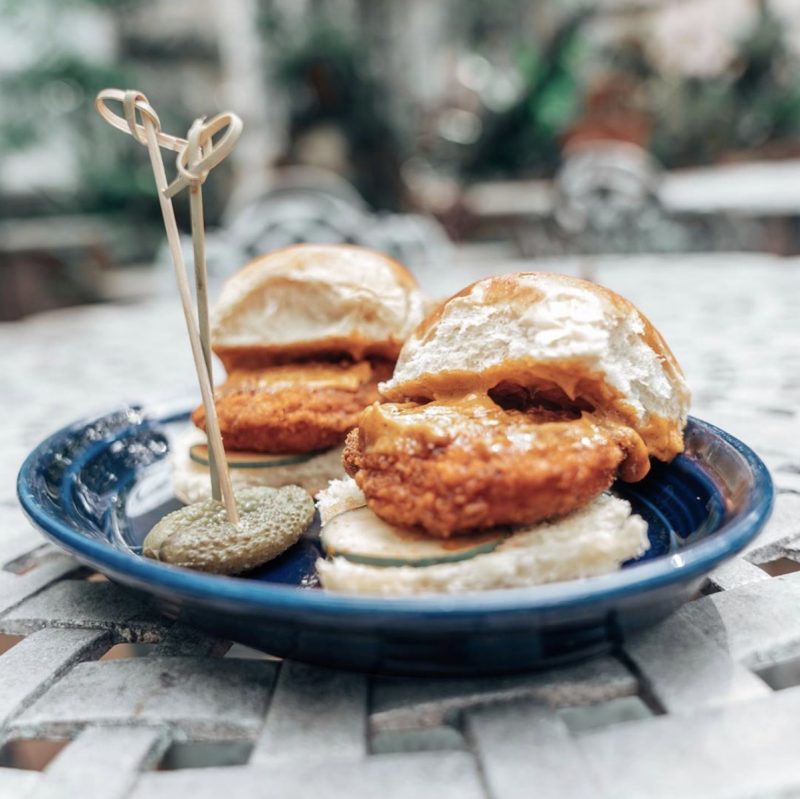 2. East End Market
East End Market is an exciting food hall located near Audubon Park. Different merchants like Dochi, ROYALTEA, Winter Park Biscuit Company, Domu, Gideon's Bakehouse, Lineage Coffee Roasting and Porch Therapy fill the space from day to day. East End's spacious Courtyard allows for ample space to enjoy some tasty bites while socially distanced.
3. À La Cart Orlando
À La Cart brings together some of Orlando's most unique and delicious street food offerings. This foodie spot features an open-air pavilion for those who prefer covered seating, that opens up into an outdoor courtyard surrounded by food trucks. You can choose from beer, wine, cider and coffee (all on tap) as well local food vendors.
4. Boxi Park Lake Nona
At Boxi Park Lake Nona, shipping containers have been transformed and repurposed to create one of Central Florida's most unique social settings. Ideal for families, Boxi Park offers its guests a variety of food and drink selections, as well as live entertainment, a playground, volleyball courts, a dog park and much more.
5. The BOATHOUSE at Disney Springs
The BOATHOUSE might just be one of our all-time favorite restaurants at Disney Springs, and that's partly because of its unmatched outdoor seating. Guests can enjoy their meals and watch the vintage Amphicars drive past from the sizable water-front dock. At the BOATHOUSE, you can't beat a great view.
6. Eden Bar at the Enzian Theater
Enzian Theater is Central Florida's only alternative cinema, offering classic, foreign and independent film screenings. It also features the outdoor Eden Bar, surrounded by beautiful greenery and a peaceful ambiance. The bar itself may be the highlight, but you can also choose from a variety of menu items like flatbread, soup, salad, sandwiches and sweet treats.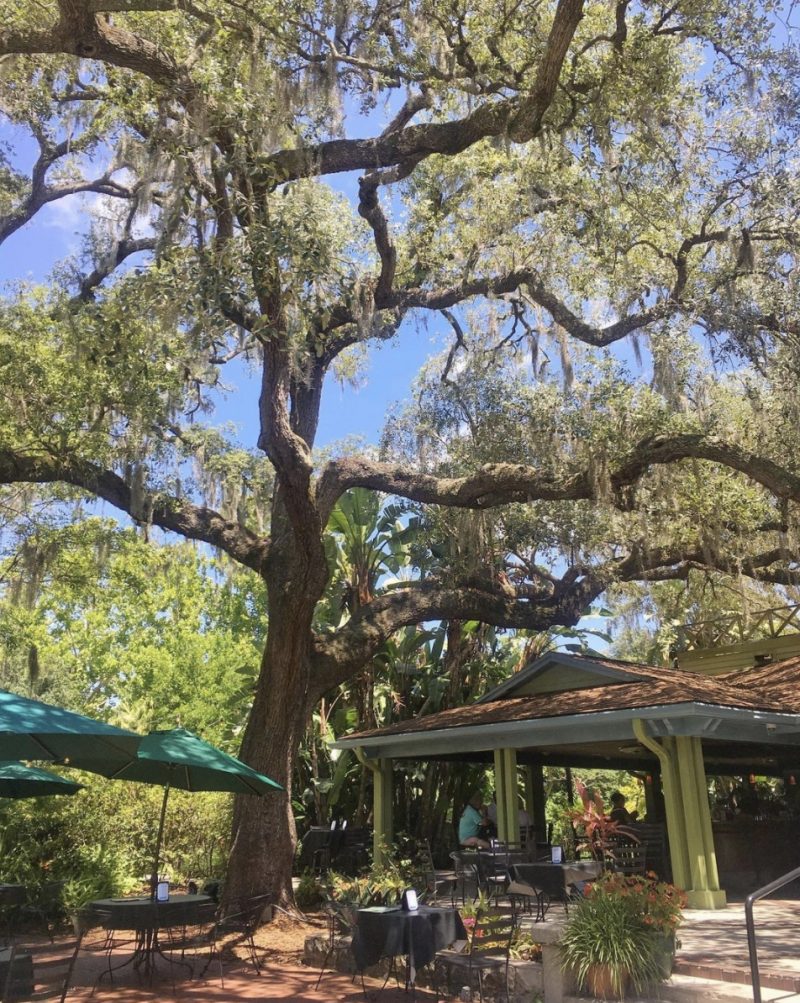 7. Capa Steakhouse & Bar at Four Seasons Orlando
Capa is a rooftop steakhouse and bar located at Four Seasons Orlando. As you can expect, the food is delectable, but perhaps even more impressive is the view from this restaurant. It seems to overlook the entire city of Orlando, and if you look close enough you can actually spot some iconic theme park landmarks like EPCOT's Spaceship Earth. Our favorite time to enjoy the views from Capa's outdoor terrace and dining area is just around sunset.
8. The CowFish at CityWalk
Most of the restaurants throughout Universal's CityWalk feature outdoor seating, but one of our top picks is The CowFish. You can enjoy the eclectic menu featuring "burgushi rolls and pick-ups" from the second-story outdoor terrace. The views are fantastic, especially in the evening when CityWalk comes to life.
9. The Ravenous Pig
The Ravenous Pig recently unveiled their outdoor Beer Garden, which provides a lovely opportunity to get some fresh air while enjoying their food and beverage options. It's also a great spot to spend happy hour. Choose from a delightful assortment of beers, many of which are freshly brewed next door at The Ravenous Pig Brewing Co.
10. The Whole Enchilada
For the best Mexican food with a spacious outdoor seating area, definitely check out The Whole Enchilada. The menu is extensive at this Winter Garden eatery. From tacos to burritos to margaritas, The Whole Enchilada is sure to impress.
11. The Taproom at Dubsdread Golf Course in College Park
Enjoy the spacious outdoor seating with gorgeous views of the 95-year-old Dubsdread golf course, at The Taproom at Dubsdread. Don't forget the fantastic Sunday brunch offerings as well like the Fluffy French croissant stuffed with sweetened cream cheese, topped with warm berry compote and topped with powdered sugar, served with bacon.
More and more restaurants around Orlando continue to adapt to the health and safety measures required during a pandemic. Be sure to check back with Tasty Chomps as we continue covering safer ways to enjoy Orlando's wonderful foodie scene.