Since entering the market in 1993 with its first restaurant in Maitland, First Watch has built a loyal, passionate following throughout Greater Orlando, now serving up breakfast, brunch, and lunch with 20 locations in the Central Florida area.
First Watch's 27-year-old Maitland location will move to a sleek and modern new 4,100-square-foot redesigned space in Winter Park in early 2021. This is the location at 140 Orlando Ave, Winter Park, FL 32789, formerly home to the Mario Lopez-owned Cinco Tacos (briefly) and Carmel Cafe before that, right across from Trader Joe's. Construction is currently underway with this newest location to serve as First Watch's new flagship restaurant, and yes they are getting rid of that big, ugly green grass wall.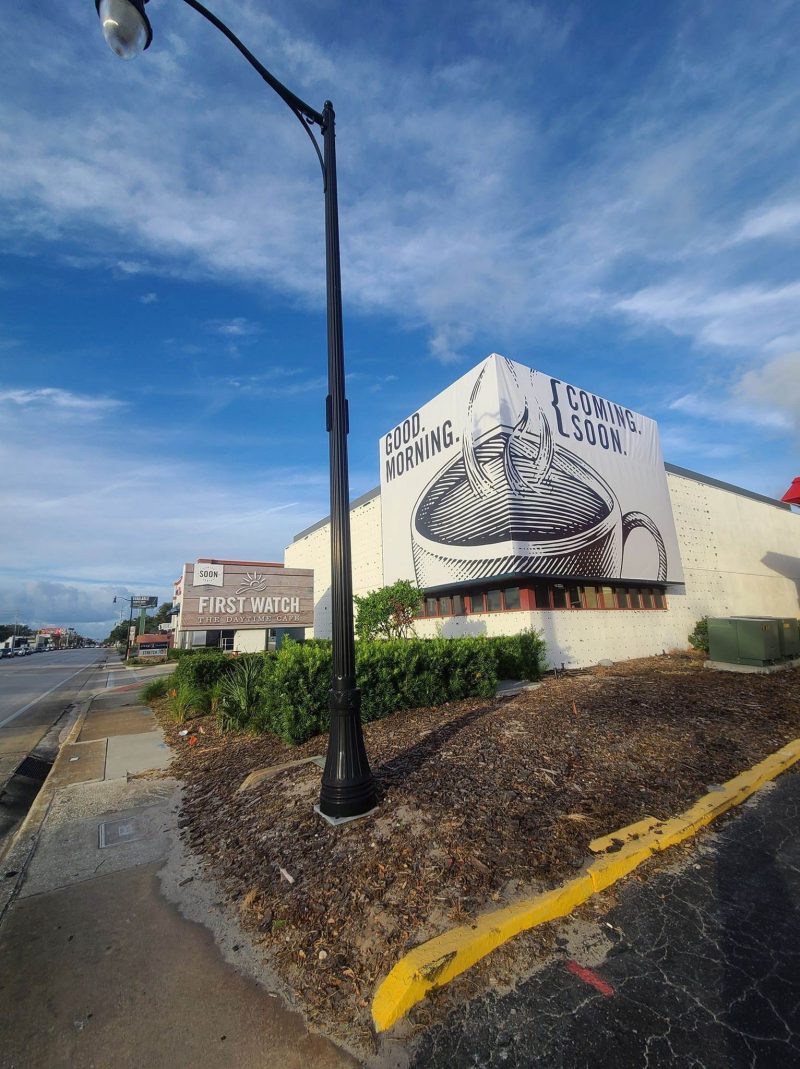 The location was originally slated to open in summer of 2020, but then the coronavirus pandemic hit and everything went back to the drawing board for a new re-design, tailor-made for the new habits among restaurant patrons. The new modern design builds upon the "Urban Farm" design that was rolled out with the new builds in recent years.
First Watch's off-premise business has increased by a multiple of five since the pandemic began, whereas before 2020, the brunch concept focused almost solely on the dine-in occasion.
The new Winter Park restaurant's design will help First Watch deliver on convenience and elevate the takeout experience, becoming the first First Watch restaurant with a new, separate dedicated to go and delivery entrance.
In the kitchen, the new Winter Park restaurant will be First Watch's first with two separate cook lines – one for regular dine in and one dedicated solely to takeout and delivery orders.
With that addition, the new restaurant is larger than First Watch's typical footprint, coming in at more than 4,000 square feet, not including the outdoor dining and lounge area.
"One of the keys to our growth and success at First Watch has always been our focus on ensuring our relevance by staying ahead of long-term consumer trends. We use that information to evolve and elevate the First Watch experience, whether it's with new technology, our restaurant footprint and décor, new menu options or our service philosophies," said Chris Tomasso, president and CEO of First Watch. "That evolution for us was fast-tracked during 2020, and we used this opportunity to think outside the box and offer an even more enjoyable experience for our customers, whether they choose to dine in our restaurant or take brunch home. Since we opened here nearly 30 years ago, Orlando has proven to be a fantastic home for First Watch, and we cannot wait to introduce this elevated experience to our friends in the Winter Park community."
Customers are also looking for more outdoor dining, and the new design has an expanded outdoor patio design with an inside / outside open air bar and lounge, perfect for enjoying mimosas with that Avocado Toast or Smoked Salmon Eggs Benedict.
The patio is also north facing patio to reduce exposure to the intense Florida sun, and an extended hard cover to protect diners from the ever present potential of rain in Central Florida.
The new flagship prototype restaurant will also offer First Watch's crafted cocktail program that's currently available locally only in its Waterford Lakes restaurant. Popular unique alcoholic brunch cocktails include Vodka and Kale Tonic – a variation of the restaurant's popular Kale Tonic drink featuring gluten-free vodka. Classic brunch cocktails like Mimosas and a Million Dollar Bacon Bloody Mary are also available.
In addition to its cocktail offerings, First Watch's elevated beverage program includes the restaurant's Project Sunrise coffee, grown by an independent group of female farmers in Huila, Colombia, called Mujeres en Café.
The new restaurant will also offer options from First Watch's Juice Bar – including the best-selling Kale Tonic and Morning Meditation – juiced in-house daily using only the highest quality fruits and vegetables.
The new flagship prototype restaurant is expected to open in Winter Park this coming March 2021. In the mean time, you can visit any of First Watch's 20 locations in Central Florida, serving its entire menu seven days a week from 7 a.m. until 2:30 p.m for dine-in or take-out.