The Sarasota area is full of history, beauty and some incredible food. It was the official winter home of the Ringling Brothers Circus beginning in 1927, which went on to create a lasting legacy that is still celebrated to this day.
Located on Florida's Gulf Coast about an hour south of Tampa, Sarasota is one of Florida's hidden treasures. It consistently ranks among the top 'small city' destinations and top Florida cities with healthy food. Lido Key, Siesta Key and St. Armands Key are all located within Sarasota borders, offering spectacular beaches right on the Gulf of Mexico.
Sarasota has a ton to offer its visitors, and thus is the perfect destination for a long weekend getaway. While the city is known for its cultural and recreational activities and attractions including lovely beaches, historic museums, gardens and performing arts, we were excited to experience Sarasota through its delicious food.
Visitors can treat their palates to a variety of cuisines, from sustainable seafood and locally sourced produce with award-winning chefs and wine lists. Gourmet grocers, weekly farmers markets and local boutiques make it easy for vacationers to pack a picnic or cook a fresh meal for themselves full of local flavor. And did you know Sarasota is home to the Amish community of Pinecraft, which sells thousands of pies each Thanksgiving day? We were recently invited by Visit Sarasota: Beaches and Beyond to take a look at all that Sarasota has to offer.
Recent Accolades for the Sarasota area:
Siesta Beach is #1 in the U.S. and #11 in the world according to TripAdvisor's 2020 Travelers' Choice™ Awards (also the #1 Beach in 2017 and 2015)
Hot Wire's #4 "Itty Bitty City" in its "Best Cities for a Quickie"
Forbes' #5 Top 10 Spring Break Destination
WalletHub's "Best Small Cities in America"
Sarasota has the most restaurants per capita for "small cities" according to WalletHub
Rent.com named Sarasota the Best City for Vegans in America
#1 Best Places to Retire in the U.S. in 2020-21 (US News and World Report)
Here is Our Perfect Weekend Itinerary for Sunny Sarasota: A Food Lover's Guide to SRQ
Friday
Sarasota is home to many unique hotels filled with history and art. We chose to stay at The Sarasota Modern, a Tribute Portfolio Hotel for its prime location and stunning amenities. We stayed in the Deluxe Junior Suite, which featured a king bed, sectional sofa, room divider and a walk-in shower. Upon checking in, we were greeted by the complimentary valet service, and welcomed during our check-in with celebratory sangrias.
Rodizio Grill – The Brazilian Steakhouse – Sarasota, Florida
For dinner, we stopped by Rodizio Grill – The Brazilian Steakhouse. Rodizio offers all-you-can-eat Brazilian food (which includes authentic salads, sides and fresh meats) for only $34.99. If you aren't interested in the meats, $22.99 will get you unlimited salads and sides.
The traditional Brazilian sides include dishes like farofa, pão de queijo (our favorite), macarrão, bananas fritas and much more.
However, the star of the show is without a doubt the array of freshly grilled meats. A variety of beef options were available, as well as some chicken, pork and even abacaxí (fresh glazed and grilled pineapple). The beef cuts were all perfectly seasoned, nice and crispy on the outside while fresh and juicy on the inside. Any meat lover is sure to be impressed. 
Rodizio is a wonderful option for an incredibly filling meal, that is worth the price if you plan to visit on an empty stomach. We recommend either having an early lunch before, or skipping lunch and enjoying an early dinner to fully get the best experience.
Saturday
We kick-started our Saturday with our own personal food tour of St. Armands. St. Armands is a key off the coast of downtown Sarasota, originally founded and designed by John Ringling himself. Key Culinary Tours offers a variety of food tours around the Sarasota area, with both private and group options. The tours are about $75 per person plus tax, which is a fair price considering they include food from three restaurants, two unique shops and even a surprise dessert at the end.
Key Culinary Tours
First up on the tour is Le Colonne, a one-of-a-kind family-owned Italian restaurant located right in the heart of St. Armands Circle. We were served some lovely mimosas upon arrival. Then, we sampled the Bruschetta appetizer and the Ravioli di Ricotta e Spinaci entree. Both were spectacular, and are sure to leave you eager to revisit just to sample even more menu items.
Next, we made our way to the historic Columbia Restaurant. With multiple locations spanning across Central Florida, Columbia's flagship Ybor City location is actually the oldest restaurant in the entire state of Florida. It opened in 1905, and ownership has remained in the same family for its entire 115-year history. We've visited Columbia Restaurant locations in Tampa and St. Augustine previously, so our expectations were already high. Luckily, Sarasota's Columbia Restaurant did not disappoint. We enjoyed The Original Cuban Sandwich (a classic) and Columbia's Original '1905' Salad, which is always delicious.
Next up was The Ancient Olive, a gourmet olive oil shop that we were pleasantly surprised by. This hidden gem offers a range of homemade olive oils and balsamic vinegars, as well as ready-to-cook packages of pre-seasoned pastas, soups and more. There are even some decadent wines to choose from, in addition to a ton of kitchen staples throughout the shop.
As part of the food tour, we were taught how to properly taste the olive oils, and given free range to sample pretty much anything in the store. The Ancient Olive isn't a stop I would typically make while on vacation, but it ended up being one of our favorite spots on the entire trip.
We couldn't help but walk away with some wine and pastas of our own.
After that, we arrived at Blu Kouzina to taste some authentically delicious Greek food. The restaurant served us sampler plates of all of their most popular menu items, including keftedes (meatballs), kabobs, dolmades (vine leaves) and baklava, with a Greek cider to finish us off. It was the perfect way to taste multiple Blu Kouzina dishes, all of which were exquisite.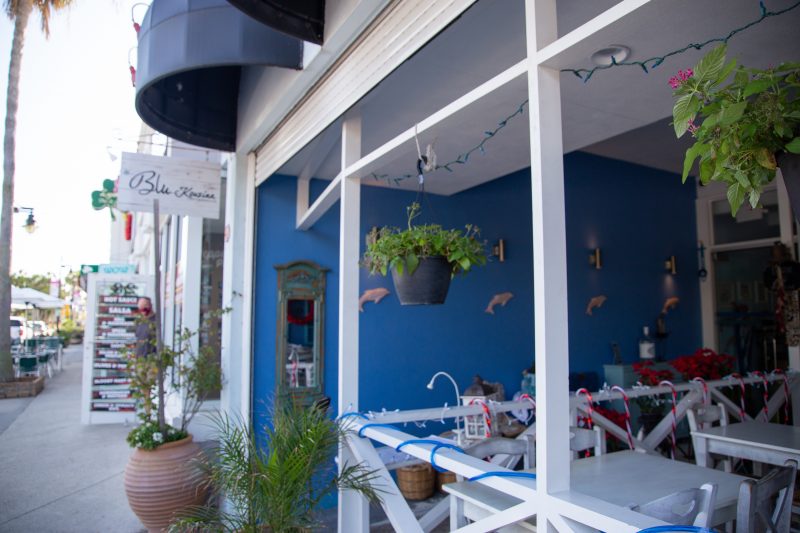 Then, we made a stop at The Spice & Tea Exchange, which turned out to be yet another wonderful hidden gem in St. Armands Circle. The walls of this shop were lined with spice blends and an assortment of fine teas, all crafted in-house. You can purchase individual blends, but the shop can also prepare any tea of your choosing either hot and iced.
Being tea lovers, we couldn't pass. We went with the Blueberry Black Tea and the Mango Tango Herbal Tea. The Mango Tango was the perfect refresher on a warm Sarasota day, almost like a light juice. The Blueberry Black Tea was also tasty, the blueberry adding a subtle sweetness that isn't at all overbearing.
Overall, The Spice & Tea Exchange is a great find that we highly recommend stopping by, whether you're a fan of teas, spices or both.
We ended our food tour at Gelato-Go, for some decadent homemade gelato. We ordered the Creme Caramel flavor which comprised of rich caramel-flavored gelato with creamy caramel swirls. Without exaggeration, it was the best gelato we've ever had. We highly recommend stopping by Gelato-Go if you're ever near St. Armands. You won't regret it.
The food tour lasted a total of three hours.
Once it was complete, we decided to stroll around beautiful St. Armands Circle, taking advantage of the warm, coastal weather.
Speaks Clam Bar – Dinner
Later that evening, we had dinner at Speaks Clam Bar, a St. Armands staple. Speaks has the ambiance of an old-fashioned speakeasy. To our surprise, the date of our visit was actually the anniversary of the end of Prohibition. To celebrate, all Speaks employees were decked out in flapper dresses. The environment was electric.
We ordered the Kiss Kiss Bang Bang (left) which was made of gin, elderflower, agave nectar, lemon and pressed blackberries, and The Speaks Old Fashioned Cocktail (right) made with bourbon, sugar, bitters, orange & lemon essence and candied cherries.
For starters, we ordered 1/2 dozen Raw Oysters and 1/2 dozen Oysters Rockefeller. As expected, both were delectable.
For our entree, we enjoyed the Parmesan Crusted Grouper, which was served with a side of lemon, garlic mashed potatoes and broccolini. We were really impressed by this dish, especially the caper cream sauce garnishing the grouper.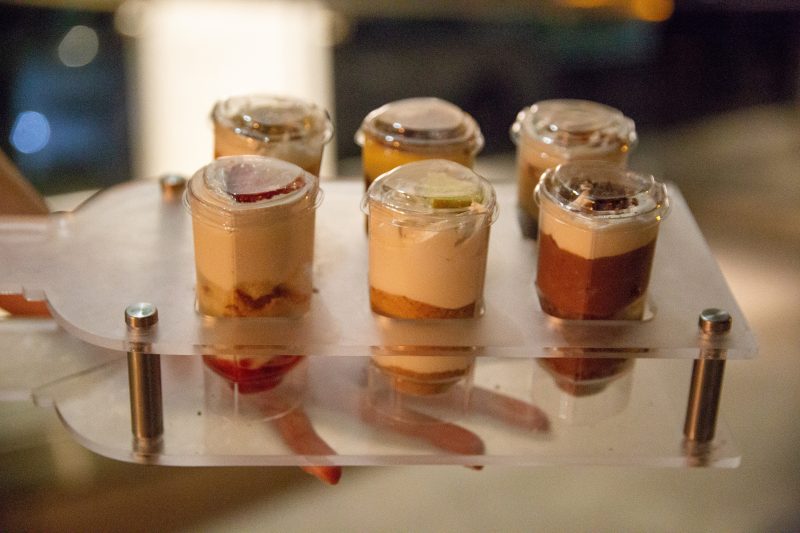 For dessert, you can choose from a variety of parfait-like dessert shots, with flavors such as key lime pie, tiramisu, strawberry shortcake and more. We went with the tiramisu, and were extremely delighted with it. This little dessert shot was both sweet and light, the ideal way to end a dinner without making yourself feel overly full.
Sticking with the 1920's speakeasy theme, the receipt is presented in a themed antique-like door that opens to a pair of peaking eyes.
Sunday
99 Bottles Taproom & Bottle Shop
While on vacation, Sunday morning brunch is a must. We brunched at 99 Bottles Taproom & Bottle Shop, where we had the opportunity to try some of the most delicious bagels. If you're looking for an early morning bite but you're a little crunched for time, 99 Bottles is the perfect spot to try.
We ordered an everything bagel with green onion cream cheese and tomato, as well as a cinnamon raisin bagel topped with cream cheese, smoked salmon, tomato, red onion and cucumber.
The Ringling Musuem
A surprising highlight of our trip was the The Ringling Museum. The grounds are home to a fantastic Museum of Art, an educational Circus Museum, the Ringling Ca' d'Zan Mansion and many beautiful outdoor spaces.
The John and Mable Ringling Museum of Art surrounds a grand courtyard filled with sculptures and fountains. This outdoor space is breathtakingly peaceful.
John and Mable Ringling were avid collectors of art, and this museum is their legacy. The collection is impressive, including pieces from the Late Medieval thorough the 19th century, as well as Greek, Roman and Cypriot antiquities that Ringling purchased from the Metropolitan Museum of Art.
The Circus Museum tells the origin story of the circus in 19th century America. You can view some authentic circus costumes and equipment, as well as pieces owned by other circus legends such as P.T. Barnum.
The Howard Bros. Circus model is made up of over 44,000 pieces. It provides a glimpse into just how much work went into these circuses that traveled across the country by train.
Entry into to the Ringling Ca' d'Zan Mansion is not included in the original price of admission, but for an additional $10 per person you can explore John Ringling's historic estate.
Marina Jack II's Sunset Dinner Tour
Sunday night, we enjoyed our dinner from a lovely dinner cruise. The beautiful Marina Jack II's sunset dinner tour takes passengers along the Gulf of Mexico to experience some really special views. It's priced at $58.95 per person, which includes the boat ride and a three course meal. Marina Jack II also offers a sightseeing daytime lunch cruise for $38.95.
During our dinner cruise, we enjoyed some tasty rolls and garden salads with vinaigrette as starters.
The main course consisted of peppercorn crusted prime rib, grilled salmon with saffron cream sauce, roasted vegetables and cheesy potatoes.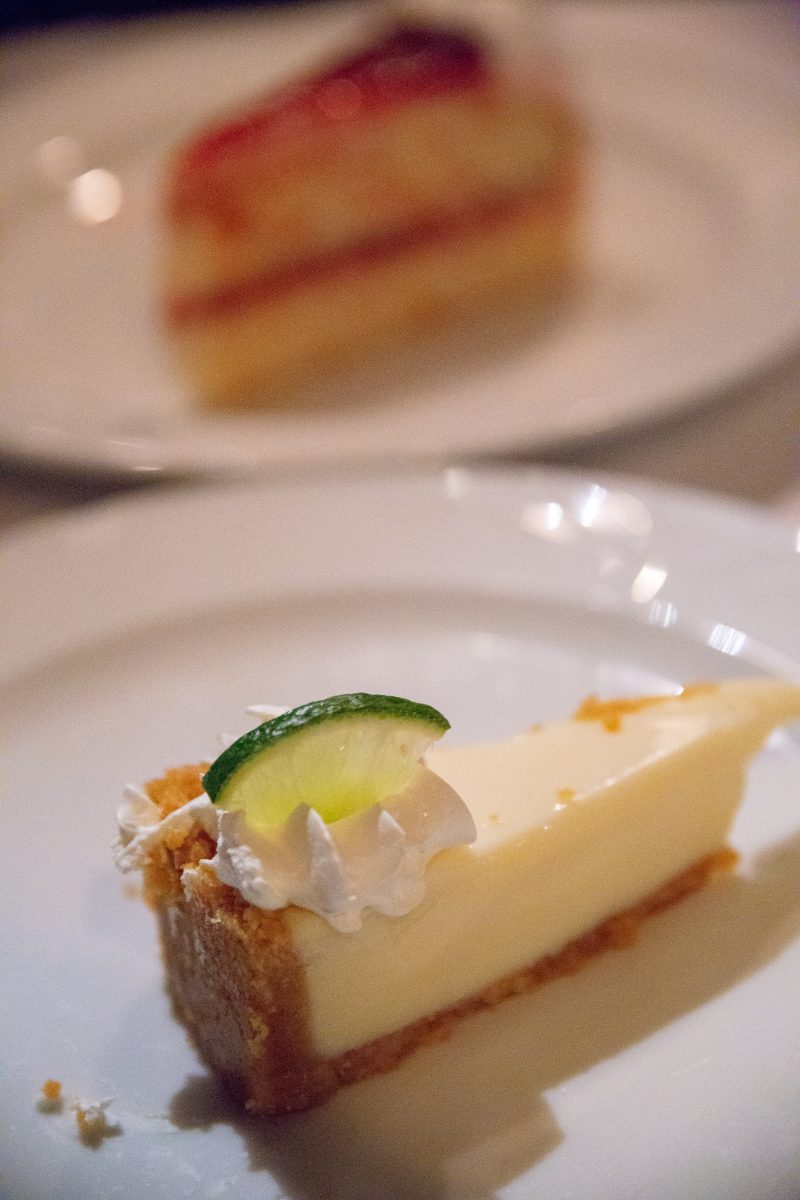 Finally for dessert, we enjoyed key lime pie and raspberry almond cake (there was also an option of double fudge chocolate cake).
Overall, this is a wonderful option if you're visiting Sarasota for a special occasion, or are looking for the perfect way to spend a romantic evening. The views from the ship are beautiful, and the experience is very intimate.
Monday
After checking out of our hotel, we grabbed a quick coffee and prepared for some more exciting Sarasota attractions.
Marie Selby Botanical Gardens
A must-visit on any trip to Sarasota is the Marie Selby Botanical Gardens. Not only are the grounds beautiful, but they are also filled with some impressive history. Marie Selby was a trailblazer in the fields of horticulture and botany. In an industry largely dominated by men, Selby provided the opportunity for women to work and learn about plants. Today, this legacy remains strong. This is also the world's only botanical garden dedicated to to the display and study of wonderful tropical plants like bromeliads, epiphytic orchids and gesneriads.
Mote Marine Laboratory and Aquariam
For any animal lovers, we also highly recommend stopping by the Mote Marine Laboratory & Aquarium. This independent, nonprofit marine research institution is focused on conservation and sustainability. Mote uses science to educate the public on issues ranging from the impact humans have on the environment to human cancer studies using marine models. It's educational, but it's also a lot fun.
Mote is currently working to rehabilitate a number of sea turtles, with the hopes of returning them back to the wild to live out the rest of their days.
You can also observe other marine animals like sharks, jellyfish, otters and the adorable Axolotl (pictured above).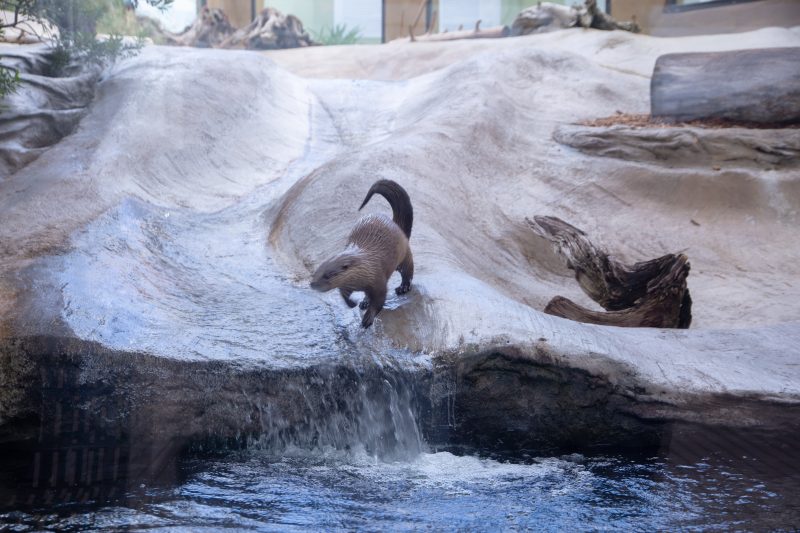 Mote is a great experience for families, providing educational opportunities for both kids and adults alike.
Sarasota certainly has a lot of unexpectedly incredible food to offer, in addition to its many cultural attractions and experiences.
For more information about Sarasota and its exciting offerings, go to VisitSarasota.com.