Pom Moonguaklang, owner and operator of Pom Pom's Teahouse and Sandwicheria in Orlando's Milk District recently celebrated their 15th anniversary. This February, she will debut a new pop up concept called Pomisaan featuring regional Thai dishes like K-NOM JEEN, a "Thai spaghetti" fish pureed with lemon grass, turmeric, krachai ginger root, and vegan LAAB Hed a dish full of hearty mushrooms, a blend of fresh maitake, shiitake, and enoki, all fresh ingredients lime, mint, cilantro, cilantro, and fermented soy.
Chef/Owner Pom was born and raised in Thailand and made her way to New York earning a degree as a pastry chef. She used her talent and creativity working for such restaurant's as NoBu (Robert Dinero's & Nobuyuki "Nobu" Matsuhisa's Restaurant) and the famous Drag Cabaret restaurant, Lucky Cheng's. Then moved to Orlando, and opened Pom Pom's Teahouse and Sandwicheria.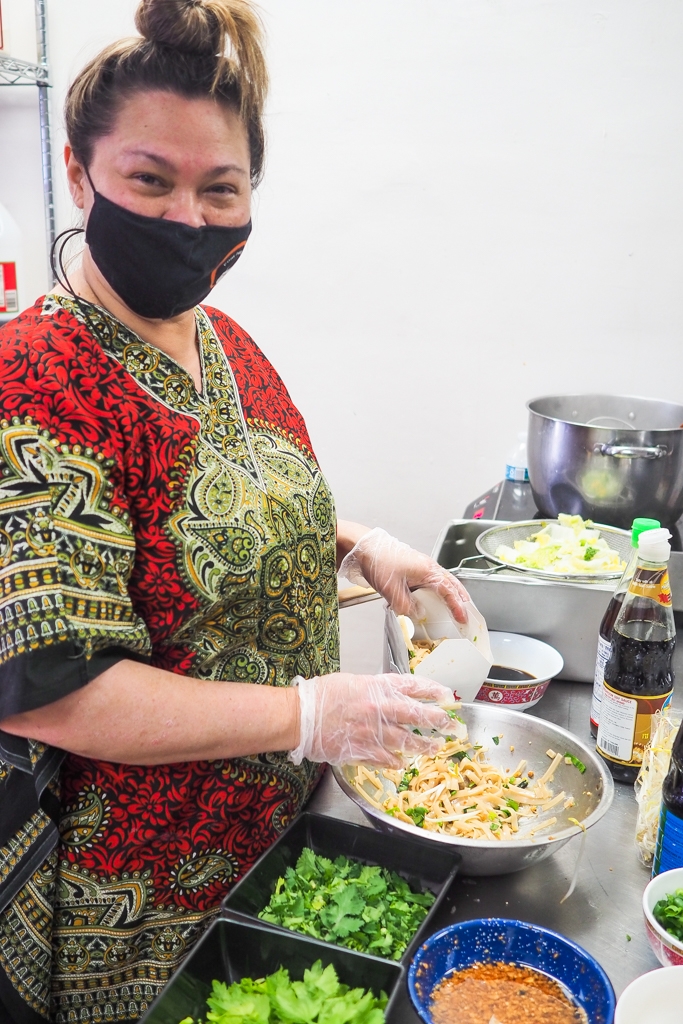 "Sandwiches are what we craved after working in a hot kitchen in NYC and that's what cultivated this little shop we have grown to love. Who knew it would take off like it did but we are so grateful for the many years of support by such a wonderful family, known as Orlando," Pom told us via e-mail.
Now, she is working on a new project – a Thai Pop Up inside Pom Pom's called Pomisaan, harkening back to her Thai roots. Isaan is a region in northeast Thailand where Pom was born and lived until she was 8 years old. The menu will be available for dine-in or take out at Pom Pom's for dinner.
Inteview with Pom on Pomisaan Pop Up
Tasty Chomps: Tell us about your upcoming project?
Pom Moonguaklang: I've been wanting to get back to my roots/heritage and this concept has been on the back burner for a while since I've been busy keeping what I have, open during the pandemic. Isaan cuisine is to eat nature, exoctic herbs, spices & roots. Now more than ever, health is very important. Isaan is very prevalent in the area I lived in Udon Thani, Thailand and influenced by Vietnam, Cambodia, Laotian, and Thai food. One of the dishes on the menu will be a version of Kao Mun Gai which is very popular in several regions across Asia. It's a very clean and comforting dish that anyone can enjoy.
What are some challenges you have faced and how did you overcome them on your culinary journey?
Challenges in my journey 25 years ago was being the only female executive chef while working at Lucky Cheng's. At that time, it was very rare to have a female in that position. Then moving to Florida and opening Pom Pom's Teahouse and Sandwicheria in the time before the food scene took off.
You recently celebrated 15 years in Orlando – what are your thoughts on the food scene today and how does it compare 15 years ago?
15 Years ago there was a very limited selection of really great food in Orlando, but now there is an abundance of so many different options from all over the world. Watching the food scene grow and getting a chance to try so many things, has been so wonderful. We now see great food in restaurant rows in College Park, Baldwin Park, Sand Lake, Thornton Park, Downtown Orlando, Lake Nona…essentially Central Florida is booming with different culinary options.
 What are some unique items people should get when ordering on the new Pomisaan menu?
Everyone should try a little of everything on the menu. It gives you a chance to try so many different herbs, spices and roots that are not very common in the U.S. Sharing is highly recommended as many items can be very dense and rich in flavor, so a little can go a long way.
Lessons learned in 2020?
Do not get comfortable. Be prepared for anything. Navigate and pivot.
What are your goals for 2021?
Maintain and to push my culinary skills. And travel.
Here is a look at the initial menu with more to come, expected to be available for dinner at Pom Pom's starting February 1, 2021 from 5pm-10pm:
Pomisaan
MENU
KAO MUN GAI – steamed chicken, topped with
roasted garlic, cilantro, scallions, served on a
bed of ginger jasmine rice. Accompanied with 2
sauces for dipping, a fermented soy bean, and
homemade sweet chili. Your sides – a steamed
Nappa cabbage, and vegetable soup.
K-NOM JEEN – "Thai spaghetti" fish pureed
with lemon grass, turmeric, krachai ginger root,
coconut milk, fish sauce, coconut cream, served
with fresh bean sprouts, kaffir lime, and Thai
basil, and served with rice vermicelli
HA MOK PLA – steamed in a banana leaf, red
curry, fish made with kaffir lime, topped with
coconut cream. Served with steamed nappa
cabbage, and ginger rice. Very dense 7-10 bites
VEGAN
LAAB Hed – mushrooms, a blend of fresh
maitake, shiitake, and enoki, all fresh
ingredients lime, mint, cilantro, cilantro,
scallions, red onions, sweet soy, fermented soy
roasted rice, served with steamed cabbage and
cucumber.
KUAY TIEW HAENG (goy tew hank) –  cold rice
noodle, sweet soy, fermented soy, mushroom
soy, bean sprouts, cilantro, scallions, cilantro,
roasted garlic, and peanuts