In a city like Orlando, you can find delicious food of any kind at all hours of the night. From tacos to burgers, diners to sports bars, Orlando has plenty of noteworthy late night eats. What can we say? Sometimes, food just tastes better when you're eating it at 1 a.m.
Orlando's Best Late Night Eats
1. Gringos Locos Tacos
Gringos Locos is a Central Florida staple, and for good reason. With multiple locations throughout Orlando from downtown to UCF, this beloved taco shop is open daily until 3 a.m., making it the ideal stop after a night spent bar-hopping. Their tacos are fresh, affordable and they consistently hit the spot.
2. B-Line Diner
Open 24 hours a day, B-Line Diner is located inside the Hyatt Regency Orlando resort. This spot has the traditional diner feel, with a special late night menu from 11 p.m. to 6 a.m, which includes all-day breakfast, sandwiches and even a number of vegan options like the Open Faced Beyond Burger and the Vegan Burrito.
3. Bao's Castle
For late night Asian Fusion cuisine 24/7, Bao's Castle is the perfect choice. Bao's Castle offers a variety of delicious bao bun creations, with filling options that include pork belly, Korean short rib, fried shrimp, fried chicken, braised short rib, fried soft crab shell, tofu and mushrooms, all of which are less than $5 each. They also serve some tasty sides, rice bowls and churros.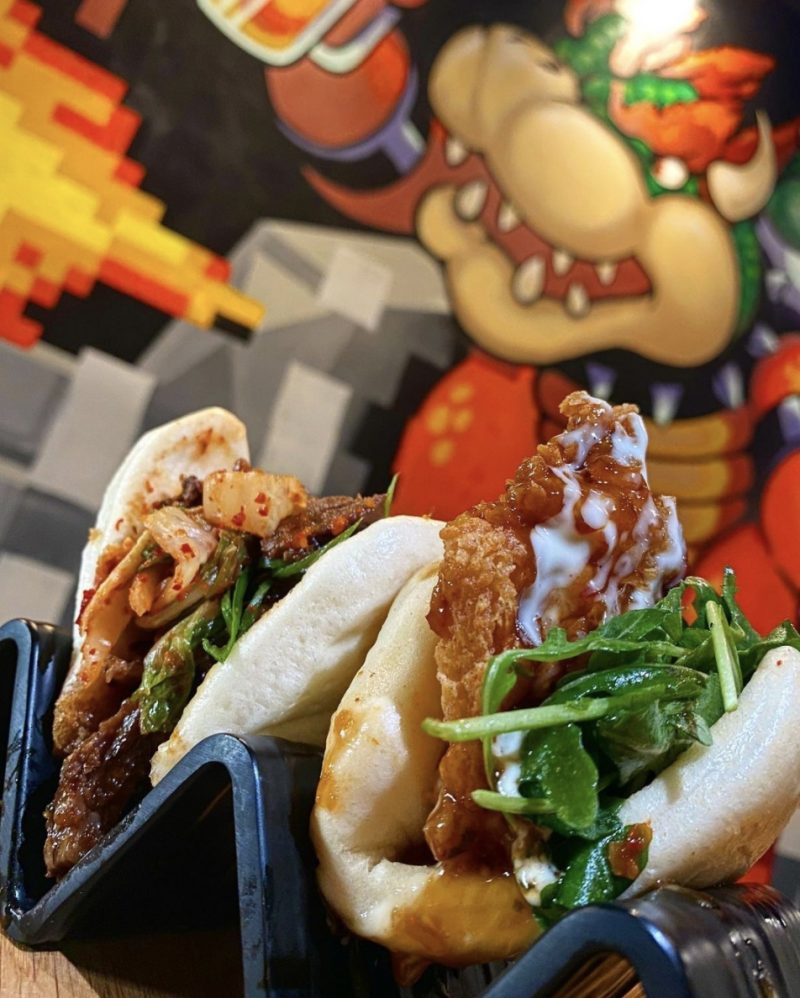 4. Santiago's Bodega
Santiago's Bodega is a wonderful tapas restaurant open until 2 a.m. every night. This restaurant offers a diverse range of food, from Bruschetta to Croquettas to Spanakopita. There's sure to be something for everyone to enjoy at Santiago's Bodega.
5. Pom Pom's Teahouse & Sandwicheria
Pom Pom's Teahouse & Sandwicheria offers some of the best tea and sandwiches in all of Orlando. Our all-time favorite menu item is Mama Ling Ling's Thanksgiving Sandwich, pictured below in all of its glory. Pom Pom's is open until 4 a.m. every Friday and Saturday. It's located just east of downtown Orlando, making it the perfect stop after a night out.
6. Tin & Taco
Tin & Taco offers some of the tastiest and most unique craft tacos, craft beer and craft sodas you can find in Central Florida. It has locations in SoDo, College Park, downtown Orlando, Winter Park, Lake Mary, Waterford Lakes and New Smyrna Beach. The hours for each location are slightly different, but the downtown Tin & Taco is open until 3 a.m. daily. Their tacos are truly unlike any others, and are definitely worth a try.
7. The Waterfront Orlando
Open until 2 a.m. all week long, The Waterfront Orlando offers an impressive array of seafood, burgers, salads and sandwiches. Located right on the lake, you can enjoy socially distanced outdoor seating with a stunning view of the water. The food is delightful, and the ambiance is both beachy and serene.
8. TaKo Cheena
TaKo Cheena is a vibrant Asian Fusion restaurant inspired by food truck culture. TaKo Cheena's unique food creations are all made from fresh, locally sourced ingredients. Its menu includes House Takos, Signature Takos, Asian Hot Dogz, Burritos, Arepas and more. Tako Cheena is open most days until 1 a.m., and until 3 a.m. on Friday and Saturdays.
9. American Social
Known for serving up some of Orlando's best burgers, American Social provides a more upscale sports bar experience with some really delicious bites. Where else can you order avocado toast, burgers, tacos, oysters and pan-seared salmon all at one place? American Social is open until midnight, 1 a.m. or 2 a.m. depending on the day, and is certainly worth visiting.
10. Austin's Coffee
Open 24 hours a day 7 days a week, Austin's Coffee is a caffeine-lover's paradise. It offers a quality assortment of coffee and teas as you'd expect, but this coffee shop's menu also features an impressive lineup of salads, gourmet sandwiches, light bites and desserts. It's the perfect spot to spend a late night of remote working.
Orlando's late night food scene is diverse, delicious and in most cases quite affordable. Whether you're looking for the perfect bite after a night out, or the ideal spot to cozy up for a late night of work, you're sure to find just the place you're looking for.
*Please note: Restaurant hours are all subject to change due to the ongoing COVID-19 pandemic.