Mardi Gras has officially returned to Universal Orlando Resort. Now through April 11**, guests are welcome to enjoy exciting entertainment and tasty bites inspired by Carnaval celebrations from around the world.
The festivities may look a bit different this year, but the food is just as delicious as ever. Traditional dishes are available to sample from New Orleans, Puerto Rico, Germany and many other regions. For $55, guests can purchase a Mardi Gras tasting lanyard good for 10 specialty food dishes or beverage samples. Annual passholders can also purchase an exclusive 15-item lanyard for $65. We recommend these lanyards in order to get the absolute best deal during your visit. They are particularly helpful if you plan on splitting the samples with a small group.
We were invited out by Universal to try 10 of the best food items the festival has to offer, and we were far from disappointed. Here is our Foodie's Guide to Universal's Mardi Gras 2021: International Flavors of Carnaval.
Foodie's Guide to Universal's Mardi Gras 2021: International Flavors of Carnaval
New Orleans, USA
Crawfish & Shrimp Boil, Beignets and Abita Purple Haze
It isn't a Mardi Gras festival without some crawfish and beignets. We ordered the Crawfish & Shrimp boil, which was delectably seasoned and mixed with flavorful andouille sausage, red bliss potatoes and corn on the cob. As expected, the beignets were light, fluffy and delicious. We also ordered the Abita Purple Haze, which is a refreshing raspberry fruited lager. Together, this classic New Orleans combo was the perfect way to begin our Mardi Gras experience.
Other New Orleans food items available for purchase include the Crawfish Boil, Shrimp Boil, Jambalaya, Shrimp Gumbo, Etouffee, Twisted Taters, Andouille Twisted Taters and the Muffaletta Sandwich.
Puerto Rico
Picadillo Empanadas and Quesitos
Next up we stopped by the Puerto Rico booth, where we enjoyed a traditional picadillo empanada and quesito. The empanada was filled with the tastiest mix of ground beef, tomatoes, peppers and seasoning. The quesito was the ideal sweet treat, filled with guava and cream cheese. Both Puerto Rican pastries were delightfully flaky and cooked to perfection.
Pernil & Mofongo is another delicious option available at the Puerto Rico booth.
Germany
Pork Schnitzel Sliders and Bavarian Pretzel
At Germany, we tried the Pork Schnitzel Slider and the Bavarian Pretzel. The schnitzel slider was served on an adorably small pretzel bun with spicy mustard, braised red cabbage and gruyere cheese. The pretzel was large, warm and served with a tasty spicy mustard cheese sauce. Both were spectacular, and surprisingly filling for theme park bites.
You can also enjoy Bratwurst with Beer Braised Onions as well as a vegan Bratwurst option at Germany. While we didn't have the chance to try any, the selection of German alcoholic beverages also looked impressive.
Bahamas
Jerk Jackfruit
If you cannot handle spicy, stay away from this dish! The Jerk Jackfruit at the Bahamas is a wonderful vegan bowl served with jerked marinated jack fruit, rice, peas, scotch bonnet salsa and a lime. We loved it, but it was definitely the spiciest food item we can recall ever ordering at a theme park, so beware.
A non-vegan option is also available with the Jerk Chicken dish at the Bahamas booth.
Belgium
Belgium Liege Waffles
This delicious Belgium classic features sweet liege waffles topped with strawberries, whipped cream, chocolate sauce and powdered sugar. It's simple yet mouthwatering, and we highly recommend trying it if you're looking for a tasty dessert during your Mardi Gras festivities.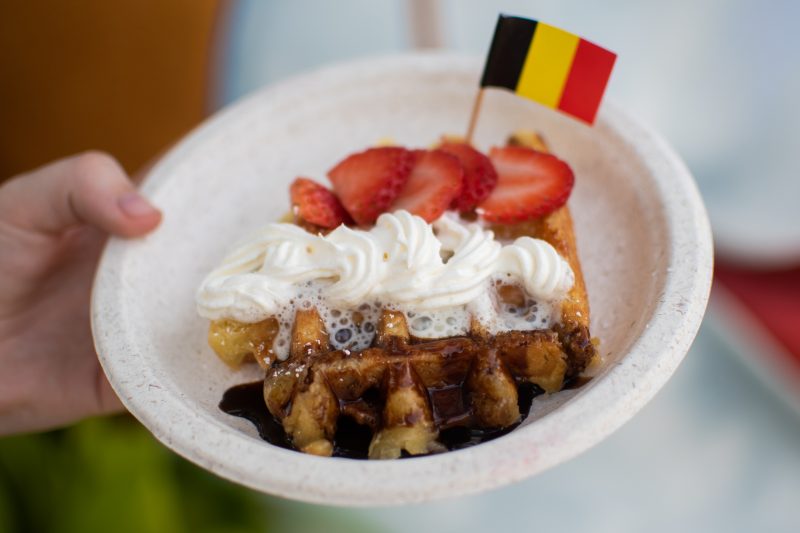 Belgium also offers Brussels Frites with Roasted Garlic Veganaise, which is an excellent snack option.
Trinidad and Tobago
Pholourie
The last item we tried was the Pholourie at Trinidad and Tobago. This dish consists of deep fried spicy split pea dough, turmeric and curry powder. It's served with either a side of tamarind chutney or powdered sugar. We went with the tamarind chutney, which provided just the right amount of sweet and sour flavor.
You can also find traditional Pineapple Trini Chow at the Trinidad and Tobago booth.
Other Must-Try Eats
Although we loved the 10 Mardi Gras dishes that we tried, there are still many more food items we look forward to tasting in the future. Here are some of the Mardi Gras bites we didn't get a chance to try.
Brazil
Moqueca de Camarao: Shrimp coconut cream stew with white rice and sweet potato curls
Stuffed Coxinha: Pulled chicken fritters
Brigadeiros: Sweet chocolate treats made with condensed milk, cocoa powder, sprinkles and toasted peanuts
Canada
Colombia
Carnitas Arepas: Arepas filled with avocado, carnitas, mayonnaise, ketchup and cilantro
Cuba
France
Poached Pear Crème Brulee Crepe: Red wine poached pear, vanilla pastry cream, toasted almonds and caramel topped with crispy sugar
Italy
Universal Mardi Gras Tribute Store
The Mardi Gras Tribute Store features an exciting combination of theming, music and delicious bites. You'll walk through different rooms showcasing the very best Mardi Gras has to offer, from jazz bands to pirates and even a mystical New Orleans cemetery.
In the final room, you can choose from an impressive assortment of themed treats like King Cakes and Vegan Skulls Brownies. While these items aren't covered by the Mardi Gras tasting lanyards, we can confirm that they are definitely worth the purchase.
We are looking forward to our next trip over to Universal Orlando Resort, so we can taste even more Mardi Gras delights. To learn more about Mardi Gras 2021: International Flavors of Carnaval, go to UniversalOrlando.com.
Photos by Elisa Castillo