Orlando is a city of indulgence, as made abundantly clear from the delectable variety of sweet treats it offers. We've compiled a mouthwatering list of Orlando's 10 most delicious desserts. From heavenly brick toast to exquisite banana pudding, feel free to satisfy your sweet tooth with any of the following best dessert dishes for 2021.
Orlando's 10 Best Dessert Dishes for Spring  2021
1. 'Ohana Bread Pudding
You can find the absolute best bread pudding in Orlando at Disney's Polynesian Village Resort. The 'Ohana Bread Pudding features a generous helping of banana bread pudding, topped with vanilla ice cream and served with rich, warm caramel sauce on the side. This dessert is exclusively available at 'Ohana, however with the restaurant temporarily closed, guests can indulge in the treat at Kona Café for a limited time.
2. Krungthep Tea Time's Sleeping Beauty Brick Toast
Krungthep Tea Time offers a variety of tasty Brick Toast desserts, but our favorite has to be the Sleeping Beauty Brick Toast. This dish combines the delicious flavors of fresh strawberries, Nutella, honey, vanilla ice cream and whipped cream. The result is a sweet and luscious dessert that is sure to make your mouth water.
3. Soco Thornton Park's Bourbon Banana Pudding
Banana pudding is always a win, but Soco Thornton Park's Bourbon Banana Pudding might just be one of the best we've ever had. Made with caramelized banana, toasted meringue and vanilla wafer waffle, this dessert dish is superb.
4. Gideon's Bakehouse Cookies
With locations at East End Market and Disney Springs, Gideon's Bakehouse offers some of the richest, most iconic cookies in Orlando. Some of the most delectable flavors include The Original Chocolate Chip, Peanut Butter Crunch, Cookies & Cream and Pistachio Toffee Chocolate Chip.
5. Se7en Bites' Signature Salted Caramel Dark Chocolate Pecan
Se7en Bites serves up an exciting variety of sweet treats and freshly baked goods. We'd argue that any of their delightful creations are worth a try, but the mini Signature Salted Caramel Dark Chocolate Pecan pies are at the top of our list. They're simply exquisite, and you won't regret picking one up on your next visit.
6. Toothsome Chocolate Emporium's Specialty Milkshakes
Head over to Universal Orlando's CityWalk to relish in the delicious concoctions that are Toothsome's Specialty Milkshakes. Our all-time favorite is the Cookie Jar shake, but other close rivals include the Espresso Buzzzz, Confetti and Key Lime Pie shakes. Fair warning, these specialty shakes are incredibly thick and rich, so you may want to consider sharing one.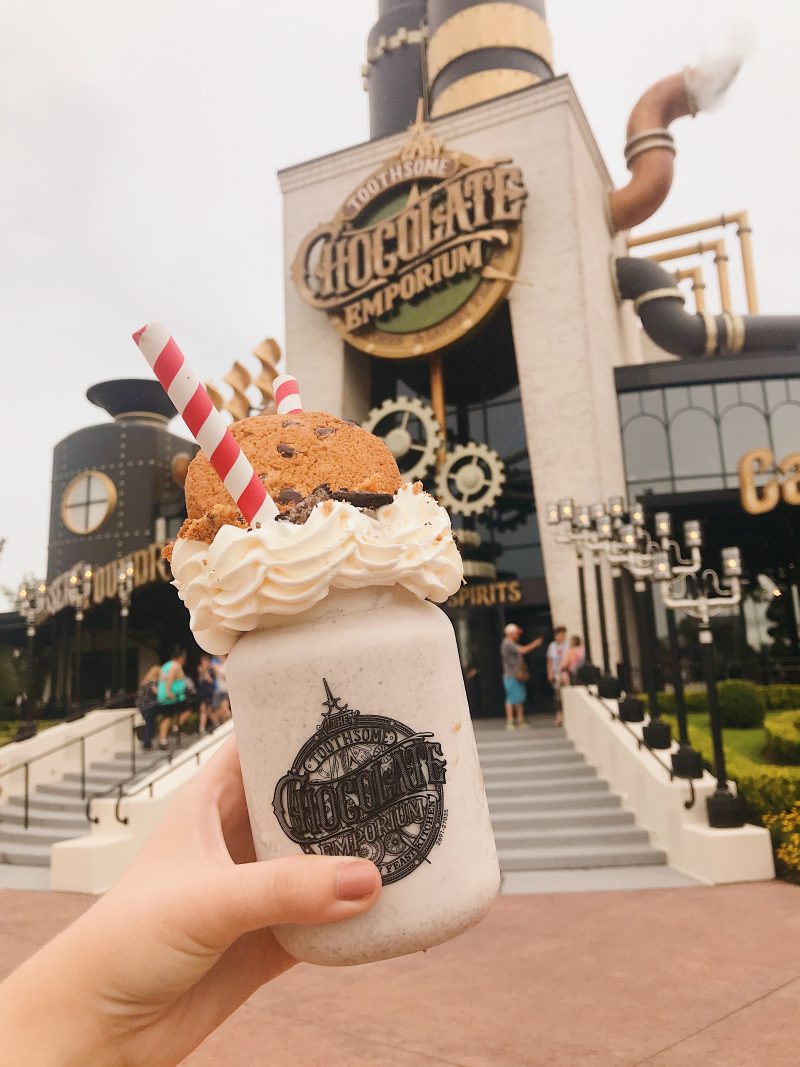 7. Island Fin Pokè's Dole Whip
Most Orlando natives likely associate Dole Whip with Disney, but Magic Kingdom isn't the only place you can enjoy this Hawaiian delicacy. Island Fin Pokè in Windermere offers Dole Whip soft serve as a wonderfully refreshing dessert.
8. Better Than Sex's Between My Red Velvet Sheets
Better Than Sex is perfect for any date night, with an impressive menu of mouthwatering desserts and adult beverages. This spot offers a list of sweet treats with fun names like Tongue Bath Truffle and Missionary Crisp. One of our favorites is Between My Red Velvet Sheets; a rich red velvet cheesecake with double chocolate cookie dough and cream cheese frosting.
9. Matcha Cafe Maiko's Maiko Special
Matcha Cafe Maiko offers a number of incredible Japanese matcha treats. The Maiko Special is beautifully served with ice cream (matcha, vanilla or mixed), matcha chiffon, chestnuts and shiratama mochi. We promise, it's just as delicious as it looks.
10. P is for Pie Bakeshop
P is for Pie Bakeshop offers some of the tastiest pies in the city, in a range of sizes from Cutie Pies to Whole Doubles Crusts. The list of pie flavors available is extensive, and the menu changes seasonally. Some of our must-haves include Chocolate Pecan, Banana Cream and Lime Coconut Cream.
Clearly, Orlando is a dessert lovers' dream. Let us know if we missed any of your favorite sweet treats in the comments below.