Located on Florida's sunny Gulf Coast, Tampa Bay is a thriving hub for award-winning restaurants, theme park thrills, diverse cultures and outdoor adventures. Tampa Bay is also becoming a notable mecca for success in sports. In the past year alone, the Tampa Bay Buccaneers won the Super Bowl, the Tampa Bay Lightning won the Stanley Cup and the Tampa Bay Rays won the American League Championship.
Other educational attractions like museums, aquariums and zoos are abundant throughout Tampa. Whether you're looking for beaches, thrills, education, night life or if you simply want a relaxing, care-free vacation, Tampa Bay is worth your consideration.
We were recently invited out by Visit Tampa Bay to explore the vibrant city and the many culinary wonders it has to offer. Here is A Complete Foodie's Guide to Tampa Bay, Florida: The Best Weekend Itinerary.
A Complete Foodie's Guide to Tampa Bay, Florida: The Best Weekend Itinerary
Friday
Theme Park Day at Busch Gardens Tampa Bay
Busch Gardens Tampa Bay is always a must when you're visiting the city. At the time of our trip, the Mardi Gras Festival was taking place so we decided to try some of the delicious themed bites available to sample. If you can only try one thing at the Mardi Gras Festival, we highly recommend the beignets. Other Busch Gardens festivals and events throughout the year include the Food & Wine Festival, Sesame Street Kids' Weekends, Summer Nights, Bier Fest, Howl-O-Screem and Christmas Town. To learn more about these events and to purchase tickets today, visit BuschGardens.com.
If you're visiting Busch Gardens during a festival, we also highly recommend purchasing a food and beverage sampling lanyard to truly get your money's worth.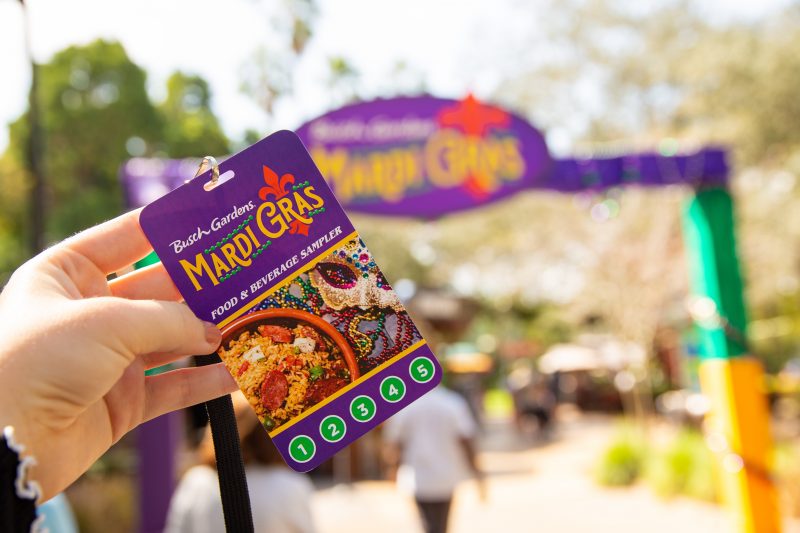 If you keep your eyes peeled, you might catch a glimpse of some giraffes, tigers, gorillas, elephants or even flamingos. In fact, Busch Gardens Tampa Bay is home to over 200 different animal species.
Iron Gwazi is coming soon to Busch Gardens Tampa Bay! The brand-new hybrid coaster is expected to open sometime soon in 2021.
Check into the Epicurean Hotel
After a long day at Busch Gardens, it's time to check into your hotel. We stayed at the Epicurean Hotel, which is one of Marriott's Autograph Collection Hotels. The amenities were just what we needed for a short weekend trip, and the location made the Epicurean the ideal choice. It's walking distance from many of Tampa Bay's best restaurants in SoHo, and only a short drive away from its greatest attractions. Most importantly, the culinary options at the Epicurean are unmatched.
We stayed in a Classic King room, with views of the street.
The bathroom had a spacious walk-in rainfall shower. (Once you've experienced the luxury of a rainfall shower, you'll never want to go back.)
A pool deck is located on the bottom floor, with plenty of seating and privacy throughout.
Drinks at The EDGE Rooftop Cocktail Lounge
Before dinner, we decided to start the night off with some drinks. Conveniently located right on the top floor of the Epicurean Hotel, The EDGE is a modern rooftop cocktail lounge that offers a range of tasty drink concoctions. We enjoyed the Mixed Berry Mojito (right) and the Motorworks Pulp Friction (left).
The Pulp Friction is a tasty grapefruit IPA brewed and bottled locally in Bradenton, Florida. The Mixed Berry Mojito combines sweet berry flavors with rum and seltzer water. Both are incredibly refreshing options on a warm Tampa Bay day.
Dinner at Bulla Gastrobar
For dinner, we walked to Bulla Gastrobar, which is located just down the street from the Epicurean Hotel. This restaurant, with multiple locations across the state of Florida, offers an impressive assortment of hand-crafted cocktails, tapas, entrees and desserts.
For drinks, we ordered the Lemongrass Commons (left) made with gin, Elderflower, lemongrass syrup and cucumber, as well as the Moscow Mule (right) made with vodka, ginger beer, cardamom & currant infused syrup, candied ginger and lime.
We knew we had to try a few tapas during our visit. We enjoyed the Ham Croquettes, Patatas Bravas and the Tuna Tartare. The croquettes were paired with fig jelly, which turned out to be quite the delicious pairing. The potatoes were reminiscent of breakfast potatoes (in the best way) and the tartare was both fresh and flavorful. While all the tapas were tasty, if you are only ordering one we highly recommend trying the Tuna Tartare – you won't regret it.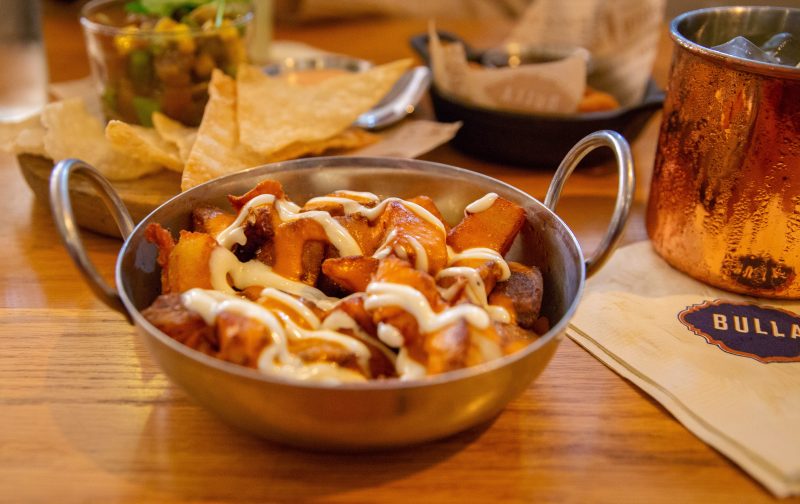 For the entree, we ordered the 5 oz. Salmon, and our only mistake was not ordering the 7.5 oz. With no exaggeration – this is likely the best salmon we've ever tasted. It's also certainly a contender for one of the best dishes of our entire Tampa Bay trip. This salmon was cooked to absolute perfection, and came served with baby spinach, chickpeas and a lemon cream sauce that added the ultimate chef's kiss onto this entree.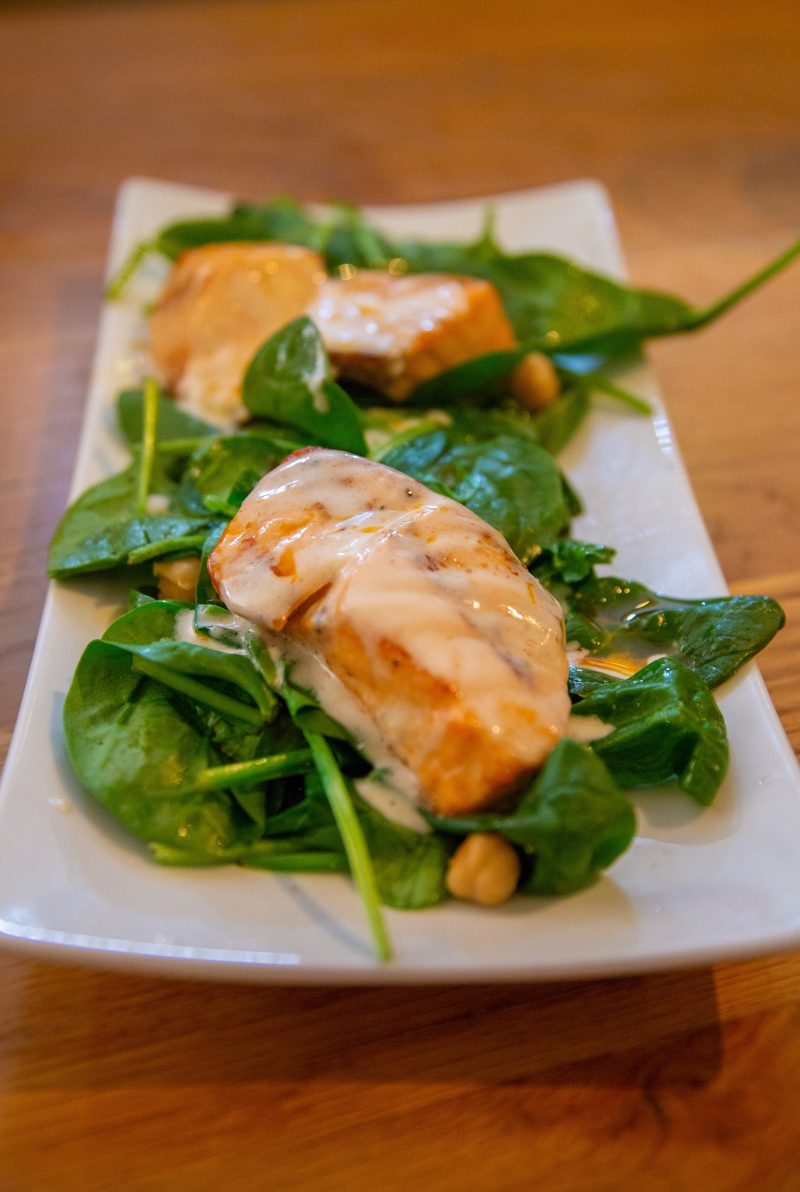 For dessert, we went with both the Torrija and the Churros. The Torrija is a mouthwatering dish made with caramelized brioche, mascarpone ice cream and honey. Think bread pudding meets french toast, and it's even better than you'd imagine. The churros were sweet, crunchy and came served with warm chocolate and dulce de leche sauces.
We cannot recommend Bulla Gastrobar enough. Other restaurant locations include Coral Gables, The Falls in Miami, Doral, Winter Park, Atlanta, Charlotte and even Plano, Texas.
Saturday
Brunch at Oxford Exchange
Inside Oxford Exchange you can find a restaurant, a coffee bar, a bookstore and a variety of home decor available for purchase. The 1891 building is an incredibly stylish and sophisticated spot, effectively transporting guests to the many historic clubs, libraries and shops of London. Architectural Digest even named Oxford Exchange one of the 50 Most Beautiful Independent Stores in the U.S.
After exploring the building a bit, we started brunch off with a lovely vanilla oat milk latte and a caramel latte.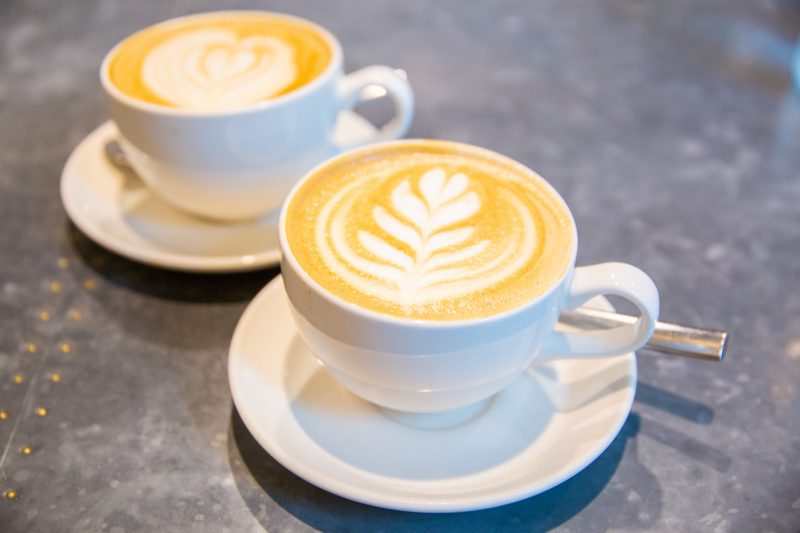 We ordered both the Poppy Seed Pancakes and the Super Simple Sandwich on rye bread. The pancakes were tasty and a great choice for anybody with a sweet tooth. The Super Simple Sandwich, made with eggs, cheese and bacon, was simply exquisite.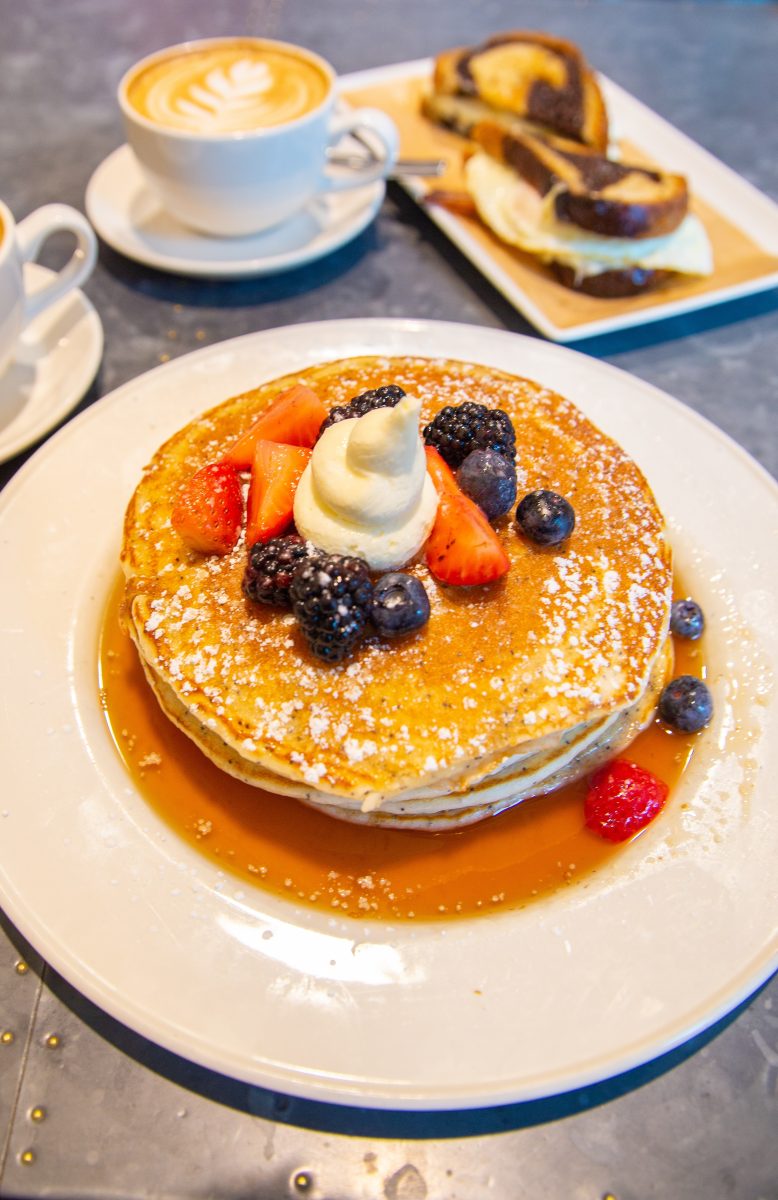 Brunch is served at Oxford Exchange on Saturdays and Sundays from 9 a.m. to 5 p.m.
Ybor City Historic Walking Tour
After brunch, it was time to meet up with a tour guide to explore the Tampa Bay area a bit further. Ybor City Historic Walking Tours offers private, educational walking tours of the city. We learned all about the lengthy and impressive history of Ybor City, which was founded by Vicente Martinez-Ybor.
The bricks which lay the foundation of the city throughout its roads are all original from 1886. Even many of the historic buildings have been impressively preserved over the years, with minimal restoration work except when required. Since the city is designated as historic, whenever new infrastructure is built (such as a parking garage) they too must be designed to match the original 19th century architecture.
With the influx of immigrants during the late 1800's and early 1900's, cultural social clubs became a popular means of escape. They were a safe place for working immigrants to go so they could speak their native language, listen to their native music and celebrate their native culture together. These social clubs also provided essential services like health care to all members and their families. All of these services were provided for a shockingly low monthly fee, making them critical to the flourishing of these nationalities in Ybor City.
Some of these social clubs like the Spanish Social Club (pictured below), the Italian Social Club and the Cuban Social Club are still standing today. In fact, the current owners of the Italian Social are direct descendants of members that helped lay the bricks of the very building that stands tall today.
When Mr. Ybor invited immigrants to come to the city and work, he provided shotgun style homes that were of considerable size for the time. Often times, the immigrants would invite their entire families to America and they would share these homes together. Three of these original Ybor City houses remain standing today, pictured below.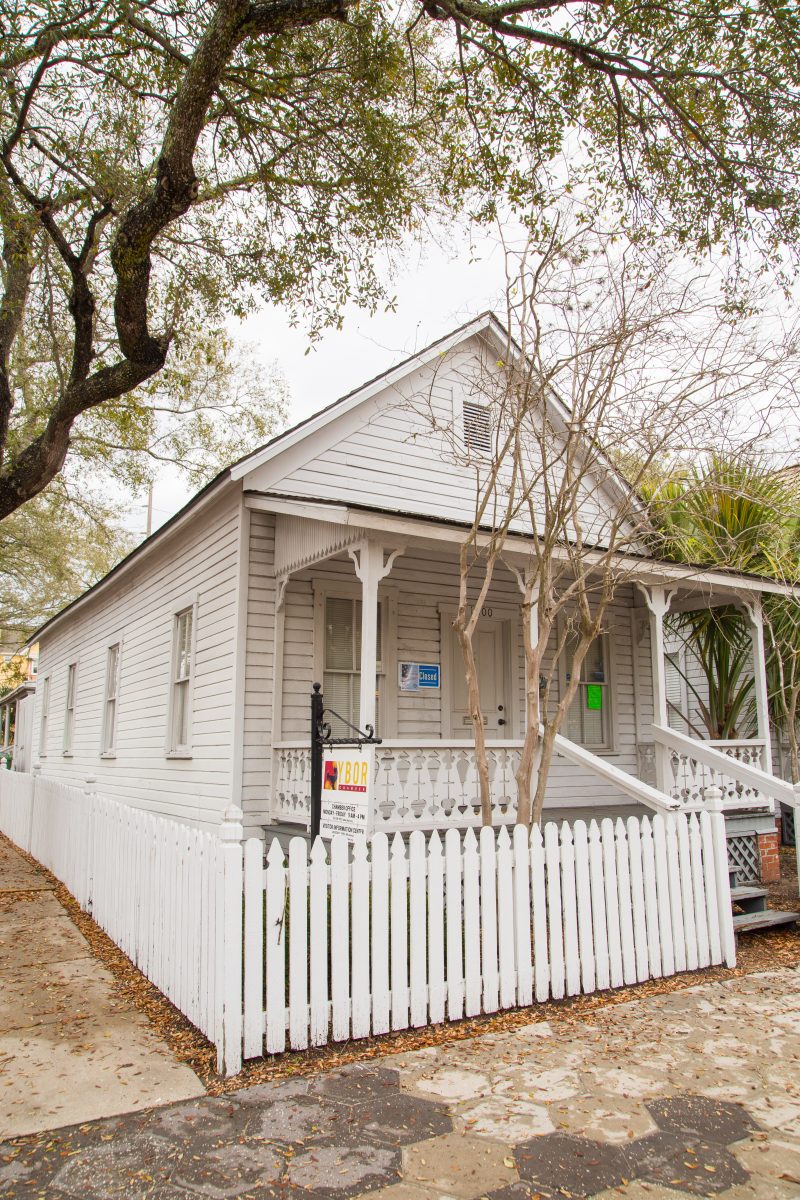 Ybor City is also famous for its abundance of chickens and roosters wondering throughout the city.
The Cuban Social Club (pictured below) still stands today, with the majority of its original architecture preserved over the years.
We ended the walking tour at the Parque Amigos De Jose Marti, which celebrates Jose Marti as a historical figure who was critical in the foundation and overall success of Ybor City. The small area of land is actually owned by Cuba, complete with soil imported from the island. So, by walking into this park you are literally walking on Cuban soil.
Our tour guide, Max Herman, was incredibly personable, articulate and knowledgable. Being an Ybor City native, he had a personal connection to each location that was beautifully transparent throughout the tour. He loves Ybor City, and by the end of the walking tour, so did we.
Lunch at Casa Santo Stefano
After working up an appetite walking around Ybor City, we made our way down the street toward Casa Santo Stefano for lunch. This authentic Sicilian restaurant will make you feel like you're enjoying a home cooked meal from grandma, except perhaps in a more extravagant venue. Historic photos scatter the walls, depicting many of the founding Sicilian families of Ybor City. Even Casa Santo Stefano's colorful backsplashes, tabletops and countertops are all hand-painted and ordered in person from a family in Caltagirone, Sicily. It doesn't get much more authentic than that without heading over to Sicily yourself.
The restaurant is also housed in an original 1925 Ybor City Macaroni Factory, as celebrated by small details in its decor (notice the light fixtures made from dried spaghetti on the right in the photo below).
For starters, we ordered the Calamari Fritti, served with Calabrian pepper spicy tomato sauce and zucchini strings. Calamari is always a win, and theirs does not disappoint. The spicy tomato sauce pairs excellently with the calamari, and the fried zucchini strings were a surprisingly delicious substitute for your typical fries.
Complimentary focaccia bread is provided, which is equally as delicious.
We also ordered the Arancia cocktail, a wonderfully refreshing orange flavored gin drink.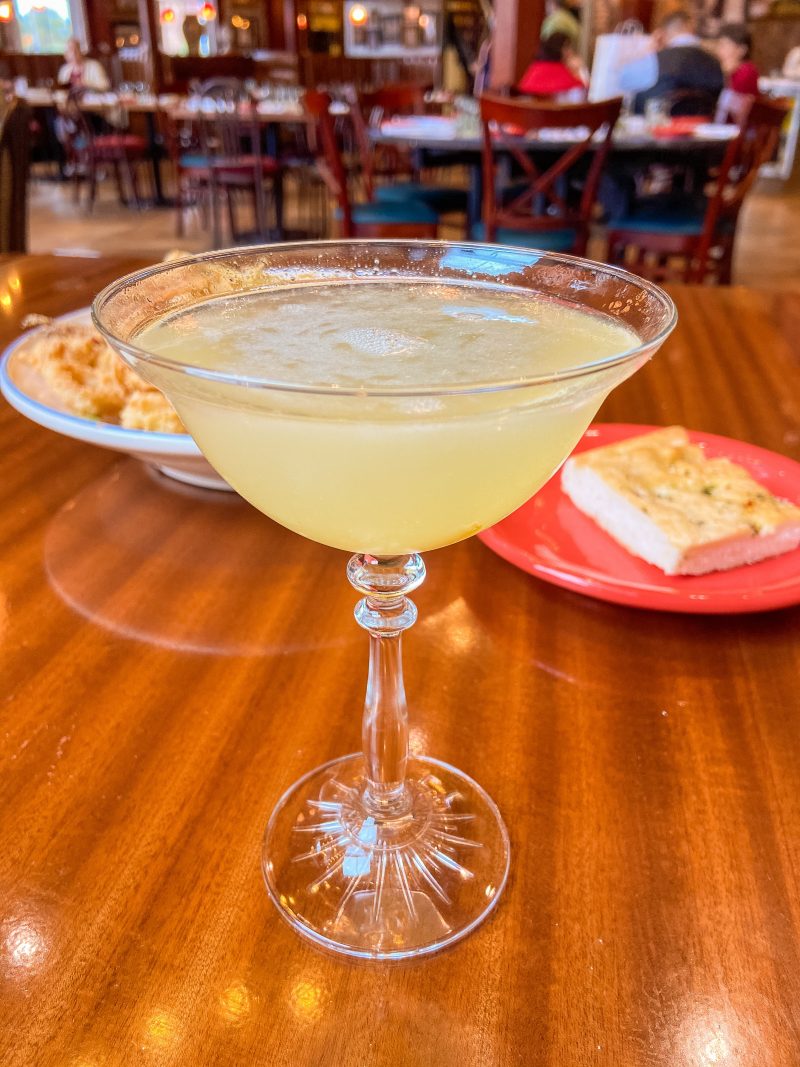 For our main course, we ordered the Ravioli Di Ricotta and the Cartocciata Salsiccia. The home-made ravioli was exquisitely cooked with ricotta and pesto, tossed in tomato sauce with a sprinkle of Grana Padano cheese. The Cartocciata is a popular Sicilian street food similar to a calzone, and ours was filled with tasty Italian sausage, green peppers and onions. We highly recommend either of these lunch entrees, as both were delightful.
Perhaps most exciting of all, for dessert we enjoyed the delicious Panna Cotta. Made with classic vanilla panna cotta and fresh berries coulis, this dessert dish is nothing short of decadent.
Careful – you may find yourself wanting to lick the bowl clean.
The Florida Aquarium
Next up, to continue with the historic and educational themes of the day, we made our way The Florida Aquarium. The sizable aquarium is home to over 20,000 aquatic plant and animal species. It's a great destination for visitors of all ages. Plenty of interactive activities and games are available for children, but there's just as much to learn about and admire as an adult. It's definitely a fun way to kill an hour or two during your trip.
We stopped to observe and gently pet some stingrays.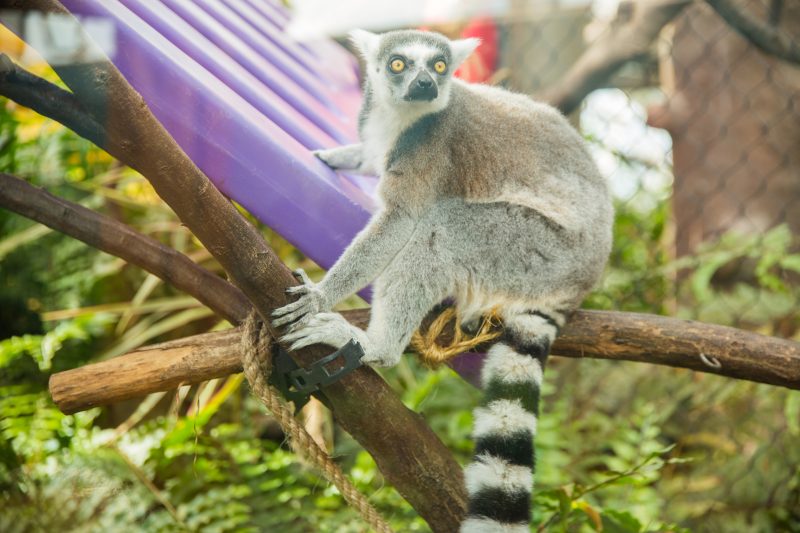 The Florida Aquarium is also located right in the heart of Tampa Bay, making it a convenient stop during your day.
Dinner at Ulele
For dinner, Ulele is an absolute must-try. Located right on the banks of the Hillsborough River, Ulele is a beautiful restaurant with an exciting menu that celebrates Tampa's Native American history. Ulele pays careful attention to fresh, organic ingredients, and all craft beers are made on-site at Ulele Spring Brewery by Brewmaster Tim Shackton.
For drinks, we started off with the limited-edition Honeymoon Lager, made with Florida strawberries locally sourced from Plant City. The brew is both refreshing and tasty without being too sweet, and we can't recommend it enough.
For our appetizer, we went with the Charbroiled Oysters, which are barbacoa-grilled with garlic butter, grated Parmesan and Romano cheeses, and served with warm bread. These oysters were simply delectable, and definitely a must.
For entrees, we ordered the Bone-In Ribeye and the Gouda Grouper. All entrees are served with your choice of vegetables and potatoes or golden jewel rice blend with cranberry beans.
The ribeye was large, juicy and seasoned perfectly. The portions are quite generous, so you'll definitely want to go on an empty stomach.
The grouper was fantastic as well. The fresh fillet is paired with a mouthwatering smoked Gouda ale béchamel sauce.
For dessert, we treated ourself to the Naviera Espresso Chocolate Swirl and the Key West Key Lime Stack. The espresso ice cream was rich, smooth, creamy and delectable. The key lime stack was just as amazing, adding a refreshing twist to a classic dessert dish. Either of these desserts alone are worth a trip to Ulele.
The restaurant is actually named after young Native American Princess Ulele, who's bronze sculpture is illuminated near the restaurant's entrance.
Sunday
Brunch at Élevage
Brunch is always a good idea, so we had to do it all over again on Sunday. This time, we brunched at Élevage, which is conveniently located right on the first floor of the Epicurean Hotel. You can essentially roll out of bed and enjoy delicious bites and bubbles within minutes.
We started off with some delightfully refreshing mimosas.
To eat, we enjoyed a beautifully plated Acai Bowl and the Classic. The Acai Bowl was served with acai, granola, berries, banana, coconut and organic peanut butter. The dish was fresh, filling and delicious. The Classic came with two lake meadow naturals eggs (we ordered them scrambled), meat (we chose turkey sausage), breakfast potatoes and toast. Both brunch dishes were spectacular, and surprisingly filling.
The Laxer family, which owns Élevage along with nearby Bern's Steak House and Haven, built the world's largest private wine collection — some of which is available to sample right at Élevage.
Explore Sparkman Wharf
Located in the Channel District along the Garrison Channel, Sparkman Wharf is Tampa Bay's latest outdoor and entertainment destination. It features one acre of family-friendly park space surrounded by refurbished shipyard crates that house a variety of unique craft brews and dining experiences. The sound of live music echoes throughout Sparkman Wharf, creating the perfect atmosphere to sit back and take in the warm Tampa Bay sun.
Refreshing Craft Brews
Tampa Bay is also home to an impressive number of craft breweries. For visitors over the age of 21, we highly recommend checking out at least one during your trip. The breweries typically never get too crowded throughout the day, and they offer a chance to sample some local brews. During our trip, we stopped by Brew Bus Brewing.
We enjoyed Florida Avenue Brewing Co.'s Passion of the Heights and the Florida Avenue Lager, both of which were delicious and refreshing brews.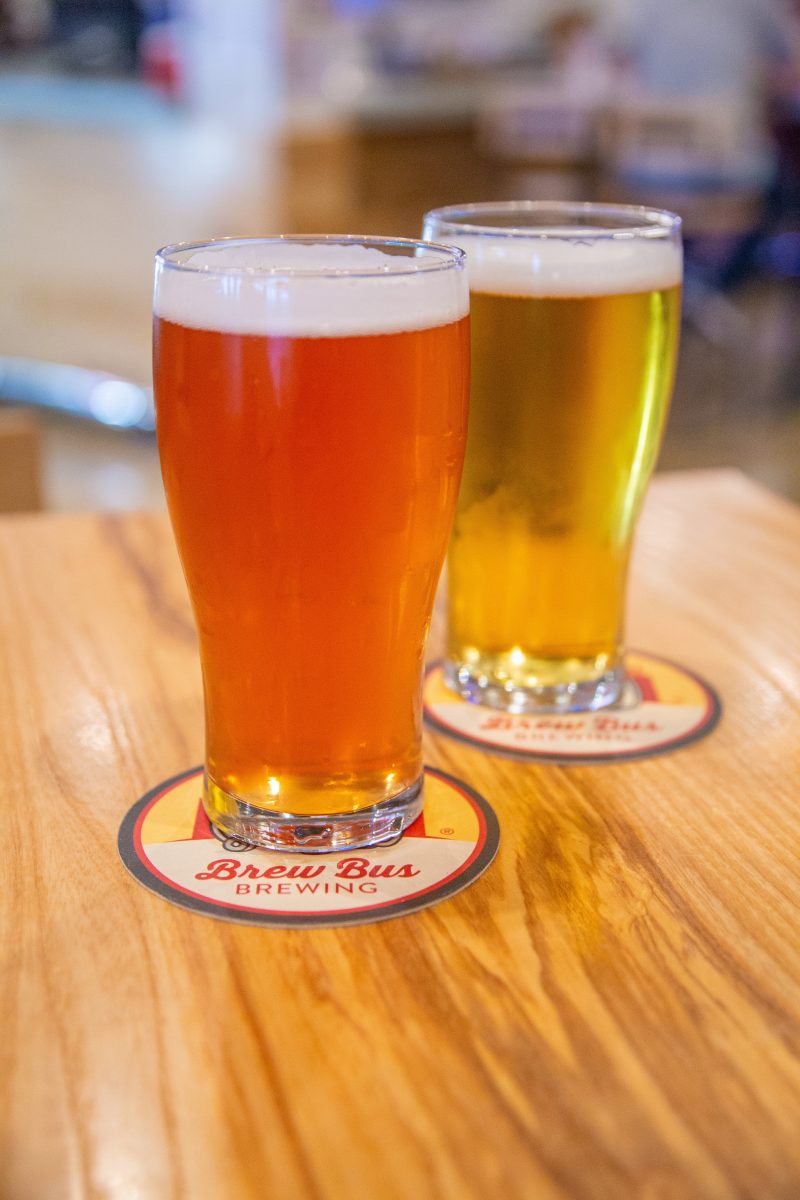 Other local breweries to consider include BarrieHaus Beer Co., Cigar City Brewing, Zydeco Brew Werks, Tampa Bay Brewing Company and many more. Visit Tampa Bay has a complete list of breweries here.
Dinner at JoToro Kitchen & Tequila Bar
To end our night, we made our way back to Sparkman Wharf for dinner at JoToro Kitchen & Tequila Bar. JoToro is an exciting new Tampa Bay restaurant created by Michelin star chef, Joe Isidori. It brings modern Mexican fare to Tampa Bay's newly developed Channelside area. Chef Isidori has created dishes like Mexico City-style street corn and spicy Vietnamese steak, that add global twists to old school Mexican classics.
We ordered the Supreme Guac & Chips as an appetizer. It's made with fresh avocado, roasted corn, pico, jalapeño, pickled onion, tajín, cotija and parmesan cheese. We loved it.
To drink, we tried the Blueberry Gin Fiz. This cocktail is made with delicious Ford's Gin, fresh lemon, blueberry puree, agave and Topo Chico. It's a great choice if you're looking for something light, and you love the taste of blueberries.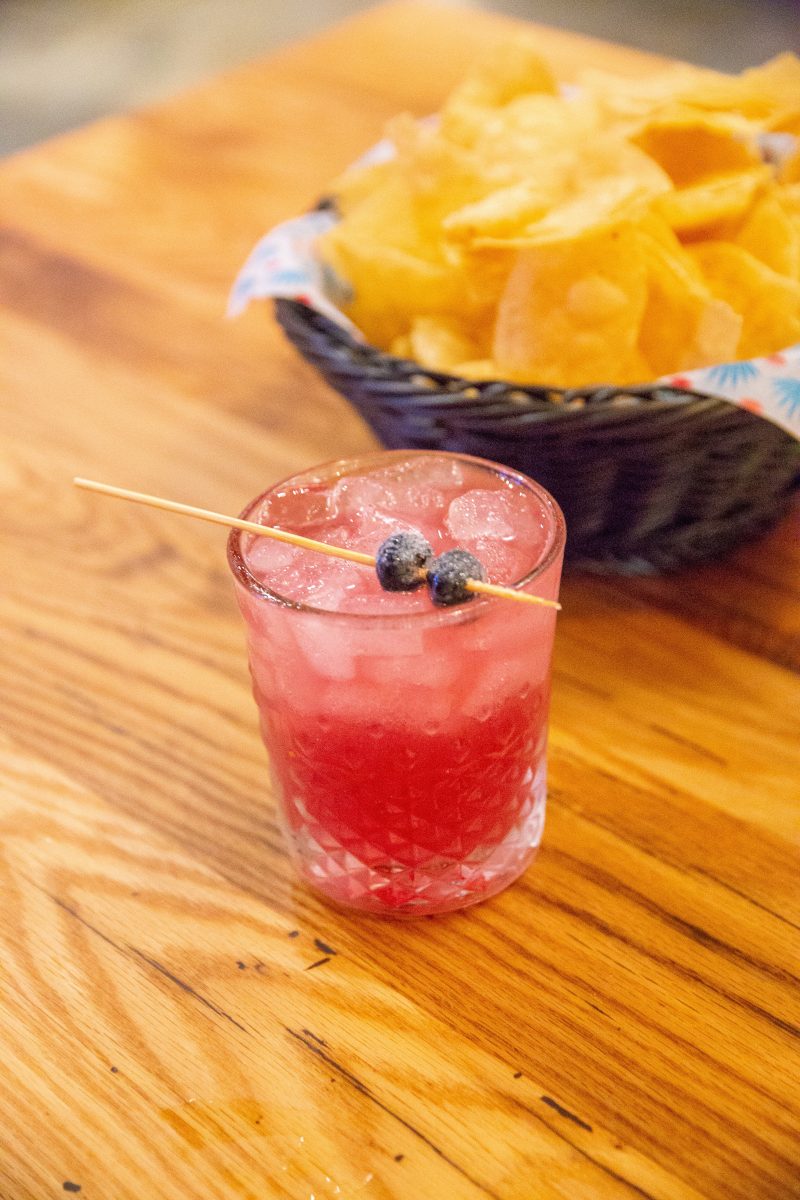 For our entrees, we went with an order of Chili Queen Tacos and Adobo Chicken Al Carbon tacos.
The Adobo Chicken Al Carbon tacos include generous amounts of grilled chicken, salsa crudo, onion and cilantro. The Chili Queen tacos are made with tex-mex chili, lettuce, pico, crema and Colby-Jack cheese. JoToro's tacos are incredibly tasty, and more filling than you might imagine.
For dessert, we tried the large Piña Colada Sundae and we were pleasantly surprised. The ice cream has a light and refreshing piña colada flavor, that mixes wonderfully with the fresh strawberries and kiwi slices. It's a lovely dessert treat fit for a tropical paradise.
Monday
Wave goodbye to Tampa Bay
On Monday morning, it's time to check out of the Epicurean Hotel and leave sunny Tampa Bay, Florida behind. If you have the time, you should consider visiting one of Tampa's beautiful beaches before heading home. It's never too late to sit back and soak in the sun for a few hours before a long car or plane ride.
Whether you want an educational adventure or a relaxing escape, Tampa Bay is a wonderful choice for your next long-weekend getaway.
For more information about Tampa Bay or to start planning your vacation today, go to VisitTampaBay.com