St. Augustine is a city rich with history, culture and culinary adventure. Originally founded in 1565, St. Augustine really is America's Oldest City.
Charming restaurants and celebrated architecture can be found all around the city, which continues to serve as a cultural mecca as it has for hundreds of years prior. The cultural and ethnic diversity of St. Augustine is made evident from the vast array of cuisine available at every turn. St. Augustine was recently named one of USA TODAY's Readers' Choice 2020 "Best Historic Small Towns" and lonelyplanet.com's "Top U.S. Destinations with European Style."  Whether you're looking for a relaxing getaway or an educational adventure, St. Augustine is a wonderful choice.
We were invited out by Florida's Historic Coast to discover the city and enjoy the impressive array of food available. Here is The Ultimate Foodie's Guide to Historic St. Augustine.
The Ultimate Foodie's Guide to Historic St. Augustine, Florida: Our 4-Day Itinerary
Day 1
Check into the Edgewater Inn
St. Augustine is home to many quaint hotels filled with beauty and history. We stayed at the Edgewater Inn, which is a comfortable bed & breakfast located right on the water, and only steps away from St. Augustine's historic downtown district. The Edgewater Inn only offers a handful of rooms, so we recommend making your reservation as far in advance as possible.
We stayed in a king room with waterfront views and a patio. The hotel room interior was clean, spacious and homey.
The highlight of staying at the Edgewater Inn is the spectacular view you can get right from the comfort of your room. A patio door in our room opened up to the clear blue water of the Matanzas River, with the Bridge of Lions and historic downtown area visible. The view alone is undoubtably worth a stay at this hotel.
We were provided with two rocking chairs to sit and enjoy the view with. Bamboo dividers offered privacy from neighboring hotel guests.
Despite being small, the Edgewater Inn has some impressive amenities. A pool is available if you need a quick dip after a long day or if you simply want to lounge under the sun.
After checking into the hotel and getting ourselves situated, it was time to begin exploring St. Augustine.
Free Wine Tasting at San Sebastian Winery
San Sebastian Winery was originally founded in 1996, and today serves as a historic and beloved staple in the city of St. Augustine. This winery offers free wine tastings every day of the week, with no reservations required. Due to COVID-19, our tasting looked a little different than usual, but it was still a great experience for any wine lover. There's also a rooftop restaurant you can visit for even more food and wine samplings. Two of our favorites were the Cabernet Sauvignon and the Pinot Grigio.
Dinner at Kingfish Grill
Kingfish Grill is a lovely marina-front restaurant with a generous amount of outdoor seating. The menu is pretty extensive, featuring an assortment of fresh seafood and sushi dishes.
We started off with a Sauvignon Blanc and a beer.
As an appetizer, we enjoyed the Fried Clams. They were very similar to a calamari dish, and were equally as tasty.
For entrees, we ordered the Fish Tacos as well as the Cry No Mas roll and the Ultimate Spicy Tuna roll. All three were spectacular. The fish tacos were fresh and seasoned to perfection, and the sushi rolls featured flavors both unique and delicious.
For dessert, we enjoyed the Vanilla Bean Crème Brûlée and the Florida Key Lime Pie. The Crème Brûlée was phenomenal, and the key lime pie was both sweet and refreshing.
Kingfish Grill was a great dinner spot, with an impressive menu. During our visit, quite a few menu items were already sold out for the night so we recommend visiting earlier in the day if you can.
Day 2
Breakfast at the Inn
Another great amenity offered by the Edgewater Inn is the complimentary breakfast available seven days a week. Every morning, you can head to the dining room to enjoy a continental-style breakfast as well as some home-cooked additions which can be prepared fresh at your request. During our stay, we enjoyed the breakfast casserole made with egg, cheese, vegetables and ham.
Historic Red Express Tour
There are various historic tours you can take to learn a bit more about St. Augustine. We boarded the train for the Red Express Tour, where we learned all about the history of St. Augustine from the 1500's to present day.
In the late 19th century, Henry Flagler (co-founder of Standard Oil) began leaving his significant impact on the city of St. Augustine. Upon arrival, he began building the Ponce de Leon Hotel. The hotel opened to the public on Jan. 10, 1888 with immediate success. It was one of the first buildings in the United States with electricity, even before the White House. Flagler was good friends with Thomas Edison, who installed the generators at the Ponce de Leon Hotel himself. When it opened, hotel guests were so unfamiliar with electricity and distrusting of light switches that children were hired to turn the lights on and off throughout the day.
The former Ponce de Leon Hotel is now home to Flagler College, pictured below.
Throughout the educational tour, we also passed by The Oldest House Museum and Gardens.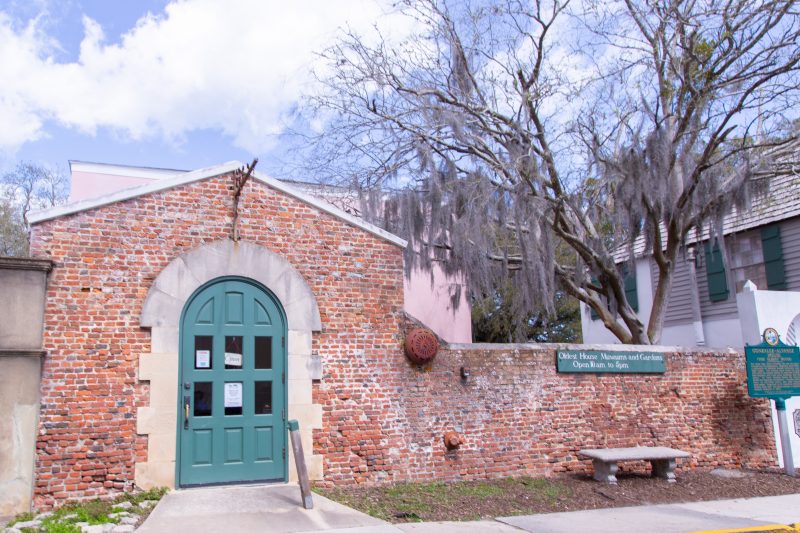 St. Augustine is famous for what are referred to as "love trees." Pictured below, these trees form when two unique species of trees grow through one another. Legend says that if you kiss your loved one underneath a "love tree," you will remain with that individual for the rest of your life. These particular love trees are located right in front of Bar Harbor Cheesecake Factory, which we stopped by later in the day.
The Red Express Tour lasted a little over one hour, and was a great way to quickly become familiar with the city.
Corks & Forks Strolling Tour with The Tasting Tours
The best way to experience a new city is through its food, and St. Augustine offers a number of unique food tours providing the opportunity to do just that. If you're looking for a walking tour that covers the absolute best food and wine samplings St. Augustine has to offer, Corks & Forks Strolling Tour is the perfect choice. Hosted by The Tasting Tours, Corks & Forks combines delicious food and wine pairings with historical tidbits and educational opportunities along the way. Plus, it's an excellent chance to make some new friends along the way.
The first stop on our Corks & Forks tour was Athena Restaurant. Athena is a family-owned Greek restaurant located right in the heart of St. Augustine. Their menu is full of authentic Greek cuisine and beverages, all of which are prepared fresh with care. If you're a fan of Greek food, Athena is a St. Augustine must.
We were greeted with Kouros' Agiorgitiko, a traditional Greek red wine.
We also sampled the Saganaki (flaming cheese) as well as some traditional Greek gyros. The wine and flaming cheese dish paired well together. After sipping the red wine, the flavor of the cheese seems to change before your own tastebuds.
Next on the tour was the Old City House Inn and Restaurant. Located within one of St. Augustine's premier bed & breakfasts, this restaurant offers an outdoor dining experience that is both comfortable and elevated. We had the chance to sample a delicious Whitehaven Sauvignon Blanc, which was paired with a lovely grilled salmon dish.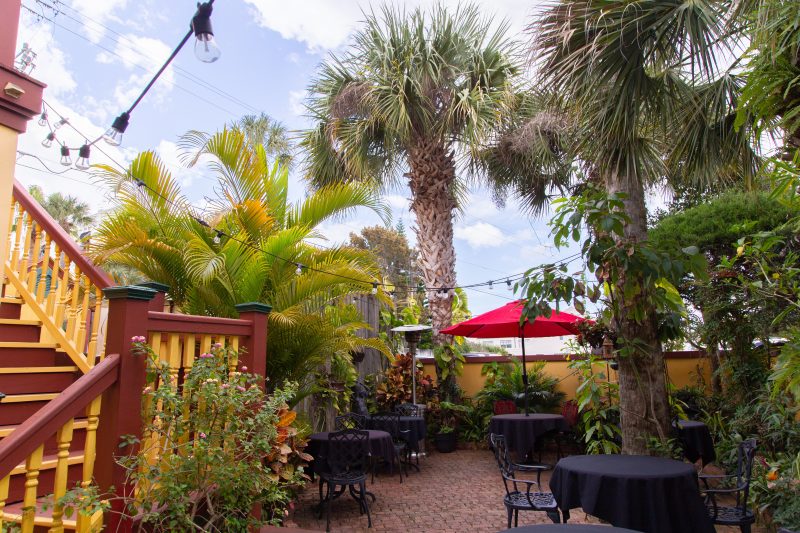 The next stop was the Cafe Alcazar, an elegant eatery located inside the Lightner Museum, in a space which originally housed the largest indoor swimming pool of its time. The cafe is open seven days a week from 11 a.m. to 3 p.m. only. During our visit, we sampled the Escargot Alcazar and the Sesame Shrimp, both of which were fantastic. The wine pairing was the Clifford Bay Sauvignon Blanc, which was equally as tasty.
Next on the tour was Casa de Vino 57. This spot, housed in a historic 1807 building, features a wide array of boutique wines. During our food and wine tour, we had the opportunity to sample three wines or draft beers of our choosing, while enjoying a lovely charcuterie board. Our favorite beer was the Lost Coast Brewery Tangerine Wheat Ale, and our favorite wine was the Sheep Creek Sauvignon Blanc (which we may have even purchased an additional bottle of).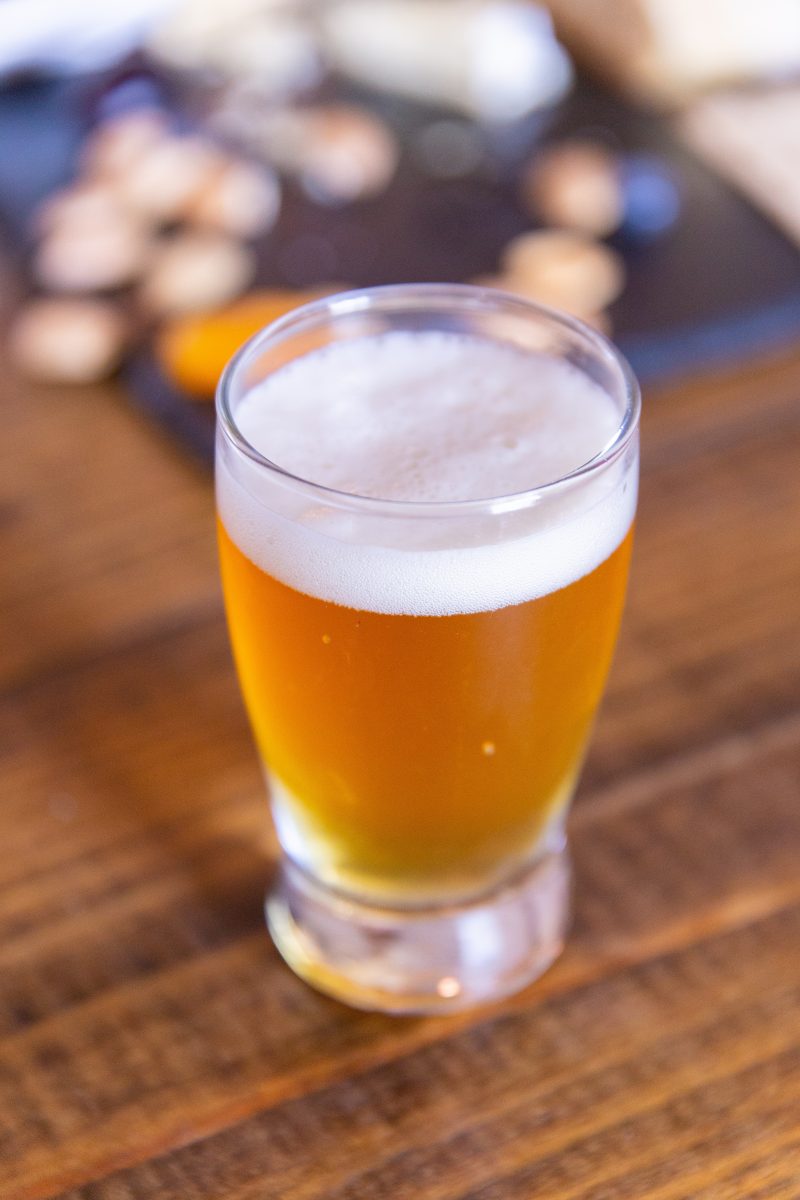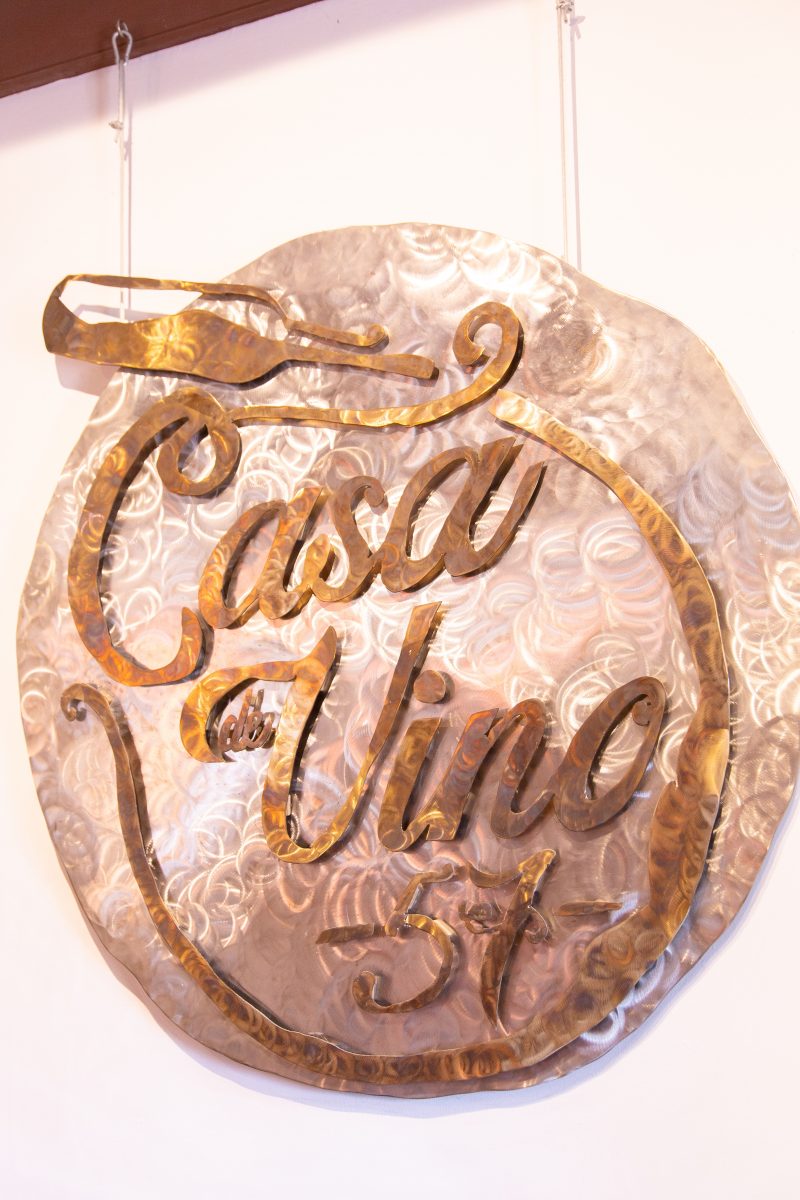 Last and certainly not least on our tour was Bar Harbor Cheesecake Company. Originating in Maine, Bar Harbor Cheesecake Company offers an intimate eating and drinking experience. The St. Augustine location has 20 seats, and reservations are only given to returning customers. The restaurant offers over 40 flavors of home-cooked cheesecake as well as carefully-crafted European cheeseboards, soups, salads, appetizers, entrees and more.
It's a lovely place to stop if you have the time to sit, relax and enjoy an entirely unique culinary experience. If you're on a time crunch, you can stop by their take-out window and order your favorite items to-go.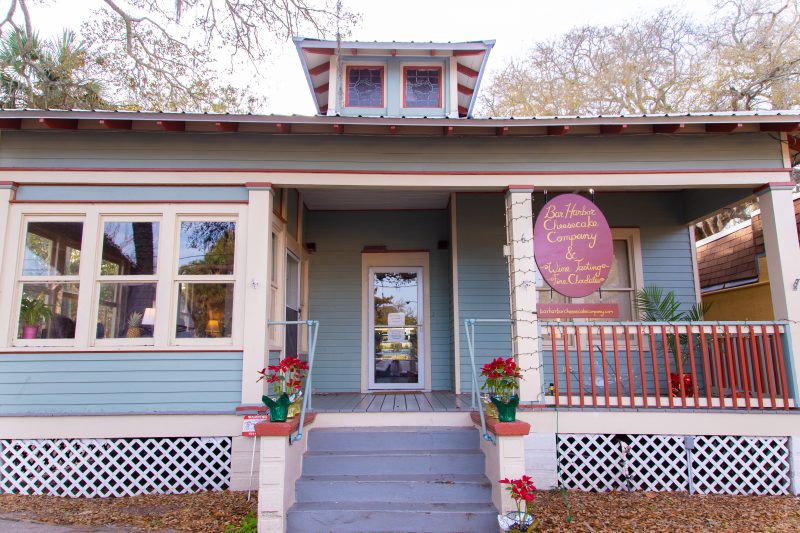 We were greeted with a breathtaking presentation of beautiful charcuterie boards, hummus boards, crab and lobster dips, jams and cheesecakes. The level of care that goes into each and every menu item at Bar Harbor Cheesecake Company is spectacular.
We sampled the Island Grove Blueberry Moscato. It was smooth, with a slight sweetness that is flavorful while not overwhelming.
We also sampled three cheesecake flavors: blueberry lemon, chocolate espresso and amaretto. Each was exquisite. The blueberry lemon was sweet and refreshing, the chocolate espresso tasted rich and decadent while the amaretto was nutty and delicious. While we recommend trying all three, our favorite was the amaretto. The cheesecake samplings also paired wonderfully with the blueberry moscato.
We'd never been to a restaurant quite like Bar Harbor Cheesecake Company. If you only have time to stop by one eatery in all of St. Augustine, it should be this one. You won't regret it.
The Tasting Tours hosts a number of separate food tours across St. Augustine and Jacksonville, Florida. To learn more, go to TheTastingTours.com.
Relax & enjoy the evening sunset
After an incredibly filling day of food of wine, we recommend a relaxing evening. You can walk around more of the historic downtown area, or head back to the inn. We decided to enjoy the sunset from the comfort of the back patio of our hotel room.
Late night Ghost Tours of St. Augustine 
With a city that dates back as far as St. Augustine, a somewhat spooky history is to be expected. If ghosts and ghouls are of interest to you, you'll definitely want to consider one of St. Augustine's many unique and thrilling ghost tours. We went with Ghost Tours of St. Augustine, which is a 75-minute walking tour that stops by some of the most haunting spots in the city.
We learned the chilling history of some of St. Augustine's most haunted locations from the cemetery to haunted hotels, churches, alleyways and even the Castillo de San Marcos.
Once the ghost tour is over, we recommend walking around the empty streets of St. Augustine and taking in their beauty at night. You'll likely remain full from the generous food and wine tour for the rest of the night, but if you work up an appetite for a late-night snack, we recommend checking out Burger Buckets. The Brauhaus Gourmet Pretzel and the homemade ice-cream deserve a chef's kiss.
Day 3
Breakfast with a view 
Once again, we started our day off with a tasty complimentary breakfast at the Edgewater Inn. This time, we decided to take the food to-go and enjoy our meal on our water-front patio.
St. Augustine Lighthouse and Maritime Museum
In order to really get a feel for the impact of St. Augustine's historic past, we recommend visiting as many museums and historical sites as you can fit in your trip. We decided to stop by St. Augustine Lighthouse and Maritime Museum, where we had the opportunity to learn about the lengthy history of the lighthouse. With admission, you can climb to the top of the lighthouse for some remarkable views of the city, and you can also explore the premises and museum grounds.
St. Augustine Alligator Farm Zoological Park
To learn more about some of the species native to St. Augustine along with wildlife from around the globe, stop by the St. Augustine Alligator Farm Zoological Park. Serving as an educational zoo, funds from the Alligator Farm go to wildlife research and conservation efforts. It's a great place to stop by if you have any animal lovers or small children in your group.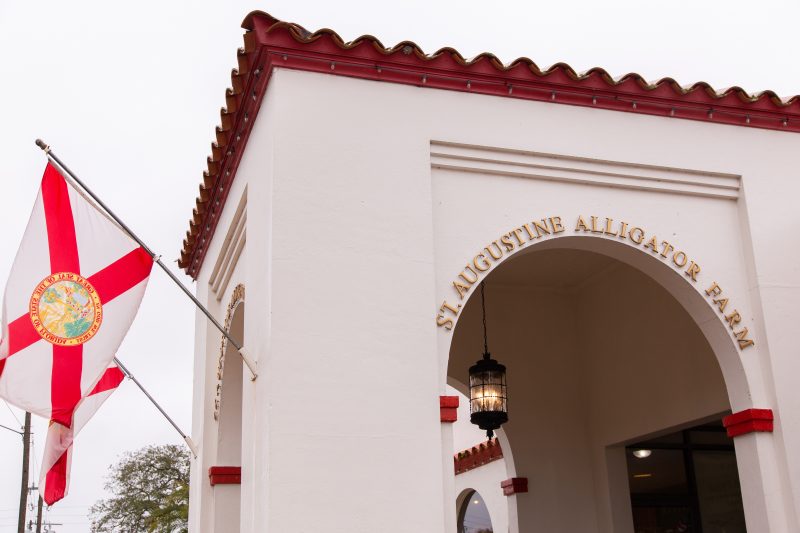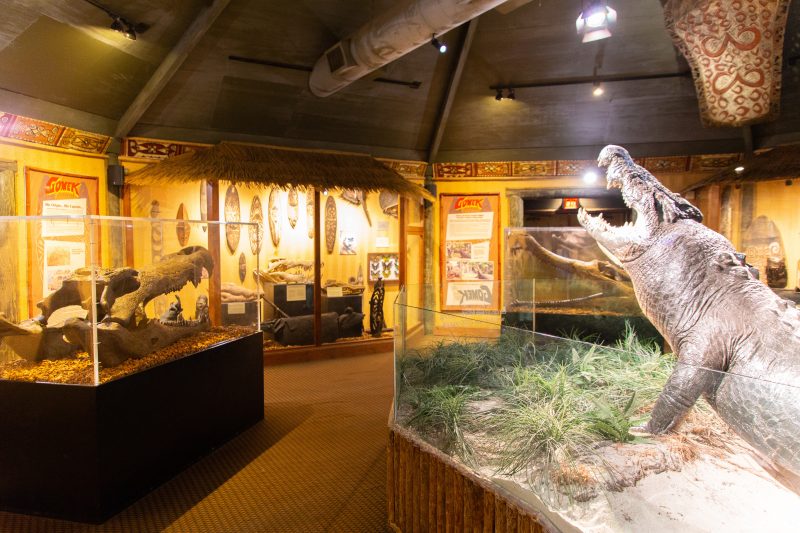 Lunch at Meehan's Irish Pub & Seafood House
For lunch, stop by Meehan's Irish Pub & Seafood House, located right across the Matanzas River. You can find traditional Irish bites here, from the Shepherd's Pie to the Meatloaf Dinner. Head upstairs to enjoy Johnny's Oyster Bar on a spacious outdoor deck overlooking the water.
The Hand-Cut Irish Chips are unmatched. Perfectly crispy and tossed in garlic, parsley and parmesan, you'll find yourself finishing off the entire bowl if you aren't careful.
The Oysters Meehan are another must-try. These delicious fresh shucked oysters are baked with lemon garlic herb butter and topped with parmesan.
We also ordered the Fresh Catch Sandwich, which is served over fresh tomato and zesty slaw, and topped with a key lime aioli. During our visit, the featured catch of the day was Blackened Mahi-Mahi. Once again, this dish was fantastic.
Everything we tried at Meehan's genuinely impressed us, and we'll definitely return the next time we're in St. Augustine.
Lightner Museum
After lunch, stroll over to the Lightner Museum for an afternoon of art and history. This historic museum occupies the old Alcazar Hotel, a Gilded Age resort built by Henry Flagler in 1888. Now, the Lightner Museum — named after Chicago publisher Otto C. Lightner — is home to an impressive collection of 19th and early 20th century fine and decorative art.
Free tour & tasting at St. Augustine Distillery 
St. Augustine Distillery is another exciting place to visit while in St. Augustine. It offers complimentary distillery tours and liquor tastings throughout the day. During the COVID-19 pandemic, tours are still happening but they are currently self-guided. Along the way, you can learn more about the brewing and distillery process while tasting some signature cocktails like the Florida Mule, New World Gin & Tonic, Rum Tiki and the Old Fashioned.
The Florida Mule featured all the best parts of a typical Mule cocktail, with an added layer of flavor. In short, we loved it.
The Gin & Tonic was our favorite of the four cocktails. It was refreshing, tasty and not too strong.
The Rum Tiki had all the flavors of a tropical beach beverage, and would only be made better by adding it to a frozen cocktail.
You either love or hate an Old Fashioned, and if you love them this is definitely one you'll want to sample.
Vodka, gin, rum and bourbon are available to purchase at the end of the tour, as well as the cocktail mixes, all of which are prepared right on-site in the distillery.
Dinner at St. Augustine Fish Camp
For dinner, we stopped by St. Augustine Fish Camp. This new restaurant recently opened in 2020 with the goal of combining a welcoming neighborhood atmosphere with fresh and creative seafood dishes. From our perspective, it achieved just that.
To drink, we ordered the Cucumber Basil Gimlet which features Nolet's Gin, St. Germain Elderflower Liquor, cucumber, fresh basil, simple and lime.
To start with, we ordered the Broiled Oysters. They were cooked to perfection with horseradish bacon cream. We highly recommend this appetizer.
For dinner entrees, we enjoyed The Catch of the Day, which was flounder, as well as the grilled salmon with horseradish hollandaise, steamed spinach and parsley new potatoes.
For dessert, the Signature Bread Pudding is a must. During our visit, the flavor was cookies & cream, but it changes day-to-day so be sure to ask. It was mouthwatering, and our only regret was not being able to finish the entire dish.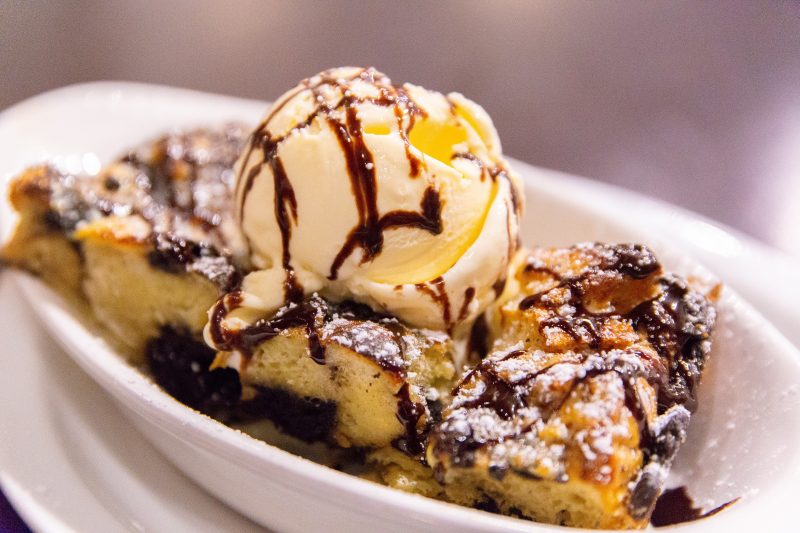 Believe us, it was even more delectable than it was beautiful.
Day 4
Check out of the Inn
As the trip comes to an end, it's time to pack up your belongings and say goodbye to the Edgewater Inn. If you have the time, we highly recommend making a few more stops before you have to leave, though.
Castillo de San Marcos National Monument
The Castillo de San Marcos is a famous national monument located right along the Matanzas River. The historic fort was originally built by the Spanish to defend Florida. The monument now preserves the oldest masonry fortification in the continental U.S. and maintains over 450 years of cross-cultural history. During your visit, you'll get to see where soldiers once slept and where strong walls of coquina stone protected against cannon fire.
Wednesday Farmer's Market at the St. Augustine Beach
If you're going to be in St. Augustine on a Wednesday, we highly recommend making a quick trip to the Wednesday Farmer's Market at the St. Augustine Beach. Local merchants and small businesses gather to sell fresh produce, homemade goods and more. It's important to support local businesses, so this is a great pit-stop to make before you head home.
Calling all coffee lovers! Stop by the Growers Alliance booth for some freshly brewed Kenyan coffee, served both iced and hot. You can choose from a variety of flavors, sweeteners and milks (both dairy and nondairy options are available).
Founder of Growers Alliance, Martin Kabaki, grew up on a coffee farm in Kenya. Now a resident of St. Augustine, he created Growers Alliance Cafe & Gift Shop. Profits go to supporting coffee growers, clean water initiatives, orphanages, hospitals and education in Kenya. To learn more about how they're giving back, click here.
If you're not able to make it to the farmer's market, you can still try some Kenyan coffee at the Growers Alliance cafe storefront located just down the street from the St. Augustine Beach, at 322 Anastasia Blvd.
You can also find other vendors selling products like fresh honey, jams and much more.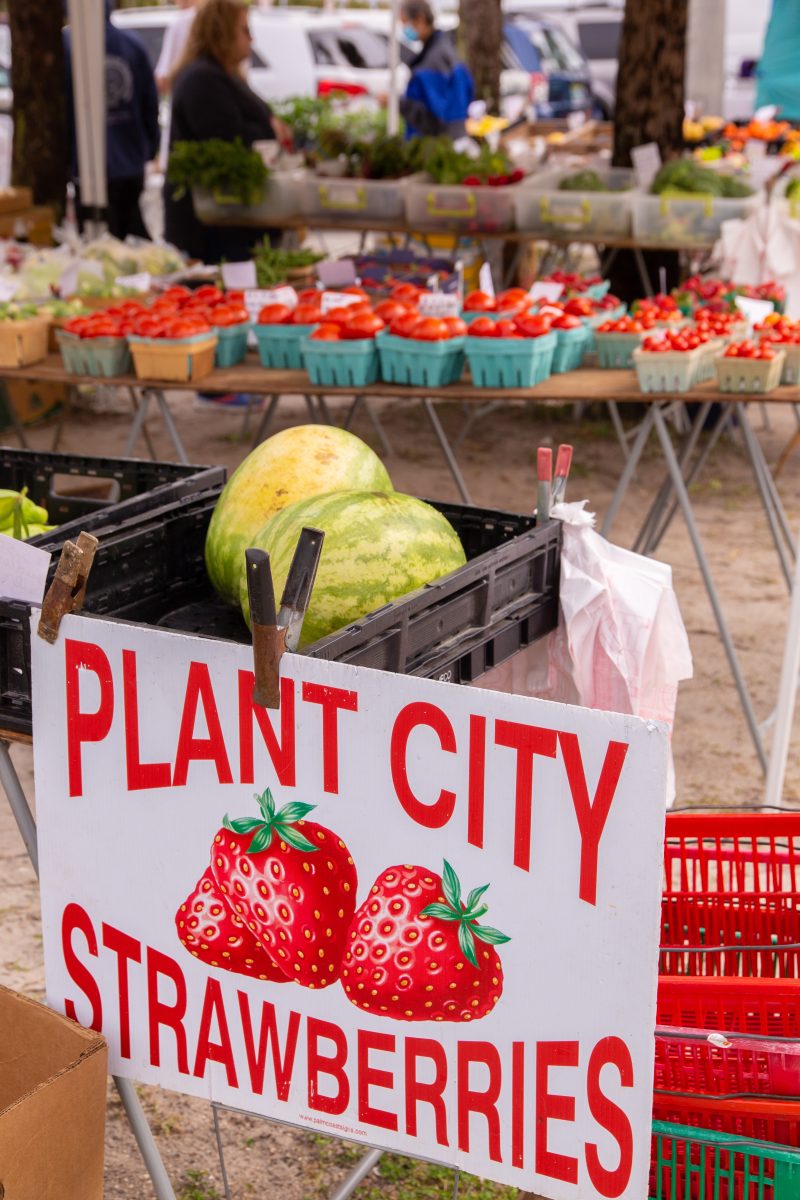 Lunch at Sunset Grille
For a final lunch in St. Augustine, we made our way to Sunset Grille on A1A. 2021 is Sunset Grille's 30th year in operation, and it's no surprise after you've tasted their food. Much of the menu is fairly simple, offering a variety of seafood dishes as well as more traditional American fare. But the quality of the food paired with the friendly staff at Sunset Grille truly sets it apart.
We started off with a classic, the Mozzarella Sticks. They were simple but delicious, served with a homemade marinara sauce.
For our entrees, we went with the Sunset Chicken Sandwich and the Baja Salad. Both were incredibly filling and made for a fresh, tasty lunch by the beach.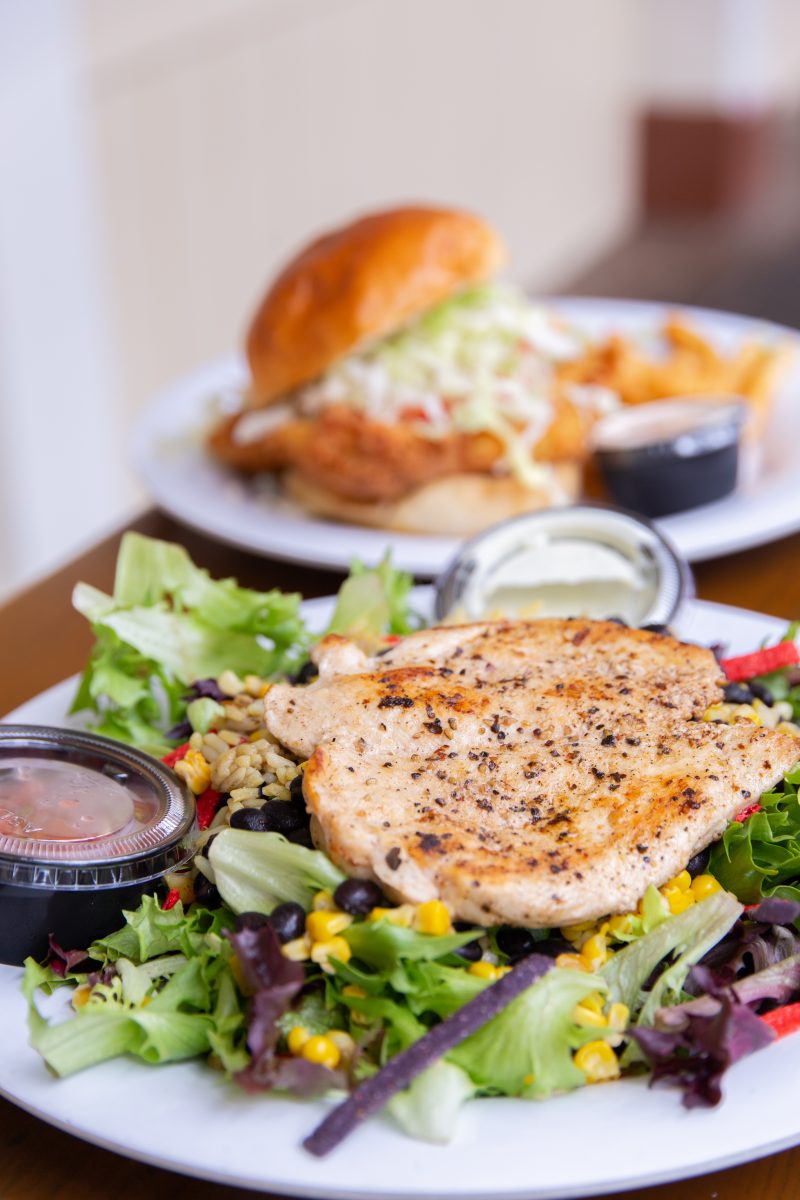 Wave goodbye to beautiful St. Augustine
Now it's time to wave goodbye to a beautiful city full of history and culture. St. Augustine has a lot to offer, and it's nearly impossible to do everything in just one trip. Whether you're looking for a relaxing getaway or an educational adventure, St. Augustine is worth your consideration.
To learn more about St. Augustine, visit FloridasHistoricCoast.com.