After a long 15-plus months of coronavirus restrictions, Cuba Libre Restaurant & Rum Bar Orlando in Pointe Orlando has officially reopened and relaunched its award-winning nightlife with Tropical Fridays (25+) and Bailamos Saturdays (21+) after dinner hours and continuing into the early morning from 10:30 p.m. to 2:00 a.m.
The restaurant transforms into a Latin hotspot featuring DJs, professional dancers, dazzling specialty entertainers, colorful special effects, and midnight madness extravaganza.  Nightlife guests can reserve VIP bottle service tables with everything they need to host their own "party within a party" – premium spirits, champagne, wine, and pitchers of mojitos or sangria, accompanied by ice, mixers and garnishes.
Fashionable dress and admission charges apply. Of-age diners may stay over to dance the night away or return later in the night without admission charge (with receipt and proof of age).
We were invited to experience the newly reopened Cuba Libre and we enjoyed our experience.  The food, service, and ambiance was top notch.  Here are the dishes we tried:
Mango Butter & Cuban Bread
A very tasty and unique starter courtesy of Cuba Libre.
Plato Gaucho Mixed Grill
Skirt steak, Maine lobster tail, jumbo shrimp, free range grilled half chicken, and Cortez chorizo sausage, parsley chimichurri sauce. Served with choice of two sides.
Yuca Fries
Crispy and creamy yuca. Cilantro-caper allioli.
Tostones Hawaianos
Twice-fried green Hawaiian plantains, Dijon-mojo.
Crab Guacamole
Blue crabmeat, avocado, grilled golden pineapple, roasted jalapeños, fresh lime juice, extra virgin olive oil. Crisp plantain chips.
Visit To Havana
Ybor City Style pressed Cuban sandwich with sour orange marinated pork loin, Genoa salami, ham, provolone and Swiss cheese. Yellow mustard-pickle relish. Served with sides of Black Bean Soup, House Salad and Tropical Chips.
Paradise Rum Punch
Don Q Gold Rum, Don Q Coco Rum, Licor 43, falernum, pineapple juice, orange juice, lime juice, coconut milk, guarapo, Angostura bitters.
Patrón Agave Margarita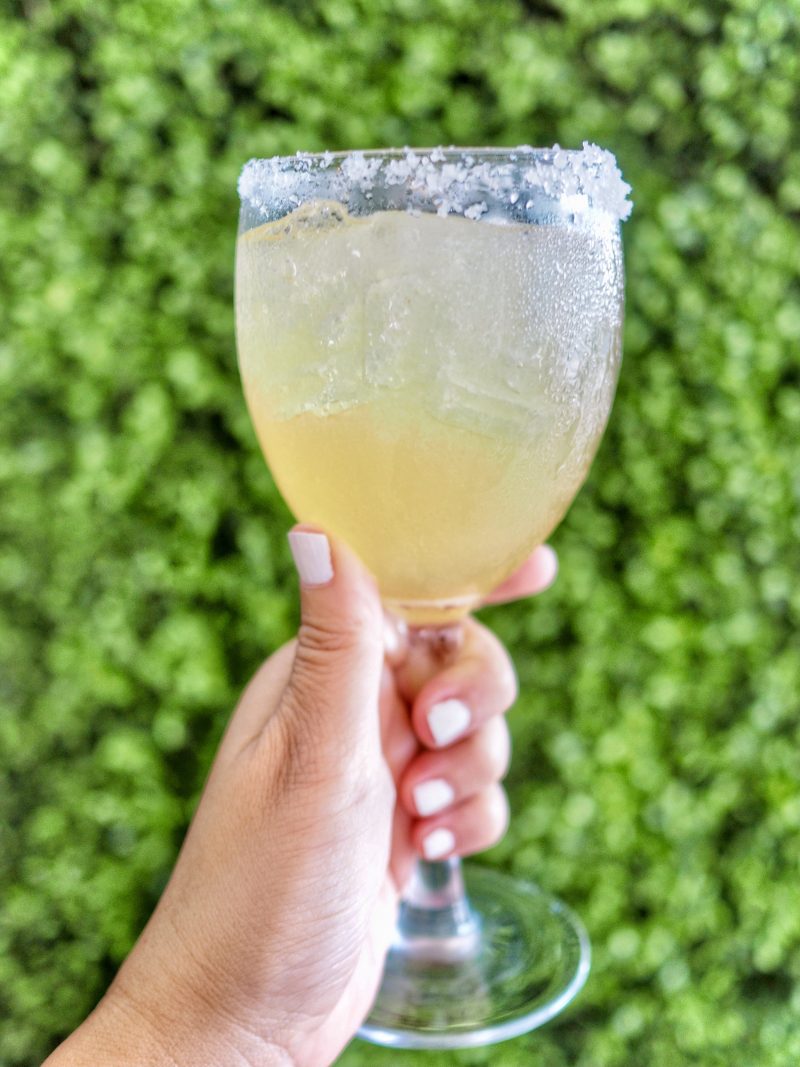 Patrón Silver Tequila, Patrón Citrónge Orange Liqueur, agave nectar, lime juice.
Q&A with Chef Angel Roque, Executive Chef at Cuba Libre in Orlando:
Tell us about your background – where did you grow up, and how did you get started into food?
I was born and raised in Havana, Cuba and lived there until 2014. Since I can remember, I've always been in love with food. As a child (about 6 -7 years old), I used to prepare breakfast for my older sister; she was ten years older than me. I learned how to make bread and "Torticas de Moron" (Cuban shortbread cookies) at a very young age.
Tell us about your past culinary experiences. What are some lessons you have learned along the way as a chef?
I was a teacher in a culinary school in Havana for eight years, the same school where I graduated as a chef. I had the opportunity of having two private restaurant businesses in Cuba; the last one, named "Ajiaco," was my most significant professional achievement in those years.  Along the way, as a chef, I learned that you never should think that you know everything; always, there's room for knowledge and improvement.
What is the moment that you realized you wanted to become a chef?
I cannot pinpoint exactly when that happened; I only know that's what I have always wanted to do.
What are some childhood memories around food that sticks with you to this day?
One of my favorites memories is when my mother made empanadas at home, using an empty glass bottle of oil as a rolling pin. She would go into a thorough explanation about the processes that go into the empanada's dough every time she made them.
As the Executive Chef, what are some upcoming plans that you have for the menu and restaurant? What are some changes guests might see?
We are planning on expanding our menu to the same size it had before the pandemic; our current menu is a condensed version. We want to offer a wider variety of Cuban flavors.
What are some goals you have for the restaurant's food offerings this year, 2021?
Our principal goal is to continue honoring Cuban heritage and food, inspiring our flavors in the food offered in Cuba's "paladares."
What are some of your favorite dishes on the menu right now, and why?
Ropa Vieja is one of my favorites since it's almost the same flavor as the one we do at home. Tuna Ceviche is another one I love; the combination of flavors, textures, and colors is fantastic.
What are the most popular dishes traditionally at Cuba Libre?
Ropa Vieja and Empanadas.
What are some lessons you have learned during 2020?
We always need to be ready to adapt and make changes "on the fly."
What are some personal resolutions you have for 2021?
To continue exploring new flavors and combinations within Cuban and Latin cuisine.
About Cuba Libre:
The restaurant's name, which translates to "a free Cuba," signifies hope for the future of the treasured island nation.  Cuba Libre's mission is to provide an "escape" to Havana through exciting food, beverage and entertainment experiences that celebrate the Cuban people and culture.  Two-time James Beard award-winning Chef-Partner Guillermo Pernot's menus feature tantalizing tastes that reflect Cuba's culinary traditions, as well as the emerging modern cuisine that he is experiencing during his continuing travels to Cuba.
Cuba Libre – Pointe Orlando
9101 International Drive, Orlando, FL 32819
(407) 226-1600
cubalibrerestaurant.com/en/orlando/