Here are some of our favorite Seafood Restaurants in Orlando:
Big Fin Seafood Kitchen
The Osprey
King Cajun Crawfish
The Boat House at Disney Springs
LA Boiling Crab
High Tide Harry's
Eddie V's
Paddlefish
Boston's Fish House
Lombardi's Seafood market
Todd English's Bluezoo
Seafood Dinner Party Ideas
[Sponsored Content]
With life returning to normality after a difficult 18 months, there is a renewed enthusiasm to get out and see friends and family. Most of us have been starved of social interaction and social engagements for too long, so as summer hits full swing, we thought it would be a good idea to plan your celebration of summer by hosting your very own dinner party where you can get together over some delicious sustainably sourced seafood and look forward to a brighter future.
Seafood dinner parties really are the perfect plan for a get-together if you are looking to impress with a sophisticated evening event or hosting a seafood-inspired dinner that's not quite so formal. Maybe you even want to move the party outside and BBQ some delicious seafood on the grill. We are here to inspire you with our collection of seafood dinner party ideas.
A Sophisticated Seafood Dinner Party
If you would like to drop the casual foods and clothes that have been a feature of the last year and make an exciting statement of a new beginning, you might want to host a formal seafood dinner party. If so, it has to ooze sophistication. Obviously, you should remind your guests of the formal dress code and make an effort to recreate the most refined Michelin star experience. Most importantly, as with any dinner party, it is the dishes that you choose that will really set you apart.
What Recipe?
Moules Provençales Recipe
When we think of sophisticated dining, it is hard not to reference the French and their immaculate presentation. For this reason, we chose Moules Provençales, an iconic recipe from the southern region of France.
This delicious recipe not only provides guests with a wonderful mouthwatering experience but also takes them on a tour of European cuisine.
How to Decorate
When hosting a sophisticated dinner party, you are going to want to impress your guests. We recommend that you go for minimalistic decor, elegant and understated, to ensure there are no distractions from the delicious food. With your Egyptian cotton napkins at the ready, channel that European chic and let the exquisite food do the talking.
What You Will Need
It is important to ensure you have adequate seating for all your guests. Around your dinner table you will need a fine set of tableware so that people aren't eating off paper plates, and it would also be a good idea to invest in a complete set of cutlery. It is possible to hire these or enlist the help of friends and family who may have long forgotten sets in the attic just waiting to be enjoyed.
BBQ Seafood Dinner Party
A little less chic but a fantastic option for these summer months. There is nothing like a BBQ to get people together so why not mix it up and make some delightful seafood recipes on the grill.
What Recipe?
Grilled Teriyaki Shrimp and Scallop Skewers Recipe
A BBQ is all about grilling and getting that smokey flavor into your seafood. Although there are several options, including lobster and salmon, our favorites are seafood skewers. Skewers are so simple to make and can be made up of whatever the guests feel like putting together. Why not try these Grilled Teryaki Shrimp and Scallop Skewers. With that oriental inspiration, they are sure to be a hit.
How to Decorate
It is all about the garden party theme for your seafood BBQ. First of all, you are going to need garden furniture for everyone. Make sure that there are some tables that guests can use, and make the picnic blanket the last resort. Also, don't forget to place some lighting around the patio so that people can stay outside until dark and keep the party going until late. Some gentle mood music can help the relaxed feel but make sure you check that this is okay with the neighbors first if they aren't already invited.
What Will You Need
As long as you have a BBQ that works and plenty of fuel, nothing is stopping you from organizing an incredible dinner party. When dining outside, we also recommend that you get some recyclable paper plates to avoid any breakages and lots of paper napkins are another essential for yummy finger foods and mouthwatering BBQ sauces.
A US Dinner Party
With the 4th of July just around the corner, it seems like a great idea to celebrate all things American with one of the nation's favorite seafood dishes in the form of She-Crab Soup or She-Crab Bisque. Start planning your US-themed dinner party and get ready for the perfect summer celebration.
What Recipe?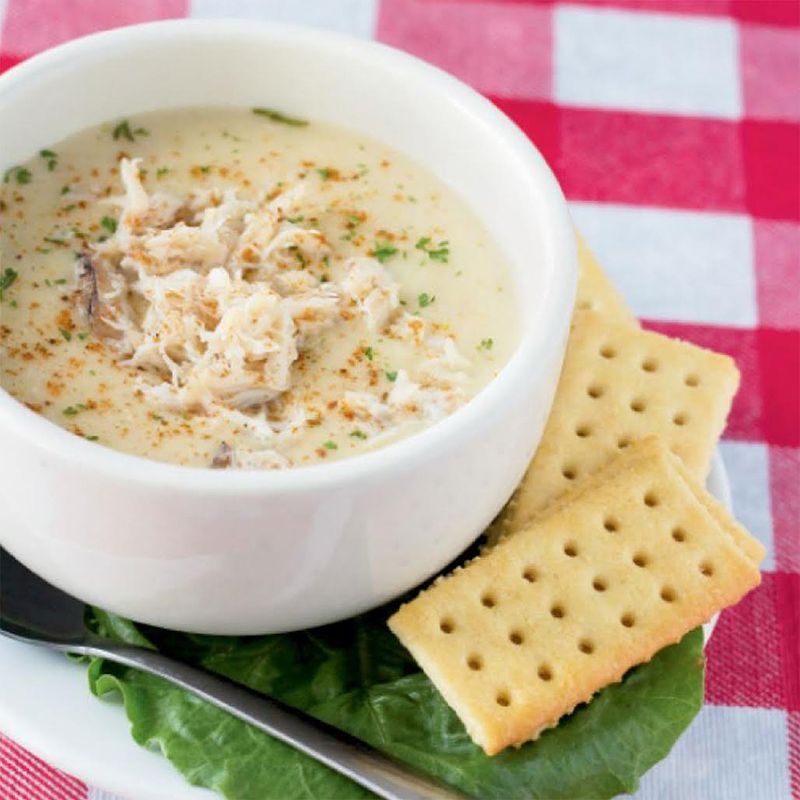 Original She-Crab Soup Recipe
She-crab soup is a hearty dish made of milk or cream, fish stock, and female crabs and their roe, hence the name of the dish. She-crab soup is a regional specialty in the South although it has also become popular all over the country thanks to its straightforward preparation.
How to Decorate
Of course, anything that follows the United States theme really works here and you have a great excuse for bunting and balloons. It is important to get your guests some festive napkins and paper plates to really create those fun vibes. Don't forget that you can take this party inside or out as long as you have enough seating for all the guests.
What Will You Need
Finally, when designing your US-themed dinner party you are going to want to play the country's most iconic songs. Make sure that you have a portable speaker on hand to bring home that party atmosphere.
If you really want to push the boat out then why not invest in some fireworks for an end-of-the-evening show and the cherry on top of a good night of great food.