Time is running out to try two limited-time menu items at MOOYAH Burgers, Fries & Shakes! The Campfire Burger and the S'mores Shake will be available until Aug. 2. I had the pleasure of trying these two tasty treats at the Orlando MOOYAH on 3155 South Orange Ave.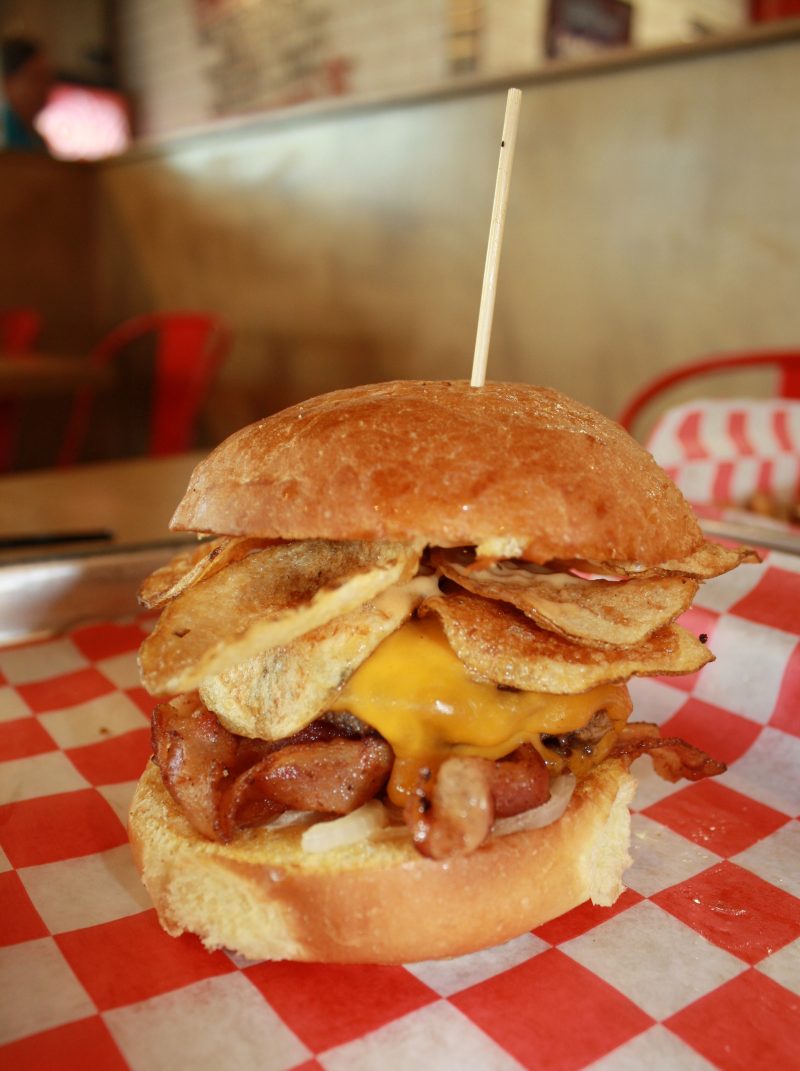 Built on a pillowy soft potato bun, the Campfire Burger includes a quarter pound of Certified Angus Beef® with a generous helping of applewood-smoked bacon and grilled onions. It also has melted cheddar cheese, a drizzle of housemade hickory smoke 'campfire' sauce and hand-cut potato chips.
I thought the whole thing would fall apart when I bit into it, but it held up surprisingly well. Keeping the stick in the burger while I worked my way to the middle helped. It was delicious and amazingly only required the use of one napkin for this sloppy eater!
I also sampled the A-Wonderful from the MOOYAH Burger Hall of 'Dang!' menu, which features popular specials of the past. The A-Wonderful was a mouthful featuring two beef patties, American cheese, applewood smoked bacon, grilled onions and tangy A.1.® sauce. It was big and satisfying!
The S'mores Shake is a decadent dessert. Vanilla soft-serve ice cream is swirled with marshmallow, Hershey's® chocolate syrup, chocolate chips and graham cracker crumbs. I recommend sharing this thick and rich luxury with someone special, so you have room to try the fries!
We opted for the shareable sized portion of half hand-cut Idaho fries and half sweet potato fries. This oversized platter was more than two average-sized humans could eat! We both agreed the light and crispy sweet potato fries were the star of the duo.
Angel & Sebhem Flores, owners of the Orange Ave. MOOYAH, were gracious hosts. They took the time to answer guest questions and make recommendations while ensuring the operation runs smoothly and is staffed with competent and capable employees. The couple has ambitious plans to open three more MOOYAH locations during the coming years, and with the success of their first restaurant, they are well on their way to meeting their goal.
Founded in 2007, the Plano, Texas-based MOOYAH Burgers, Fries & Shakes also offers turkey burgers and Dr. Praeger's black bean vegan burgers. MOOYAH's potato and multigrain buns are baked in-house daily, and guests can choose from five cheeses, bacon, avocado and 19 free sauces and toppings. The restaurant also offers online ordering, delivery and carryout as well as a loyalty app.
For more information on MOOYAH, its menu or franchising opportunities, visit http://www.MOOYAH.com. Connect with MOOYAH on Facebook.com/MOOYAH, follow MOOYAH on LinkedIn, Twitter @MOOYAHburgers and Instagram @MOOYAHburgers.