If you go on a cruise and don't gain at least a couple of pounds, either you're doing it wrong or you are blessed with amazing metabolism.
For most vacationers, one of the highlights of cruising is indulging in the vast array of plentiful foods on board, and Carnival's new Mardi Gras ship fits the bill.
I'm pretty sure I gained at least a pound while attending the Sip and Sea preview event. And I was only on board for six hours! Was it worth it? Absolutely.
Visitors to the ship were greeted with champagne and  welcomed by Cruise Director Chris Williams. Carnival Cruise Line President Christine Duffy gave a short presentation acknowledging those who played a role in the ship's creation and completion. A brief musical number activated the fun, and then visitors were invited to ride Bolt, the first roller coaster at sea. I worked up a big appetite while waiting in line for the ride.
The first food I sampled was a chicken tender, fries, pickles and potato salad from Shaquille O'Neal's Big Chicken. The chicken was tender and juicy, and the fries were thinly cut and nicely crisp. The pickles and potato salad were available at a self-serve bar, along with various dipping sauces for the chicken. I could have eaten a lot more of the creamy, dreamy potato salad, but I had to pace myself because there was much more on board to try!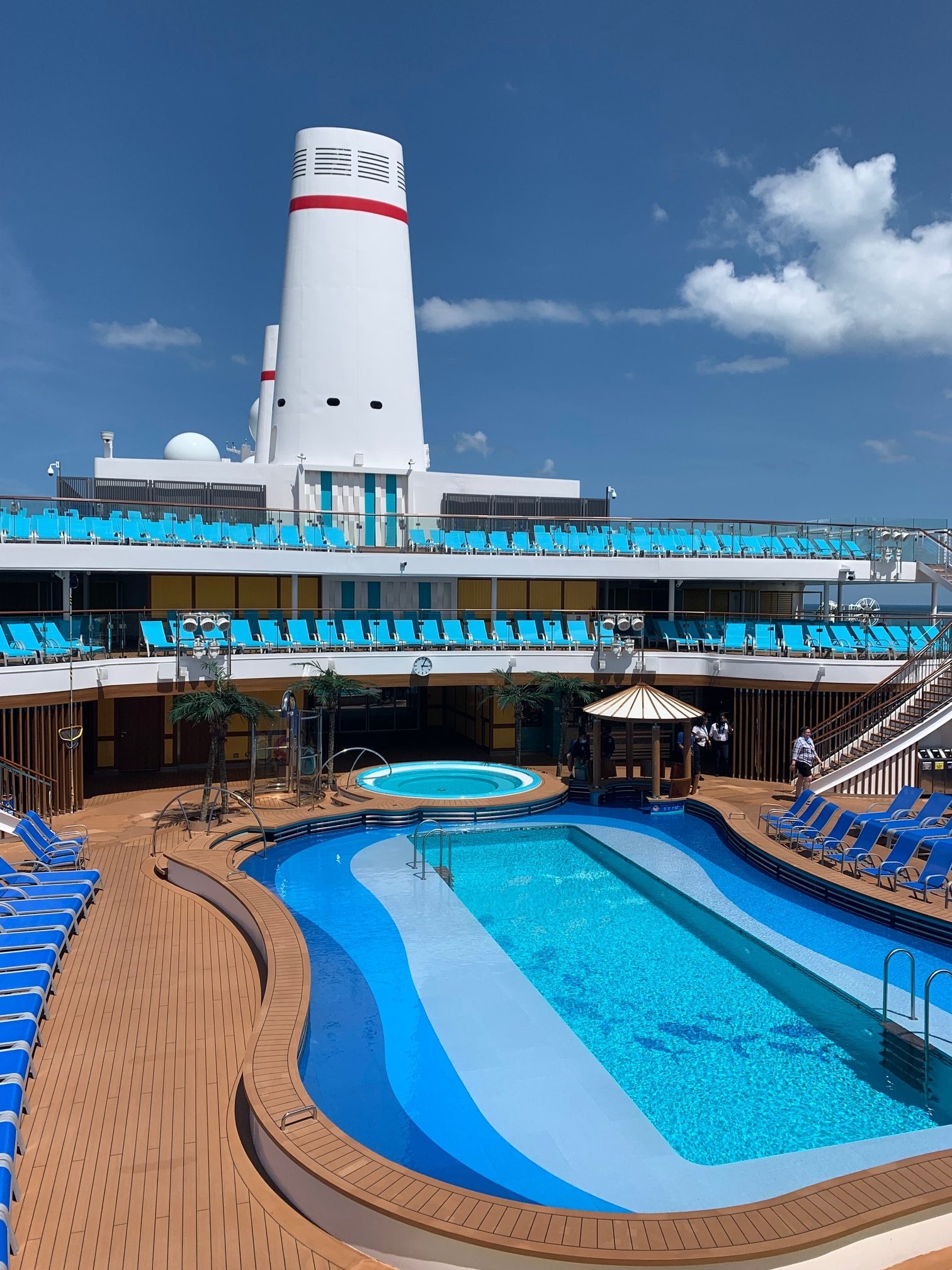 My next stop was Street Eats, a quick-service venue for international street food located near the ship's main pool. I sampled a char siu pork dumpling, chicken satay with rice, and Philly cheesesteak fries. The clear winner of the three was the dumpling. Fresh and fully-stuffed, it paired well with a small side of pickled vegetables. I had to summon all my self control to not get seconds, because there was still a lot more sampling ground to cover.
My next visit was to Bonsai Sushi, one of the ship's elegant sit-down restaurants. The items I tasted here were among my favorites of the day. Both the Bang Bang Bonsai Roll and the Rock Shrimp Tempura were worth repeating. But I passed on seconds and pressed on, determined not to tap out before trying all the available offerings.
I was excited to try ChiBang, a restaurant featuring Chinese and Mexican cuisine. The mini quesadilla was well prepared, but the lettuce wrap could have used more filling and flavor.
Emeril's Bistro 1396 offers a taste of New Orleans from famed chef Emeril Lagasse. Of the three items available for sampling, the Natchitoches meat pie was far and away the best. Stuffed with savory sauced meat, it reminded me of an empanada. The jambalaya was supposed to include shrimp, chicken and sausage but I only detected a bit of shrimp. While the sausage in the gumbo was melt-in-your-mouth tender, the duck skin in the soup was unappealing.
My culinary journey continued to Java Blue Cafe for a chicken pie and foursome of donuts. The pie was pretty and petite. The small donuts were just the right size for snacking, but they tasted slightly on the stale side.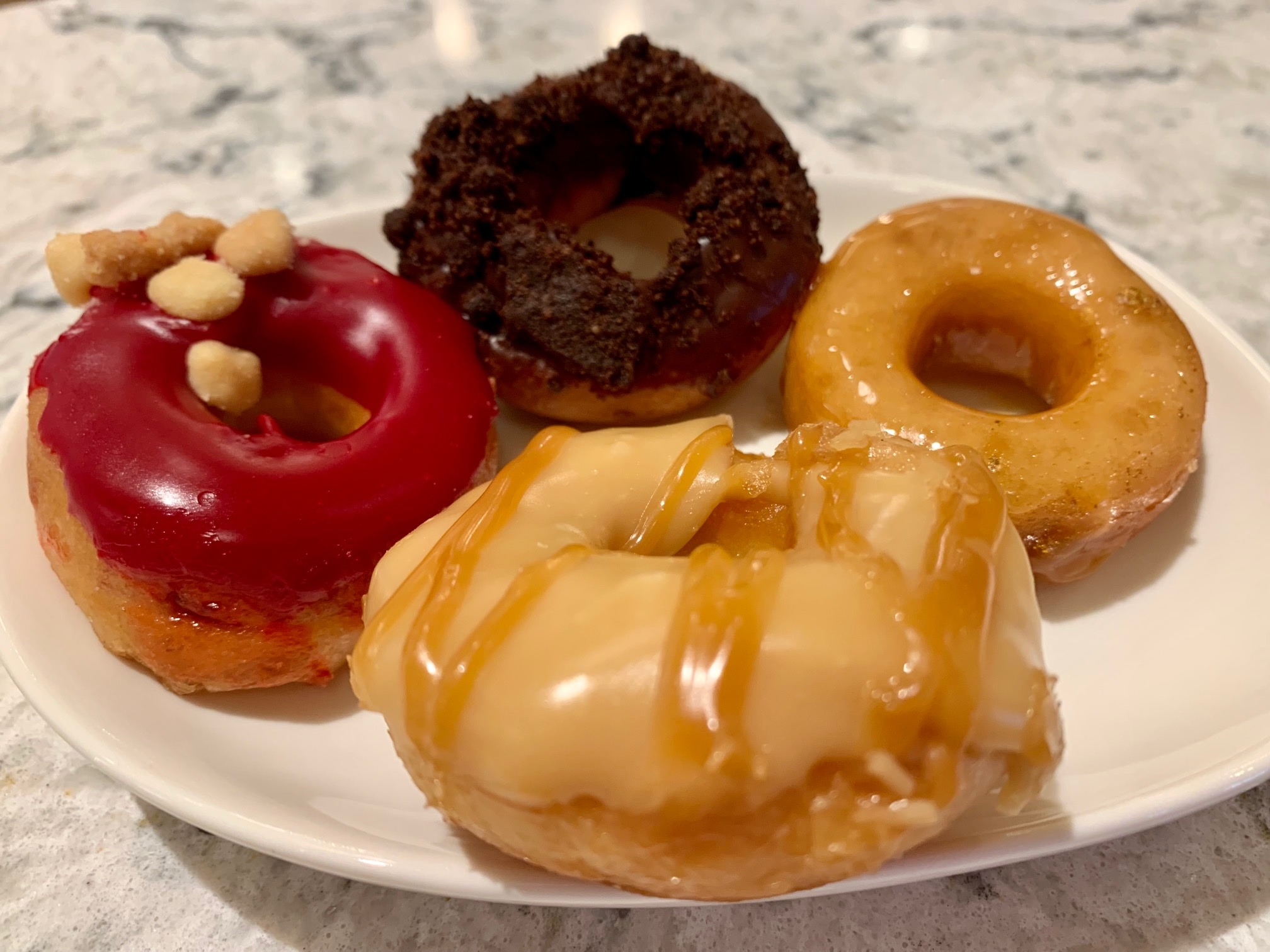 A much better sweet treat was the sorbet-stuffed macarons at Carnival Kitchen, which features chef-led cooking demonstrations. The raspberry sorbet was fantastic; this was where I broke down and surrendered to a second helping.
Fueled by a sugar high, a headed up to the 17th deck to tackle my final stop: Guy's Burger Joint. While eating, diners can watch a video of Guy Fieri demonstrating how he makes his burgers. I tried The Ringer, a cheeseburger topped with lettuce, tomato, raw onions, pickles, an onion ring and BBQ sauce. After I snapped the picture, I took out most of the lettuce and all of the raw onions and substituted them with bacon and sauteed onions, which were found at the restaurant's topping bar. It was a mighty fine burger, but I was too full to finish it. I preferred the fries at Big Chicken to Guy's fries, which were quite salty.
Fortunately, there were plenty of bars on board to choose from to quench my thirst after the salty fries. I opted to cap off the day with a strawberry banana daiquiri from Red Frog Tiki Bar, which I thoroughly enjoyed sipping while strolling the ship's cabins, spa and other amenities.
After the Sip and Sea preview, the Mardi Gras staff went right to work to prepare the ship for its maiden voyage the very next day. The ship set sail on July 31, making it the first cruise to depart from Port Canaveral since the industry-wide pause 16 months ago. Mardi Gras will visit San Juan, Puerto Rico; Amber Cove, Dominican Republic; and Nassau, The Bahamas.
Cheers to a successful first voyage!
For more information, visit www.carnival.com