Spooky season has officially arrived at Universal Orlando Resort, marking the terrifyingly delicious return of Halloween Horror Nights. Halloween Horror Nights (HHN) is an annual celebration of all things horror and fear.
This year, Universal celebrates Halloween Horror Night's 30th anniversary with HHN30: Never Go Alone. In addition to 10 haunted houses, five scare zones and two chilling shows, Halloween Horror Nights 30 offers a haunting array of themed food items.
HHN30 takes place on select nights from Sept. 3 to Oct. 31, 2021. This after-hours event begins at 6:30 p.m. and runs until 1 a.m. or 2 a.m. depending on the date. To purchase tickets today, visit Orlando.HalloweenHorrorNights.com.
Universal Orlando Resort invited us to experience the event and taste some of the scarily themed bites for ourselves. From classic Horror Nights snacks to new eats and treats, here is our Foodie's Guide to Halloween Horror Nights 30: Never Eat Alone.
A Foodie's Guide to Universal Orlando's Halloween Horror Nights 30: Never Eat Alone
Blood N' Guts Twisted Taters
Available at the two Twisted Taters food stands.
Twisted Taters are a classic Horror Nights treat. You can enjoy the Classic Twisted Taters, or try a specialty flavor like Ghost Pepper for some spice, or our personal favorite: Blood N' Guts, which is topped with chili and roasted red pepper queso. Twisted Taters are one of the most popular snacks at Halloween Horror Nights, and for very good reason.
Bánh Mì
Available at the San Francisco Food Truck.
At the food truck located in Universal's San Francisco area, guests can order any of three tasty chicken sandwiches: Buffalo Hot, Bánh Mì or BBQ.
The Bánh Mì combines hand-breaded chicken tenders seasoned with Thai chili sauce, topped with pickled vegetables, cilantro, cucumber and sriracha aioli on a soft roll. This is one of the most flavorful and filling dishes you can get at the entire event. The sandwich is huge, and seasoned to perfection.
HHN Themed Cocktails
Available at kiosks throughout the park.
Throughout the park, many of the themed food stands offer different cocktails themed to the event. Available cocktails include:
Ghoul Juice (mango rum with cherry, lime and allspice)
Bog Slime (pictured below — gin, lime juice and house-made matcha-cardamom syrup)
Jack's Old-Fashioned Jack and Coke® (Tennessee whiskey, cherry brandy and old-fashioned syrup)
Poison Tea Party (iced tea and lemonade rum punch with huckleberry and allspice)
Texas Heat Margarita: (spicy tamarind margarita with a chile lime spiced rim)
Pay a few dollars more for the souvenir cup and you'll receive discounts on all alcoholic cocktails for the rest of the evening (plus, they glow in the dark).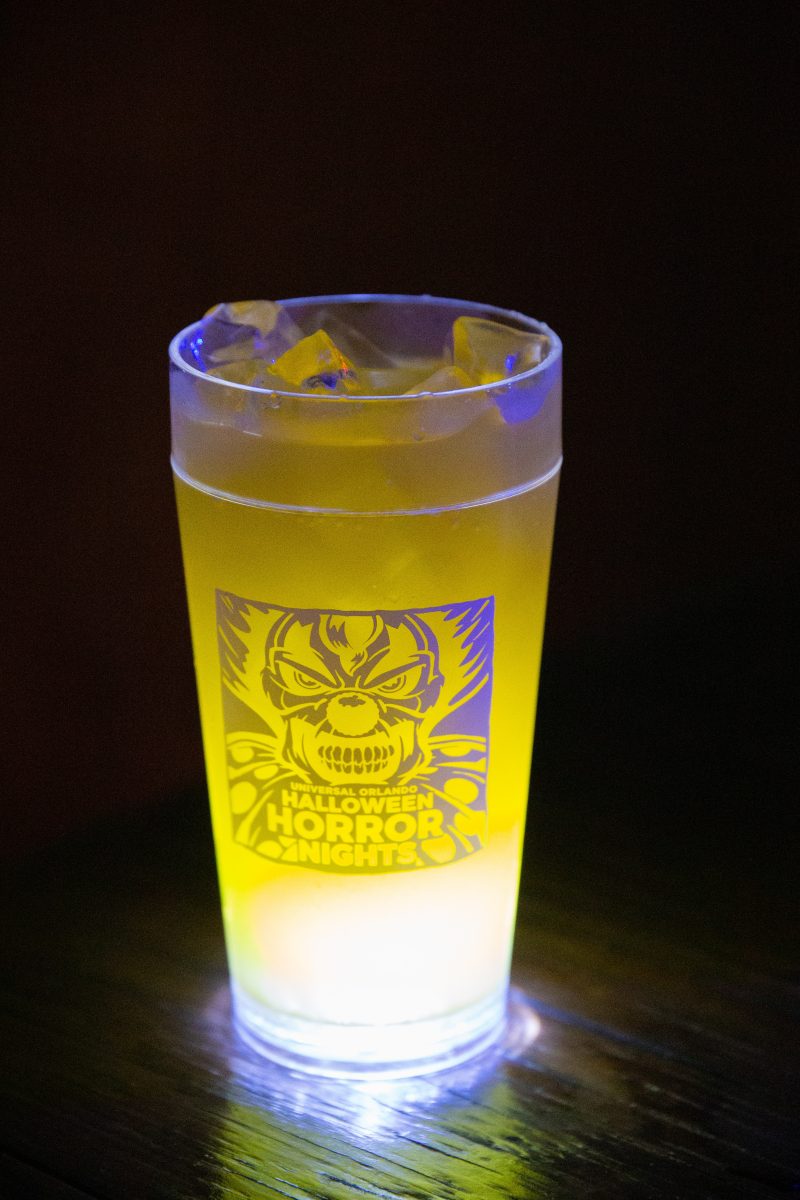 Jack'd Donut Slider
Available at Jack's Place and Carnival Courtyard. 
This is not your average spooky slider. The Jack'd Donut Slide features a beef patty with bacon jam and American cheese sitting in between two bourbon-glazed donuts. For some reason, this dish just works. The sweet bourbon flavors from the donut pair wonderfully with the beef patty and bacon jam. This is a great option for a light snack during your HHN adventures.
No "Chance" in Hell PB&J
Available at Jack's Place and Carnival Courtyard. 
It sounds simple, a fried peanut butter and grape jelly sandwich with hot honey drizzle and red pepper flakes on top. However, this little sandwich is terrifyingly tasty. Think back to the Uncrustables® from your childhood, and now imagine them with a crispy fried outer layer and a slightly hot kick. That's exactly what the No "Chance" in Hell PB&J tastes like, and it's so amazing we want 20.
ACE SpACE Beer Float
Available at Revenge of the Tooth Fairy kiosk. 
Craving an alcoholic creamsicle in a cup? Look no further! The ACE SpACE Beer Float combines SpACE Bloody Orange Cider with vanilla ice cream, whipped cream and a dehydrated orange on top. The flavors of the orange cider and the vanilla ice cream and whipped cream create the most delightful and refreshing creamsicle beverage you can imagine. If you're over the age of 21 and looking for something sweet during your HHN visit, run to the Tooth Fairy kiosk and order this drink right away.
Severed Body Rib Bones
Available at Texas Chainsaw Massacre kiosk. 
Enjoy a generous portion of bbq ribs with a side of white bread, pickles and sauce. The Severed Body Rib Bones are another great option if you're looking for a dish that will fill you up. Make sure to ask for extra bbq sauce on the side to really make the most of the flavors.
Pizza Fries
Available at Kidzone Pizza Company. 
Pizza Fries are another beloved bite available every year at Universal Orlando's Halloween Horror Nights. Combine the deliciousness of pizza and fries, and you get this tasty platter. Pizza Fries are made with french fries, marinara sauce, melted mozzarella, sausage and pepperoni, with seasoning dusted on top. This is another unique combination of food that just works. If you can only try one food item at the entire event, it should be the Pizza Fries.
For a sweeter twist on the original, try the S'mores Fries, made with sweet potato fries with marshmallow, chocolate chips and graham cracker crumbs.
HHN Tribute Store
Located in Universal Studios Florida's New York area. 
More sweet treats can be found inside the Halloween Horror Nights Tribute Store, located in the New York area right by the Revenge of the Mummy roller coaster. Explore rooms inspired by different Halloween Horror Nights 30 themes.
Once you reach the end of the store, you'll find a sweet variety of goodies available for purchase, from cupcakes to cookies, Whoopie Pies, candy apples and so much more.
Mel's Die-In
Located in Universal Studios Florida's Hollywood area. 
Mel's Die-In is another classic Halloween Horror Nights eatery. While there isn't any specialty HHN30 food here, it's still a great spot to enjoy burgers, fries and milkshakes in between haunted houses.
"Chance" HHN Icon Cocktail
Located at all on-site Universal Orlando Resort hotels. 
Stop by any Universal Orlando Resort on-site hotel to try these three themed HHN Icon cocktails:
Jack the Clown (Jack Daniel's Tennessee Whiskey, cherry brandy, Coca-Cola Zero Sugar and house-made Demerara old fashioned syrup)
The Director (Ketel One vodka, Kahlua, Amaretto and heavy cream)
Chance (Bacardi Superior rum, Aperol, Sour, lemon, simple syrup, orange bitters and club soda)
The Chance cocktail (pictured below) is light and refreshing, ideal for cooling off from those warm Orlando afternoons. We recommend enjoying a themed cocktail or two before heading over to Halloween Horror Nights 30 to put yourself in the spooky spirit.
Learn more about Universal Orlando Resort hotels here.
You can find an extensive menu of every ghoulish bite available at Halloween Horror Nights Orlando here. To learn more about Halloween Horror Nights 2021 and to purchase tickets today, visit Orlando.HalloweenHorrorNights.com today. Remember, Never Eat Alone!