Orlando recently got its first modern French-Vietnamese pop-up, served Chef's table-style at Audubon Park's East End Market.
Camille, an intimate eight-seat Chef-to-guest dining experience led by Chef Tung Phan, opened last month on the second floor of East End Market at Domu Lab which is in the kitchen of The Neighbors, a new neighborhood store that sells local goods and fun cocktails, headed by East End Market founder, John Rife, and Freehand Goods proprietor, Jacob Zepf.
Chef Tung is the first resident chef at Domu Lab to host a pop-up, and hopes to gain exposure for the new concept. A chef's incubator by design, Domu Lab will host rotating pop-ups for local chefs to showcase their talents under the mentorship of restaurateur partners Sonny Nguyen and Johnny Tung.
Chef Tung plans on working in the space for at least six months before moving into a permanent brick-and-mortar location, with his eyes on the Mills 50 area.  With its deep, rich history of Vietnamese immigration in the 1970s, Mills 50 is known as "Viet Town" to locals and is home to the most concentrated Vietnamese population in Florida. The Viet Town area has special significance to Chef Tung.
Born in Vietnam, but raised American, Tung's family moved to the midwest just a year after he was born, and then relocated to Orlando when he was 12 years old. An Orlando resident for nearly 20 years, Tung is a seasoned veteran with a decade of experience in the culinary industry. Along with being a graduate of Le Cordon Bleu, where he learned the fundamentals of classical French cooking, Chef Tung has worked at the award-winning Victoria and Alberts at Walt Disney World Resort, and Isleworth Country Club. Chef Tung has also been mentored by Michelin-starred classical French Chef Pascal Sanchez.
At age 14, Tung gained his first experience in the industry, scrubbing dishes at a restaurant owned by a family friend. At that time, Tung had no interest in paving a career in the culinary field. The real turning point came during his trips to Europe and Southeast Asia, where he traveled as an acrobatic performer. This is where he discovered different food cultures, people, and regional ingredients, and ultimately, where his love of cooking was cultivated.
"I chose Vietnamese cuisine as a means of finding my identity, and going back to my roots. I just wanted to honor that — know more about where my family came from, and pay homage to the food as well," says Tung.
The seven-course prix fixe menu features modern Vietnamese-inspired dishes with global influences.  With Vietnamese cuisine already heavily influenced by France after over a century of occupancy, much of the menu will lean towards French-Vietnamese fusion. The menu items will be based on seasonality with an emphasis on premium-quality ingredients, either sourced locally or flown in, such as A5 wagyu, exotic truffles and caviar, fresh Florida pompano, and locally-grown citrus.
"It's very challenging. Opening Camille is almost like being a pioneer — taking the vibrant food culture of Vietnam and presenting it in a more refined, progressive way," says Tung.
In naming the concept, Chef Tung drew inspiration from his first-born daughter, whose middle name is Camille. The word, translated in French, means "perfect and pure." And perfection is exactly what Tung strives for in his dishes — creating food that is pure to him, with experiences he's discovered on his past travels.
Camille's current hours are Wednesdays through Sunday at 5pm & 8pm.  Reservations must be made in advance at: exploretock.com/camille
Here are photos from Camille's seven-course dinner:
SURF & TURF BANH MI – Hackleback Caviar, Rainbow Trout Roe, Prosciutto, Pate Foam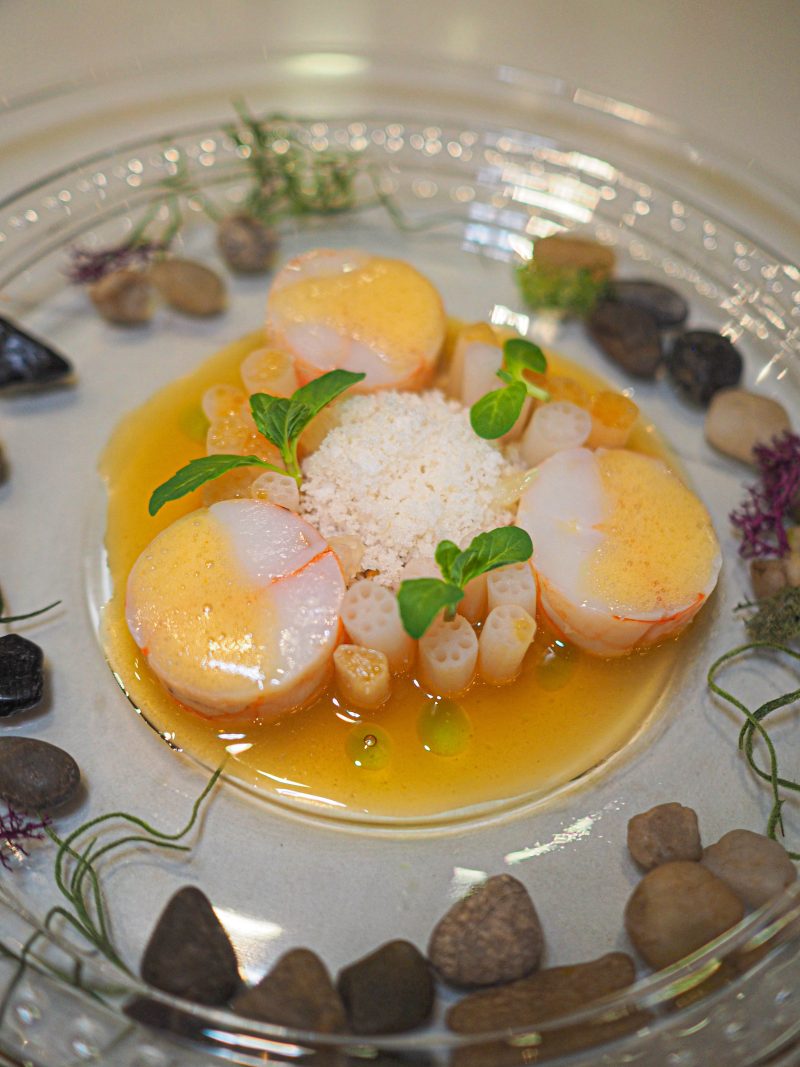 KEY WEST PINK SHRIMP – Lotus Stems, Bourbon Aged Nuoc Cham, Mint, Citrus Supreme
CURRY OF DUNGENESS CRAB – Patagonian Tooth Fish, Thai Basil Essence, Okinawa Sweet Potato
DUCK & TAPIOCA CONGEE – Mushroom Duxelles, Sunchokes, Red Wine & Tamarind Gastrique
DUCK AND BAMBOO CONSOMMÉ
AUSTRALIAN WAGYU TENDERLOIN – Broken Rice Fritter, Pickled Vegetables, Hoisin & Truffle Jus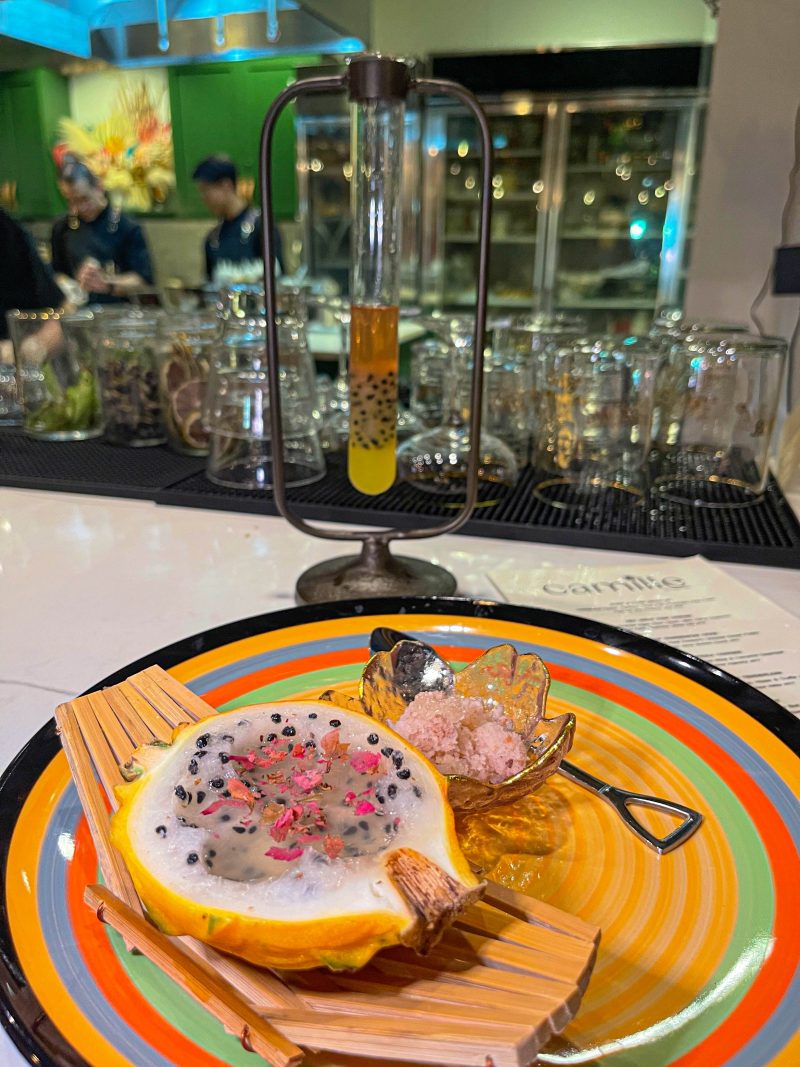 DRAGONFRUIT – Finger Lime, Lychee & Rose Bud Granita
GINGER ROASTED PEAR – Vietnamese Coffee, Meringue Crisp, Brown Butter Ice Cream
GREEN TEA MATCHA – lavender from The Heavy in Winter Park.
Our experience was phenomenal.  As an Orlando native, I thoroughly enjoyed learning more about my Vietnamese culture and experiencing the traditional ingredients in a refined and progressive approach.  I was blown away the entire time and I am looking forward to seeing what Chef Tung has planned next in the bright future ahead of him.  Be sure to check out his pop-up residency at Domu Lab, highly recommended!
For more information and to make a reservation, visit: exploretock.com/camille