Phoenix, Arizona is a growing city flourishing with history, culture and a diverse culinary scene. Located in the southwestern U.S., Phoenix is known for its year-round warmth and sunny weather. The desert terrain and theming is present from the moment you exit the airport, and continues throughout the city creating an entirely unique atmosphere.
Whether you're interested in the arts, sports, history, outdoor adventure, wellness, shopping or if you simply want to visit a city with amazing food, Phoenix should absolutely be on your list.
We were invited by Visit Phoenix to explore the city and embrace its array of unique dining experiences. Here is our Foodie's Guide to Phoenix, Arizona.
Foodie's Guide to Phoenix, AZ: Our 4 Day Itinerary for Food Lovers
Day 1
Check into FOUND:RE Phoenix
FOUND:RE is a modern boutique hotel conveniently located in the heart of downtown Phoenix. This property is an art lover's dream. It offers unique amenities from spacious suites to delicious on-site dining, but what really makes this hotel so special is its dedication to art. FOUND:RE is a love letter to local artists, featuring a rotating gallery throughout the property that is updated every 4 months.
During our stay, we stayed in a Balcony King Suite, which offered ample privacy and a ton of space. We highly recommend this suite for the most luxurious experience at FOUND:RE Phoenix.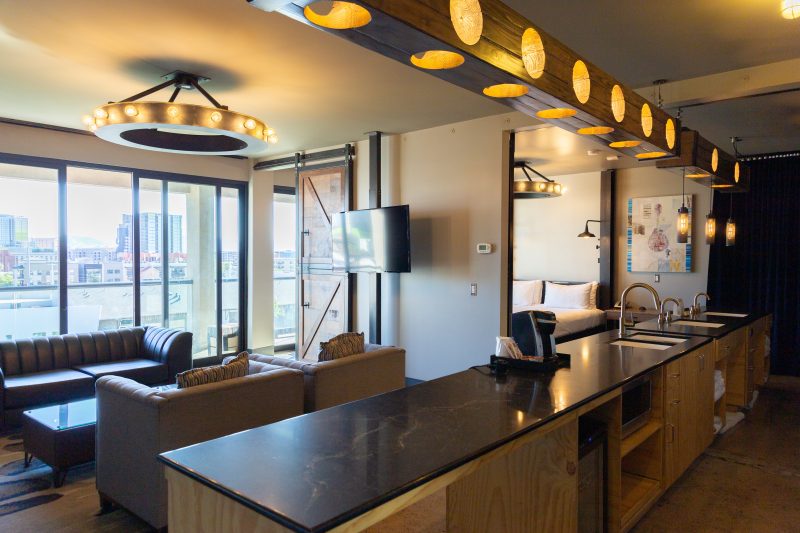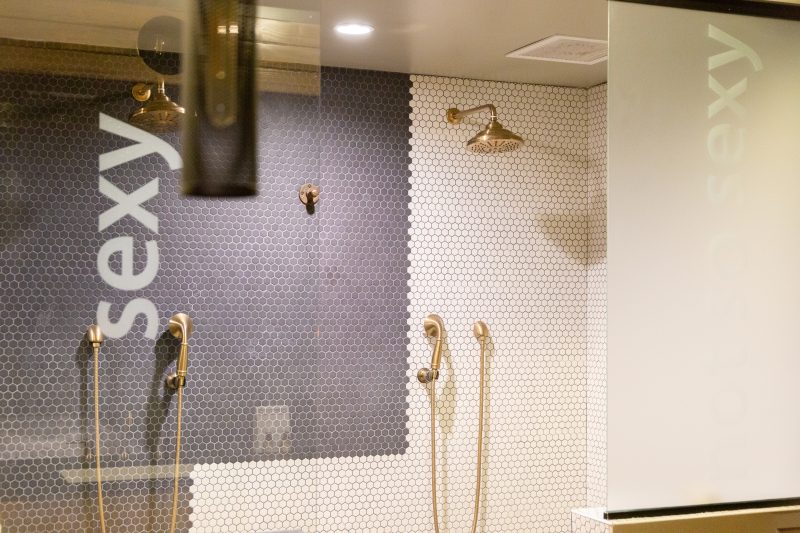 During our stay, FOUND:RE presented an art collection titled "Landscapes, City Skates and Line Scapes." We were lucky enough to go on a tour of the entire gallery led by FOUND:RE's very own art curator: Audrey Galat.
Lunch at Clever Koi
Clever Koi is a modern Asian fusion food spot located in Central Phoenix. This restaurant offers a tasty variety of Asian-inspired dishes as well as unique adult beverages and an unforgettable atmosphere.
Cocktails at Clever Koi are a must. We ordered the Ba New New (left) which featured Denizen rum, Heriloom Genepy, Tempus Fugit Banane, vanilla syrup, lime, muddle banana and angostura float. We also went with the Riding the Pine cocktail (middle) made with Gun Club 100 Proof Gin, Lillet Rouge Aperitif, lime juice and passionfruit syrup.
The Calamari Fries are an exceptional choice for an appetizer. Made with tempura, mint, furikake and yuzu aioli, this dish puts a lighter, more modern spin on your classic calamari.
The Steamed Buns were phenomenal. We ordered the Korean Hot Chicken, Kimchi Cauliflower and Pork Belly Buns. All three were savory and delicious, but if you can only try one it should definitely be the Korean Hot Chicken Bun.
If you're looking for ramen that is authentic, made with fresh ingredients, and above all delicious, Clever Koi is your spot. We enjoyed the Spicy Kimchi Ramen (top), the Pork Ramen (left) and the Lemon Pepper Chicken Ramen (right). We aren't exaggerating when we say this is some of the best ramen we've had in a long time. Fair warning: the portions are extremely generous, so be ready to enjoy the leftovers.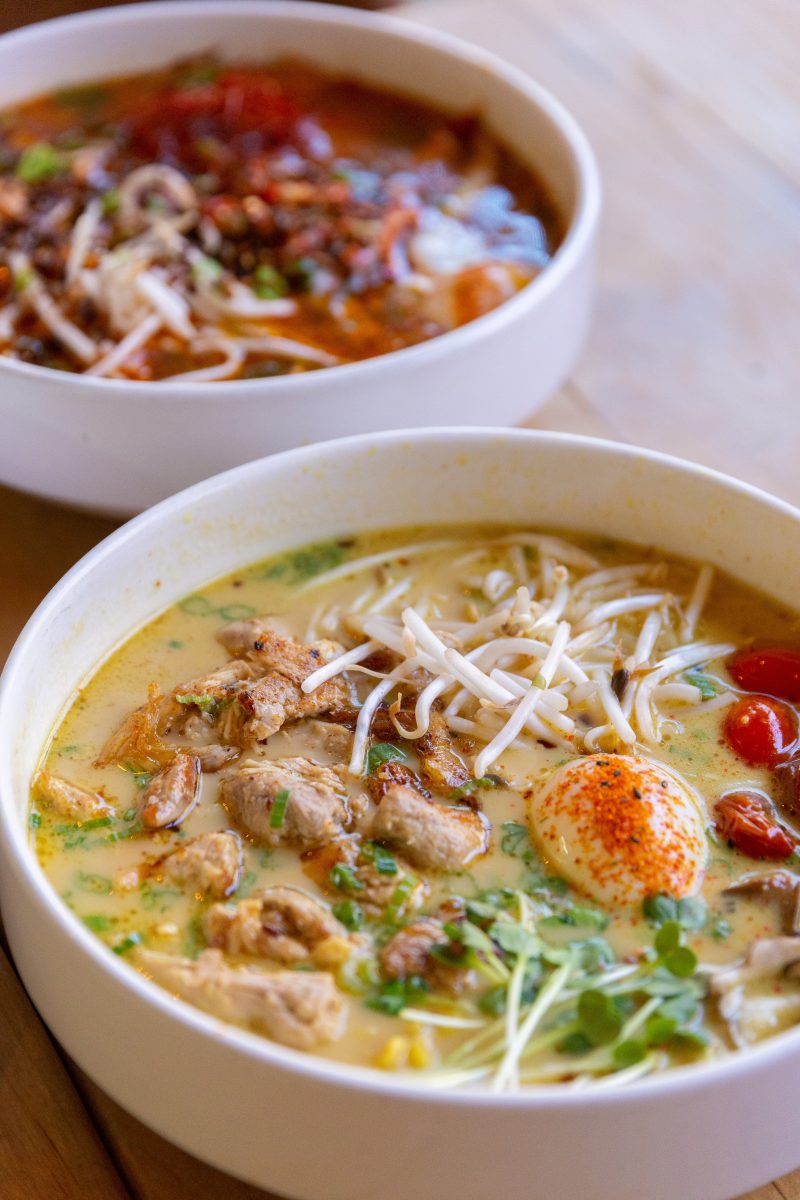 Phoenix Art Museum
Staying true to the ever-present art theme throughout the city of Phoenix, we stopped by Phoenix Art Museum after lunch to discover the lovely exhibits on display. You can easily spend hours at this museum, exploring the many bold and inspiring exhibitions.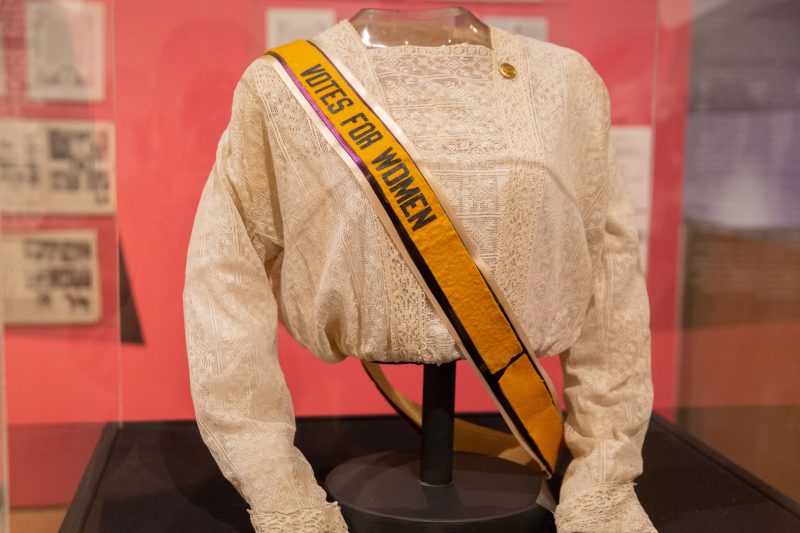 Fireflies by Yayoi Kusama
Oscar Muñoz: Invisibilia
Dinner at The Duce
One thing we quickly noticed about Phoenix was the warm weather, which is appreciated all year round. Many restaurants we stopped by throughout our trip offered an abundance of outdoor seating, and The Duce was no exception. This spot has been featured on popular food shows such as Diners, Drive-Ins & Dives, and for good reason.


To drink, we started with the Organic Peach Cobbler2012 cocktail (Tru Organic Gin, Fruit Lab Orange Liqueur, organic peaches, organic lemons, agave, soda) and the SanTan Epicenter Amber Ale.

For dinner, we enjoyed four of The Duce's most famous dishes: the Duce Mac and Cheese Muffins, Strawberry Pecan Salad, Chicken Pot Pie Jar and the Prairie Pasta. All four dishes offered delicious flavors reminiscent of a home cooked meal from Mom.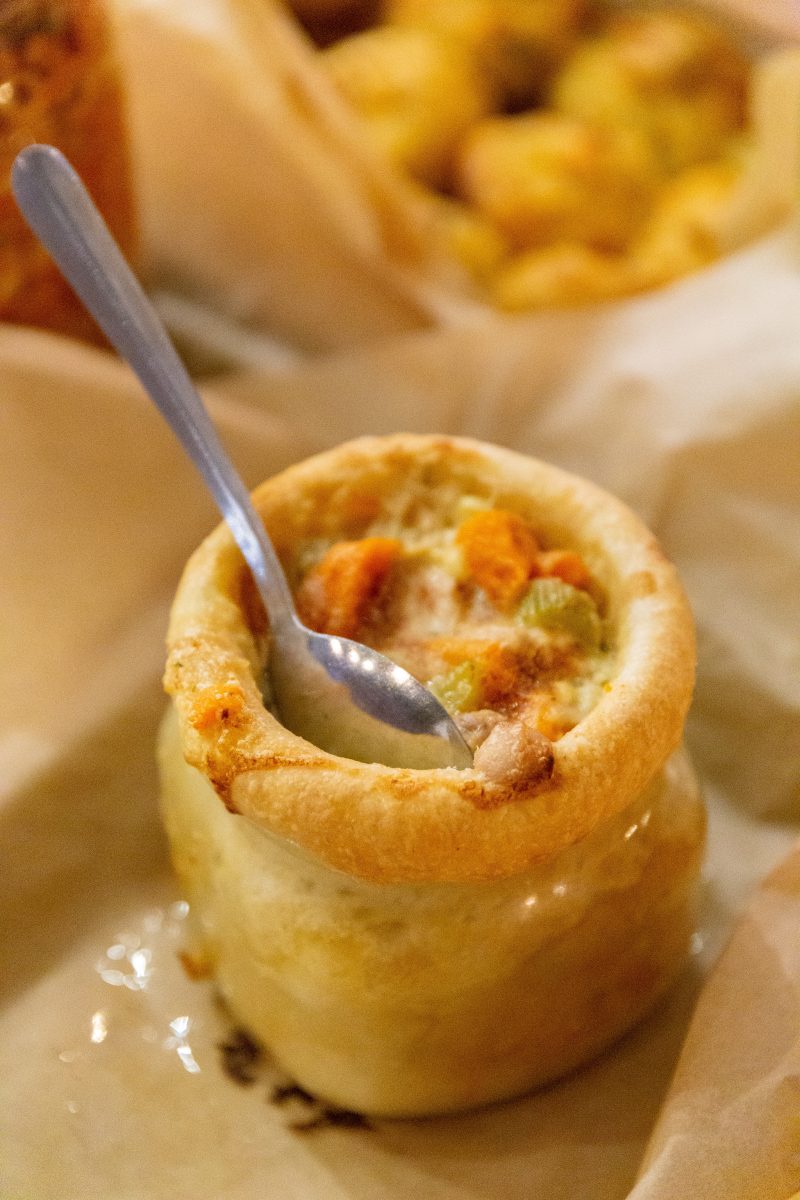 For dessert, we had the mouthwatering Cinnamon Cheesecake. As you can imagine, it was decadent. If you're a dessert person, we recommend going early because desserts at The Duce can sell out quickly!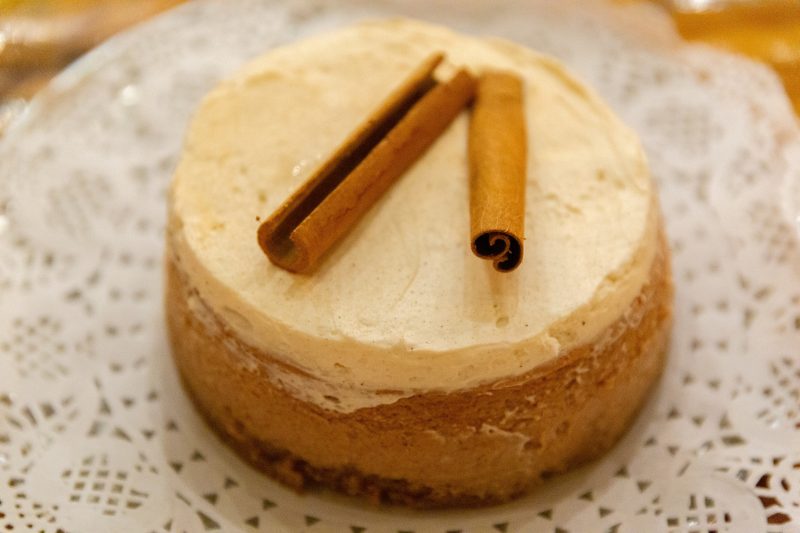 Day 2
Breakfast at Daily Dose Midtown
Daily Dose Midtown is a popular locally-owned Phoenix eatery offering breakfast and lunch daily. This spot has the feel of a small-town diner with the menu variety of a big city restaurant.
We order two of Daily Dose Midtown's most popular menu items: The Hangover Sandwich and the Cinnamon Roll Cakes. The Hangover Sandwich features peppered bacon, turkey sausage, cheddar/jack, caramelized jalapeño, onion, harissa aioli and one egg, served on sourdough with herb potato and fresh fruit.
The Cinnamon Roll Cakes are made with cinnamon filled buttermilk batter and topped with sweet vanilla icing. Surprisingly, this breakfast treat is sweet without it being overpowering. It's a must-have the next time you find yourself at Daily Dose.
Desert Botanical Garden
Located just north of Tempe, Desert Botanical Garden features over 50,000 unique desert plants on display throughout the 55-acre property. Guests are invited to explore the five themed trails highlighting conservation, desert living, desert wildflowers and plants and people of the Sonoran Desert.
Desert Botanical Garden is extremely vast, so we recommend setting aside at least a few hours to enjoy the garden at your own pace.
Lunch at Lylo Swim Club
After admiring Desert Botanical Garden we made our way to Lylo Swim Club, a trendy poolside bar and restaurant located at Rise Uptown Hotel in Phoenix. This hidden gem offers a variety of Hawaiian-Japanese influenced bites and over-the-top cocktails, with a fun and Instagram-worthy atmosphere.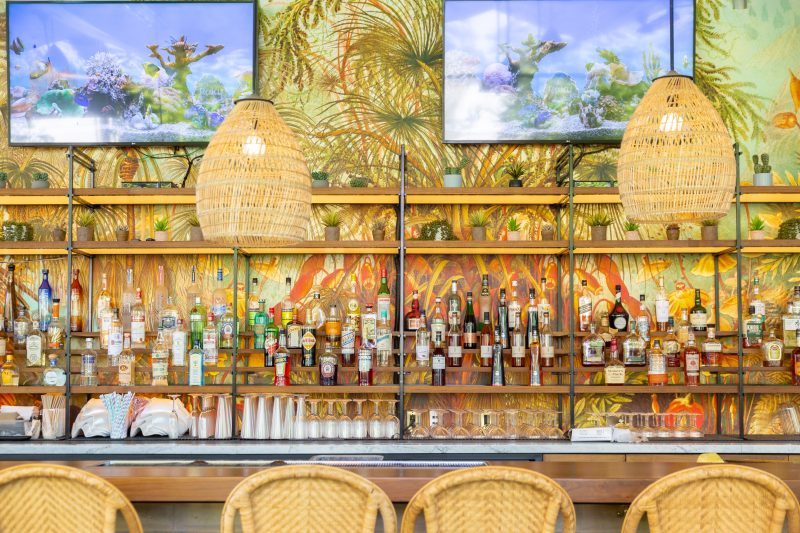 As someone with Orlando roots, I couldn't say no to the Dole Whipped cocktail, made with El Dorado 5yr and Dark Hamilton demerara rums. The soft serve is wonderfully reminiscent of Walt Disney World, but with a yummy adult twist. This Hawaiian-themed cocktail is incredibly refreshing, making it the ideal drink for a warm Phoenix afternoon.
For lunch, we enjoyed the Togarashi Fries, Veggie Musubi, Mochiko Fried Chicken Sandwich and the Spicy Tuna Bowl.
The Togarashi Fries were delicious, made with crispy garlic, lemon mayo, jalapeño and cilantro. You can also add KBBQ beef on top for an additional $4.
The Veggie Musubi is a light and tasty snack, made with pickled daikon, cucumber, ginger and avocado.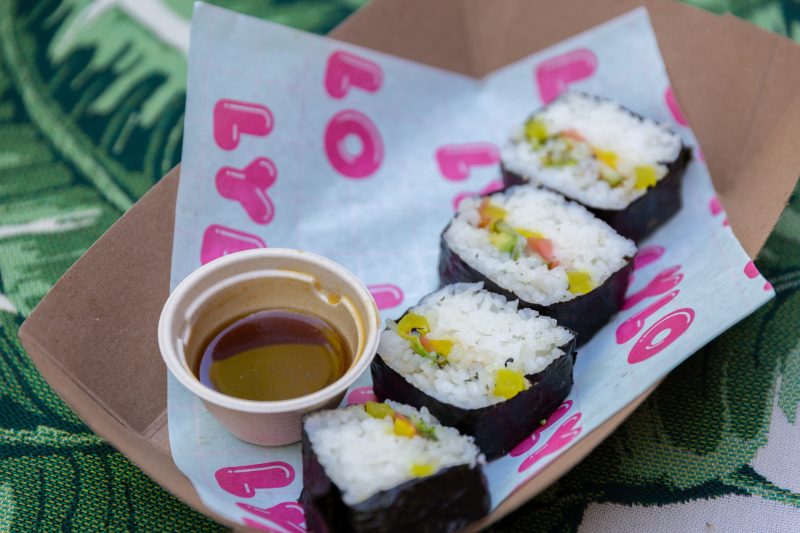 The Mochiko Fried Chicken Sandwich is a yummy lunch option featuring the flavors of spicy mayo and peanut slaw with a toasted potato bun, served with a side of Mac Salad.
The Spicy Tuna Bowl features avocado, jalapeños, cilantro, eel sauce, furikake and sesame on top of tasty spicy tuna and rice. The combination of flavors works really well, and we highly recommend trying out this dish for yourself.
Drinks at Lucky's Indoor Outdoor
Lucky's Indoor Outdoor is a new downtown Phoenix hangout spot with an exciting retro atmosphere. It features a cozy indoor space and an exciting outdoor patio, complete with a 1970's trailer bar, rotating food trucks, picnic tables and bocce ball. It's also only steps away from FOUND:RE, making it a great spot to stop by if you're staying at the hotel.
We enjoyed some drinks at Lucky's to kick off our evening.
The Irish Bird is a beautiful cocktail served in a pineapple glass. It's made with rum finished small batch Irish whiskey, pineapple, peach, lemon, campari, luxardo cherry and mint.
The Speghett is another tasty option, taking a Miller High Life and adding aperol and lemon.
The Lucky Negroni features strawberry infused gin, torino vermouth, rhubarb amaro and lemon.
Dinner at Pomo Pizzeria Napoletana
After drinks, we made our way to Pomo Pizzeria Napoletana for dinner. Pomo Pizzeria offers an authentic Italian experience, featuring delicious menu items using culinary methods originating from Napoli, Italy. Pomo is the first and only APN (Associazione Pizzaiuoli Napoletani) and VPN (Verace Pizza Napoletana) certified restaurant in Arizona.
For our starter, we ordered the Italian Board, which is the chef's selection of cured Italian meats and cheeses.
We also enjoyed the Mediterranea Bruschette, which features an avocado spread topped with cherry tomatoes and fresh mozzarella.
For our first entree, we went with the Gnocchi Sorrentina and we were certainly not disappointed. This gnocchi dish is made with tomato sauce, mozzarella, parmigiano and basil, and it is nothing short of delicious.
You can't eat at Pomo Pizzeria and not order one of their famous pizzas. We had The Burratella which is made with imported burrata cheese, hot soppressata, local organic honey, mozzarella, chili thread and basil. Pizzas here are also very easy to customize, and we decided to make our pie half meatless for the vegetarians in our party (spoiler: it was amazing both ways).
For dessert, you may have a hard time deciding which decadent treat to enjoy. The good news is you can't go wrong! We tried Pomo's Gingerbread Gelato, which was rich, sweet and creamy.
We also went with the Panna Cotta (a personal favorite dessert of mine), and as you can imagine, it was delectable.
Day 3
Brunch at ZuZu
We ventured to Scottsdale for our brunch this morning, and it was absolutely worth the short commute. ZuZu is a 1950's themed restaurant located inside of Hotel Valley Ho, which maintains the same intentional theming. ZuZu offers brunch and dinner daily, with show-stopping menu items made to impress.
There are many delicious brunch options to choose from at ZuZu. We ordered the Sticky Icky Buns, Truffle Parmesan Fries, Brie + Strawberry Toast, Biscuits + Gravy and the Fried Chicken Bánh Mì Sliders.
The Brie + Strawberry Toast is just as mouthwatering as you'd imagine. Made with brie cheese melted over toast and topped with fresh strawberries, balsamic glaze, jalapeño and microgreens, this treat was a winner for us.
No exaggeration — the Biscuits + Gravy at ZuZu might be one of the best we've ever had. Savory cheddar chive biscuits are topped with sausage gravy, bird's eye chili hot sauce, two sunny eggs and scallions to create this tasty dish.
If you're the type of person who prefers lunch to brunch, the Fried Chicken Bánh Mì Sliders are a great option. Crispy fried chicken is topped with gochujang aioli, pickled veggies and cilantro, served with your choice of a side.
Another great menu item that works for both brunch and lunch lovers is the Truffle Parmesan Fries. The fries come with a side of lemon herb aioli that complements the flavors wonderfully.
Last but certainly not least, the Sticky Icky Buns are the definition of a show-stopper menu item. The buns are crunchy on the outside and fluffy on the inside, and topped with delicious cinnamon sweet cream and candied walnuts. 10/10.
Drinks at Greenwood Brewing
After a day of exploring Phoenix at your leisure, Greenwood Brewing is the perfect spot to sit back and enjoy some brews. Greenwood Brewing is a woman-owned brewery with a focus on inclusivity. The atmosphere here is both friendly and welcoming, and we can't recommend it enough.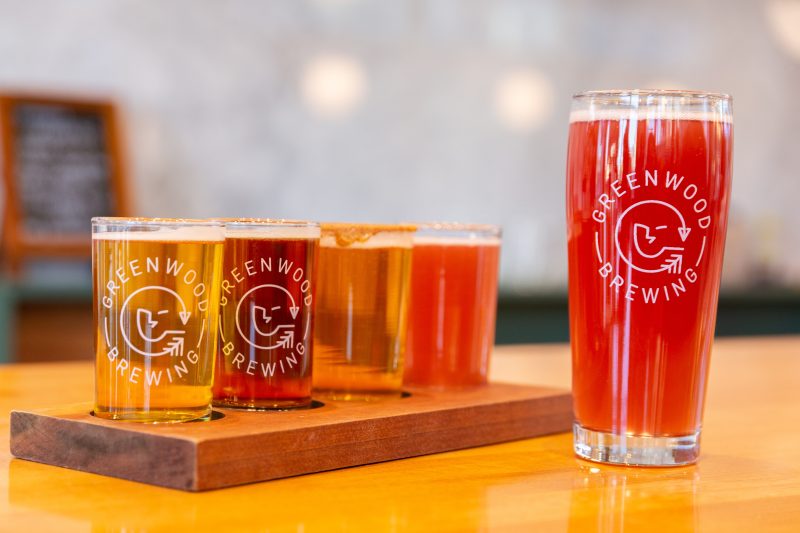 We started our night off with the Blueberry Wheat. This brew is one of our favorites. You can taste the notes of blueberry, but it isn't too sweet or overpowering. The Blueberry Wheat is a great choice for a warm evening under the sun.
Greenwood Brewing also offer beer flights, which we highly recommend ordering, especially if you're having a hard time deciding which beer to go with. We ordered the flight with (from left to right) the Herstory Pale Ale, Luna Amber Ale, Harvest Diem Spiced Ale (seasonal for fall) and the Blueberry Wheat. All four brews were delicious and worth a try.
Greenwood Brewing also partners with local Phoenix artists from time to time, to create the artwork featured on their beer cans.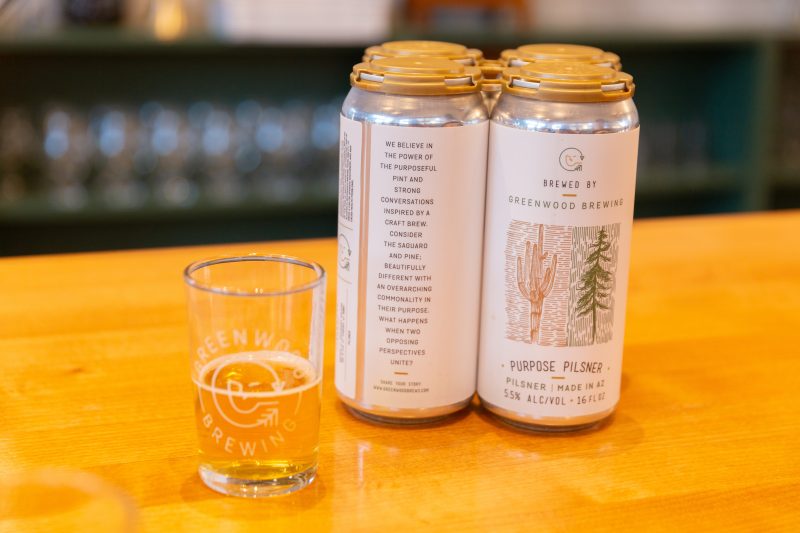 Megan Greenwood is the founder and owner of Greenwood Brewing. She adds to the warmth and comfort of this spot, and during our visit she was even kind enough to give us a behind-the-scenes tour of the brewery.
All beer is brewed in-house at Greenwood Brewing.
While I enjoyed every beer I sampled during this visit, The Harvest Diem Spiced Ale had to be my favorite.
Dinner at Trapp Haus BBQ
For dinner, head right next door to Trapp Haus BBQ: the first brick-and-mortar restaurant from Phill Johnson, aka "Phill the Grill." This spot has a more casual hole-in-the-wall vibe, making it great for any occasion. You'll be greeted by the mouthwatering aroma of fresh-cooked bbq upon arrival, and it only gets better from there.
We ordered a Combo Platter with Burnt Ends, Smoked Chicken, Smoked Mac & Cheese and Seasoned Waffle Fries. We couldn't stop there though, so we added on two additional sides of Jalapeño Cheddar Cornbread and Country Potato Salad. This bbq feast was nothing short of outstanding outstanding.
Every menu item we tried from Trapp Haus BBQ was great, however the Jalapeño Cheddar Cornbread stood out. This tasty cornbread is slightly sweet, slightly spicy and incredibly fluffy like a muffin.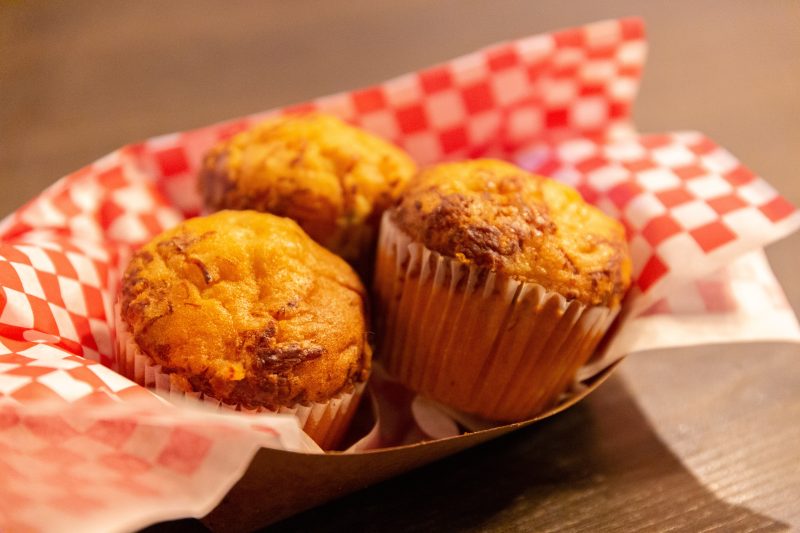 Day 4
Breakfast at Match Market & Bar
Conveniently located right in the lobby of FOUND:RE Phoenix, Match Market & Bar is a trendy cafe, market and bar. At the market, you can find an assortment of goodies, from cook books to plants and everything in between. It's the perfect spot to go shopping for unique gifts, but what makes it even better is the quick-service cafe attached which serves up an impressive breakfast.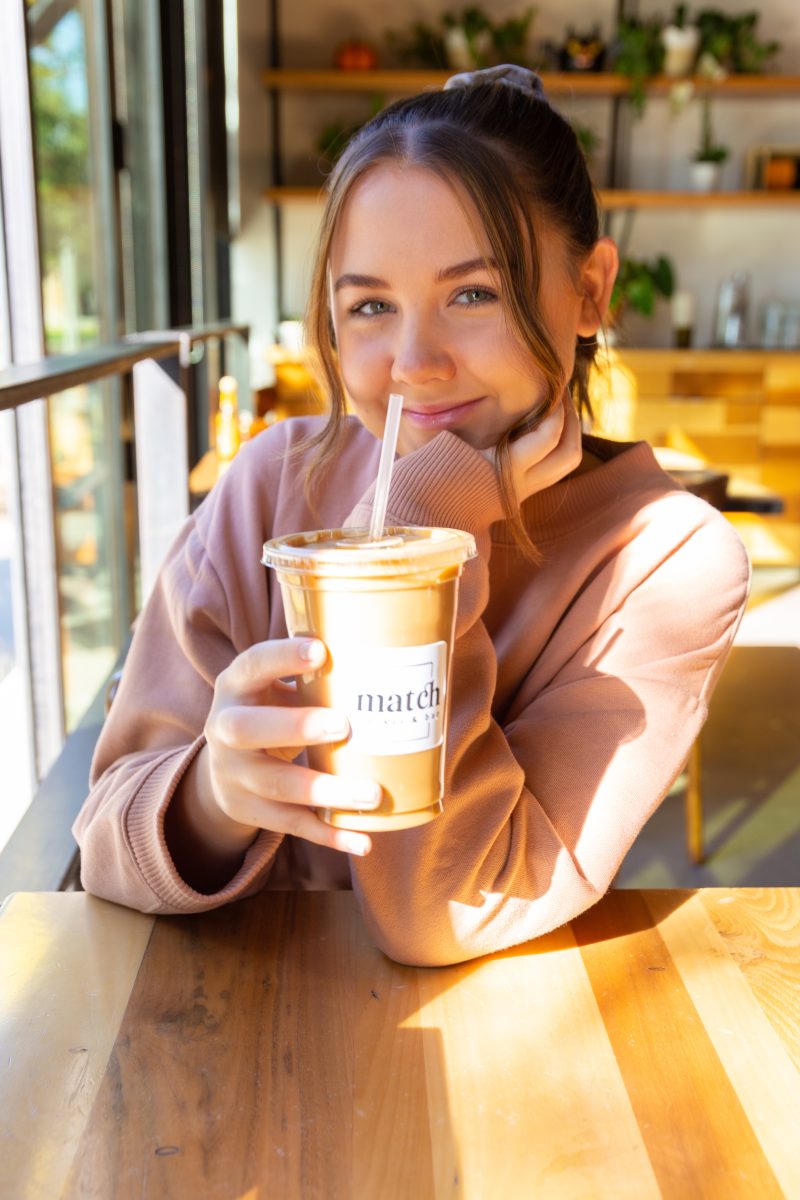 We ordered two Iced Vanilla Oat Milk Lattes, which were delicious.
For breakfast, we enjoyed the Breakfast Burrito and the Lemon Ricotta Waffles. Both dishes were beautiful to look at, and even tastier to eat.
The Breakfast Burrito is served with your choice of bacon, sausage, house-made chorizo or avocado (we went with avocado) as well as scrambled eggs, potatoes, peppers, onions, cheddar cheese and house-made salsa on a wheat tortilla. It was a fantastic breakfast option for those who prefer something light and savory.
The Lemon Ricotta Waffles are ideal for those who want something on the sweet side. This dish is served with fresh blueberry jam, and the combination of flavors is delightful.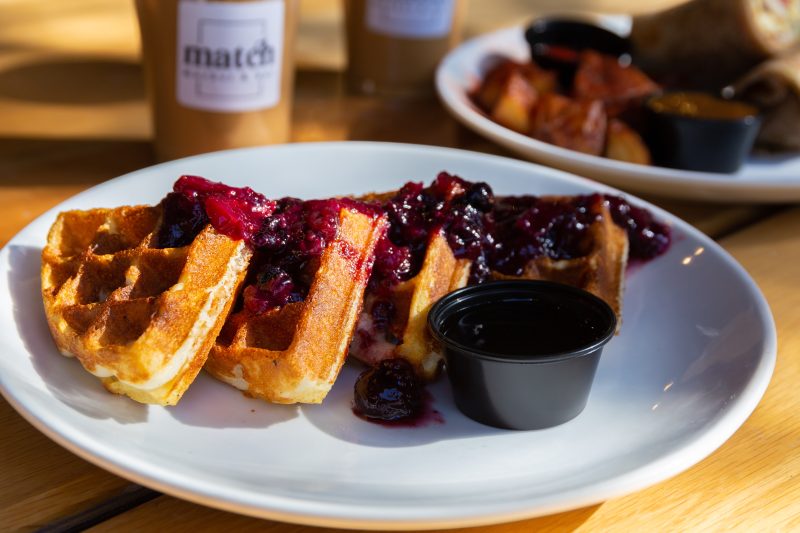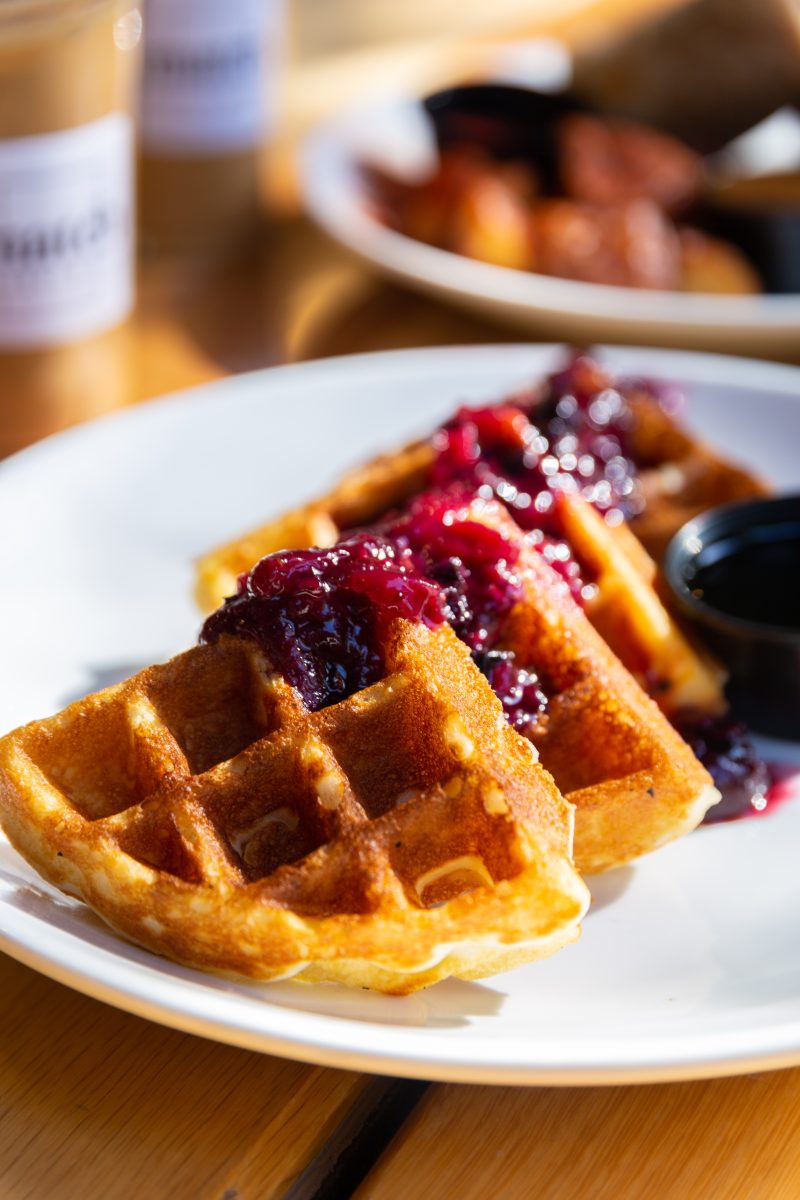 Lunch at Arizona Wilderness Brewing
This wouldn't be a Foodie's Guide to Phoenix without mentioning Arizona Wilderness Brewing. This brewery is a favorite of locals and visitors alike, offering an impressive beer menu in addition to extensive food offerings. We stopped by the Arizona Wilderness downtown Phoenix location for our final lunch in the city, and it was worth the wait.
We started off with the Don't F#%k It Up Blonde Ale and the Cactus Juice Sour. Both brews get an A+ from us.
For eats, we shared the Wilderness Duck Fat Fries, Green Chili Pulled Pork Sliders, Belgian Waffle Battered Onion Rings and the Vegan Ramona Farms Red Pepper Hummus. Each dish was packed full of flavor, and paired perfectly with our refreshing beers.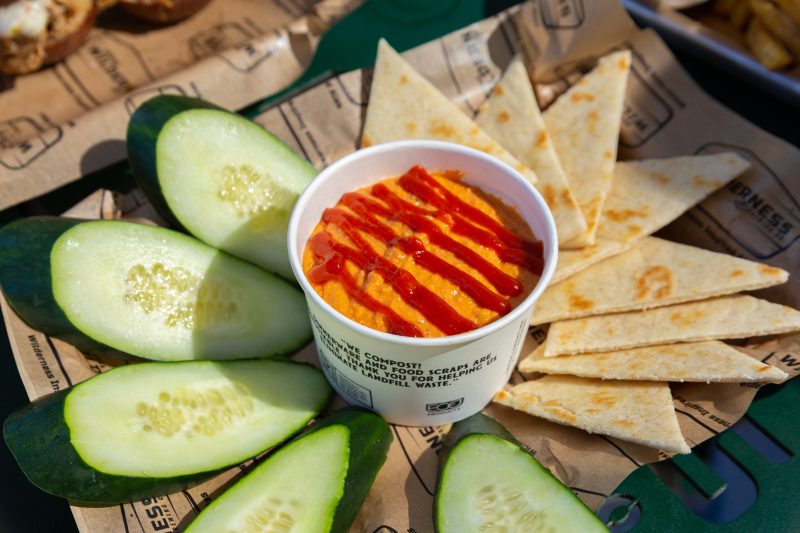 Arizona Wilderness is a wonderful spot to visit with a group a friends to enjoy the warm Phoenix weather, share some tasty bites and begin tackling their lengthy beer menu.
If you don't have a ton of time, you can still stop by Arizona Wilderness and pick up a couple beers to-go.
Whether you're looking to relax, enjoy some culture or have a foodie adventure (or all of the above), Phoenix is an excellent option for your next vacation. For more information about Phoenix, go to VisitPhoenix.com.