Prato – the popular modern Italian restaurant on Park Avenue in Winter Park – recently celebrated its 10th anniversary. Over the years, they have become renown for their modern Italian inspired plates crafted from market-fresh ingredients, proudly prepared in their imported Acunto oak-burning ovens.
We spoke with Chef Brandon McGlamery about Prato's big 10 Year anniversary and how things have changed in Orlando over the years, as well as the upcoming plans for Luma. Read on!
Tasty Chomps Interview with Chef Brandon McGlamery – Prato
Tasty Chomps: Looking back over the years, what are your favorite memories and moments at Prato these past 10 years?
Chef Brandon McGlamery: Finding our rhythm and footing after a very hectic opening, the volume and demand of our clientele was a bit overwhelming and with that unexpected success, it caught us off-guard, and as always, I worried about the consistency and quality of product we where producing. It still is a challenge, but we embrace it with a "GO FORWARD" attitude and do our very best efforts.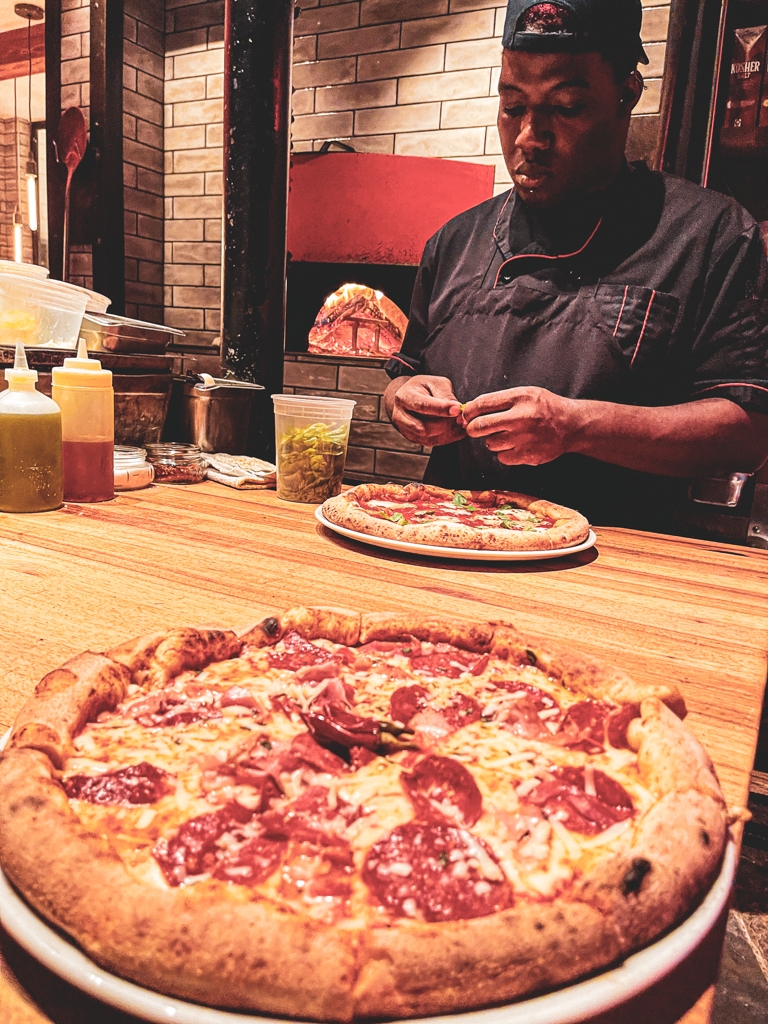 Another thing on that note, I fondly look back on the team in any capacity of time that they spent with us, and the contributions that they made that helped shape into our philosophy, cuisine, and service.
In your opinion, how has the food and beverage industry in Orlando transformed and evolved over the past 10 years?
As far as new restaurants and the scene growth, I feel we are behind the curve some. We have fewer new restaurant openings than say Miami, Palm Beach, Tampa , of course we can thank Covid for that hindering stall, & push the blame on for most likely deflating or raising caution for many great ideas from new to experienced restaurateurs/chefs in the past 3 years. My bet is we are about to see a good energy shock to the growth.
I do remember when I came here almost 17 years ago that many people warned me that Orlando was not a town for quality or simple experimentation, and was a land of non- adventurous & bland diners…… well that was far from the truth and I think our customer base is very sophisticated and hungry for more, and are looking to support new quality operations.
For those new to Orlando, how would you describe Prato to those who have not been there to dine yet ?
Wood fired Italian focused busy " eatery"……. also reservations recommended ….. if they are looking for a quiet romantic dinner, this most likely is not gonna be a good fit for that occasion…..
What are the most popular dishes right now at Prato?
Some things that will most likely never get rotated off the menu…mustard spaghettini, meatballs, chesnut ravioli , this month the black truffle pizza (when available) and garganelli, campo salad…. also we have a hazelnut-veal sweetbread tortellini that we have trouble keeping on the menu because it sells so fast and we have gotten great feedback from guests on…… we thought it was delish but be a bit of a sleeper, not the case.
Luma … any updates yet for the new location?
Ha- I will be the first to tell you, Ricky, that ship had sailed a long time ago. At first we really thought it to be a great idea, and it was mostly due to our community urging us to keep that flame alive, but then we would always be compared to that place in that space and location, and we just wanted to do something different than recreate that success in another building .
We looked all over town, considering many options, & felt it would could never get back to that original version.
That space was and always will be close to my heart, but after 15 years to the day in that building, with more hours, tears, sweat, and time … never had I spent any or all of that in one place in my entire life, and just changing our location, began the challenge of making the emperor's clothes try to feel and fit the same……it would have been difficult to repeat so we buried it fondly away…
10 years is a long time in any industry, particularly the restaurant industry as you well know – what are some of the things that you think have made and kept Prato a success?
Simple. Our team and our customers, without either none of this is possible. After that is "consistency and quality"
What are some other upcoming plans for Prato in the near future?
We looked at other markets for expansion, but finding that right fit has been tough on multiple levels, but we are keeping our irons in the fire and grinding just like any other company in the hospitality industry, all over the country…… we need for the next generation to get to work so we can cultivate, its the same all over, we cannot find new hires for growth….. this is our biggest priority……
Prato Winter Park
124 N Park Ave, Winter Park, FL 32789
https://www.prato-wp.com/