Have you heard about this new taco and Colombian bakery open in downtown Avalon Park in East Orlando?
Pico de Gallo is a brand new fast-casual restaurant in downtown Avalon Park serving authentic cuisine that is rooted in Latin American flavors and traditions. Pico's bowls, tacos, and antojitos are a medley of flavorful and thoughtful ingredients that help satisfy your hunger and cravings.
Pico de Gallo has been the 13-year vision of long-time Avalon Park residents, Jorge and Heidi Cardona-Lopez, along with family support by sister Heisell Alarcon and niece Nazareth Orozco. The vision came to life when they opened as one of the original vendors in the Marketplace at Avalon Park food hall in September 2021. Their expansion into a larger space in Avalon Park will allow for outdoor seating and an expanded menu.
"The community has welcomed us with open arms," said Lopez. "I cannot wait to share our new expanded menu with our new neighbors."
The move to the Clock Tower expands their cafeteria-style menu to include mix and match options from bowls to burritos and tacos, with various meats and traditional sides, like rice and beans, and chips and salsa.
Additionally, there is a new Colombian Bakery Café in honor of Jorge's heritage, which brings a rich mixture of flavors, color and taste to the menu. Some menu items will include Pan de Bono, Bunuelo, Picada Columbiana, empanadas, and arepas.
The cuisine of Colombia is a rich and diverse culinary tradition, influenced by a variety of cultural and regional influences. From the hearty dishes of the Andean region to the fresh seafood of the Caribbean coast, Colombia has a wealth of delicious and unique dishes to offer.
One of the most iconic dishes of Colombian cuisine is the arepa, a cornmeal patty that is grilled or fried and served with a variety of toppings. Arepas are a staple of the Colombian diet, and can be found throughout the country in a variety of forms, from the simple, plain arepa to the more elaborate arepa rellena, stuffed with cheese, meat, or other fillings.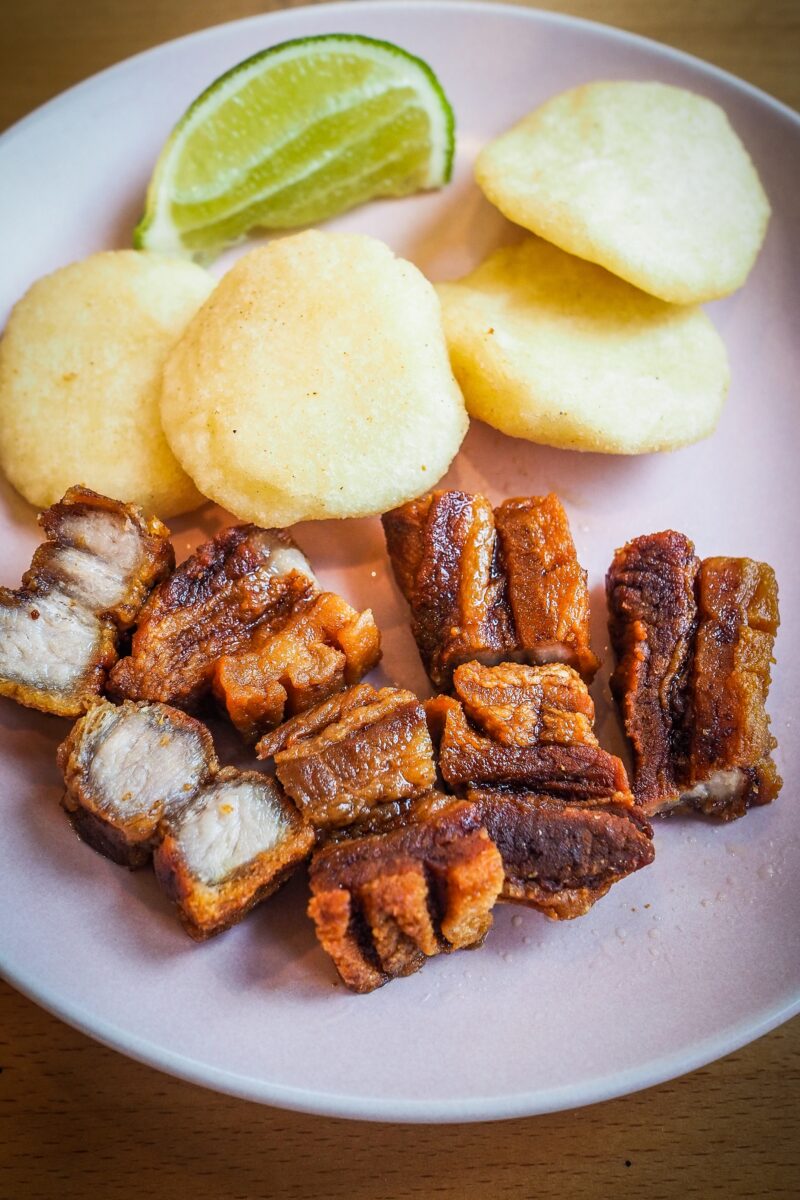 Colombia is a country with a rich culinary tradition, and its pastries are no exception. From the soft, buttery pan de bonos to the crispy, cheese-filled empanadas, there are a variety of tasty pastries to be found at the Bakery Colombian Cafe in downtown Avalon Park.
Pan de bono, also known as "cheese bread" in English, is a traditional Colombian pastry that is popular throughout the country. This delicious treat is made with yuca flour and queso fresco, and has a soft, pillowy texture that is perfect for soaking up hot chocolate or coffee.
The origins of pan de bono can be traced back to the country's indigenous communities, who used yuca flour and cheese to create a simple but satisfying snack. Over time, this traditional recipe evolved into the modern version of pan de bono that is enjoyed today.
To make pan de bono, the yuca flour and cheese are mixed together to form a dough, which is then shaped into small balls and baked until golden and crispy on the outside. The finished pastries are typically about the size of a golf ball, and have a slightly chewy texture and a rich, cheesy flavor.
Pan de bono is often served as a breakfast or snack food, and is commonly found at bakeries and cafes throughout Colombia. In addition to its traditional cheese filling, pan de bono can also be made with a variety of other ingredients, such as chocolate or fruit.
We spoke with owner Heidi Lopez about the recent opening – read on!
Pico de Gallo and The Bakery Colombian Cafe x Tasty Chomps Interview
Ricky Ly of Tasty Chomps: Tell us about your background – how did your family get started in the food industry?
Heidi Lopez: My family and I started to get interest into the food business by our countries we have such amazing food but Not a lot shared where we live and thought it would a great idea to bring our culture of food to the community and to those who enjoy Colombian and Tex-mex foods.
– What was your inspiration behind the new Colombian Bakery concept? What was the inspiration behind Pico De Gallo?
The inspiration behind the Colombian bakery was that there wasn't many Colombian bakery's or restaurant near our community and if there was it was too far or very limited places and we thought we should bring the amazing Colombian food and pastry's with an explosion of colors and flavors and Including that our food and pastry are home-made. Which is why we wanted to bring it to Avalon Park for everyone to enjoy. Same goes for Pico there wasn't a place where you could get full nutritional meals very fast and on the go in Avalon and we wanted to bring that to the community.
– What are some of your favorite childhood memories growing up around food?
My favorite childhood memories was when my mom used to make us gallo pinto which is white rice and red beans mixed with cream and sprinkled white cheese and tortillas and I enjoyed eating that so much, it is so delicious. Which is why we actually have that in our Pico de gallo menu!
– What are some little known unique/ special things about the bakery that people should know?
Some little known unique things that the Bakery has is that the our Mural is a very traditional thing you see in Colombia the vintage jeep with traditional food and items the people of Colombia share and sell to those in their country.
– What are the most popular items right now at Pico De Gallo and The Bakery?
Some very popular items in Pico de Gallo are our nachos they are savory and delicious and great to share with the family. Our popular items in Bakery is our chicken and Beef empanadas they are also very delicious and filling.
– Tell us about your upcoming plans for restaurants this winter?
This winter we plan on bringing in new traditional Christmas food and meals to our menus.
Pico De Gallo and the Bakery Colombian Cafe
Downtown Avalon Park
3801 Avalon Park Blvd East, Suite 155
Orlando, FL 32828
Opening Hours
Sunday to Thursday.
11:00 am – 09:00 pm
Friday and Saturday.
11:00 am – 10:00 pm
https://www.picodegalloavalon.com/