In February 2003, Darden Restaurants' Seasons 52 opened the doors of its very first restaurant in Orlando.
It was also that same year that Steven Pham and Nav Manwani began their careers with the brand, as a food runner and a host, respectively.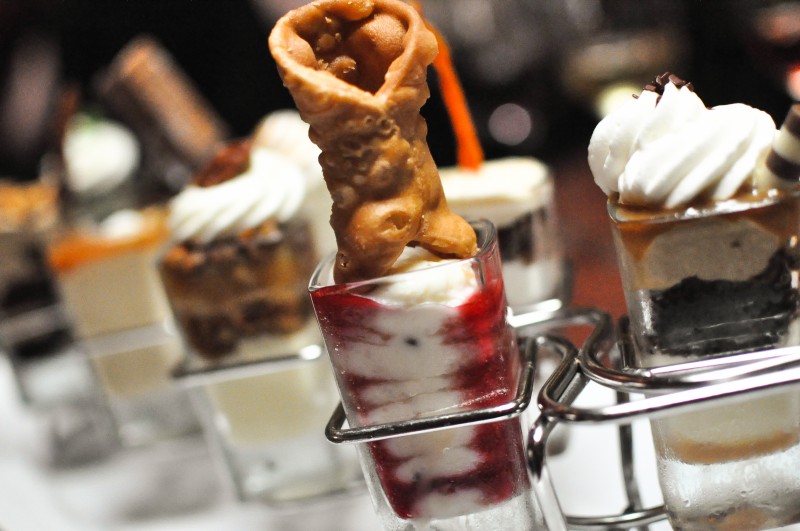 Fast forward to today, 20 years later. Steven is now the Managing Partner and Nav is one of the managers at that very same restaurant on Sand Lake Road.
Today, Seasons 52 has also grown to 45 restaurants.
The brand itself has evolved but has stayed true to the basics: promising guests that any menu item they choose will be 595 calories or less and never once adding a fryer to the kitchen even after all these years.
Nav Manwani joined Seasons 52 on Sand Lake in Orlando, FL in 2003 as a host. From there, he held a variety of different positions in the restaurant, but spent the majority of time as a server for 15+ years of his career. Nav became the Beverage Manager at Seasons 52 in March 2019.
Nav graduated from Valencia College with an associate's degree (AS) in Business Finance and completed the Introductory Court of Master Sommeliers in 2006.
Steven Pham joined Seasons 52 on Sand Lake in Orlando, FL in 2003 as a food runner. Wanting to ultimately advance his career, Steven rotated through many roles in the restaurant including sous chef and various front of house positions. Steven was on the opening team for multiple Seasons 52 restaurants: Altamonte Springs, FL in 2010 as Service Manager, two restaurants in Houston, TX between the years of 2012-2014 as Sales or Service Manager, and Memphis, TN in 2014 in his first Managing Partner role. Steven returned to Altamonte Springs as Managing Partner in 2016 before ultimately ending up back at the Sand Lake location as Managing Partner in 2018 where he remains today.
Steven graduated from Valencia College with an associate's degree (AA) in General Studies and has completed the Introductory Court of Master Sommeliers.
We recently spoke with Steven and Nav about their experiences with Seasons 52 and how things have changed over time.
Tasty Chomps Interview with Steve and Nav of Seasons 52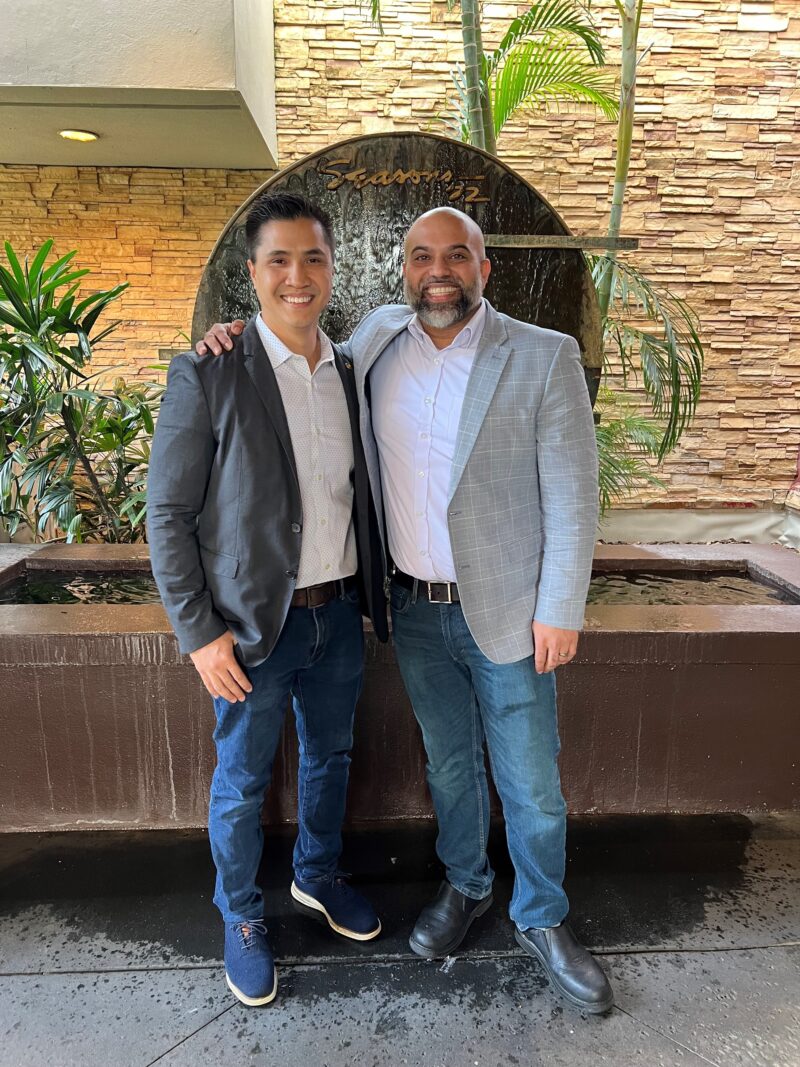 Ricky Ly, Tasty Chomps: What was it like working at Seasons 52 when they first opened in Orlando? What were your favorite memories?
Nav Manwani, Beverage Manager – Seasons 52 in Orlando, Fla:  There were a couple things that really made Seasons 52 stand out to me in the beginning. I served tables for 15 years and Seasons 52 was able to accommodate my schedule as a parent, which allowed me to be present in raising my kids. We also had what they called family meal, which was a meal made by our Chef for the entire team once a week. Now, we are proud to offer family meal every single day. I have loved the culture and work-life balance since the beginning, which you just couldn't find at other restaurants at the time.
My favorite memories always center around our guests. We have a guest whose wife's favorite restaurant was Seasons 52. When she became terminally ill and too sick to come dine with us, he came in every day to get her Cedar Plank Salmon. Years after she passed away, he got remarried and reached out to us to have his wedding at our restaurant. These meaningful connections with our guests make us all part of a family.
Steven Pham, Managing Partner – Seasons 52 in Orlando, Fla: The excitement of working in a new concept like Seasons 52 was amazing. It was and still is the place to dine! Our calorie conscious and naturally flavorful menu was intriguing to all our guests, it wasn't something they had seen before.
My favorite memory at the start of Seasons 52 was our seasonally changing menu. We still change our menu with the seasons four times each year, but I can remember the fun and excitement when I first joined the team of seeing what new items were being added to the menu.
What was the food scene like in Orlando back then? What were the most popular / best restaurants that you remember at that time?
Nav: The food scene back when we opened was almost nonexistent. There were a few chain restaurants, but nothing like there is now.
Steven: There was not much of a food scene at the time, and especially nothing that compared to Seasons 52. We had restaurants like Timpano's, now Eddie V's, and Samba Room, now Rocco's Tacos, that were our neighbors at the time. There were also steakhouses nearby like Ruth's Chris, Roy's, and Moon Fish. The success of Seasons 52 is directly related to continued support from our local and out of town guests that helped us stand the test of time.
How do you think Seasons 52 changed the restaurant scene for Orlando when they first opened?
Nav: Seasons 52 made a huge impact on the restaurant industry being one of the few that began printing and actively promoting the caloric value of each menu item. It has become a norm throughout most restaurants today, but we were able to differentiate ourselves early on for being proud of the calories we printed since nothing on our menu exceeded 595 calories.
Steven: Seasons 52 changed the food scene in a couple ways. We proved that naturally lighter and flavorful dishes were possible, which influenced and even encouraged other restaurants to explore delicious, calorie conscious options. We were also one of the first wine bars and were able to make wine interesting again. Our wine list was created with different wines from all over the world, offering 52 wines by the glass. The excitement in the wine industry over our wine bar concept allowed us to get the best wine makers to work with us from the start, some who are still working with us today!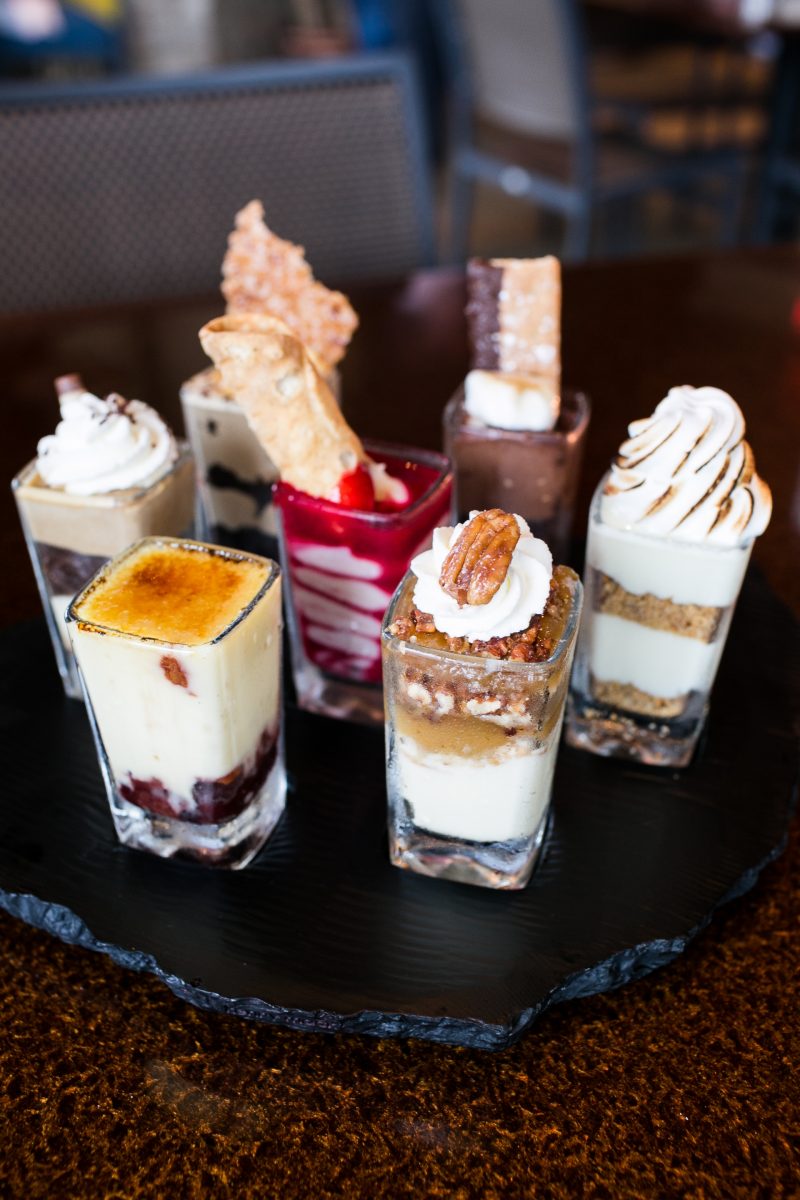 What were some of the inspirations behind why Seasons 52 started?
Steven: Seasons 52's entire reason for existing stems from our wish to offer people a balanced approached to food and wine, without sacrificing in taste, style or value. We started at a time where massive portion sizes and fast-food offerings were becoming the norm and there was a rising interest in healthier dining options. There was a large misconception, however, that healthy food didn't taste good, so we set out to open a restaurant that had both great service and great tasting healthier food. When we opened, we really exceeded expectations and quickly became one of the most popular restaurants in Central Florida. We help give guests the freedom to enjoy everything on the menu, because every choice is one they can feel good about.
How has Seasons 52 evolved or changed with the times? What are some things you have noticed?
Steven: With the menu changing every season, it's natural for Seasons 52 to evolve with the times. We can easily shift when food trends arise. We have had multiple items come on and off the menu including branzino, halibut, a tuna noodle bowl, turkey skewers, and even sushi rolls. Since we can do this, it allows us to keep or even bring back some of our guest favorites when we get positive feedback, like with our Cedar Plank-Roasted Salmon or more recently the Wood-Grilled Pork Chop. With a business model that allows us to make changes to our menu on a quarterly basis, it helps us evolve and stay current with what our guests like and what is in its peak flavor that season.
Nav: I think it's also important to notice the things that haven't changed. We have been brick-oven roasting and oak-fire grilling since day one. We've never once had a fryer in our kitchens in 20 years. Flatbreads and Mini Indulgences have been the bookends of a Seasons 52 dining experience since the day we opened. So, although our menu evolves and changes frequently, we never forgot our core value and purpose to continue providing the guest experience we sought to provide when our doors first opened.
How did the pandemic effect the restaurant and how did it meet the challenges from that time? how is the restaurant doing now?
Nav: Our guests are part of our family too, and we helped each other get through the pandemic. Being a part of this brand is a huge source of pride for me, and the way our team came together during the pandemic to take care of each other is more proof of how loyal and dedicated we are. We've seen return guests come in more frequently post-pandemic, and I think that is a testament to getting through that time together.
Steven: Although it was a tough time with a lot of unknowns, we came out with a lot of positive, too. Everyone was willing and able to do more than the call of duty. I truly believe the restaurant is positioned in one of the best times that Seasons 52 has seen in the past!
What makes Seasons 52 special to you?
Nav: I started as a Host 20 years ago, and in the time since, Seasons 52 has quite literally become my family. We run 5k's and spend holidays together. We go on group outings like paintball, laser tag and dodgeball. All of that has created a very close bond. We lost a team member a few years ago, and nearly the entire Sand Lake team went to attend the funeral. Team members from our Altamonte location happily covered those shifts for us. The list goes on and on, but things like that speak volumes to how close of a family we have become.
Steven: Seasons 52 was a part time job for me while I was going to school. I started as a food runner about 20 years ago. I never thought I would find a career in the restaurant industry, but the culture is different here. My leadership at the time gave me the drive to develop in other areas as I worked as a server, bartender, and even a line cook. I had leaders who saw potential in me and assisted with my growth into a manager, sous chef, and now currently a Managing Partner. Working for Darden, the growth potential continues. With the support and development of both my leadership and team members that I have, it feels more like a family to me than co-workers.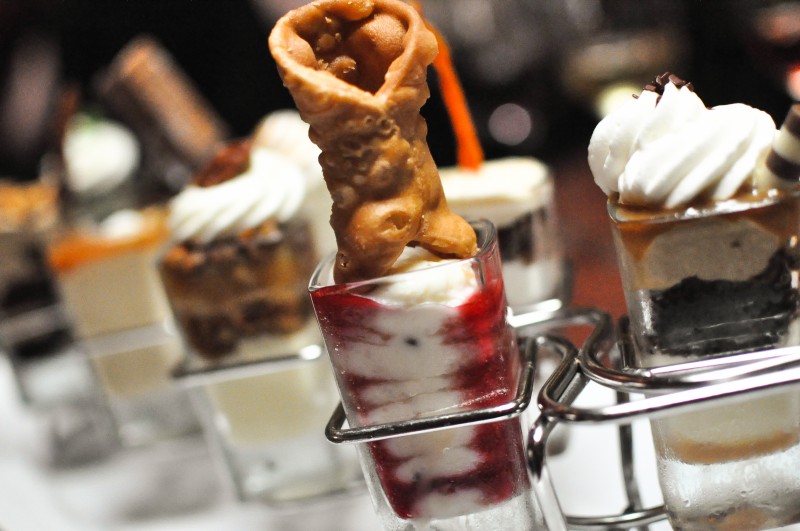 Steven and Nav are thankful to have grown alongside the brand, and forever grateful to the community of Orlando for trusting them to host their dining experiences for the last 20 years.
For more info, visit seasons52.com