The MICHELIN Guide Miami, Orlando, and Tampa just dropped its latest Bib Gourmand selections for 2023!
The 2023 edition of the MICHELIN® Guide Miami, Orlando and Tampa includes eight restaurants making their debut in the Bib Gourmand selection, offering foodies a chance to indulge in flavorful international feasts without breaking the bank.
A big congrats to Orlando's Michelin Guide BIB Gourmand winners (4 out of the total 8 awarded in Florida!!) including: Isan Zaap (Thai),  Norigami (Japanese), Otto's High Dive (Cuban), and Taste of Chengdu (Sichuan/Chinese).
Very well deserved and congratulations to all!! 
The Bib Gourmand restaurants are known for their quality dishes and ingredients, combined with an approachable atmosphere and price. This announcement precedes the MICHELIN Guide Ceremony on Thursday, May 11, in Miami.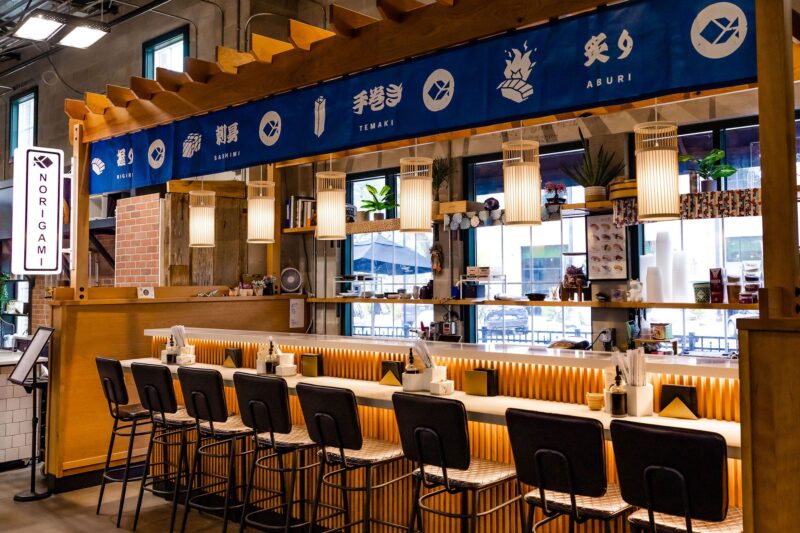 Bib Gourmand restaurants offer a meal of good quality at a good value.
"The restaurants joining the Bib Gourmand selection prove that foodies can find flavorful international feasts right in their own backyard – in Miami, Orlando or Tampa," said Gwendal Poullennec, International Director of the MICHELIN Guides.
"Not only are these establishments unique for their tasty dishes and quality ingredients, but they're also approachable in terms of price and atmosphere. The inspectors are excited about these additions, and these restaurants teams have a lot to be proud of.""
Here's the list of new Bib Gourmand restaurants in the Orlando / Central Florida area, with excerpts of the inspector notes from each restaurant:
Isan Zaap (Orlando, Thai cuisine)
Orlando's Thai restaurants typically dole out southern curry dishes and the ubiquitous pad Thai, but Isan Zaap strays from the pack with its gaze trained exclusively on northeast Thai cuisine with Laotian overlaps. There is an impressive level of attention to detail and a nice balance of spice and fermented flavors, and though impeccably executed curry makes an appearance, there's also an entire section dedicated to som tums that can be topped with fermented crab or fermented pork sausage.
Norigami (Winter Garden, Japanese/Sushi cuisine)
There are just eight seats at this tiny but mighty spot at the Plant Street Market from Chef David Tsan. This is sushi done in a casual "choose your own adventure" style, as guests pick from various cuts of fish and shellfish and then select as either nigiri, sashimi aburi or temaki. Can't choose? The well-priced, ten-piece omakase is a nice option.
Otto's High Dive (Orlando, Cuban/American cuisine)
This tiny but oh-so-sweet space recalls the charm of Old Florida with its whitewashed brick walls and white tile floors. Billed as a neighborhood rum bar, Otto's High Dive is on point at every turn, from the genuine service to the unfussy but well-executed food. The kitchen delivers a concise edit of Floridian/Cuban fare with oodles of tropical elements.
Taste of Chengdu (Orlando, Chinese/Sichuan cuisine)
A long-standing restaurant in the Orlando area, Taste of Chengdu promises exactly that, as the expansive menu is singularly focused on Sichuan specialties. Chef Xiong "Tiger" Tang shows restraint in his use of spices, instead opting for depth and balance; while classics like mapo tofu are given a nuanced nudge.
The other Bib Gourmands in Florida were awarded to:
Gorkhali Kitchen (Tampa, Nepali cuisine)
Take the short drive from downtown for a taste of Himalayan cuisine at Gorkhali Kitchen. The menu is large with a Nepalese focus along with some Indian elements. Of course, there must be momo, those iconic Nepalese dumplings that are seared, pan-fried or even in jhol (soup). Chicken is a popular protein that appears often on the menu, but don't shy away from the goat specialties. They're falling-off-the-bone tender and savory.
Jaguar Sun (Miami, Contemporary cuisine)
This local favorite cooks as well as it shakes, offering a winning combination of excellent house-made pastas and balanced, creative cocktails. Warm Parker House rolls and Caesar salads stacked to the sky are opening acts to an umami-packed mushroom tagliatelle or spicy strozzapreti with plump mussels, 'nduja and breadcrumbs. A warm, personal staff makes everyone feel like a regular.
Psomi (Tampa, Greek cuisine)
Owned and run by second-generation Greek-American Christina Theofilos, this daytime eatery and bakery epitomizes warmth and comfort. The menu is laced with Greek items ranging from flavorful and tender octopus ceviche to house-made dolmades that display an added level of care. Of course, with a name that translates to bread, there must be baked goods and you'll find it all here.
Rosie's (Miami, Southern/American cuisine)
Kudos to husband-and-wife chef team Akino and Jamila West. The notably Southern menu covers a generous amount of ground. Deviled eggs with chicharrones, biscuits in guanciale gravy and fluffy banana pancakes with vanilla custard are primo brunch favorites. Heartier hits, like fried hot chicken and waffles or a generous fried fish and grits with collard greens, satiate larger appetites.
The full list of Bib Gourmand restaurants will be available on guide.michelin.com and the MICHELIN Guide mobile app immediately after the MICHELIN Guide Ceremony.
The restaurants join the MICHELIN Guide selection of hotels, which features the most unique and exciting places to stay in Florida and across the world. Every hotel in the Guide is chosen for its extraordinary style, service, and personality — with options for all budgets — and each hotel can be booked directly through the MICHELIN Guide website and app. The MICHELIN Guide is a benchmark in gastronomy. Now it's setting a new standard for hotels.
A Guide to Michelin Guide Awards – Stars, Bib Gourmands, Recommendations – What do they all mean?
For those wondering – The Michelin Guide awards Stars, Bib Gourmands, and recommendations to restaurants as a way of recognizing excellence in the culinary world.
The main difference between Michelin stars and Bib Gourmands is that stars are given to restaurants of exceptional quality, while Bib Gourmands recognize restaurants that offer good value for money.
Michelin stars are awarded on a scale of one to three, with three being the highest accolade, and are based on factors such as the quality of ingredients, creativity in the kitchen, and consistency in the dining experience.
Bib Gourmands, on the other hand, are given to restaurants that offer high-quality food at reasonable prices. The Bib Gourmand symbol is a red Michelin Bib, representing the Bibendum (the Michelin Man) character, and is awarded to restaurants that offer a full meal at a reasonable price, typically around $40 or less.
Finally, Michelin also gives recommendations to restaurants that meet its high standards but do not qualify for a star or Bib Gourmand. These recommendations are also highly coveted, as they signify that a restaurant is of exceptional quality and worth a visit.
The more you know!
For those curious, here are the awardees from the 2022 Michelin Guide Florida Awards