Sear + Sea, located at JW Marriott Bonnet Creek near Disney Springs in Orlando, Florida, recently debuted a new Fall 2023 menu led by Chef Peter Cox.
Recently named a Michelin Guide Recommended Restaurant in the 2023 Michelin Guide, Sear + Sea is known for specializing in quality, natural cuts of dry aged beef, fresh seafood, and unique accompaniments.
The Woodfire Grill brings classic steakhouse dining to the area, featuring prime cuts of meat, seafood, and an impressive 1,200 bottle wine cellar.
Before dining at the restaurant, be sure to drop by the Sear + Sea Lobby bar for their handcrafted libations and quality champagnes with the largest gin selection in Florida.
The fall 2023 menu introduces a range of delectable autumnal inspired dishes, including the Moulard Magret Duck Breast with fois gras dressing and roasted grapes, and the Juniper-Rubbed Venison with currant au poivre and baby leeks.
Another standout is the Agnolotti with shallot mascarpone, pecorino cheese, and hazelnuts, among other flavorful ingredients.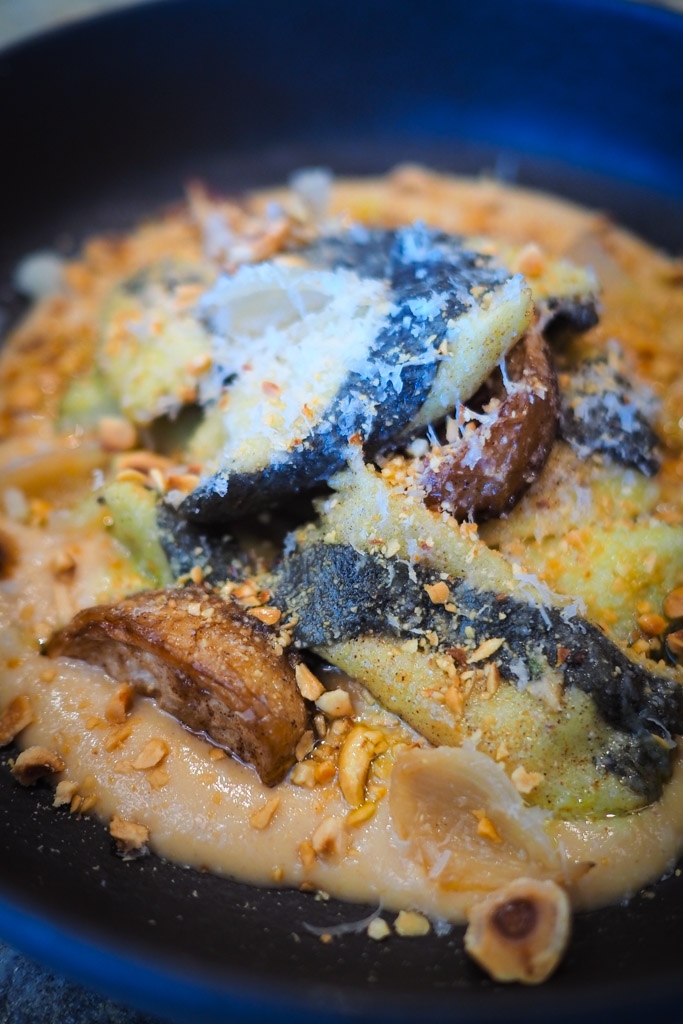 For those with a penchant for short ribs, the 72-Hour Creekstone Farms Short Rib is a highlight, featuring a 72-hour braise and an array of accompanying vegetables.
Additionally, the A5 Wagyu Carpaccio offers a delicate and delicious option with thinly shaved wagyu and a horseradish vinaigrette.
We spoke with Chef Peter Cox about his inspirations as well as took a first look at the new menu below:
Tasty Chomps Q and A with Chef Peter Cox
Tasty Chomps: What inspired you to become a chef?
Chef Peter Cox: My family weren't very good cooks growing up, but, they were extremely good at making sure I had an open mind and was curious to taste anything I could. When I started buying things I had never seen before, cooking for my friends in high school I fell in love with the magic of transforming a few ingredient into something else.
How do you come up with new and innovative dishes?
I usually start with an ingredient that's in peak season and then I think about what it pairs with and work from there. I also have a habit of thinking about a dish and how I can do something completely different but with that original dishes flavors, for example we have a new side dish that's made from Georgia grits but it tastes exactly like She-Crab Soup.
Do you have any favorite kitchen tools or equipment that you couldn't live without?
My spoons, I hate cooking without them. A lot of chefs collect vintage spoons, it's odd, I know.
Can you share a favorite / memorable kitchen cooking story?
Early in my career, I had a Chef ask me "who had tied my shoes for me? because I was obviously too stupid to tie them myself"-  You can't get away with that type of behavior now luckily.
Can you recommend any tips for someone looking to improve their home culinary skills?
Don't cook with olive oil – it has a very low smoke point and turns carcinogenic. Use olive oil to finish things – it's an ingredient or a garnish. Also, if you're eating raw fish – use salt and sugar to cure it for about 20 minutes before rinsing it off and patting it dry, it will help firm up the texture of the fish.
For someone who has never been to Sear + Sea before, how would you describe it?
It's a classic Steak house but with a modern twist. For example most of our sides are Vegan – I'm originally from central California which grows a vast amount of the produce in this country so produce is very near and dear to my heart. We respect our carrots at Sear + Sea just as much as our steaks, so please do try our glazed carrots, they are a staff favorite.
What are some of the inspirations behind this new menu at Sear + Sea?
Fall is my favorite season and we really wanted to lean into the flavors you think of when you think of fall,  here's something comforting to me about parsnips and duck for example.
View this post on Instagram