Yak and Yeti Restaurant at Disney's Animal Kingdom – Anandapur
During our trip to
Disney's Animal Kingdom
, in the fictional South Asian "village" of
Anandapur
the annual summer
rains began to pour over Central Florida. 🙁
This led us to find refuge in the halls of the Yak and Yeti restaurant, one of the only sit-in dining restaurants in the whole Animal Kingdom park. To my disappointment, there were no yak or yeti to be found on the menu that day (I am a fan of Andrew Zimmern's Bizarre Foods on the Travel Channel by the way) but there was steak and shrimp as consolation.
I am typically wary of theme-park food: overpriced, tasteless, and usually completely battered and fried. I know that the parks have a virtual monopoly on the food business on premises and that's how alot of money is made, but hey! its a recession… I guess that five day stay deal with unlimited meals really is a good deal after all (I'm not staying five days though 🙁
When we stepped inside, we were soaking wet and the place was freezing cold… At least we were out of the rain for the moment to dry up and take our seats at the table.
The first thing I noticed about the restaurant was the decor: random artifacts from Asia, statues of various deities from eons past, the cracked yellow walls like something out of British colonial India from A Passage to India. Quaint, I thought.
Tables were scattered through out the restaurant, mostly full with vacationing families.
At our table, our waitress was kind and helpful, always attending to our orders and requests and checking up on our drinks through out the visit.
The menu at Yak and Yeti was a Asian "fusion" which usually means a lot of different dishes but none done really well. I was surprised to find and at the same time afraid to try, the "pho" the national dish of the Vietnamese, a beef rice noodle soup, on the menu. It was also $17.99 here, when you can get a large bowl down in the Mills 50 district for no more than $7.50. I gave a sigh and moved on.
Our first order for appetizers were the steamed and fried pork filled pot stickers ($7.99). The dumpling skin was too tough and had the consistency of light rubber. The pork meat filling was flaky and chewy and definitely tasted like it just came out of the freezer, maybe even just microwaved. The bamboo steamer that the steamed dumplings came with was pretty cool though the banana leaves were a tad tacky as it did nothing to add to their "flavor".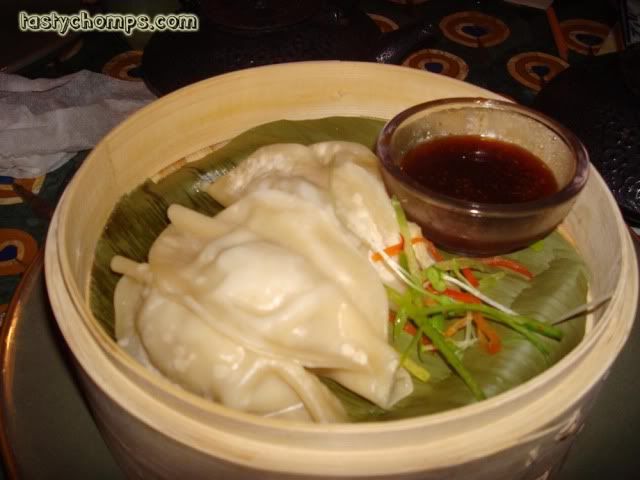 Steamed Pork filled Pot stickers (I'll stick with Ling Ling's)
Pan fried Pork Filled potstickers (not to die for)
For our entrees, we decided to split up and share our meals since the prices were pretty ridiculous. I ordered the Shaoxing Steak and Shrimp ($24.99) which came with skirt steak, tempura-battered shrimp, jasmine rice, veggies, and a sweet and sour dipping sauce. The steak was surprisingly good, seared to my order of medium-rare. It reminded me of the latin style churrasco flank skirt steak that I enjoy at latin restaurants but had a hint of a soy sauce marinade. The "tempura" shrimp really wasn't authentically tempura as it was fried in what looked like a corndog batter. It was enjoyable nonetheless. The veggies were kind of plain and the rice was fluffy and warm (definitely a plus since I've known some places to botch even plain rice). Is it worth $24.99 ? Not really, but in theme parks where good eats are rare and hard to find at times, it was definitely a commendable dish on their part. I would say that its my favorite dish I've tried so far at Disney.
The Shaoxing Steak and Chicken ($24.99)
I noticed that the dipping sauce they like to use is actually a thai sweet chili dipping sauce ( you can buy it at the local asian market.), they used that for everything.
I also got a side order of pork egg rolls ($5.99) and they were also surprisingly good. I don't understand how so many places mess up such a simple dish but luckily Yak and Yeti did a good job with theirs. I think they used the same meat from the dumplings, but it was a good and meaty bite.
My fellow guests also enjoyed their plates (as seen below).
Seared Miso Salmon ($22.99)
Baby back ribs with chicken fried rice ($24.99)
Tasty Chomps rating!!!
3.5 out of 5 Tasty Chomps!!!