Deep inside a Tokyo subway station is a humble 10-seat, sushi-only restaurant run by 85 year-old Jiro Ono, considered by many to be the world's greatest sushi chef. His restaurant, Sukiyabashi Jiro, is the first of its kind to be awarded a prestigious 3 star Michelin review, warranting many gourmets from around the world to make a trip to Tokyo just to dine there.
The new documentary Jiro Dreams of Sushi centers on Jiro's story and his relationship with his eldest son Yoshikazu, heir to Jiro's legacy. The film is showing for the first time in Orlando this Sunday April 15th during the Florida Film Festival as part of their Foodie series of films.
I had the chance to talk to director David Gelb recently about the film, who happens to be a sushi lover since the time he was 2 years old when his dad took him on business trips to Japan and fed him cucumber rolls in his stroller. He's been hooked for life since then. David combined his two passions of filmmaking and sushi together to make the film Jiro Dreams of Sushi.
What is it about Chef Jiro Ono that makes him so highly regarded among sushi chefs? What makes his sushi so special?
Jiro is an uncompromising perfectionist. He has spent decades relentlessly mastering the preparations of every ingredient, and has perfected the balance between them. His sensitivity to flavor is unmatched. He has brought sushi to its fullest potential.
While Jiro's sources his fish from the best dealers in the world and has mastered the preparation to serve them at their ideal moment of deliciousness, it is Jiro's rice that elevates the sushi to perfection. Jiro's rice is pressure cooked to serve at the perfect texture, slightly al dente but still fluffy and light. The seasoning is tart with vinegar but perfectly offsets the oil of the fish. Its served warm, at body temperature.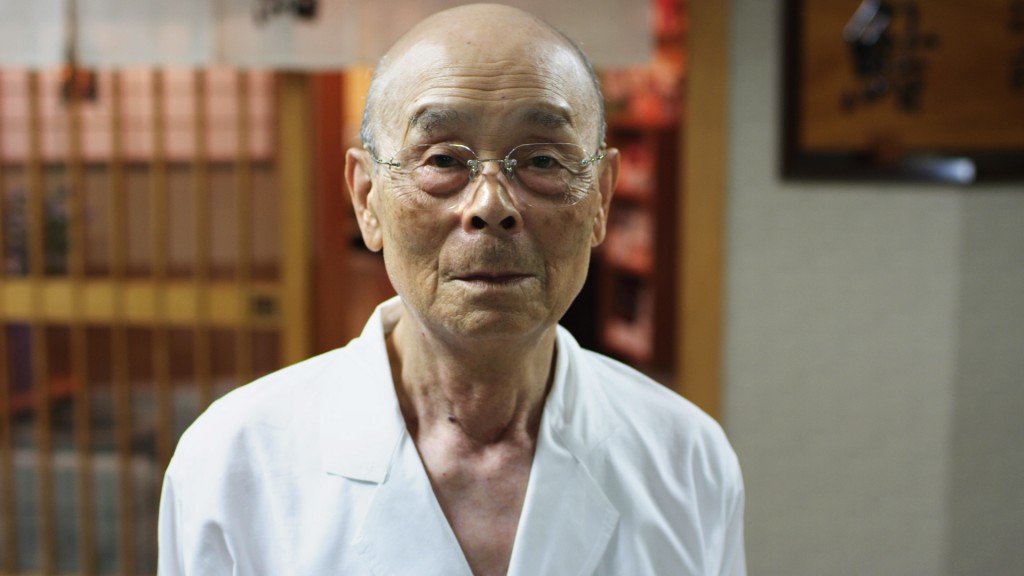 Chef Jiro Ono of Sukiyabashi Jiro
What is your favorite scene in the film?
I love the tuna auction. Its a fascinating organized chaos, and really quite musical and beautiful. The auctioneers shouting and ringing bells, and the archaic, analog style of record keeping is almost magical. The tuna auction has been largely unchanged over the last hundred years. It's amazing.
How do you think the foodie culture in the US has changed in recent years? Were there any differences that you noticed between the way food is treated in Japan vs the US?
Food culture has been more prominent in Japan in recent history, but the USA is rapidly catching up. Westerners are having more and more hunger for pure, refined cooking with good ingredients and I think that is great. We have a real problem in the USA especially with a corporate takeover of the food industry. Good food and the profit system do not always work together, and I think the Slow Food movement and things like that are a step in the right direction. We should take the time to eat well, and that doesn't have to be expensive. It just requires a bit of thought and preparation. The Japanese set a good example to follow.
Some sushi enthusiasts look down on American rolls with its emphasis on cream cheese and sauces, while others just love it and some people use it like a gateway drug segueing from california rolls into raw sushi. What do you think about the traditional way sushi is made in Japan and the American preoccupation on elaborate maki rolls, do you favor either or?
The American rolls are entirely different cuisine. Philadelphia, spicy tuna, california rolls etc. are designed to fill up a large appetite at minimal cost. The taste of the ingredients is covered up by sauce, so less expensive materials will suffice. For example, by mixing low grade tuna with spicy sauce and mayonaise, the customer can't tell that the tuna is bad. On the other end of the spectrum, ordering spicy tuna in a fancy sushi restaurant is a waste of tuna because you can't even taste it. The great sushi chef Nozawa explains it best in this short video I made a couple years ago (see video below). In Japan, sushi is treated with more reverence. It's about the purity of the ingredients properly balanced, so you can taste the true essence of the fish. Getting high quality fish that tastes good is more expensive, but you eat it less often.
Are there any places in the US that you would recommend that resemble Chef Jiro's ethic and skill?
15 East and Sushi Yasuda in NYC are great. I also love the SugarFish restaurants. These restaurants all dedicate themselves to excellence and are based on true Japanese sushi mastery. Rice is too often overlooked in western sushi restaurants, but these restaurants listed get it right every time.
Unfortunately I won't be there for the festival, but I'd like to express that Jiro's philosophy applies to everything, not just sushi. No matter what you do, Jiro's message about persistently trying to elevate your work and to never be satisfied with mediocrity will hopefully inspire you. Also, sushi is all about the rice. It's the rice that elevates the fish and brings out the flavor. The rice should be at body temperature, and not cold like it so often is. The contrast of the cool fish and the warm, fragrant rice is delightful. I hope that many sushi chefs watch the film and put more care into their rice. Tell your chefs!
Director David Gelb of Jiro Dreams of Sushi. Showing at the Florida Film Festival this April.
NOZAWA from CITY ROOM CREATIVE on Vimeo.
Photos Courtesy: Magnolia Pictures