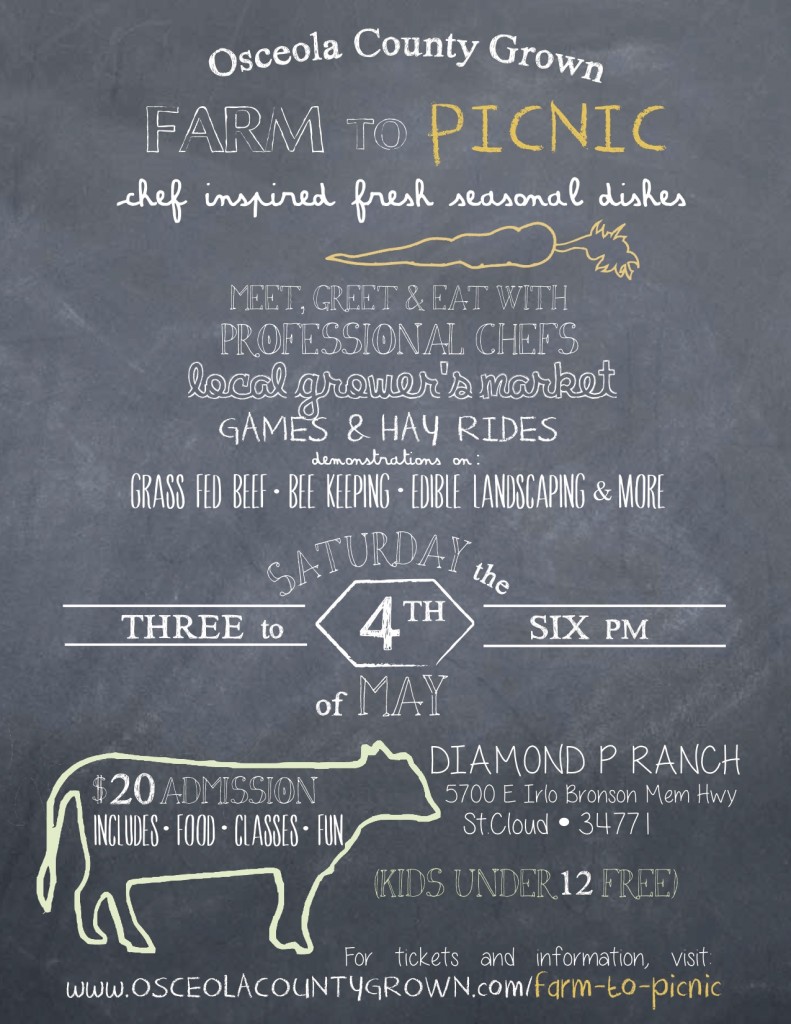 Osceola County Grown: Farm to Picnic featuring chef-inspired fresh seasonal dishes
Saturday May 4th, 2013
3- 6 pm
Location:
Diamond P Ranch
5700 E Irlo Bronson Memorial Hwy
St.Cloud FL 34771
Local Grower's Market
You'll be delighted to meet the producers of local food/products in our county. You can talk to them, ask all sorts of questions, and purchase their products. There will be blueberry and fig plants, strawberry and tomato plants, sauerkraut and chow chow, grass fed beef, and pastured chickens, wild blackberries, and blueberries, free range chicken eggs and freshly harvested orange blossom honey. There will be goat soap and wheat grass, and wheat bread and strawberry jam….along with lots of vegetables and plenty of onions…the farmers had a bumper crop this year.
Fun for the Kids Too
Join in on a hay ride around the farm, get some energy out in a jump house, paint strawberry rocks (to keep the birds away) and buy a strawberry plant to have a taste of fresh berries right at home.
Learn Something New
What's so great about grass fed beef?
How to Design an Edible Landscape
What it takes to grow blueberries
Growing "backyard citrus"
Making goat soap (and how to raise the little critters)
?Healthy Eating is on our minds, and a Whole Foods rep will be there to share some expert knowledge. These are just some of the classes that will be offered during the event.
And of Course, the Picnic!
Ahhhh….the picnic. Featuring some of the area's finest chefs from the Wyndham Hotel in Orlando, Le Cordon Bleu in Orlando, and our very own Graze at Harmony. We're barbecuing up some grass fed beef, and a variety of exciting vegetable creations using our very own county grown produce.
Tickets are $20 and available at : 
http://www.osceolacountygrown.com/farm-to-picnic.html
O-C Grown seeks to design, develop and implement a local network of farmers/producers and consumers/businesses to provide citizens with the option to buy affordable and healthy food while at the same time directly contributing to the local economy of Osceola County.