Photograph by Niko Triantafillou
UPDATE 8/7/2013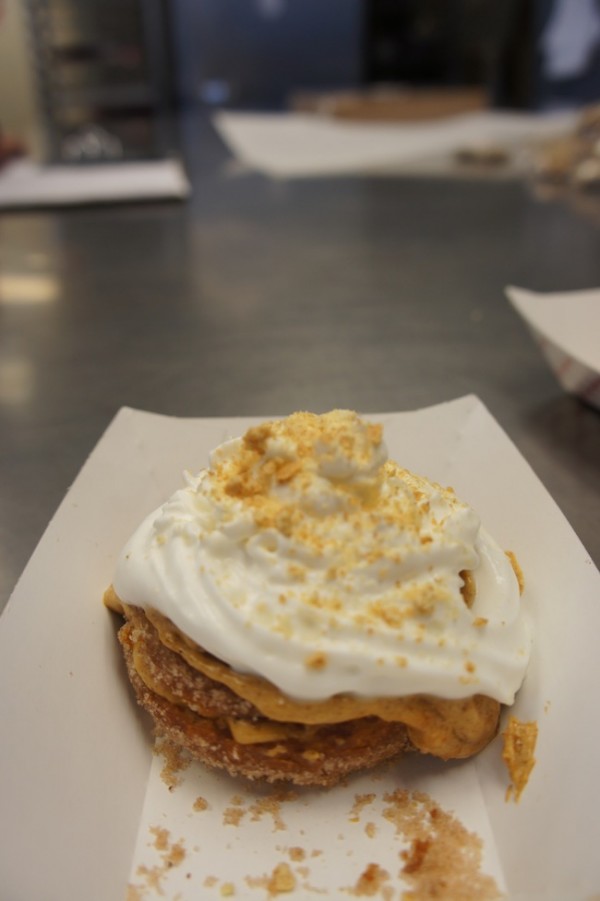 Cronuts are the latest food craze to hit New York City, where James Beard Award nominated pastry chef Dominique Ansel has created a wildly popular hybrid between a donut and croissant at his bakery in SoHo.
The treats have locals and tourists lining up at the early hours of the morning, sometimes around the block two hours before opening hours.
The cronut is made from a croissant-like dough that's fried in grape-seed oil. Then the baker inserts a creamy filling in the middle. Finally, the Cronut's rolled in sugar, then the top is glazed with frosting flavors like rose vanilla or lemon maple.
 
PHOTO BY JOE TABACCA FOR NEW YORK DAILY NEWS
Each day, Dominique Ansel crafts just 250 of the glazed, doughnut-shaped pastries from a special croissant-like dough.
A black market has even started on Craigslist, where sellers are pricing these cronuts at up to $40 a pop, a 800% markup from the $5 charged at the bakery.
Locally here in Orlando, it is a little harder to say where one might find these delicious pastries, especially since Monsieur Ansel has trademarked the term "cronut." Also, he has no plans to franchise or mass produce cronut pastries any time soon, per recent comments to New York Magazine.
I've said it once and will say it again: This bakery is not a cronut store. The flagship is very precious to me. You know, my name is on the door, and I don't want to see it scaled out and lose its charm. There's an integrity behind businesses that don't do that, which I believe in. Will we expand? Yes, sure. But in a different and more creative way than just punching out the same model. I believe businesses should have heart behind it. Customers can tell the difference. And as a chef, you want to be able to look at your fellow chefs and stand tall, not feeling like you've sold out.
Although glazed croissants have been around for a very long time, there aren't too many places that serve up croissants in the form of donuts.
The closest contender thus far would have to be Chefs James and Julie Petrakis' croissant-donut at Cask and Larder, available during brunch, and served with a bourbon peach jam & almond glaze. Get it while you still can!
Croissant-Donut with bourbon peach jam & almond glaze  – Photo Courtesy: Cask and Larder